Picking a router or mesh Wi-Fi system that delivers fast and reliable Wi-Fi and excellent coverage is difficult, especially if you're not an IT professional. To make things harder, manufacturers describe their routers using lots of acronyms and marketing terms that have little to do with real-life experience. Furthermore, the product name doesn't tell you much about how good a router is, and neither does the price you pay for it. To help you out, here's what to look for in a router, based on my knowledge and experience of testing routers for over a decade:
Don't go for the cheapest routers. They're dated options, reaching their end of life
Many people try to save money when buying a router and purchase the cheapest model they can find. For example, as I'm writing this article, the most popular router on Amazon is TP-Link Archer A7 - an old AC1750 wireless router that offers Wi-Fi 5 or 802.11ac connectivity and costs around 54 USD.
TP-Link Archer A7 is the most popular router on Amazon
While this specific model is not bad when compared with other Wi-Fi 5 routers, it does have many shortcomings when compared to the latest generation of Wi-Fi 6 routers:
It has older hardware, from 5+ years ago, with a lot less power than newer Wi-Fi 6 routers.
It only has 128 MB of RAM, 2x2 MU-MIMO wireless transfers, and limited storage space, meaning that its firmware is rather basic, and the router can only handle a network with few devices.
You won't get many firmware updates and improvements in the next couple of years because Wi-Fi 5 routers are slowly reaching their end of life.
The security of your network will decrease in time because of the lack of updates, and the missing WPA3 password encryption support found only on newer Wi-Fi 6 routers.
While it is tempting to save a buck, consider that you're buying a router that should last you about a decade, and this device will greatly impact the quality of your home's Wi-Fi. When choosing a new router for your home, the cheapest option is usually not the best option.
For example, spending $80 instead of $54 will get you a much better router. You can get a TP-Link Archer AX20 or TP-Link Archer AX21, which have a much more powerful quad-core processor, double the amount of RAM, and newer firmware that will get updates for many years to come.
You'll get a much better router by spending 79.99$ instead of 53.99$
Buy a Wi-Fi 6 router instead of an old Wi-Fi 5 one
Back in 2019, when I tested ASUS RT-AX88U, the first router with Wi-Fi 6 commercially available to consumers, there were several problems with Wi-Fi 6 routers:
ASUS RT-AX88U was the first Wi-Fi 6 router
Few devices worked with the Wi-Fi 6 standard, which limited their usefulness. In 2022, this is no longer the case.
Wi-Fi 6 was relatively immature in its first implementations. Router manufacturers had early versions of their firmware with bugs that lowered the quality of your Wi-Fi experience. Since 2019, things have improved tremendously for all vendors of wireless routers (ASUS, D-Link, Linksys, TP-Link, Tenda, etc.). Their firmware is now mature, most bugs are fixed, and they can use Wi-Fi 6 to reach their router's maximum efficiency and potential.
Wi-Fi 6 routers were expensive. This standard was first introduced for premium routers with high-profit margins like ASUS ROG Rapture GT-AX11000, which features incredibly powerful hardware and many advanced features. However, as time passed, Wi-Fi 6 was introduced on mid-range routers too, and today, you'll find it on many entry-level models. Therefore, Wi-Fi 6 is no longer only for people with generous budgets. Everyone can afford a Wi-Fi 6 router, like this entry-level TP-Link Archer AX10 or ASUS RT-AX1800S, which cost 69.99 USD at the time of this article and are much better options than older entry-level 802.11ac wireless routers.
ASUS RT-AX1800S is an entry-level Wi-Fi 6 router that costs only 69.99$
TIP: If you want to understand more about the different wireless networking standards and their confusing names, read: What is 802.11ax, 802.11ad, 802.11ac, and 802.11n? What is Wi-Fi 6, Wi-Fi 5, and so on?
Naming conventions should NOT be a criteria when choosing a router
Routers and mesh Wi-Fi systems use a naming convention in their model names, with acronyms like AX1800, AX3600, AX6000, or AX9000. AX stands for 802.11ax or Wi-Fi 6, the standard they use, while the numbers 1800, 3600, and so on stand for the total theoretical maximum bandwidth. Those numbers don't tell you the real-life speed you get on a router but only indicate that, for example, an AX9000 router should be faster, more expensive, and more powerful than an AX3600 router. However, that's not always the case. In my recent reviewer experience, I've tested Xiaomi Mi Router AX9000 and Xiaomi Mi AIoT Router AX3600. Theoretically, an AX9000 router should always be faster than an AX3600 router, right?
Look at the comparison below. When using the 2.4 GHz band, it was the other way around: the AX3600 router tended to be faster, even if it was cheaper.
The AX3600 router was faster than the AX9000 router on the 2.4 GHz band
When switching to the 5 GHz band, in the room where the router was placed, there was no meaningful speed difference between the two routers. Only in the rooms furthest from the router did the AX9000 router perform better than the AX3600 router.
The AX9000 router was faster only at greater distances on the 5 GHz band
The situation is similar for older AC routers, and I explain why these naming conventions tend to be rather misleading in this article: What does AC1200, AC1750, AC1900, or more mean, and what's the difference?.
Read reviews to see the real-life speed of the router you want to buy
You should always read product reviews for the routers that interest you and see the real-life speeds they deliver. Even if you understand the basics, reading only their specs won't give you enough valuable information to make an informed purchasing decision.
Let's look at the affordable NETGEAR Nighthawk AX4 router to see what I mean:
NETGEAR Nighthawk AX4 is an affordable and reasonably good router
In its product name, you are told that it is an AX3000 wireless router. Therefore, you may assume that your Wi-Fi will work at 3000 Mbps or 3 Gbps, as advertised by its product name on Amazon, but that would be false:
NETGEAR Nighthawk AX4 is a dual-band wireless router, meaning that its 3000 Mbps are split as follows: 600 Mbps for the 2.4 GHz band and 2400 Mbps for the 5 GHz band, but only when using the Wi-Fi 6 standard. If you have to use older standards for your Wi-Fi, these maximum theoretical speeds are lower.
Next, you may assume that 600 Mbps is the maximum speed you achieve on the 2.4 GHz band. However, that number is reached only in specialized labs, using specialized tools available only to router manufacturers. In real-life conditions, your average speed will be much lower: around 150 Mbps on the 2.4 GHz band (instead of 600 Mbps) and somewhere between 450 and 700 Mbps on the 5 GHz band (instead of 2400 Mbps). The same is true for ALL wireless routers, no matter who makes them and how expensive they are.
How fast is your internet connection?
No router, no matter how expensive, will deliver faster speeds than your internet connection. Therefore, if you have a 200 Mbps internet connection, there's no point in buying a router that works with 2.5 Gbps internet connections, like Synology RT6600ax. The internet connection speed you'll get on Wi-Fi is 200 Mbps because the router can't provide faster internet than your internet service provider.
Your maximum speed is limited by your internet connection
Therefore, you can save some money and buy an entry-level router instead of a premium one that can handle the fastest internet connections on the planet. In contrast, if you have a 2.5 Gbps internet connection, don't buy an affordable router like the TP-Link Archer AX50 because you would be wasting your internet bandwidth by using a router that can't handle it. That router can only deal with internet connections up to 1 Gbps. Therefore, the bottom line is that if you want faster Wi-Fi at home, first upgrade your internet connection. If its maximum speed is 100 Mbps, your router might not be the problem. Upgrade to a faster connection like 500 Mbps, 1 Gbps, or even more if it's available in your area and you can afford it. Then, look at your router, and see if it is worth replacing with a newer one.
Don't use the routers provided your ISP
When you sign a contract with an internet service provider (ISP), they usually recommend and install a router of their choice, to manage and provide your home's Wi-Fi. In most cases, this is a mistake for the following reasons:
ISPs usually buy the cheapest routers that work with their internet connection. Unfortunately, those routers have weak hardware, a small coverage area, and basic firmware with few useful tools. In my experience with such routers, they can barely service a two-bedroom apartment and a home network with a couple of devices.
ISPs ask you to pay a rental fee for the router they provide. While this fee is small and paid monthly, when you add up the years of using that router, you realize that you end up spending three or four times the value of the rented router. Buying your own router is cheaper in the long run.
ISPs handle firmware updates for the routers they provide and tend to do a poor job. As a result, you'll quickly have an insecure home network and a router that can be easily cracked. Also, sometimes they can botch these updates like Sky Broadband did a couple of years ago and bricked their customers' routers.
In my home country, ISPs use the same admin password for all their routers. Therefore, if I go to someone else's home, and they connect me to their Wi-Fi, I can also log in to their router and hack it or reconfigure it however I want.
The routers provided by ISPs don't usually have advanced tools like cloud-based antivirus, parental controls, or VPN server functionality.
The routers provided by ISPs are a poor choice
Your needs are the best guide for choosing a router
When deciding what kind of router you need, spend some quality time and analyze your needs. To help you, read the questions I shared in the following sections.
Your living space: How large is it? What about your walls?
The router you need differs based on your living space, its size, and how it is built:
If you have a small flat or a two-bedroom apartment with a small number of devices in your home, you should be OK with using an entry-level AX1800 or AX3000 router that costs between $60 and $100. This is especially true if your internet connection isn't very fast and doesn't go above 500 Mbps. For example, you could go for the affordable TP-Link Archer AX10, but I prefer the TP-Link Archer AX20, which performed very well in my tests.
If you have a larger three or four-bedroom apartment, or a similar one-floor house, you should go for a mid-range router that costs between $100 and $200. Some personal favorites of mine are ASUS RT-AX58U, ASUS RT-AX68U, and ASUS TUF-AX5400.
If you live in a very large apartment, a penthouse, or a two-floor house, you may need to buy a premium router with a high coverage area that costs more than 200$. The models I appreciate most based on my tests are Synology RT6600ax, TP-Link Archer GX90, and ASUS ROG Rapture GT-AX6000.
If you also have thick or metal-reinforced walls, a router may not be good enough, no matter how expensive. In that situation, you should consider buying a mesh Wi-Fi system or getting two or more routers from the same company and building a mesh Wi-Fi system of your own. In this situation, expect to pay more. Again, entry-level routers won't do a good job. However, you can try entry-level mesh Wi-Fi systems like the TP-Link Deco X20.
Mesh Wi-Fi systems are a good choice for larger living spaces with thick walls
How many devices are you connecting to your home network?
Another important criterion for choosing your router is how many devices you're connecting to your Wi-Fi. Think about this subject seriously and list everything you need to connect to your Wi-Fi. You may be surprised by how many things in your home need wireless connectivity. It's not just laptops and smartphones but also consoles, tablets, smart TVs, wireless printers, smartwatches, vacuum cleaners, multi-cookers, smart plugs, smart bulbs, air conditioners, smart fridges, smart ovens, surveillance cameras, sensors, and so on.
If you have a small home with few devices that need Wi-Fi and an internet connection up to 500 Mbps, entry-level Wi-Fi 6 routers will do the job without problems.
You must invest in a mid-range router if you have many devices and an internet connection that goes up to 1 Gbps in speed.
Buying a premium router makes sense if your network includes dozens of devices and your internet connection speed is 1 Gbps or more.
When it comes to how many devices a router can handle, the problem is not how many devices in total get connected to the Wi-Fi but how many use the Wi-Fi simultaneously, in an intensive manner. For example, suppose you work from home in one room, joining multiple video conferences in Full HD or 4K resolutions, while your child participates in online classes in the next room. Someone else is streaming 4K or 8K movies on a Smart TV, and another person is gaming online. In this situation, you will have a poor Wi-Fi experience when using a cheap entry-level router. The bigger the number of devices using Wi-Fi simultaneously and the more intensive their bandwidth requirements, the fewer chances you have for an entry-level router to handle things well. As a result, it becomes important to invest in a more powerful router with advanced features like Adaptive QoS, Intelligent QoS, or Dynamic QoS, which automatically prioritize network traffic based on smart algorithms that are easy to configure.
Advanced QoS can make a difference when multiple devices fight for bandwidth
Does your family have children?
If you're a parent, you may not want an entry-level router because it doesn't offer useful tools like antivirus protection, firewall, and parental controls. In theory, all routers have parental controls, no matter how affordable. However, the difference is that entry-level routers have very basic blocklists and internet access rules that require complex manual maintenance on the user's part. As a result, most people won't use them, and they are inefficient.
If you have children, you'll want a router with cloud-based antivirus, firewall protection, and parental controls. Why is that? Because they provide protection automatically, using cloud-based databases maintained by security companies that regularly deal with inappropriate content, malware, and hacking attempts. Protecting your children from inappropriate content and your family from viruses and all kinds of threats is most probably a priority for you. And all you have to do is turn their protection features On, choose the basic rules you want to be applied, and then let the router do its job without any other manual intervention on your part.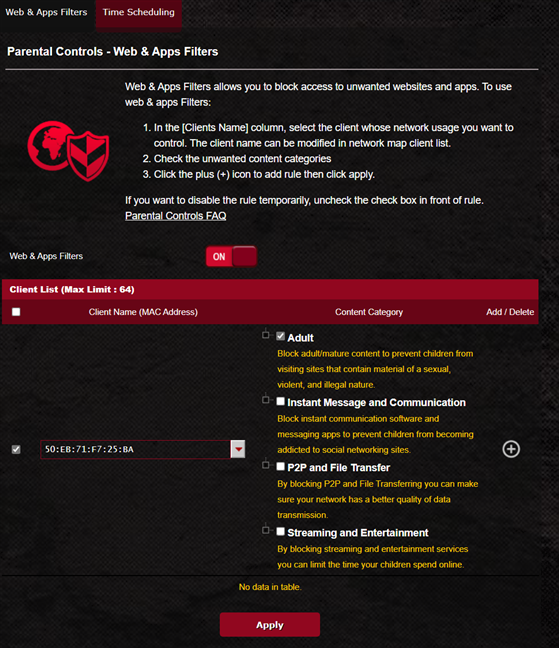 Mid-range and premium routers have useful parental controls and security tools
The user experience for turning on and configuring the cloud-based antivirus, firewall, and parental controls is pleasant and quick. Also, the protection you get is a lot more efficient than the one you receive using the basic protection tools found on entry-level routers.
USB port, VPN, and other advanced features
Most people don't need advanced features on their router; they only need a simple setup process and reasonably good hardware and firmware. They want good Wi-Fi coverage for all the rooms in their home, with reasonably fast speeds everywhere.
However, some users demand more from their router. For example, they want to connect an external hard drive to their router and transform it into a NAS (Network Attached Storage) where they store all kinds of files downloaded from the internet or a media-streaming service for their home network. If you want to do the same, don't buy a router with a USB 2.0 port, it's too slow for your needs. Remember that most entry-level routers have a USB 2.0 port on them. USB 3.0 ports are usually found on mid-range and premium routers, which cost around $100 or more.
Connecting an external SSD to a router via USB
Others want to turn their router into a VPN server so they can easily connect to their home network while away. Unfortunately, while most routers include VPN server functionality, including cheap ones, this feature uses many hardware resources. Therefore, if you have an entry-level router, your home networking experience will become frustrating because the hardware inside your router is too weak.
If you need more advanced functionality, never buy a cheap router. Instead, you must increase your budget and purchase a router with powerful hardware. For example, you should consider a router with at least a tri-core processor and 512 MB of RAM like the ASUS ROG Strix GS-AX5400, which doesn't become overwhelmed when you turn on all the needed advanced features. Of course, the same recommendation is valid for anyone requiring other features like online or cloud gaming optimizations, advanced security tools, cloud-based parental controls, or integration with Amazon Alexa.
Mid-range and premium routers have powerful hardware that can handle turning on their advanced features
What matters to you the most when buying a wireless router?
Now you know my take on what to look for when choosing a router for your home. However, before closing this article, I want you to share your perspective: What's important to you when purchasing a router? What kind of router do you need? How do you choose a router? Use the commenting options available below, and let's have a discussion.