ASUS is investing a great deal into manufacturing wireless routers for gamers. One of their latest additions is the new ASUS TUF-AX5400, a Wi-Fi 6 router with an aggressive design, an impressive list of features, and powerful hardware. If you want to improve the Wi-Fi in your home or small office, this model is worth a look. To learn about the real-world performance of the ASUS TUF-AX5400 gaming router and all its features, read this review:
ASUS TUF-AX5400: Who is it good for?
This wireless router is a suitable choice for:
Users interested in switching to the Wi-Fi 6 standard
Gamers who play lots of games online
Users who want a router with Link Aggregation support
Parents who desire efficient parental controls for their home network
Users who want a secure router with excellent antivirus and firewall
People who want to remotely control their router from anywhere on the internet using a mobile app
Users who wish to manage their home network using the Alexa, Google Assistant, or IFTTT (If This, Then That)
Pros and cons
Here are the things we like about ASUS TUF-AX5400:
160 MHz channel width on Wi-Fi 6
Excellent performance on Wi-Fi 6
Useful features for gamers
Link aggregation available
Fast USB 3.2 port
Excellent security tools and parental controls
Innovative VPN app that connects your mobile devices to your home network
You can remotely control it with a mobile app from anywhere on the internet
There are some downsides to consider as well:
Performance on Wi-Fi 4 is a bit underwhelming
It cannot be mounted on walls
Verdict
The ASUS TUF-AX5400 dual-band router mixes an aggressive look with RGB lighting, tons of valuable features, including some aimed at gamers, excellent security, and fast Wi-Fi 6 network connections. The link aggregation is also useful when you want to use two 1 Gbps internet connections at the same time or connect a NAS to the router. We like this model a lot, and we recommend it both to gamers and non-gamers alike.
Unboxing the ASUS TUF-AX5400 Wi-Fi 6 router
The ASUS TUF Gaming (TUF-AX5400) wireless router comes in a large black cardboard box similar to the packaging used for other ASUS routers. You see a picture of the device on the top cover, its name, and some of its most remarkable features.
The packaging used for ASUS TUF-AX5400
On the sides and the back of the box, you find plenty of details about the hardware configuration of the router and its most important software features. As soon as you open the box, you see a troubleshooting notice about the Wi-Fi 6 standard, and then the router itself, nicely packaged.
Unboxing the ASUS TUF-AX5400
After you unpack everything, you find the following items: the TUF-AX5400 router, an RJ-45 cable, the power adapter, the quick start guide, a troubleshooting guide, and the warranty information.
All the items found inside the box
Unboxing the ASUS TUF-AX5400 router doesn't take long. Inside the packaging, you find everything you need to get started right away.
Hardware specifications and design
ASUS TUF-AX5400 has a very aggressive gaming-oriented design that's inspired by a spaceship from Sci-Fi movies. Notice the TUF logo and the brand name on the top cover. Beneath it, there's an aluminum heatsink designed to improve cooling. The router has six non-detachable antennas that can be rotated and placed at any angle you wish.
ASUS TUF-AX5400 has six nondetachable antennas
The ventilation grids are V-shaped on the front, and they cover the LEDs that signal the router's functioning status. This means that the LED lights are not intrusive, and in most cases, you barely notice them unless you look directly at them.
The LEDs on the front are below the ventilation grid
There are four Ethernet ports on the back of the router, two of which support Link aggregation. There's also a WAN port, also with support for Link aggregation. This means you can enjoy two 1 Gbps internet connections or a 2 Gbps network connection for a specific device, like a NAS (Network Attached Storage) that may benefit from it. On the back, you also find the power jack, the Power button, a USB 3.2 Gen 1 port, the WPS button, and the Reset jack.
The ports on the back of the ASUS TUF-AX5400
On the bottom of the router, you find four rubber feet for holding it into place, information about the specific router you bought and how to connect to it, as well as more ventilation grids. Unfortunately, there are no holes for mounting it on walls and other places.
There are no holes for mounting the router on walls
The hardware inside the ASUS TUF-AX5400 is quite powerful. This router features a triple-core Broadcom BCM6750 System-on-a-Chip running at 1.5 GHz. It is a dual-band wireless router with support for Wi-Fi 6, and the 5 GHz connections are handled by a Broadcom BCM43684 chip. The 2.4 GHz wireless connections work using 2x2 MU-MIMO, while 5 GHz connections work on the 160 MHz channel bandwidth, using 4x4 MU-MIMO. The router also features 256 MB of storage space for the firmware and 512 MB of RAM. Enough to handle a home network or a small business network with plenty of devices.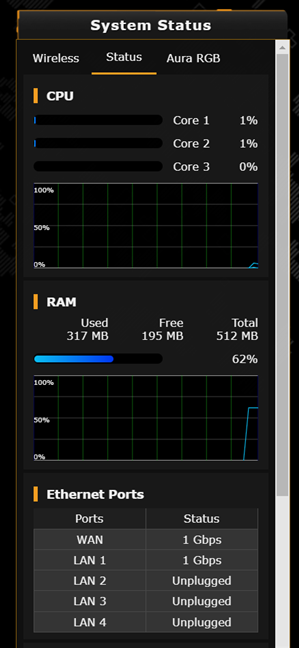 The hardware inside the ASUS TUF-AX5400
The total maximum theoretical bandwidth is split as follows: 574 Mbps on the 2.4 GHz band and 4804 Mbps on the 5 GHz when using the Wi-Fi 6 standard. However, these speeds are different from what you see in real life, and we recommend reading our measurements from page two of this review.
ASUS TUF-AX5400 is pretty large, and one neat aspect for gamers is the RGB-lit logo on the top cover, which can be customized from the firmware. However, the router is surprisingly lightweight at 1.45 pounds or 660 grams, considering the beefy ventilation system that includes a heatsink.
Notice the RGB-lit TUF logo on the top
Specs-wise, the TUF-AX5400 is a powerful wireless router with exciting features that should please many users, including online gamers.
Setting up and using the ASUS TUF-AX5400 Wi-Fi 6 router
As usual with modern routers, ASUS TUF-AX5400 can be set up both from a web browser and a mobile app. Because we wanted more control over the whole process, we went the web browser route. The initial setup involves detecting the type of internet connection that you use, providing the necessary connection details, choosing a name and password for the Wi-Fi, and deciding whether to enable Wi-Fi 6.
Setting up the ASUS TUF-AX5400
When turning on Wi-Fi 6, ASUS informs you that some wireless network cards may have connectivity issues with this standard. Therefore, it is a good idea to update the network drivers on all your laptops, computers, and devices before enabling it.
One nice touch is that ASUS checks for firmware updates before finishing the quick setup wizard and encourages you to upgrade before you start using it. We also recommend you install the latest firmware because it fixes bugs that were present in the initial release. Another positive is that you can later set the firmware to auto-update itself during the night, when nobody is using the internet. Therefore, you can always stay up-to-date, with no effort on your part.
It is a good idea to install the latest firmware
Connect your devices to the network and access the firmware for more fine-tuning when the quick setup is finished. This router's administration interface is easy to use, well organized into logical sections, and available in 25 languages. You control everything you wish, from the RGB lighting to Open NAT, to IPv6, and so on. The features list is impressively long, and both casual and advanced users should be happy with the level of detail they receive.
The firmware for the ASUS TUF-AX5400
We like the fact that TUF-AX5400 has 160 MHz channel width support for Wi-Fi 6, and we recommend that you enable it for improved speed on this standard.
TIP: If you have a Sony PS5 console and want to know how well it works with Wi-Fi 6 networks, read: Sony PS5 & Wi-Fi 6: How does it work with an ASUS router for gaming?
The help documentation is easily accessible: a question mark is shown when you move the mouse cursor over a setting that you do not understand. Click the question mark, and you see information explaining that setting.
Many settings have useful Help info
Another helpful feature is that this router comes with AiMesh support, and you can use TUF-AX5400 to create a mesh Wi-Fi network using other ASUS routers.
You can also set up and manage the router from any Android smartphone or iPhone using the ASUS Router app. The app can be used from anywhere on the internet, and it includes plenty of settings that can be configured.
The ASUS Router app works with ASUS TUF-AX5400
To verify the quality of the Wi-Fi broadcast by ASUS TUF-AX5400, we took our laptop and moved it to a room separated by one wall from the router. Then, we made a wireless transfer on it, using a specialized app that measured the average speed and the network transfer variability. On the 2.4 GHz band and the Wi-Fi 4 standard, the average speed was OK but not as fast as what other routers can deliver. Also, the variability of the network transfer was relatively high. From our testing experience, we believe that Wi-Fi 4 is an improvement area for future firmware versions of this router.
A network transfer on Wi-Fi 4
We noticed a significant speed and variability improvement when switching to the 5 GHz band and Wi-Fi 5 in the same room. This is a much better result.
A network transfer on Wi-Fi 5
When switching to Wi-Fi 6 on the 5 GHz band, the router's performance was excellent. We enjoyed a super-fast network transfer and a very stable one as well.
A network transfer on Wi-Fi 6
This comparison shows a clear focus from ASUS on delivering a great experience on the 5 GHz band when using Wi-Fi 6 and Wi-Fi 5. The older Wi-Fi 4 seems mostly like an afterthought for this router.
We are very satisfied with how ASUS TUF-AX5400 worked in our testing, especially when using the Wi-Fi 6 standard. The networking performance on the 5 GHz band is excellent.
If you want to know more about the real-world performance offered by ASUS TUF-AX5400, including comparisons with other wireless routers, go to the next page of this review.