Microsoft's latest operating system, Windows 11, is out and, on top of the stylish user interface and overall appearance, it also brings many other great features and improvements. Before you decide whether to upgrade to Windows 11, we thought you'd like to know what to expect from it, and that's why we've compiled the best things about Windows 11 and wrote this article for you. So, if you want to see what's new and what's best in Windows 11, read on:
1. Windows 11 is beautiful
If there is one thing that sets Windows 11 apart from previous versions of Windows is that it's more beautiful. It feels more like a redesigned version of Windows 10 than anything else, although there are other significant changes under the hood too. But, as far as the regular user is concerned, the first thing one sees is an interface that's slick and elegant. It starts with the center point of any Windows operating system, which is the Start Menu. Rather than keeping the tradition, in Windows 11, Microsoft puts the Start Menu by default right in the middle of the taskbar, together with all the taskbar icons. It looks a bit like macOS or ChromeOS, and many people might like that a lot.
Windows 11's Start Menu and taskbar are centered
TIP: If you don't like it centered, here's how to move the Windows 11 Start Menu to the left.
Then, there are the rounded corners used by Windows 11 on everything from windows to menus, buttons, and entries from the new Settings app. It looks softer than Windows 10's sharp corners and other visual elements. These optical changes might not matter much for professionals, but for anyone who likes polished interfaces, Windows 11 delivers.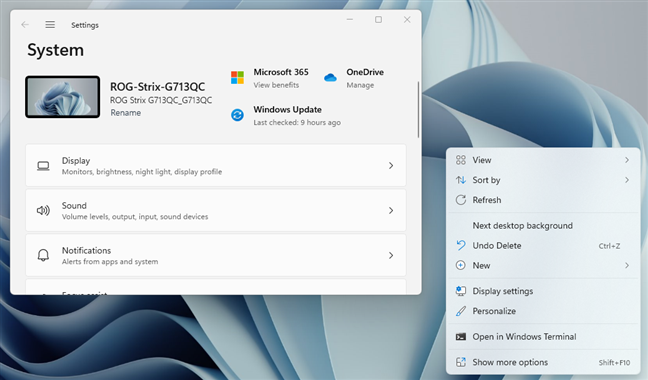 Windows 11's windows and menus have rounded corners
Icons have changed too: Microsoft redesigned system icons that are visible everywhere around the operating system. And, without a doubt, we must say that they look much better than Windows 10's icons, not to mention the ancient icons that persisted in Microsoft's operating system since the Windows XP and the DOS era.
Windows 11 comes with new icons
The list of visual changes continues with other small things that make Windows 11 look better overall, but the ones we've mentioned are the most prominent.
Unfortunately, some other changes like the system tray and Quick settings panel, although more beautiful, lose on the usability side of things by requiring more clicks to do what you want than you had to make in Windows 10.
Windows 11's Quick settings
2. Windows 11 is faster and more energy-efficient
Another reason why Windows 11 rocks is that it runs faster and more efficiently than Windows 10. In a video presentation from Microsoft, the company highlighted a few things that Windows 11 does better now. Among all the improvements, the one that caught our attention was that Windows 11 is able to prioritize apps that are in the foreground. That means apps that you're opening or currently using receive more hardware resources (including processor power) from the operating system than the ones in the background. That on its own should make everything feel faster in Windows 11.
There's good news on the energy consumption side of things also. Windows 11's default web browser is Microsoft Edge, and one of the best things about it is its Sleeping Tabs feature. It's on by default, and it can put your open browser tabs in sleep mode after a certain amount of time passes.
Microsoft Edge's Sleeping Tabs increase performance and save energy
According to Microsoft, this feature alone can lead to a huge decrease in the processor and memory usage of your computer, of about 30% less CPU time and RAM amount. This translates into two things: more power for other apps or browser tabs (faster performance) and less electrical power consumption (increased battery life on Windows 11 laptops and mobile devices, and less expensive power bills at the end of the month).
3. Windows 11 is better for gaming
Gamers will be happy to hear that Windows 11 also comes with new gaming-oriented features. Maybe the best of them all is Direct Storage, which allows your computer to bypass the processor when it needs to load data from an NVMe solid-state drive to the graphics card. Direct Storage decreases the amount of processor power required by games when loading textures, which means that games should load faster too.
League of Legends in Windows 11
Additionally, other improvements such as AutoHDR or Dynamic Refresh Rate are included, making Windows 11 better for gaming both in terms of image quality and responsiveness.
4. Windows 11 has more and better Snap Layouts
Many of us use multiple windows and apps on our computers, and one of the easiest ways to organize them on the desktop is the Snap feature. It's present in Windows 10 too, and it allows you to quickly position your windows on the screen by dragging them to the sides or corners to split them into two or up to four screen areas. Well, in Windows 11, Snap is even better and easier to use: near the Close (X) button from the top-right corner of any window, hovering the cursor on the square button gives you up to six different Snap layouts to choose from. By the way, if you want to learn more about this feature, read How to split screen on Windows 11 with Snap layouts.
Snap Layouts in Windows 11 are more useful
5. Windows 11 has useful Widgets
Windows 10 has live tiles and News and Interests, while Windows 11 has Widgets. Some people might like them, while others not so much, but we do. It's like a love child of the Windows 10's tiles and News and interests, giving you a personalizable window of its own, accessible from the Windows 11 taskbar, filled with widgets that show you the weather, your calendar, stock information, to-do lists, your own customized news feed, and so on. It reminds us a bit of the Gadgets from Windows 7, which, to be honest, we missed when Microsoft decided to discontinue.
The Widgets from Windows 11
TIP: To learn more about Widgets, and how they work, read: The Windows 11 Widgets: All you need to know.
6. Windows 11 comes with a new and more open Microsoft Store
With Windows 11's launch, Microsoft also releases an improved version of their Store. It's more streamlined and much better organized, as it's also more friendly and useful when it comes to getting better search results. Furthermore, the company also chose to open up the Microsoft Store to more types of apps and more developers, which is one of the best news we've heard in a while.
There are already quite a lot of new apps available in the Store that you couldn't previously find in it, like Discord, Zoom Cloud Meetings, VLS, TeamViewer, LibreOffice, or Adobe Acrobat Reader DC. Also, Microsoft says that in the next couple of months, other stores from companies like Amazon or Epic Games are coming to the Microsoft Store!
There's a better Microsoft Store in Windows 11
7. Windows 11 will run Android apps
This brings us to the next great thing about Windows 11: it will run Android apps and games! Microsoft cooperates with Amazon and Intel to bring Android apps to Windows 11. Although this hasn't actually happened yet, and it won't be available at the launch date of Windows 11, the company regularly lets us know that in the near future, Windows Insiders will be able to test Android apps on their computers. We can't wait, and we bet many people feel the same way!
8. Windows 11 bundles better apps
Windows 11 comes with better apps included by default as part of the operating system. We get the Windows Terminal which is now the default app for running other command-line programs like Command Prompt or PowerShell, a new and improved Snipping Tool with more editing options, a better Calculator, which is now able to plot equations in Graphing mode, and better-looking Mail & Calendar apps.
Graphing equations in Windows 11's Calculator
There's also the Clock app which comes with new visual changes and one very useful new feature called Focus Sessions. This one helps you do your job more efficiently by automatically setting timers, finding the perfect music (on Spotify) to help reduce distractions, integrating with Microsoft To Do lists, and helping you create healthy working habits.
Windows 11's Clock Focus sessions
Other apps like Photos or Movies & TV are also going to be improved in the near future, and new versions of them will be released to Windows 11 systems.
What's the best feature of Windows 11, in your opinion?
These are the best things about Windows 11 from our point of view. We believe they are enough to convince most Windows 10 users to upgrade to Windows 11 as soon as they can. We know we did! 🙂 Before you go, would you mind letting us know in the comments section what your favorite features of Microsoft's latest operating system are?