Starfield is a sci-fi RPG (role-playing game) created by Bethesda, the studio that also brought us the Elder Scrolls and Fallout series. Available for everyone since September 6th, Starfield has quickly become Bethesda's most successful game launch, with over 6 million gamers playing it. Most gamers who've played it are already acclaiming Starfield's story, lore, and gameplay experience. Furthermore, if your computer's hardware can handle it, the game's graphics are stunning. But what should you expect from Starfield in terms of performance? Do you need an expensive graphics card to run it well? To answer this question, I took four AMD Radeon graphic cards and ran dozens of benchmarks in different resolutions and graphics quality settings. Here's what I've learned:
What's Starfield like? A brief gameplay experience review
Unlike in Bethesda's Skyrim, Starfield's beginning is slower. You start as a miner who finds a mysterious artifact, but nothing extraordinary happens afterward, except that you're sent into a powerful vision of the universe, and you wake up in a hospital bed. Then, you get to create your character's appearance, traits, and choose his/her/their past. Yes, the game actually allows you to select the pronoun you prefer for your character. 🙂
Creating the character in Starfield
Once you're done with the prologue, the story begins… slowly. It took me about 10 hours or so in the game to actually start loving it. Once I've gone past those bits in the beginning, I was hooked. These first hours walk you through all the essential parts of the game. You get your first starship, you make your first trip to the city of New Atlantis, and you're introduced to the Constellation. You'll join this group of explorers and pioneers who seek to discover new worlds and secrets, and they'll be in charge of guiding you through the main story of the game.
Meeting the Constellation faction in Starfield
But, just like any other game created by Bethesda, the main story is only part of the game. Some would argue that it's not even the most interesting one. And, from my experience, that's true. When writing these words, I have yet to reach the game's ending, as the side quests, which are the bread and butter of all Bethesda games, have diverted me from the main storyline.
Starfield's main story is about finding mysterious artifacts
As you progress through the game, you find yourself surrounded by companions and get acquainted with Starfield's factions and conflicts in the galaxy, and you're drawn into them, taking sides as you like. In addition to the Constellation group that's central to the story, you'll meet many other factions. I've done work for the United Colonies, which is the political successor of the old Earth (now abandoned and uninhabitable), and I also went into shady business and corporate espionage in the city of Neon for Ryujin Industries.
There's also a third main allegiance faction called Freestar Collective that rules part of the known universe, but I've yet to start their missions. I do know that they were formed after a huge war that went on between them and the United Colonies. It was a war that started because the people of Freestar Collective wanted their own freedom outside the UC.
Freestar Collective's Akila City is a sci-fi western-like place
It was also a war during which both factions resorted to horrible tactics such as xeno-warfare, employing the use of modified aliens. And yes, during the game, you get to fight these powerful Terrormorphs as they're making a comeback.
The mercenary Crimson Fleet is another side story that I've enjoyed a lot. During a regular scan for contraband, while entering the planetary space of Jemison (where New Atlantis is found), the UC SysDef brought me in for questioning. And boy, did that go a lot different than I expected: instead of going to prison and paying for my crimes, I ended up going undercover and infiltrating the Crimson Fleet. Without any more spoilers, the next missions were some of the most exciting and challenging ones for me, at least in terms of making decisions.
Starting Starfield's Crimson Fleet story
Other factions exist in the game, too, and you'll encounter them as you progress through the story(ies). There are religious ones like the House of Enlightened, Sanctum Universum, or the Va'ruun, as well as other mercenary groups such as Spacers, Ecliptic, or The First. I've met some of them, but I haven't yet found whether any of these factions give you missions or quests as complex as the story of the Crimson Fleet.
The ending of a spaceship battle
Starfield is also an open-ended and nonlinear game, which means that you can set sail to any planet in the known universe, and you can do whatever you want. You're not forced to follow the main story, and you can avoid starting any side quest if that's what you want. If that's your goal, you can just build outposts on resource-filled planets, explore the galaxy in search of strange alien creatures, build ships, or upgrade weapons.
If you enjoy role-playing but also love a good fight, the good news is that Starfield has the best combat system I've seen in a Bethesda game. There are two types of fights you can engage in: spaceship battles and ground, on-foot combat. Both are engaging and challenging, allowing you to use various tactics and weapons. For instance, in space battles, I've found that upgrading my ship's lasers and shields led to better outcomes than using ships with powerful ballistic weapons or improved grav drives. On foot, you can use guns, melee weapons, and even grenades to fight enemies.
And if conflicts are not your thing, you can avoid some of them by using stealth, hacking, diplomacy, persuasion, or even manipulation with the help of the Internal Neuroamp (which you can get during the Ryujin Industries missions). But enough spoilers! 🙂
Overall, after playing it for 40 hours or so, I've found Starfield to be a game that delivers on its promise. This is an epic space adventure that any fan of Bethesda will love. It has a little bit of everything and feels like the love child of Skyrim, Fallout, and Mass Effect.
What about Starfield's graphics requirements?
I've heard some complaints about the graphics quality and performance offered by Starfield. There are gamers out there who say that Starfield looks like it's made out of cardboard or that it's not optimized for running well on Windows computers. I don't agree with either of these statements. Starfield's graphics are stunning, creating a realistic and immersive representation of space, featuring a huge number of planets with different plants, resources, weather, wildlife, and landmarks. Starfield's environment(s), planets, cities, and buildings look great if you're playing the game on ultra or high graphics quality.
The city of New Atlantis in Starfield
It's true that you need a powerful computer, especially in terms of graphics card, in order to enjoy the game to the fullest. The dynamic lighting and shadows, realistic physics and animations, and detailed textures and models used by it are all things that require lots of hardware resources. Nevertheless, that doesn't necessarily mean that the game is not optimized, but rather that the current generations of graphics cards are not as powerful as they should be. Let's hope that the next ones will offer a more significant leap in performance than what we've had in the last couple of years.
The system requirements for Starfield are as follows:
Minimum:

Operating system: Windows 10 version 21H1 (10.0.19043)
Processor: AMD Ryzen 5 2600X, Intel Core i7-6800K
Memory: 16 GB RAM
Graphics: AMD Radeon RX 5700, NVIDIA GeForce 1070 Ti
DirectX: Version 12
Storage: 125 GB available space, SSD required (solid-state drive)

Recommended:

Operating system: Windows 10/11 with updates
Processor: AMD Ryzen 5 3600X, Intel i5-10600K
Memory: 16 GB RAM
Graphics: AMD Radeon RX 6800 XT, NVIDIA GeForce RTX 2080
DirectX: Version 12
Network: Broadband Internet connection
Storage: 125 GB available space, SSD required (solid-state drive)
As you can see, Starfield's most demanding requirement is the one in the graphics sector. You need a powerful GPU like an AMD Radeon RX 6800 XT or an NVIDIA GeForce RTX 2080 just to meet the recommended requirement. As I'll show you later in the benchmarks section of this article, even that's not enough for playing the game at higher framerates on ultra graphics quality, in high resolutions. Before that, let's take a look at:
Starfield's graphics default presets
Starfield has four default graphics quality presets: Ultra, High, Medium, and Low. Each one of them automatically adjusts the visual settings and the rendering resolution. Furthermore, all of the presets automatically enable Dynamic Resolution and AMD FSR 2! There is no default preset in the game that doesn't use AMD FSR 2 to render the frames in full resolution. This alone tells us that Bethesda knows that even with the best GPUs today, Starfield's graphics requirements are too high for it to run flawlessly at high resolutions and high or ultra quality.
Starfield has four main graphics presets
Among all the other adjustments made by the game's default presets, the Render Resolution Scale setting (which applies to AMD FSR 2) seems to have the most significant effect on the end result in terms of graphics quality. The Ultra preset uses a 75% render resolution scale, High goes a step lower to 62%, and both Medium and Low decrease the render resolution to just 50%.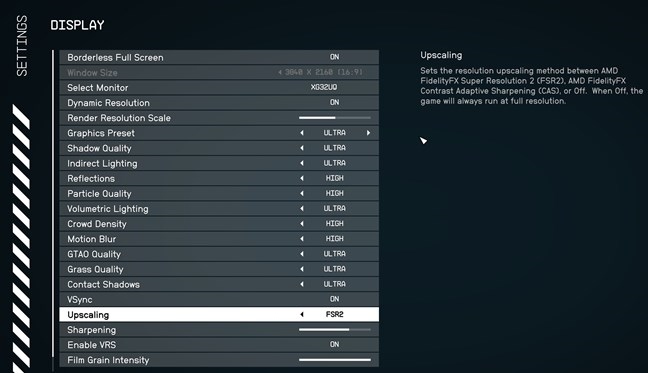 All graphics presets in Starfield use AMD FSR 2
While playing Starfield, trying its different graphics presets on all three common resolutions (4K, 1440p, and 1080p), and using four different graphics cards from AMD, I've found the Medium and Low options to be quite unsatisfactory. There's a huge difference in how the game looks in Medium or Low versus High or Ultra quality.
Ultra vs. Low graphics preset quality in Starfield
Remember that earlier in this article, I mentioned some people say Starfield's items look like they're made out of cardboard? Well, if you play it on the Medium or Low graphics preset, that holds some truth to it. In High or Ultra, the game is gorgeous.
How Starfield works on AMD Radeon graphic cards with and without AMD FSR 2
While we've already established that Starfield is a very demanding game in terms of system requirements, I have to point out that not all its areas are created equal. Some parts, like the inside of buildings or spaceships, don't necessarily use the same amount of system resources as other areas. As far as I've seen, the number of frames per second in cities, for instance, depends a lot on the processor, too, as the higher the count of people in a scene, the higher the utilization of the CPU.
Starfield's cities, like Neon, are bustling with human activity
When it comes to the graphics card's usage, though, planets and areas with lots of vegetation seem to be the most demanding. Likely because the number of polygons drawn in such areas increases significantly, as well as the more complex lighting/shadow effects applied to each frame. Starfield graphics requirements are the main cause of concern regarding performance, so I decided to run my benchmarks in a location on the Cassiopeia I planet.
Having said that, before I go ahead and show you the results I got benchmarking Starfield, you should also know the configuration of the computer I've used:
The desktop PC used for benchmarking Starfield
The cards that I tested Starfield's graphics performance in were:
AMD Radeon RX 7000 graphics cards
Note that I've disabled Dynamic Resolution for all the following tests. That's needed in order to get accurate results for every resolution. So, without further ado, let's see what the benchmarks tell us about Starfield:
Starfield's graphics performance in 4K
I began testing Starfield's graphics performance in the 4K resolution. Using the Ultra quality preset with AMD FSR manually disabled translates into testing the game in the native 4K resolution of my monitor. As you can see in the next chart, the AMD Radeon RX 7900 XT, the most powerful GPU I had, easily outperformed all the others. However, with a result of 48 fps, it couldn't even get close to the 60 frames per second threshold. The only way I could (almost) get there was using AMD FSR 2 when the Radeon RX 7900 XT was able to render an average of 59 fps. Neither the AMD Radeon RX 7800 XT nor the RX 6800 or the RX 7600 managed to offer good results, although enabling AMD FSR 2 led to a framerate increase of over 20 percent in all cases.
Starfield benchmarks in 4K on Ultra quality
Lowering Starfield's graphics quality to High led to better results in terms of the average number of frames per second. However, it still was too much for the graphics cards to get past 60 fps. The only way I could get there was using AMD FSR 2, and even then, only the more powerful AMD Radeon RX 7900 XT and Radeon RX 7800 XT achieved a framerate higher than 60. The former benefited from a 47% fps increase with AMD FSR 2, while the latter rendered exactly 50% more frames per second.
Starfield benchmarks in 4K on High quality
In 4K on Medium quality, the AMD Radeon RX 7900 XT was able to reach 60 frames per second without employing AMD FSR 2. The Radeon RX 7800 XT didn't do as great without upscaling but delivered an excellent framerate with AMD FSR 2. Similarly, the previous generation mid-range Radeon RX 6800 went over 60 to an average of 68 fps but only with AMD FSR 2 turned on.
Starfield benchmarks in 4K on Medium quality
The Low quality preset, which, as I've mentioned earlier, I don't recommend if you want to enjoy the graphics of this game, was still too much for most GPUs in 4K. The only graphics card that could render over 60 frames per second without employing AMD FSR 2 was the high-end AMD Radeon RX 7900 XT. However, when using upscaling, even the entry-level AMD Radeon RX 7600, a GPU designed for gaming in 1080p, got better results, with an average of 54 fps.
Starfield benchmarks in 4K on Low quality
Playing Starfield in 4K proved to be a challenge for all the AMD graphics cards that I tested. Even for the more powerful AMD Radeon RX 7900 XT or Radeon RX 7800 XT, AMD FSR 2 upscaling is needed if you want to run the game on Ultra or High quality.
Starfield's graphics performance in 1440p
Moving on to the 1440p resolution, the Ultra quality preset was a challenge for the lower-end AMD Radeon RX 7600, as well as for the previous-gen AMD Radeon RX 6800. Neither of them could hit the 60 fps mark, not even with AMD FSR 2 turned on. On the other hand, the high-end AMD Radeon RX 7900 XT had no issues in delivering excellent average framerates even without upscaling (72 fps in native resolution, 84 fps with FSR 2). The mid to high-end AMD Radeon RX 7800 XT was 1 fps below the 60 mark but managed to get well over it, to 67, using AMD FSR 2.
Starfield benchmarks in 1440p on Ultra quality
Switching to the High quality preset translated into excellent performance for both the Radeon RX 7900 XT and Radeon RX 7800 XT, even without upscaling. The older Radeon RX 6800 did well too, but only when enabling AMD FSR 2, while the entry-level Radeon RX 7600 struggled to render 52 frames per second even with upscaling.
Starfield benchmarks in 1440p on High quality
On the Medium quality preset, all the graphics cards improved the number of rendered frames per second. Noteworthy, the previous generation Radeon RX 6800 reached 60 fps without AMD FSR 2, and the lower-end Radeon RX 7600 managed an excellent 71 average fps with the help of upscaling.
Starfield benchmarks in 1440p on Medium quality
The Low quality preset further improved the framerate on all graphics cards. The only GPU that was still challenged in hitting the 60 fps mark in native 1440p resolution was the AMD Radeon RX 7600. Still, with upscaling turned on, it averaged an excellent 83 frames per second.
Starfield benchmarks in 1440p on Low quality
Starfield performs much better in 1440p resolutions, where mid to high-end graphics cards can deliver a satisfying gaming experience. Though visual compromises have to be made, the game can be played at decent framerates, even on mid-range and lower-end graphics cards.
Starfield's graphics performance in 1080p
Last but not least, I've also benchmarked Starfield in 1080p. Although gamers are slowly but surely switching to higher-resolution monitors, 1080p is still very popular. Playing the game on Ultra quality without upscaling was not a problem for the high-end AMD Radeon RX 7900 XT, just as it wasn't for the mid to high-end Radeon RX 7800 XT. However, the older AMD Radeon RX 6800 went past the 60 fps threshold only when turning on AMD FSR 2, and the entry-level Radeon RX 7600 didn't manage to do so even with upscaling.
Starfield benchmarks in 1080p on Ultra quality
On the High quality preset, all the GPUs tested delivered good results, except for the smaller brother of the family, the Radeon RX 7600. The latter GPU, designed for 1080p gaming, managed to go over 60 fps only when using AMD FSR 2.
Starfield benchmarks in 1080p on High quality
Lowering the bar to Medium graphics quality, all the cards got excellent results. With an average of 121 frames per second without upscaling, the AMD Radeon RX 7900 XT finally passed the 120 fps target that matches the refresh rate of many gaming monitors these days. The Radeon RX 7800 XT was close behind it and also managed more than 120 fps, but only with AMD FSR 2 turned on. The most notable result, however, was the one achieved by the more affordable AMD Radeon RX 7600, which managed an average framerate of precisely 60 fps without upscaling and a quite satisfying one of 84 fps when using upscaling.
Starfield benchmarks in 1080p on Medium quality
Finally, using 1080p resolution on the Low quality preset offers the least attractive visuals. Even more so if you also enable AMD FSR 2. Obviously, this scenario also gives the highest average framerates. For instance, with upscaling, the AMD Radeon RX 7900 XT rendered 163 fps, going above the 160 Hz refresh rate that you see on some of the best gaming displays on the market. High framerates were also achieved by the other cards in my testing, including the AMD Radeon RX 6800, which got 95 fps without upscaling, or the entry-level AMD Radeon RX 7600, which rendered 70 frames per second without upscaling.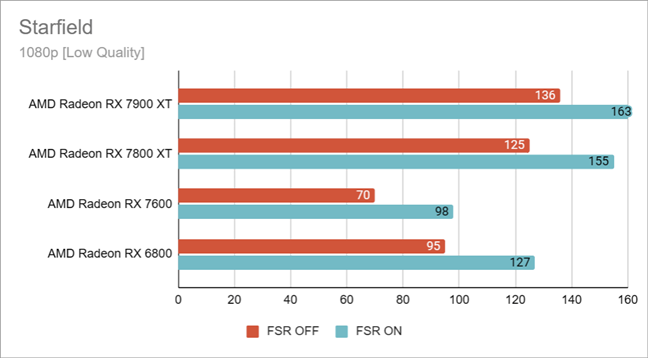 Starfield benchmarks in 1080p on Low quality
Regardless of how high the number of frames per second goes in this scenario, I still wouldn't recommend playing Starfield on the Low quality preset. Even if your graphics card is older or weaker, you should still try using a higher quality preset, with AMD FSR 2 turned on and some of the more demanding settings adjusted manually.
In 1080p resolutions, Starfield performs much better than in 1440p or 4K. Previous-gen mid-range graphics cards and current-generation entry-level ones should deliver good results.
Is Starfield everything you've expected?
I, for one, have been waiting for this game for a long time, ever since Bethesda announced it in 2018. Now that it's finally here, I can say that I love it. Every piece of it: going through its main story, spending time in its side quests, exploring the vast galaxy, discovering new planets, and interacting with different factions and aliens. There's no doubt about it: although the game is not revolutionary in terms of bringing completely new things to the table, the way it's designed and built makes the gameplay immersive and the story captivating. Furthermore, the visuals of the game are quite impressive. However as you've seen in my benchmarks, that comes at a cost. All these put together (dynamic lighting, shadows, reflections, weather effects, animations, physics, AI) make Starfield a game that pushes the boundaries of present-day gaming hardware. In my opinion, Starfield is a sci-fi RPG masterpiece that I highly recommend to any gamer out there who loves a great adventure.