Along with releasing their latest Ryzen 7000 processors, AMD also revealed information regarding AMD EXPO. If you've been looking at DDR5 RAM options, you probably noticed that some of them are compatible with Intel XMP, while others are certified for AMD EXPO. What do these acronyms mean, and why does it matter what kind of RAM you'll buy? Moreover, what's the real-life difference between AMD EXPO and Intel XMP? In this article, I'll attempt to explain everything clearly, to help you determine whether you should go for DDR5 with AMD EXPO, DDR5 with Intel XMP, or (why not?) DDR5 that's certified for both these overclocking memory standards:
NOTE: If you prefer to watch a video summary instead of reading a full-length article, you can also watch this video made in collaboration with the team from TechniQualities, which is based on our written material.
What is Intel XMP?
Intel XMP stands for Intel Extreme Memory Profile and refers to a memory standard developed by Intel for DDR3 RAM with later revisions addressed to the newer DDR4 and DDR5 generations. These memory profiles are data sets containing information about frequencies and timings that can be automatically applied and used by RAM modules to increase performance. In other words, Intel XMP allows you to quickly and effortlessly overclock your memory modules to their ideal frequencies, voltages, and timings.
While all RAM sticks can run at their standard speeds using their default JEDEC profiles, which provide excellent compatibility, XMP profiles enable RAM modules to operate at higher frequencies and with faster timings. Moreover, Intel XMP profiles also raise the voltage of the memory in order to deliver the required electrical energy to run at overclocked speeds.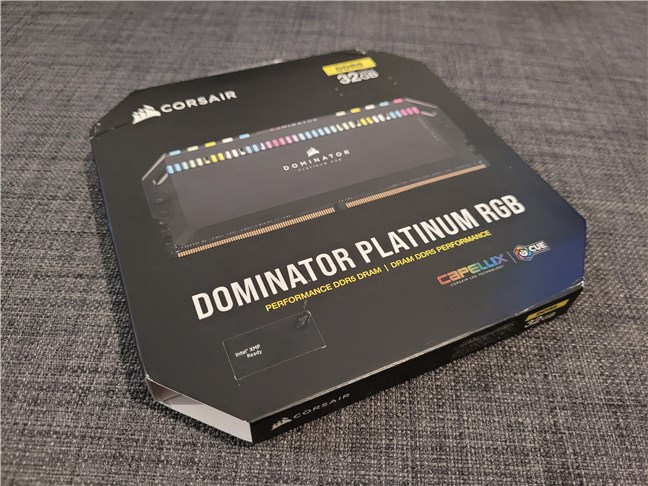 A DDR5 memory kit that's Intel XMP certified
The good thing about such RAM modules is that they should always operate flawlessly at the speeds specified in their XMP profiles because they've already undergone rigorous testing by their manufacturers.
TIP: For more insight on Intel XMP, read this article: What is XMP? How to enable XMP to speed up your RAM.
What is AMD EXPO?
With the launch of the latest AMD Ryzen 7000 desktop processors, a new type of memory profiles has appeared. Known as AMD EXPO or AMD Extended Profiles for Overclocking, these are a type of DDR5 RAM profiles somewhat similar to Intel XMP as their purpose is the same: overclocking memory easily by enabling EXPO profiles in the UEFI of the motherboard. With just a couple of clicks, AMD EXPO allows you to specify the maximum speed for your RAM by automatically setting adequate frequency, timings, and voltages.
A DDR5 memory kit that supports AMD EXPO
TIP: If you'd like to know more about AMD EXPO, check out this article: What is AMD EXPO, and should you enable it for your DDR5 RAM?.
Intel XMP vs. AMD EXPO: What's the difference?
Despite the fact that AMD EXPO and Intel XMP share the same goal, there are certain discrepancies between the two standards:
First and foremost, Intel XMP has been around for quite a while, while AMD EXPO was just recently launched. While you can find DDR3, DDR4, and DDR5 RAM modules with Intel XMP profiles, there are only DDR5 memory modules that support AMD EXPO. You won't find any DDR4 or DDR3 with AMD EXPO.
A DDR5 memory kit that's compatible with both AMD EXPO and Intel XMP
Second, while both AMD EXPO and Intel XMP allow you to overclock your computer's memory easily, the companies don't have the same approach when it comes to how open they are about these technologies.
Intel XMP is a closed-source standard, and while Intel doesn't charge RAM manufacturers for implementing XMP on the modules they make, we don't really know what happens under the hood. Furthermore, when validating their memory modules for XMP, companies run tests whose results are sent over to Intel. If they pass Intel's requirements, those memory modules are then certified for supporting XMP. While the process works and has done so for more than a few years, we can't see the validation results of any Intel XMP-certified RAM modules.
On the other hand, AMD developed the EXPO overclocking memory standard as an open and royalty-free standard that any manufacturer can add to its memory modules without having to pay any license fee, ever. Moreover, any manufacturer can test and validate its memory modules for compatibility with AMD EXPO, without having to send any results to AMD. Those results are open and can be checked by anyone, including users, if the RAM manufacturer chooses to make them public.
DDR5 memory certified for AMD EXPO
The third essential difference between Intel XMP and AMD EXPO is related to cross-compatibility and optimization. Although memory with Intel XMP has been supported by AMD's processors and motherboards for a long time, memory with AMD EXPO should provide better optimization for AMD processors. Also, AMD EXPO profiles can theoretically be used by Intel platforms, too. Still, it remains to be seen how open Intel really is in supporting AMD EXPO. I suspect that it's not. What do you think?
How to overclock your RAM with Intel XMP or AMD EXPO
Enabling Intel XMP or AMD EXPO for your RAM is easy, but you'll first need to head to your motherboard's UEFI to select the profile you want to use. Typically, you can do this by pressing a key such as Del, Esc, or F2 immediately after booting up your computer. However, the steps required differ depending on the motherboard's manufacturer.
After gaining access to your computer's UEFI, look for the Intel XMP or AMD EXPO setting. Most motherboard manufacturers list this setting on the UEFI main page or on its "Easy Mode" view. However, sometimes, you might have to access a tab called Memory, Overclocking, Extreme Tweaker, OC Tweaker, or similar. Unfortunately, each manufacturer makes its own choices as to where exactly the Intel XMP/AMD EXPO profiles are located in the UEFI.
Once you've found the RAM settings, all you have to do in order to enable Intel XMP or AMD EXPO is select the memory profile you prefer from the list. In most cases, you'll probably want the one that offers the best performance by setting the RAM to run at the fastest frequency possible. Here's, for example, how easy it is to enable Intel XMP on a Gigabyte motherboard:
Enabling Intel XMP for a DDR5 memory kit
And here's what turning on AMD EXPO for your RAM looks like on an ASUS motherboard:
Enabling AMD EXPO for a DDR5 memory kit
After enabling Intel XMP or AMD EXPO, you need to save the new settings and exit UEFI. This is usually done by pressing the F10 key while in the UEFI. Then, your computer reboots, and the memory modules will begin operating at the frequency, timings, and voltage indicated by the Intel XMP or AMD EXPO profile you've chosen. Enjoy: your fast RAM has just become faster! 🙂
Intel XMP vs. AMD EXPO: What is the adoption rate?
I wanted to see how memory manufacturers have adopted Intel XMP and AMD EXPO, so I checked Amazon's Best Sellers in Computer Memory. To my surprise, out of the 100 best sellers of RAM memory, there are only ten DDR5 desktop memory kits, which you can see in the table below:
Amazon Best Sellers: DDR5 RAM
Among the ten best selling DDR5 memory kits, there are six which are certified for Intel XMP, and four that feature AMD EXPO profiles. What I didn't see in this top ten is DDR5 memory which offers support for both Intel XMP and AMD EXPO. It seems that most manufacturers offer models which are optimized either for Intel or AMD. However, if you take into account the fact that AMD EXPO was launched quite recently, that's quite a feat, showing there are many people buying RAM with AMD EXPO support for their desktop computers based on AMD Ryzen 7000 processors.
DDR5 RAM with Intel XMP and/or AMD EXPO that we recommend
Even if they're not as popular as the RAM kits sold on Amazon in the list above, there are many other options to choose from when it comes to DDR5 memory with Intel XMP or AMD EXPO. Here are some excellent choices that I recommend you check out:
TIP: If you're upgrading your PC or about to build a new one, I recommend you to read this analysis too: DDR4 vs. DDR5: Should you upgrade?
Advice to consider before buying new RAM!
You don't have to buy RAM with EXPO memory profiles for your AMD Ryzen 7000 processor, just as you don't have to buy RAM with XMP support for an Intel processor. However, choosing one with the appropriate memory profile will make the configuration experience a lot easier. Also, it ensures that the RAM you're buying is compatible with the processor you're using. Still, before making a buying decision, I strongly recommend you also check the compatibility of the RAM you choose with your motherboard. Usually, this is information you can find in your motherboard's manual or on its support webpage. However, you could also check the RAM advisor tools offered by some memory manufacturers. To keep it simple, here's a list with some of the most popular:
Intel XMP vs. AMD EXPO: Which do you think is best?
Now you understand more about what's similar and what's different between the Intel XMP and AMD EXPO memory profiles. And while you probably know about Intel XMP, AMD EXPO is still new, and you may not have heard about it. Before closing this article, tell me what you think: Will manufacturers embrace AMD's take on the seamless overclocking of computer memory? Or will most RAM modules still come only with Intel XMP support? Do you think there will be any pressure on memory manufacturers to provide support for both profiles on the same RAM? Let me know in the comments section below.