With the launch of their latest Ryzen 7000 processors, AMD also shared details about AMD EXPO. If you've followed AMD's announcements or if you've been looking to buy DDR5 memory, you might have an idea of what AMD EXPO is and what it does. However, there's also a chance that this might be the first time you have heard of it. If you want to know more about what AMD EXPO is, what it does, and how to enable EXPO for your RAM, read on. I'll try to explain everything so that you can decide whether it's worth getting DDR5 with AMD EXPO for your new computer:
What is AMD EXPO?
AMD EXPO, a short name for AMD Extended Profiles for Overclocking, represents a new type of memory profiles that allow you to quickly and easily set the maximum speed for your memory. With just one click, you can instantly set the frequency, timings, and voltages used by your memory without having to make any manual changes in your computer's UEFI BIOS. If it sounds familiar, it's because we already have something similar in the form of Intel's XMP profiles (Extreme Memory Profile). While similar in many ways, at least in terms of the end result for the actual user, there are also some differences between the two specifications.
AMD Extended Profiles for Overclocking
AMD EXPO was designed by the company for its Zen 4 Ryzen 7000 line-up of processors. As these CPUs only work with DDR5 memory, you'll find AMD EXPO only on DDR5 memory modules. There aren't any DDR4 kits that support AMD EXPO.
Just like Intel XMP, AMD EXPO profiles let you overclock your computer's memory with only one click. However, unlike Intel XMP, AMD EXPO is a license-free standard for which the company doesn't ask any royalty fees. That means that all motherboard and RAM manufacturers are free to use and implement it on their components. While Intel doesn't charge manufacturers for implementing XMP either, it is still a closed-source standard, meaning that nobody except the company knows how it actually works under the hood.
AMD EXPO advantages
Although AMD EXPO profiles are designed for AMD Ryzen 7000 processors (and future AMD CPU generations, too), that doesn't mean that it's limited to AMD platforms. In theory, AMD EXPO can also be used on Intel-based motherboards with Intel processors. Furthermore, while DDR5 with AMD EXPO is probably the best choice if you have an AMD processor, such RAM is not absolutely necessary to have a fully functional PC. AMD Ryzen 7000 processors can work with Intel XMP profiles too, and even if your motherboard refuses to load any such overclocking profiles, you should still be able to set the RAM's frequency, timings, and voltages manually within UEFI.
How to enable AMD EXPO
Now that you know what it is, if you have DDR5 memory with AMD EXPO, you'll probably want to use it. After all, you're getting more speed from your RAM, so why not enable it? Here's how easy it is to turn AMD EXPO on for your DDR5 memory on an AMD-based motherboard:
To enable AMD EXPO, you have to access your motherboard's UEFI. There are many ways to do that, both before the operating system starts and when it's already running. The most common ways to enter UEFI are by pressing a key such as Del, Esc, or F2 right after you power on your computer. Still, the key(s) you must press can differ depending on the motherboard manufacturer's choices. If you need help finding how to enter UEFI, check these guides, and you'll surely find an answer:
In your motherboard's UEFI, look for a setting called EXPO, AMD EXPO, Extended Profiles for Overclocking, or something similar. On some motherboards, the UEFI might show this setting on the first (home) page; in other cases, you might have to look for it on other pages, like AI Tweaker, Tweaking, Advanced, etc. Again, it depends on the motherboard's manufacturer choices, so the location of the AMD EXPO settings can be, quite frankly, anywhere in your UEFI.
For example, on my ASUS Prime X670-E WiFi motherboard, the EXPO setting is shown directly on its UEFI EZ Mode page.
AMD EXPO setting in the UEFI of an ASUS motherboard
However, I can also find it on my UEFI's Advanced Mode interface, on the AI Tweaker page.
AMD EXPO settings on the AI Tweaker UEFI page of an ASUS motherboard
To enable an AMD EXPO DDR5 memory profile, all you have to do is select it from the list of available EXPO profiles. You might have the option to choose from multiple AMD EXPO profiles, depending on how many profiles the DDR5 RAM's manufacturer stored on your memory modules. For example, my Kingston Fury Beast RGB DDR5-6000 32GB memory kit comes with two AMD EXPO profiles. One of them sets the RAM to run at 6000 MT/s (MegaTransfers per second), while the other sets it to run at 5600 MT/s. Obviously, I chose to use the fastest frequency, so I selected the first option: DDR5-6000. You'll probably want the same thing.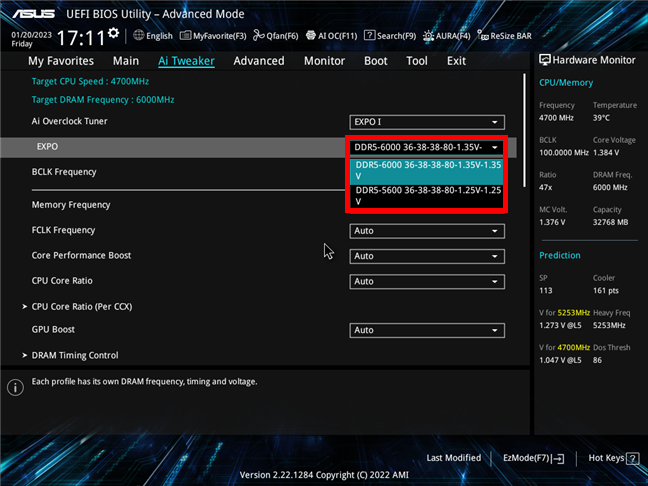 Selecting an AMD EXPO memory profile on an ASUS motherboard
After you choose the AMD EXPO profile you prefer, you must save your settings and reboot your PC. To do that, you can usually press the F10 key while in UEFI, select Save when it asks you if you want to apply and keep your new settings, and wait for your computer to restart. Once it does, your DDR5 memory modules will use the AMD EXPO profile you set and will run at the frequency, timings, and voltage specified by it.
How to see if your RAM supports AMD EXPO and whether EXPO is enabled on your computer
One of the most evident methods to find out whether your DDR5 RAM supports AMD EXPO is by reading the specs on the memory kit's package or looking for the details shared on its support webpage from the manufacturer's website. Another one is to enter UEFI and search for the AMD EXPO setting: if you find it, then your memory is compatible with AMD EXPO. However, there's another method that's much easier than all of the above: with the help of a small and popular tool called CPU-Z.
Download CPU-Z, install, and run it on your Windows PC. Once you've launched it, go to the SPD tab and check out the SPD Ext. field. If your DDR5 RAM supports AMD EXPO profiles, the field should include EXPO. Depending on whether your RAM also supports Intel XMP profiles, you might also see this standard listed too.
Use CPU-Z to find out if your DDR5 RAM supports AMD EXPO
If your DDR5 memory is compatible with AMD EXPO, the next question you might have is whether EXPO is enabled or not. Again, you could find out by entering UEFI and checking the RAM settings there. However, CPU-Z can also tell you that faster. First, on the same CPU-Z SPD tab, in the Timings Table, you can see all the AMD EXPO memory profiles available on your DDR5 RAM.
AMD EXPO profiles listed by CPU-Z
Then, switch to the Memory tab and look at the active RAM timings. Compare them with the AMD EXPO profiles on the SPD tab. If the timings used currently are those from an AMD EXPO profile, then that's the one most likely set for the DDR5 RAM in your UEFI. For example, you can see in the screenshot below that my DDR5 RAM uses the same frequency, timings, and voltage as the AMD EXPO-6000 memory profile listed in the previous screenshot. This tells me that my RAM is set to use the AMD EXPO profile which allows it to run at its maximum speed of 6000 MT/s.
The DDR5 RAM timings should be those of an AMD EXPO profile
In case your DDR5 RAM supports AMD EXPO, but EXPO is not enabled, you should turn it on. It will make your memory run faster, and all it takes is a click or two in your UEFI. You can follow the instructions from the second section of this guide to see what steps you need to take.
In your opinion, is DDR5 with AMD EXPO worth it?
That's all for today: you now have more information on what AMD EXPO is, what it does, and how to enable it. In my opinion, DDR5 with AMD EXPO is worth it, as it brings only advantages for owners of AMD-based computers, and it shouldn't cost more than Intel XMP memory. After all, AMD EXPO is license-free, and it shouldn't be hard or costly for manufacturers to implement it on their RAM memory kits. What about you? What do you think? Is AMD EXPO DDR5 memory worth it, and will you look for it when building your next AMD-based computer?