Some users don't like traditional wireless routers with external antennas. Others want to hide their router from view by mounting it on a wall or placing it in the corner of a room. However, only a few routers cater to these needs. Luckily, ASUS has recently launched the RT-AX59U for these users. A dual-band Wi-Fi 6 router with a beautiful design, solid hardware, and an extensive list of features that make it a good fit for home users and small businesses. If you want to see its performance and how ASUS RT-AX59U works in real life, read my review:
ASUS RT-AX59U: Who is it good for?
This wireless router is a suitable choice for:
Medium-sized apartments and equivalent office spaces
Users who want efficient parental controls, antivirus, and firewall protection
Internet connections with speeds of up to 1 Gbps
People who want to remotely control their router from anywhere on the internet using a mobile app
Users who want to control their home network using Alexa and IFTTT (If This, Then That)
Pros and cons
Here are the things we like about ASUS RT-AX68U:
Works well when using the Wi-Fi 6 standard on both bands
Attractive design
It has two USB ports
Excellent security tools and parental controls
You can remotely control it with a mobile app from anywhere
Innovative VPN features
It can be mounted on walls
There are a few downsides too:
Unimpressive performance when using older standards like Wi-Fi 4 and Wi-Fi 5
The price is a bit high for the performance you get
Verdict
Even though the ASUS RT-AX59U is equipped with a MediaTek processor, this router doesn't perform poorly. On the contrary, its performance is what you would expect from a solid mid-range router. And to make things even more appealing, the feature set for the RT-AX59U is the same as what you get on more premium routers from ASUS. Overall, this reliable, good-looking wireless router is a great fit for mid-sized apartments or office spaces with internet connectivity of up to 1 Gbps. And bonus points, it has a flexible mounting system, allowing you to place it anywhere you want, including on walls.
Unboxing the ASUS RT-AX59U
ASUS RT-AX59U is a dual-band AX4200 wireless router that comes in a black cardboard box, typical for ASUS routers. On the top cover, you see a picture of the router and a list of its most important features.
The packaging for the ASUS RT-AX59U AX4200 dual-band
More information about the product can be found on the box's back and sides. When you open it, you see several leaflets and, under them, the router itself. When you take everything out, you should find the following items: the ASUS RT-AX59U and its power adapter, a CAT5e network cable, some screws for mounting it on walls and a mounting guide, the quick setup guide, the warranty card, a troubleshooting guide, and other leaflets.
Unboxing the ASUS RT-AX59U
The unboxing experience is quick, and you can get straight to business: read the quick setup guide, remove the router from its protective plastic bag, and set it up.
Hardware specifications and design
ASUS RT-AX59U is an elegant, tall wireless router with Wi-Fi 6. It has a size of 15 by 20 cm or 5.91 by 7.87 inches in width and height and a thickness of 6 cm or 2.36 inches. It's also quite light, weighing only 476 grams or 16.79 ounces. One design aspect that many will appreciate is that all its five antennas are internal. As a result, ASUS RT-AX59U doesn't look like most routers do. That's great if you care about using minimalistic yet good-looking devices in your home or office.
ASUS RT-AX59U has as minimalistic design
RT-AX59U has a flexible mounting system, which allows it to be placed on desks and other flat surfaces, as well as on walls. As you can see, the stand bracket can be detached and moved to another position.
The stand bracket can be detached
When you insert the bracket into the holes at the top of the router, you can use the bundled screws to install the RT-AX59U on a ceiling or wall, maybe somewhere out of sight.
It is easy to mount this router on a wall
On the back of the router, you find three Ethernet ports working at 1 Gbps and one WAN port. There's also a USB 3.2 Gen 1 port and a USB 2.0 port. You also have the power jack, the WPS button, and the Reset jack.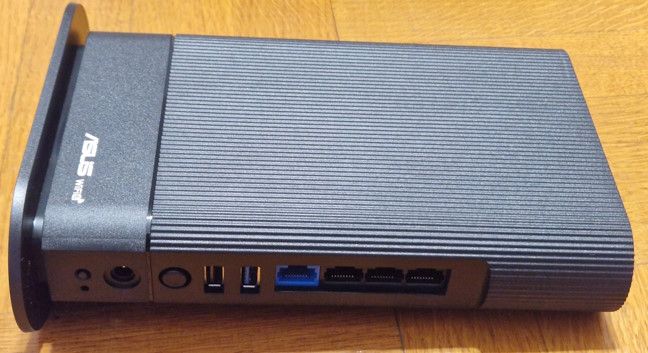 The ports on the back of the router
Towards the bottom, ASUS RT-AX59U has just one LED, which changes colors to let you know its functioning status. As you can see, it's discreet and can be turned off from its software if you are bothered by it, or you can have it turn off automatically at night and light up during the day.
The LED at the bottom of the router
The total theoretical maximum bandwidth is split as follows: 574 Mbps on the 2.4 GHz band and 3603 Mbps on the 5 GHz band when using the Wi-Fi 6 standard. For transmitting data, ASUS RT-AX59U uses 2x2 MU-MIMO on the 2.4 GHz band and 3x3 MU-MIMO on the 5 GHz band.
When evaluating the hardware characteristics of this router, it's clear that it is a mid-range model that aims to provide a good balance between price, performance, and features. For more information about the official specifications of this router, visit this page: ASUS RT-AX59U - Tech Specs.
Setting up and using the ASUS RT-AX59U
You can install ASUS RT-AX59U using the ASUS Router mobile app for Android and iOS or a computer connected to the router using a web browser. This time, I decided to use the mobile app. The setup process is the same as for other ASUS routers: you connect to the default Wi-Fi, select the router you want to install, and provide the details for connecting to the internet.
Setting up the ASUS RT-AX59U
Then, you type the name and password you want for your Wi-Fi, choose an admin username and password, and wait for the router to apply your settings.
Configuring the Wi-Fi network
In the end, you see a summary of your settings and can decide whether you want to enable a remote connection, which allows you to control the router from anywhere on the internet. Then, you can start using the ASUS Router app to configure other, more advanced settings, like parental controls or the router's integration with Alexa or Google Assistant.
The ASUS Router app is easy to use and provides several configuration options you may need. However, it only offers access to some of the tools and features of the RT-AX59U.
The ASUS Router mobile app is easy to use
If you want access to everything the ASUS RT-AX59U offers, you must use a web browser to log in with the admin password you've set. The web interface is friendly, well-organized, and available in 25 languages. Also, the level of control you get is impressive: you can configure everything you want, from the VPN features to antivirus protection and port forwarding to the many parameters of the wireless network.
ASUS RT-AX59U has many VPN-related features
One aspect that I appreciate is the firmware auto-update capability. I recommend you enable it and choose a late hour for it, when you're asleep, to avoid being impacted while the wireless router reboots to finalize the update.
If you have problems understanding a specific setting, you'll be happy to know that the help documentation is easily accessible through links to the manual at the bottom of the web interface. You also see a question mark for some settings when hovering over them. Clicking on it reveals a tooltip with information on what that setting does.
Many settings have useful descriptions of what they do
Connecting all my devices to the wireless network worked without problems, even when using WPA3 encryption or 160 MHz channels on the 5 GHz band. The overall performance was solid, and the stability of network transfers was especially good on the 5 GHz band when using Wi-Fi 6. Here's an example of a transfer made through Wi-Fi on a computer placed in a room separated by two walls from the router. As you can see, the throughput was very stable.
A wireless transfer on the 5 GHz band
On the 2.4 GHz band though, the variability of wireless transfers is relatively high—however, the router compensated by providing a good coverage area on this band.
If you want to know more about the real-world performance offered by the ASUS RT-AX59U, including a comparison with other routers, go to the next page of this review, where I present detailed measurements.