Do you have a home or small company office where you want to install some video surveillance? Would you fancy a wireless camera that can pan and tilt easily to get 360 degrees coverage, with dust and water resistance, as well as infrared vision for night recording? In this case, TP-Link Tapo C500 should be on your shortlist. This camera is affordable, it has a solid design and some interesting specs. If you want to know more about it and whether it's a good fit for you, read this review:
TP-Link Tapo C500: Who is it good for?
This outdoor Wi-Fi security camera is a good choice if:
You want to keep an eye on your home, garage, garden, or some other location
You need a camera capable of filming during the night
You want an affordable wireless camera
You'd like to be able to integrate it with other smart devices
Pros and cons
These are the things I like about the Tapo C500:
Affordable price
Easy to install, configure, and use
Good video quality in resolutions up to 1080p
Two-way audio
Local storage capabilities
Integrated with Google, Alexa, and IFTTT
There are a few downsides to consider as well:
Lacking Wi-Fi 6 and WPA3 encryption support
No Apple HomeKit support
It's not integrated with TP-Link's Tapo H200 smart hub
Verdict
TP-Link Tapo C500 is an excellent outdoor Wi-Fi security camera with a great price that many can afford and useful features, like AI motion alerts and night vision. It can record video up to 1080p resolution, with good image quality, and store it locally, on a microSD card, or in TP-Link's cloud storage, depending on your preference and budget. Its smarthome integration capabilities are not to be scoffed at either. I think that Tapo C500 delivers great value for money and will please most users.
Unboxing the TP-Link Tapo C500
Tapo C500 comes in a white cardboard box featuring a big picture of the security camera on the top cover. As you can see in my photos, the company does a good job of promoting the most important specifications and features on this camera's packaging.
The packaging for TP-Link Tapo C500
You get more detailed information about its features on the back and the sides of the box. For example, you get a detailed explanation of how its smart person detection and motion tracking work.
You get a good description of the camera's features
When you open the box, you find the following items, carefully packaged and protected: the Tapo C500 camera, its power adapter, a mounting template, several anchors and screws, a waterproof seal for the power connector, the quick start guide, details about the warranty, and the license for the product's firmware.
Everything you find inside the box
The packaging for the TP-Link Tapo C500 security camera looks good, and the unboxing experience is pleasant. Inside the box, you find plenty of useful accessories for mounting the camera where you need it. It's a good idea to read the quick start guide first and familiarize yourself with the camera and the steps involved in setting it up.
Design and hardware specifications
Design-wise, TP-Link Tapo C500 is simple, discrete, and quite pleasant. It has a rounded, functional design, it's available only in white, and the only thing printed on it is the tapo logo. The camera weighs around 350 grams or 0.77 pounds, and its dimensions are 4.9 x 4.8 x 3.5 inches or 123.8 x 123 x 90 mm in width x depth x height.
The camera is not that big and isn't heavy either
Tapo C500 is an outdoor security camera that can pan and tilt with 360 degrees of horizontal motion tracking and 130 degrees of vertical range. It can record videos using resolutions up to 1080p, at a maximum of 15 frames per second. While this is good enough for most people, I would have preferred it to film at 30 fps. It has a 1/3" image sensor with an aperture of f/2 plus/minus 10% and a focal length of 3.89mm plus/minus 5%. The camera is also capable of night vision, and it uses an 850 nm infrared LED with a range of up to 98 feet or 30 meters.
TP-Link Tapo C500 has a pleasant design
Because it is designed to be used outdoors, Tapo C500 offers many installation options: in its box, you have mounting screws and a mounting template, which allows you to place it on walls or ceilings to get a great view of the area you want to survey. To help with that, the camera has a rounded shape and a motor that allows it to rotate, pan, and tilt.
TP-Link Tapo C500 with the mounting template connected
On its back, there's a microSD card slot, which works with cards up to 512 GB in capacity. Next to it, you find the Reset jack, which you should press and hold for five seconds when you want to reset the camera. However, to access them, you have to unscrew two screws and take out their protective plate.
This is where you plug in the microSD card
For protection against tougher weather, Tapo C500 features an IP65 certification, which means that it has great protection against dust and can resist low-pressure jets of water, or the usual rain. It has built-in algorithms for person detection and motion tracking. Its built-in two-way audio feature can be useful when you want to speak with someone found in its vicinity, like when you want the delivery person to leave something at your door or when you want to warn someone that this isn't their parking spot, it's yours.🙂
Tapo C500 features an IP65 certification
You can connect the Tapo C500 to your network through Wi-Fi using the 2.4 GHz wireless band. Unfortunately, it doesn't offer support for Wi-Fi 6 and WPA3 encryption. For a smart device released in 2023, I consider this a downside.
The Tapo C500 outdoor Wi-Fi security camera is well-designed, with useful features and solid specs. In theory, it should provide a positive user experience. For more detailed information about this product and its official specifications, visit Tapo C500.
Installing the TP-Link Tapo C500
First, it is best to take the Tapo C500 to a room with great Wi-Fi. Plug in the power adapter, turn on the camera, and install the Tapo app on your smartphone. Connect with your TP-Link ID, and add the camera to the app.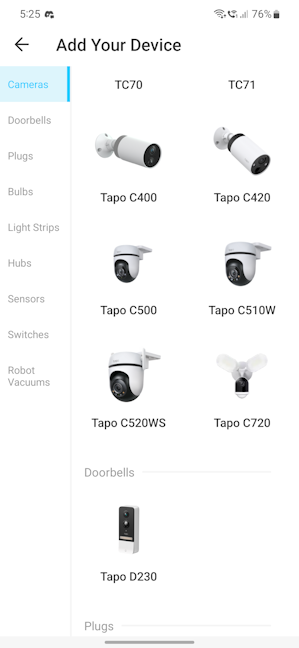 Adding Tapo C500 to the Tapo app
The initial setup involves connecting to the Tapo C500, choosing the Wi-Fi you connect it to, naming the device, choosing its location and whether you want to enable Tapo Care Cloud Services, which gives you access to unlimited cloud storage. If you find its pricing expensive, you can just add a microSD card to the back of the camera and store all your footage locally.
Do you want Tapo Care Cloud Services?
Next, you choose whether you want to enable the automatic updates for the camera's firmware and the interval in which it is performed. Finally, you get a tour of the camera's main features and how they work, and you can start using the TP-Link Tapo C500.
It is a good idea to read the tutorial 🙂
After the initial setup, turn off the camera and move it to the location where you want to use it. You may need to drill some holes, mount the camera bracket, and install the camera in its surveillance spot.
How to mount the Tapo C500
If you want to mount it on poles, purchase pole-mounting loops. Unfortunately, they're not included in the standard packing. Then, you can control the Tapo C500 from the Tapo app on your phone, where you find your other Tapo devices, like the TP-Link Tapo C420S2 camera system I reviewed recently. Unfortunately, a missing feature of the Tapo C500 is integration with the Tapo H200 Hub.
Tapo C500 is not integrated with the Tapo H200 Hub
It would've been great for them to work together, as you could've used one microSD card to store all the videos recorded by your security cameras. However, this limitation may be less important for users who need only one security camera or prefer an affordable model like the Tapo C500.
I enjoyed the installation process for Tapo C500. Setting it up is easy, and so is installing it where you need to use it. One important aspect to be aware of is having a power outlet relatively close to it. Luckily, its rather long power cable helps with this issue.
Using the TP-Link Tapo C500
The Tapo app is friendly and easy to use. When you open it, select the Tapo C500 to get a video feed of what's in front of it. You can set its functioning mode, move the camera to any point you wish using its Pan & Tilt functions, turn on its alarm (or stop it if an alarm was triggered), access past recordings, make a voice call with a person who's near the camera, and more.
You get a video feed straightaway
By default, Tapo C500 records videos in 720p resolution. However, you can switch to 1080p (for more details and improved quality at the expense of storage space) or lower it to 360p (to maximize the storage).
Setting the video quality is a good idea
This is a surveillance camera, and the point is to film everything in its sight. However, if you have a sensitive area, which you don't want to be filmed, you can enable and configure its Privacy Zones. Or, if you're around the camera and don't want to be recorded, you can enable Privacy Mode, and the lens changes its position so that it's facing its housing, instead of facing you.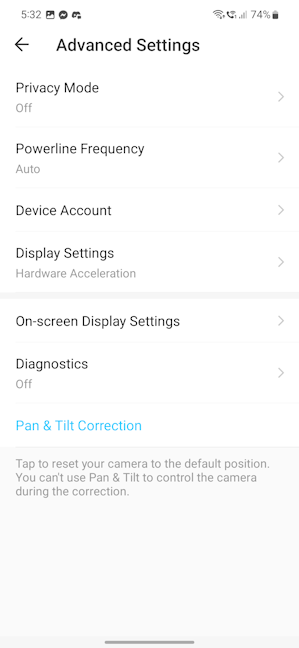 You should configure the camera's advanced settings
Another minor but cool thing is that you can turn off the camera's status LED from the Tapo app to hide it. Leaving the privacy aspects aside, one of the most important features is the detection algorithms you can use. You can enable motion detection, configure how it works and the AI detection of people walking in the surveillance area. You can also set the Tapo C500 to warn you when someone is trying to tamper with it and even turn on an annoying alarm sound.
Choose how and when you want to be alerted
You should spend some time configuring these aspects and how the camera notifies you through the Tapo app on your smartphone. Try to strike a good balance between how often and when you are notified about the things noticed by the Tapo C500. Otherwise, you may risk receiving too many notifications, which you will ignore, or receive too few and miss something important. You may also want to configure the camera to automatically record what's going on each time movement is detected and set how long you want those clips to be so you don't miss important footage.
The quality of the video recordings is good. I didn't encounter any visibility issues, not even during the night. Thanks to the camera's infrared vision, I could always identify who or what was in front of the camera at night.
Night vision works well
Another plus is integrating the Tapo C500 with Amazon Alexa, Google Assistant, and Google Home. Therefore, you can easily control it using voice commands and integrate it in your smart home ecosystem. Its only downside in this area is that it lacks integration with Apple HomeKit.
Overall, I'm happy with my experience testing the Tapo C500 outdoor security camera. It works well, offers Wi-Fi connectivity, has good image quality, can film at night, and can monitor a large area due to its pan and tilt capabilities.
What do you think of the TP-Link Tapo C500?
Now you know what I like about TP-Link Tapo C500, its most important strengths, and weaknesses. I think it will be a popular product, due to its balance between an affordable price and its features. But, before closing this review, I would like to know your opinion: Do you like this product? Would you consider buying it? Comment using the options available below and let me know.