HUAWEI just launched two new smartwatches, which bring some interesting innovations in the area of health tracking: the HUAWEI Watch 4 and the HUAWEI Watch 4 Pro. I was curious to test them, and the company sent me their best model: the HUAWEI Watch 4 Pro. It's an elegant watch made from durable materials, with a design appealing to male audiences. If you want to know how it looks, as well as how it works and what it has to offer, read this review:
HUAWEI Watch 4 Pro: Who is it good for?
The HUAWEI Watch 4 Pro is a great choice for:
Men who want an elegant watch manufactured with premium materials
Fitness enthusiasts who want to track their activities
People who want to stay on top of their health
Those who want a fitness watch with great battery life
Pros and cons
Here are the things I like about the HUAWEI Watch 4 Pro:
Beautiful design
Excellent build quality, with durable materials
Beautiful display with great outdoor visibility
Good battery life
Includes interesting innovations to health tracking
Great-looking Planet Quest watch faces
There are some downsides to consider as well:
Fast charging is available only with a HUAWEI adapter
It's heavier than most smartwatches
There is a limited number of smartwatch apps available for it
Verdict
HUAWEI Watch 4 Pro is an elegant health and fitness watch with some useful built-in smartwatch features. It's made of durable yet heavier materials, and its design is aimed mostly at men. I thoroughly enjoyed using the new health-tracking capabilities that help this watch shine. To make things even better, the latest version of the HUAWEI Health app (that accompanies this device) introduces a fresh approach to a rather saturated market. The HUAWEI Watch 4 Pro is fast and easy to navigate and use, even when outdoors. I like it a lot and recommend it to men passionate about monitoring and improving their health and fitness.
Unboxing the HUAWEI Watch 4 Pro
The HUAWEI Watch 4 Pro is available in two different versions: one with a dark brown leather strap and another with a titanium strap, which is a bit heavier, more resistant, and more expensive. I received the Titanium version for testing.
HUAWEI Watch 4 Pro is available in two versions
The packaging for the HUAWEI Watch 4 Pro looks elegant. The smartwatch comes in a black cardboard box with a picture of the device, the product name, and the company logo on the top cover.
The packaging of the HUAWEI Watch 4 Pro is elegant
There's little information printed on the sides of the box. You only find a sticker with the serial number and a few details about the model you bought. On the bottom of the box, a QR code takes you to the latest version of the HUAWEI Health app. This app is required to install, configure, and use the HUAWEI Watch 4 Pro. Opening the box immediately reveals the smartwatch, nicely packaged in a slot that keeps it safe during transport.
Unboxing the HUAWEI Watch 4 Pro
When you unpack everything, you find the following items: the HUAWEI Watch 4 Pro, its wireless charging cradle, the quick start guide, safety information, and the warranty card. If you buy the version with the Titanium strap, you also get some spare elements that allow you to increase the length of the bracelet.
Everything you find inside the box
Unboxing the HUAWEI Watch 4 Pro is a pleasant experience that makes you feel like you just bought a premium device. And before you get started with installing the watch and configuring all its features, it is a good idea to charge it using the bundled charging cradle.
Design and hardware specifications
I immediately liked the HUAWEI Watch 4 Pro because it looks like a classic watch designed for a male audience. First of all, its body is made from titanium, a sturdy, skin-friendly material that looks good. Looking at this watch carefully, HUAWEI's focus on excellent build quality and durable materials is evident. To complete the picture, its dimensions are quite generous: the HUAWEI Watch 4 Pro has a size of 48.8 mm x 47.6 mm x 12.9 mm or 1.92 x 1.87 x 0.5 inches and a weight of 65 grams (2.29 ounces) without the strap. The Titanium version I'm testing weighs 115 grams (4.05 ounces) with the strap attached, which makes it heavier than the HUAWEI WATCH GT 3 Pro I reviewed last year. I expect the Dark Brown version of the watch to weigh a lot less, thanks to its lighter leather strap.
HUAWEI Watch 4 Pro looks like a classic watch for men
HUAWEI Watch 4 Pro can fit wrist sizes between 140 and 210 mm or 5.51 to 8.26 inches. The Titanium version has additional elements that can be added to increase the length of the bracelet so that people with thicker arms can use it. The mechanism for adding or removing them is quite simple and easy to use.
You can adjust the length of the strap
The watch has a 1.5-inch screen with an LTPO AMOLED panel, a resolution of 466 × 466 pixels, and a pixel density of 310 ppi (pixels per inch). What is LTPO? Well, it's an acronym that stands for low-temperature polycrystalline oxide. It means that the display can dynamically change its refresh rate depending on how you use it to provide a user experience that feels fast, fluid, and responsive. HUAWEI Watch 4 Pro has a physical button and a tactile watch crown that you can use to navigate the watch and its many features.
The screen uses an LTPO AMOLED panel
An important aspect of the HUAWEI Watch 4 Pro is that it holds an IP68 certification for protection against dust, dirt, and sand and has 5 ATM 30-meter water resistance. Therefore, this smartwatch can be worn while swimming and diving in shallow waters like in a pool or along the coast.
This wearable device has many sensors: an accelerometer, a gyroscope, a compass, an optical heart rate sensor, an ambient light sensor, a barometer, a temperature sensor, an ECG sensor, and a depth sensor. It also features GPS, NFC, and Bluetooth 5.2 connectivity. To complete the picture, the HUAWEI Watch 4 Pro includes both a microphone and a speaker and eSIM support, facilitating making phone calls or sending and receiving text messages straight from your watch.
The back of the HUAWEI Watch 4 Pro
The HUAWEI Watch 4 Pro battery has a capacity of 790 mAh. The company says it should last up to 4 and a half days in standard mode and between 12 and 21 days when you enable its Ultra-long Battery Life mode. As expected, the Ultra-long Battery Life mode deactivates some features (like Health Glance or Respiratory Check) and increases the interval between certain automatic measurements. If you're using a HUAWEI adapter like the one that comes with the HUAWEI P60 Pro, you can also enjoy faster charging times than on previous models. For example, according to the official specs, the HUAWEI Watch 4 Pro charges from 0% to 100% in 90 minutes. The company also brags about getting a day of use on a 15-minute charge.
The operating system installed is HUAWEI's HarmonyOS 3.1, which works with Android and iOS devices. All you need to install and configure this watch is the latest version of the HUAWEI Health app.
HUAWEI Watch 4 Pro comes with HarmonyOS 3.1
HUAWEI Watch 4 Pro has a stylish design inspired by classic watches for men. The build quality, hardware specifications, and screen are premium. And after just a few days of use, it's evident that this watch is created for men who care about an active lifestyle and want an elegant fitness watch made from durable, high-quality materials.
NOTE: If you want to check the official specifications of this watch, go to this page: HUAWEI WATCH 4 Series.
Setting up and using the HUAWEI Watch 4 Pro
If you want to use the HUAWEI Watch 4 Pro, install the latest version of the HUAWEI Health app on your smartphone. The newest version for iPhones is in the App Store. However, if you're using an Android device not made by HUAWEI, you must visit the app's web page to get it. HUAWEI smartphone users can find the app in AppGallery. Next, create a HUAWEI account, log in, select your watch, and go through the setup process. There are many steps, including giving lots of permissions to the HUAWEI Health app, setting up notifications, and checking for software updates for your watch.
Setting up the HUAWEI Watch 4 Pro takes a bit of time
After you finish the initial setup, you see that the device is listed as Connected in the HUAWEI Health app. Then, you can customize its watch faces and turn the features available on or off.
The watch is now connected to the HUAWEI Health app
HUAWEI Watch 4 Pro introduces themed watch faces that take after the Moon and six planets from our solar system (Earth, Mars, Venus, Jupiter, Mercury, and Saturn). You're shown the time, your local longitude and latitude, and the day/night cycle data. Those interested in astronomy and all kinds of geeky data will likely greatly enjoy these new watch faces.
The themed watch faces are cool
The HUAWEI Health app has been redesigned to be a good companion for the HUAWEI Watch 4 Pro. Its main Health section no longer focuses on the number of steps you've walked today and the number of calories you've burned, but on your overall physical activity, sleep, and mood. The app still tracks your steps, but they're no longer the most important metric. They're a secondary metric in your Activity rings.
HUAWEI Health has received a major redesign
Another change introduced in the HUAWEI Health app is that you can no longer track your water intake. The company probably removed this feature because it wasn't used much. However, because I have a history of drinking less water than my body requires, I rely on water-logging solutions to improve my health. So I'm disappointed by the removal of this feature. Luckily, my disappointment didn't last long because the HUAWEI Watch 4 Pro introduces many new features and approaches towards tracking and improving your health, like Health Glance and Health Clovers. I'll go over them in more detail in the next section of this review.
A list with the main health tracking features
Getting back to the watch itself, navigating it is done using touch, the crown, and the button on the side. Touch navigation works the same as on any smartwatch, while the crown scrolls through the options shown on the screen. The button is programmable, and when pressed, it opens a Quick bar with three shortcuts to actions you may find useful. These can be customized from the HUAWEI Health app. Overall, navigation is easy and responsive. No matter what app or setting I tried to access, I didn't notice any slowdown.
The Quick bar is customizable
The screen is clear and visible, even outdoors, which is great for people into sports and sports tracking. I also like that HUAWEI Watch 4 Pro comes with eSIM support, which helps you take calls even when you don't have your smartphone. This is useful when going out on a quick run or when you don't want to stop your activity, but you also need to reply to the people contacting you.
You can make and receive calls straight from the watch
While I like the depth and accuracy of the sleep tracking offered by the HUAWEI Watch 4 Pro, an aspect that could be better for the Titanium version is its weight. The watch is big and too heavy to wear while sleeping. You feel its weight on your hand, which may be too uncomfortable to get used to, even for a man with large hands. This is the second reason I would prefer the Dark Brown leather strap version, along with its more affordable pricing.
HUAWEI Watch 4 Pro features TruSleep 3.0 tracking
Battery life is important for a wearable device. HUAWEI brags about offering around 4.5 days of autonomy in typical use. During my testing, I found this estimate to be close to reality. However, if you're a very active person, doing lots of sports tracking with GPS included, or if your health isn't great and you need to run many health measurements daily, your mileage may get closer to 3 days of use. Still, that's pretty good, especially if you compare it with the Samsung Galaxy Watch5, which lasts about 30 hours on a single charge. The company also brags about offering up to 21 days of autonomy when enabling the UItra-long Battery life mode. This estimate is unlikely to be achieved, for a simple reason: the people buying the HUAWEI Watch 4 Pro want it for its advanced health tracking features. They want to use those features regularly, and enabling this mode turns off too many of those options. So, people will likely turn the health tracking features back on. As a result, they will likely get around 12 days of autonomy when using this mode.
The battery on this watch has good autonomy
HUAWEI says that the Watch 4 Pro charges from 0% to 100% in 90 minutes, and you can get a day of use from a 15-minute charge. However, this statement is true only if you use a HUAWEI fast charger like the one used for their latest smartphones. I didn't have one around, and a full charge was done in approximately 140 minutes instead of 90.
The features of the HUAWEI Watch 4 Pro
HUAWEI Watch 4 Pro has three focus areas: sports and sports tracking, smartwatch features, and health tracking. First, let's talk about sports tracking. The watch is water resistant, up to 5 ATM and a depth of 30 meters, and has an IP68 resistance rating. The HUAWEI Watch 4 Pro should be a good companion unless you're into diving. Second, the HUAWEI Health app can track more than 100 workouts for all kinds of sports, including niche ones like bowling, rafting, or parkour.
Taking the HUAWEI Watch 4 Pro for a run
Even if you don't have your smartphone around, you can still use the watch to track a surprising amount of activities, including but not limited to indoor and outdoor runs, walks, cycling, swims, mountain biking, jump rope, and hiking. You can also ask HUAWEI's artificial intelligence to create workout plans based on your activity history and health data.
You can start many workouts straight from the watch
The reports you get inside the HUAWEI Health app for each activity you track are excellent. First, you get a map with your route, and you can even use Dynamic tracking to turn your workouts into social media memories. You get details about your pace, workout segments, average speed, distance, elevation, and descent, charts about your heart rate during the workout, aerobic training stress, VO2Max, and more.
At the end of each workout, you get a lot of data
The HUAWEI Watch 4 Pro has smartwatch features, starting with basic ones like weather reporting, alarm clock, stopwatch, timer, compass, altimeter, and air pressure monitor. You also get a flashlight and a useful Find my phone feature. The more advanced features include:
Wi-Fi connectivity and eSIM support.
Notifications from the apps selected on your smartphone. You can also set quick replies to the messages you receive.
You can answer, reject, and initiate calls and text messages from your watch.
App Gallery - the official store for the HUAWEI Watch 4 Pro, used to add apps to your smartwatch. Unfortunately, the list of available apps is not that long compared to Wear OS, but it is slowly improving.
Huawei Wallet - you can make NFC payments using the watch.
Music - you can add music files to your smartwatch and listen to music on it. Unfortunately, there's no Spotify or other popular music streaming service available.
Recording - you can record quick audio notes, save them onto the watch, and play them back later.
Petal Maps - you get access to HUAWEI's maps platform, complete with GPS tracking.
Watch faces - you can choose from a vast collection of free and paid faces to personalize your smartwatch.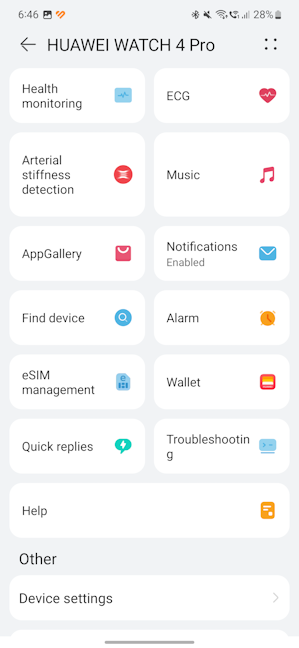 Some of the smartwatch features
The area where the HUAWEI Watch 4 Pro shines the most is health management and tracking. The watch introduces detailed respiratory checks, a feature not available in their previous generation of products. It detects your respiratory rate, as well as the SpO2 range, and analyzes your cough sounds.
You can perform a respiratory check
However, the feature I like best is Health Glance, a quick 60-second evaluation you can perform daily using the HUAWEI Watch 4 Pro. You get a detailed health report, which includes measurements like your average heart rate, blood oxygen level, stress level, skin temperature, sinus rhythm (ECG), arterial stiffness, and respiratory health. If any abnormalities are detected, HUAWEI Health gives you useful feedback on what you can do to improve your health. To make this watch even more useful, you also get access to health trends for each of the metrics gathered by the HUAWEI Watch 4 Pro, helping you see your evolution in time.
You can get a complete Health Check report
Another feature I enjoyed is that HUAWEI Watch 4 Pro measures my heart's recovery rate after each workout. It gives you a great perspective on how healthy your heart is and the work you need to do to get to a better level of heart fitness. And, when you feel stressed by all the data this watch measures, you can use the Guided breathing exercises to lower your heart rate and relax for a bit.
Perform a Guided breathing when you feel stressed
One last great feature I want to point out is the Health community. Suppose you have a family member whose health you want to pay attention to. In that case, you can create a community using the HUAWEI Health app. You can add your parents, significant other, or children and get access to their daily health reports. The only condition is that they also use a HUAWEI health and fitness device and accept to be part of your community. Once that is done, the community gets health updates and readings about the other members. I'm still trying to convince my mother to use a HUAWEI tracker or smartwatch, which would help me monitor her health when I'm not around. And the watch also has a Fall detection algorithm, which would automatically call me or some other family member if it detects that the wearer has fallen.
Add your family to your Health community
Before I close this review, I would like to discuss a feature that some people want but don't yet have access to. When details first emerged in the press about the HUAWEI Watch 4 Pro, it was touted to provide a Blood Sugar (Hyperglycemia) feature. This feature analyzes ten different indicators in 60 seconds, checks the results against a database of previous values it recorded, and provides users with a risk assessment. Users are required to wear the HUAWEI Watch 4 Pro for more than seven consecutive days before receiving hyperglycemia alerts on their wrists. They're also given personalized advice based on the calculated risk levels. Unfortunately, this feature is available only in China. This is because HUAWEI needs to test and certify this feature in other regions before making it available in more countries. Therefore, you won't get access to it if you live in Europe, North America, or other areas outside of China. However, I expect HUAWEI to continue their work and offer this feature worldwide at some point, after they clear all the required certifications.
Do you like the HUAWEI Watch 4 Pro?
Now you know quite a lot about HUAWEI Watch 4 Pro, its features, strengths, and weaknesses. This smartwatch retails at a recommended price of 549 Euros or 500 GBP with the dark brown leather strap and 649 Euros or 550 GBP with the titanium strap. It's a premium device with a matching price tag. However, it brings enough novelties to the market, which makes it an appealing choice for many. Before closing this review, I would like your thoughts: do you like what the HUAWEI Watch 4 Pro offers? Would you consider buying it? Comment using the options below, and let's discuss.