Smartwatches and fitness devices are increasing in popularity, and for good reason: the modern lifestyle isn't necessarily healthy, and as we're growing older, we realize that our health and fitness should be a real priority. Or at least, this is how things have been for me. These devices can help you become and stay fit, as well as evaluate and improve your overall health. And if you want to focus on your well-being, HUAWEI WATCH GT 4 is a device that can help a lot. Read this review and find out what it has to offer:
HUAWEI WATCH GT 4: Who is it good for?
The HUAWEI WATCH GT 4 is a great choice for:
Those who want an elegant watch at a reasonable price
Fitness enthusiasts who want to track their sporting activities
People who want to keep an eye on their health
Users who want a smartwatch with good battery life
Pros and cons
There are many things to like about the HUAWEI WATCH GT 4:
Beautiful design
Many versions available for men and women
Good battery life
Fine-tuned health and sports tracking with excellent sleep analysis
Can withstand pressures up to 5 ATM when used in water
Here is what you may not like:
The initial setup is cumbersome for Android users
HUAWEI has a limited app ecosystem
In many countries, NFC payments are unavailable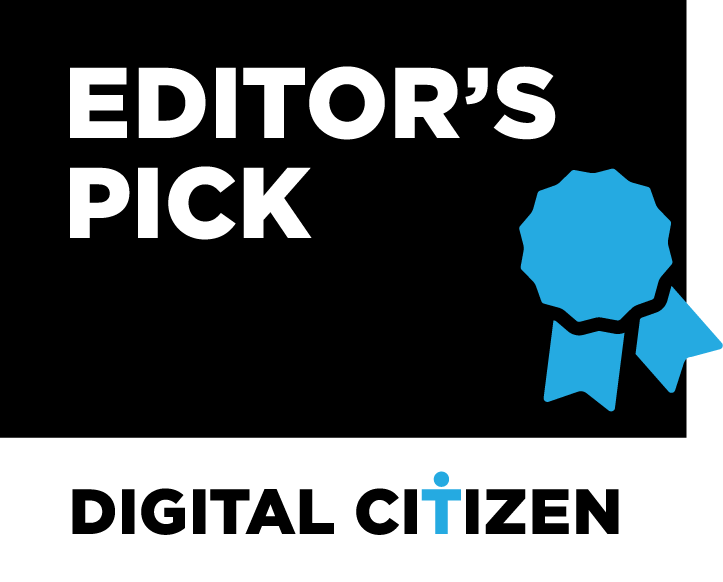 Verdict
HUAWEI WATCH GT 4 is an elegant health and fitness watch that sets itself apart through its beautiful design, the many versions with different sizes and materials used for the strap, and a reasonable price. If you buy it, you get excellent health and fitness tracking, with fine-tuned sensors and algorithms that are better than those on the previous-gen WATCH GT 3, good battery life, and excellent GPS tracking. HUAWEI WATCH GT 4 is a trustworthy companion for people who want or have an active lifestyle, keep an eye on their health, and want to improve it or maintain it at a good level.
Unboxing the HUAWEI WATCH GT 4
The HUAWEI WATCH GT 4 comes in an elegant white cardboard box. On its top cover, there's a picture of the device you just bought, its name, and the company logo.
HUAWEI WATCH GT 4 comes in a beautiful box
There's little to no information printed on the sides of the box. When you open it, you immediately see the watch, nicely packaged in a slot that protects it from damage during transportation.
You see the watch as soon as you open its box
When you take everything out, you find the following items: the WATCH GT 4, its charging cradle, the quick start guide, and the warranty card. The Grey and Silver versions also include some spare elements that allow you to lengthen the bracelet.
Everything that you find inside the packaging
Unboxing the HUAWEI WATCH GT 4 is a pleasant experience. The watch looks good and is nicely packaged. Before you start using it, it's a good idea to charge the watch using the cradle inside the box.
Design and hardware specifications
HUAWEI WATCH GT 4 has a classic look inspired by traditional luxury watches, and it is available in seven versions: four designed for men and three for women. The ones designed for men have a size of 46 mm and come in:
Black - with a light fluoroelastomer strap
Brown - has a classic leather strap
Green - its strap combines 70% ocean-recycled nylon with 30% recycled polyester from plastic bottles
Grey - has a heavier steel strap
They all have an octagonal watch bezel; their exact size is 46 x 46 x 10.9 mm, and they weigh 48 grams without the strap. The strap is 22 mm wide, suitable for a wrist circumference between 140 and 210 mm. Their display has a size of 1.43 inches, and their battery has a capacity of 524 mAh.
HUAWEI WATCH GT 4 - all the 46 mm versions
The three versions for women come in White, Light Gold, and Silver. Their screens are perfectly round and have a size of 41 mm. They're also thinner and lighter: their exact size is 41.3 x 41.3 x 9.8 mm, while their weight is 37 grams without the strap. I received in testing the Silver version for women, which has a steel bracelet. This WATCH GT 4 with its strap weighs 90 grams, a bit heavy for women. The White version has a classic leather strap, while the Light Gold version has a metallic strap. All three straps are 18 mm wide, suitable for a wrist circumference between 120 and 190 mm. Their battery is smaller too, with a capacity of 323 mAh.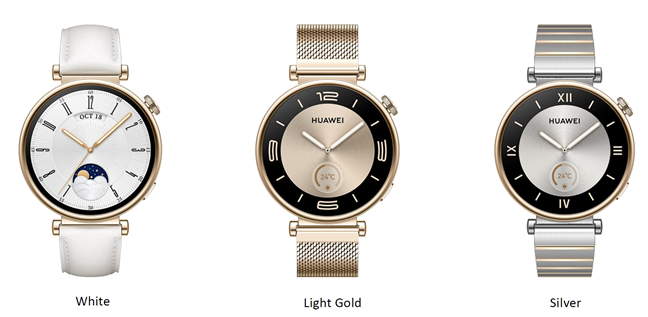 HUAWEI WATCH GT 4 - all the 41 mm versions
As you can see, some characteristics vary between the models for men and women. However, other aspects remain identical. For example, all HUAWEI WATCH GT 4 use the same AMOLED display, with a resolution of 466 x 466 pixels. Also, the materials used for the front case are metal for the bezel and stainless steel for the body. The back shell is made of a polymer fiber composite material.
HUAWEI WATCH GT 4 has an AMOLED display
Their sensors are the same, as well as their connectivity: Bluetooth 5.2, GPS, and NFC. There's no Wi-Fi connectivity on the HUAWEI WATCH GT 4 and no eSIM support. However, you can take calls from the watch if your phone is nearby because each watch has a microphone and speaker built-in.
How do you like the Silver variant?
One last important aspect of the HUAWEI WATCH GT 4 is that it has IP68-certified water and dust resistance, withstanding pressures up to 5 ATM when used in water for swimming. If you want to check the official specifications of this watch, go to this page.
HUAWEI WATCH GT 4 has a classic design that looks great. Many will appreciate its elegance and the variety of colors, sizes, and straps available. The company aimed to make this watch not only reasonably priced for many, but also visually appealing to diverse audiences.
Setting up and using the HUAWEI WATCH GT 4
To use it, HUAWEI WATCH GT 4 requires you to install the HUAWEI Health app on your smartphone. The app is available on Apple's App Store but not Google's Play Store. Therefore, if you're using an Android device, you must visit the app's web page to get it. HUAWEI smartphone users can find the app in AppGallery and quickly install it. When you open the app, sign in with your HUAWEI account (or create one, if needed), and add your HUAWEI WATCH GT 4. The app detects the watch in just a couple of seconds, and it requires you to pair the two devices, give HUAWEI Health its required permissions, set up notifications, and more.
Adding the HUAWEI WATCH GT 4 to HUAWEI Health
You should check for firmware updates and install them when available. The company is active in fixing bugs, adding new features, and improving the user experience.
Updating the firmware is a good idea
NOTE: Because I received the HUAWEI WATCH GT 4 for testing before its official release, I had to use the BETA version of HUAWEI Health. You won't have to do the same because the app will be updated to work with this watch on the release day. The app on your smartphone will look the same as in my screenshots but without the Beta tag.
HUAWEI Health is friendly and relatively easy to use. It opens in the Health tab, which represents the focus area for the company's smartwatches and fitness bands. The sections you see include metrics for Heart rate measurements, SpO2, sleep, stress, skin temperature, activity, and weight. If you're a woman, you can also use the built-in period tracker.
HUAWEI Health is easy to use
In the Exercise tab of HUAWEI Health, you get access to pre-made courses, and you can create your own training plan or use smart features like HUAWEI's AI Running plan, which helps you create a workout plan by answering a few questions and letting the company's algorithms propose how to approach your workouts. The AI Running plan not only proposes how much and how often you should run but also tracks how long it takes you to adapt and get into the habit of running regularly.
Creating workout plans is easy
The Devices section is where you personalize your HUAWEI WATCH GT 4. You can install new watch faces and choose the one(s) you like best, personalize the official ones made for this watch, and choose a different background, color, dial type, time, or time display. From Devices, you can also access AppGallery and install new apps on your watch, like a Spotify controller or a To-Do app based on the Pomodoro technique.
HUAWEI WATCH GT 4 has some beautiful watch faces
You can also add or remove music from the WATCH GT 4 and even personalize your HUAWEI Wallet. Unfortunately, NFC payments with HUAWEI Wallet are available only in a select few countries such as China, Singapore, Germany, Austria, Italy, and South Africa. In most regions, they don't work.
The Me section is where you access and manage your HUAWEI profile, medals, achievements, and other personal data. To help users improve their motivation, the company focused on gamifying activity tracking by introducing new challenges and medals. The goal is to entice users to push their limits, set new milestones for their sporting activities, and achieve better fitness levels.
HUAWEI has a new set of medals to motivate you
When it comes to the user experience offered by the HUAWEI WATCH GT 4, it is very similar to that of other HUAWEI watches. The screen's outdoor visibility is good, and there's plenty of screen space to display the notifications you get from the apps on your phone. You can even reply to messages, but not by typing, only by choosing from a set of predefined answers, which can be personalized.
There's plenty of screen space for notifications
Taking calls from your watch also works, but don't expect high audio quality. You can have a decent conversation when you are in a relatively quiet space. However, the calls answered outdoors on a busy city street or in other noisy environments will be frustrating.
You can take calls from HUAWEI WATCH GT 4
Battery life seems close to the estimates provided by HUAWEI - up to seven days for the smaller 41 mm version of WATCH GT 4 and up to 14 days for the 46 mm version. A full battery charge is done in roughly 100 minutes.
Since I received the smaller version of the watch, designed for women, I asked my girlfriend to wear it for some time and share her feedback. She found the Silver version we received in testing to be a bit heavy and less comfortable to wear, especially during sleep. However, you can get used to it after a couple of days. If you are a woman and having a lightweight smartwatch is important to you, you should opt for the White version, which features a leather strap instead of a steel bracelet. The Light Gold version seems lighter too.
The Silver version is beautiful but also a bit heavy
My girlfriend appreciated the elegance of the watch, as well as the quality of the screen, including when using it outdoors on a sunny weekend at the beach. We both noticed that the bezel easily gathers fingerprints and other stains. Also, dust and beach sand gather around the edges of the AMOLED display. Luckily, cleaning them and having your WATCH GT 4 look nice and shiny again is easy.
Navigating the HUAWEI WATCH GT 4 uses the touch screen, the side button, and the rotating crown. When you press the side button, you get to see all the workouts available on the watch and you can use the rotating crown to scroll through them.
Accessing the Workouts screen is easy
Swiping upwards reveals your notifications, while swiping downwards opens the quick settings. You can also swipe left and right to navigate between the screens with health features and the apps installed on the HUAWEI WATCH GT 4. The navigation system is easy, and the smartwatch is responsive. The only thing that you should watch out for is using it with wet hands. In that case, the touchscreen's sensitivity will not be great, and you'll need to dry your hands first in order to avoid frustration.
Navigating the watch is easy
Using the HUAWEI WATCH GT 4 is a positive experience. The watch looks great, it's built using good quality materials, the screen has excellent outdoor visibility, its battery life is great, and the device is responsive to the user's input. While its smartwatch features are not as advanced as the competition's, HUAWEI WATCH GT 4 is a competent device that works well.
Health tracking with HUAWEI WATCH GT 4
Health is a major focus area for HUAWEI's watches and fitness bands, and the WATCH GT 4 is no exception to this rule. To help people keep track of their health regularly and improve it, the company uses a concept named Health Clovers. They're a set of things that get tracked regularly based on your goals. For example, HUAWEI Health tracks how much you sleep, when you get up, and your sleep quality, gives you reminders about drinking water, and encourages you to log your water intake, and meet your walking goals.
The Health Clovers are useful
The Health Clovers are customizable, and they can vary from person to person, depending on their goals. With HUAWEI WATCH GT 4, the company has continued to fine-tune its health-tracking capabilities. We now have an upgraded heart rate sensor with better accuracy, an improved sleep monitoring algorithm, skin temperature measurements, and a new smart period tracker for women that offers improved predictions by analyzing more physiological indicators.
WATCH GT 4 can register your heart rate in real time and presents detailed reports on its evolution. It also reads your blood oxygen levels (SpO2) but doesn't offer the detailed respiratory checks you'll find on the more expensive HUAWEI WATCH 4 Pro. Also, it can't perform an ECG analysis, as some rumors claimed.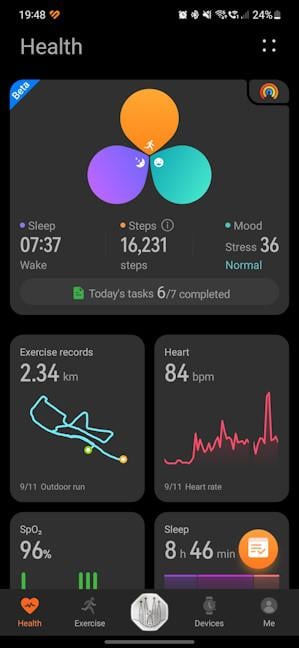 The Health screen in HUAWEI Health
Sleep tracking has been fine-tuned, and it is better than ever. Personally, I have always enjoyed HUAWEI's approach in this area, as the sleep reports you get are detailed and precise. For each night, you see how much you've slept, how long you've spent in each sleep stage, how you compare to other people your age, and whether there's something to worry about your sleep quality. A new feature is that you can record your sleep, and the HUAWEI Health app then tells you if it detected any sleep apnea symptoms. If sleep quality is something you're having problems with, this feature might be very useful to you.
Sleep analysis remains excellent
Weight tracking is available too. You can add it manually or track it automatically using a device like the HUAWEI Smart Scale. A new feature is that you can add how many calories you eat each meal and have the app calculate your daily calorie deficit or surplus in order to help you lose weight if that is what you want.
You can log your calories intake
Families will also appreciate the Health community feature, which allows you to add your parents, children, or significant others to the app, get access to their daily health reports, as well as warnings if something unexpected happens like them falling because of health issues.
Overall, I like HUAWEI's approach to health tracking, and I think it represents a strength of its ecosystem.
Sports tracking with HUAWEI WATCH GT 4
Sports tracking is another important focus area for HUAWEI WATCH GT 4 and many of its users. The watch can track over 100 activities, including niche sports like bobsleigh or rock climbing. However, first, you need to edit the settings on your watch and add those activities you want to track to your watch. Unfortunately, you can't start to track a workout unless you go through this step first.
HUAWEI WATCH GT 4 can track more than 100 activities
During my testing, the activities that I tracked with the HUAWEI WATCH GT 4 were walking, running, and pilates. The company has improved the GPS tracking on this watch, and it shows. I was happy with how fast the watch connected to the satellites in my area and its accurate running tracking. The reports you get from the HUAWEI Health app are excellent: they include a map with your route, details about your pace, workout segments, average speed, distance, elevation, and descent, charts about your heart rate during the workout, aerobic training stress, and VO2Max. Some users will also appreciate the Dynamic tracking feature, which allows them to turn their workouts into social media memories, complete with pictures and other fun details.
At the end of each run, you get plenty of data
And if you're new to sports tracking, the AI Assistant included with HUAWEI Health might be a good place to start and a guide that introduces you to the world of being physically active without challenging you too hard right away.
As long as you are not a professional athlete, you'll be satisfied with what HUAWEI WATCH GT 4 offers regarding sports tracking. Its approach is well-designed and easy to use, and the data you get is enough to motivate and help improve your fitness level.
Do you like the HUAWEI WATCH GT 4?
You have arrived at the end of this review and have a good perspective about what the HUAWEI WATCH GT 4 offers. As you have seen, this is not a full-fledged smartwatch. Instead, it is a watch with many health and fitness tracking features and a limited smartwatch app ecosystem. I'm curious whether you like it or are considering buying it. And if you do, which version piqued your interest and why? Comment using the options below, and let's talk.