Many people associate Garmin with watches made for professional runners and fitness geeks. Few know that the company is also doing a lot of work on developing watches that cater to the needs of a larger audience. Their new Garmin Venu 3S is a health and fitness device that tries to be a great companion for women and men with smaller wrists who want an elegant device to help them create and maintain an active lifestyle and monitor their health. If you're interested in purchasing such a device for yourself, or you're looking for the perfect Christmas tech gift for the one you love, read this review:
Garmin Venu 3S: Who is it good for?
The Garmin Venu 3S is a great choice for:
Women and men with smaller wrists
Wheelchair users
Health & fitness enthusiasts
Users who want a smartwatch with good battery life
Pros and cons
Here are the things I like about the Garmin Venu 3S:
Beautiful design and elegant color options
Small and lightweight, perfect for women and people with smaller wrists
Excellent AMOLED display with great outdoor visibility
Lots of useful workouts and coaching programs, including for wheelchair users
Many useful health-tracking features
ECG is available in some countries (USA, Hong Kong, Vietnam)
Good battery life (but not as good as advertised)
There are some downsides to consider as well:
The Garmin Connect app could be easier to use
You can't track as many activities as with devices from other brands
Complicated app ecosystem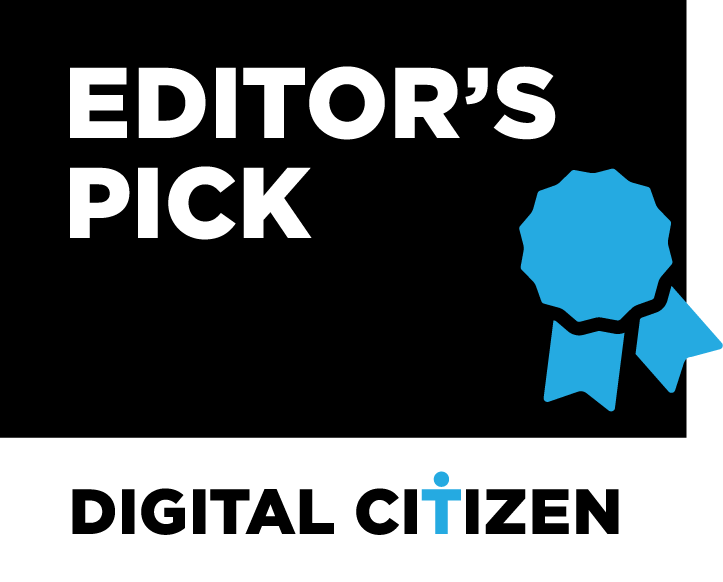 Verdict
The Garmin Venu 3S is a smartwatch I enjoyed testing during the week I had it in for review. It has a sleek design, a lightweight body, and a stunning display. Its battery life is good too. The watch is easy to use and offers many features and data for health and fitness enthusiasts. However, it also has some drawbacks, such as a complex software ecosystem and a limited range of activities that can be tracked. Leaving its minor issues aside, the Garmin Venu 3S is ideal for people who like to try different activities, such as walking, running, yoga, cycling, and meditation.
Unboxing the Garmin Venu 3S
Unfortunately, I didn't receive the Garmin Venu 3S in its retail packaging. Instead, I received a sample version without any packaging that's generally used for in-store showcases. However, when looking for pictures online, I found that it comes in a gray cardboard box featuring a picture of the device on the front and the product's name.
The packaging for Garmin Venu 3S
Image source: AbbyBReviewing
When you open the box, you find the following items: the watch itself, a standard Garmin charging cable, the product setup guide, and a product and safety information leaflet.
Design and hardware specifications
The Garmin Venu 3S looks similar to the previous Venu 2S, and it has a rounded shape with three side buttons. I like that it is available in various colors, showcased in the image below: Sage Gray, Dust Rose, Pebble Gray, French Gray, and Ivory Case.
The colors available for Garmin Venu 3S
The Garmin Venu 3S I received in testing is the Dust Rose variant, the most feminine of the lineup. The watch has an AMOLED touchscreen display protected by Corning Gorilla Glass 3, which can be set to be Always-On, if that's what you prefer, at the expense of battery life. The screen has a diameter of 1.2 inches (30.4 mm) and a resolution of 390 x 390 pixels. The bezel is rounded and made of stainless steel.
How do you like the Dust Rose variant?
On the back of the Garmin Venu 3S, you find some of its sensors alongside the traditional Garmin charging port: the wrist heart rate monitor, the blood oxygen saturation monitor, and the thermometer. The watch also has a GPS chip that can connect to multiple networks, including Glonass (the Russian system that's usually more accurate in mountainous areas) and Galileo (the European system, usually more accurate in urban areas), an altimeter, a compass, a gyroscope, an accelerometer, and an ambient light sensor.
The back of the watch
On one of the watch's sides, there's a speaker you can use to take phone calls and listen to music or the audio prompts shared by the Garmin Venu 3S. One standout feature of this model is that it has 8 GB of storage space, useful to store your music and listen to it on the watch while working out. The watch works with Spotify, Deezer, and Amazon Music accounts. Furthermore, Garmin Venu 3S can connect to Wi-Fi to download the songs you want, and it also works with the ANT+ protocol. However, there's no LTE connectivity available.
The speaker is on the side
Without the band, Garmin Venu 3S weighs just 27 grams or 0.95 ounces; with it on, the watch weighs 40 grams or 1.41 ounces. This is an excellent weight for women and people with smaller wrists. Another aspect worth noting is that Garmin uses quick-release bands with a size of 18 mm. They're easy to replace, and you don't have to buy them from Gamin because they're using an industry standard.
Garmin Venu 3S uses quick release bands
On the side opposite to the speaker, you find three physical buttons to control the Garmin Venu 3S. The one on the top opens the screen with Activities and Apps, while the button in the middle shows a list of the Recent apps you have opened. The button on the bottom acts like a Back button. All the buttons can also be long-pressed to access different options.
The buttons on the side
Garmin Venu 3S can be used while swimming, as the watch withstands pressures equivalent to a depth of 50 meters. Unfortunately, the company doesn't mention the exact capacity of the battery on this watch. It only states that its battery should last up to ten days if you don't track any activities and the always-on display is turned off. As you will later find out in this review, you should take this estimate with a large grain of salt.
NOTE: If you want even more technical specifications and a detailed list of all its features, go to this page: Garmin Venu 3S.
Setting up and using the Garmin Venu 3S
If you want to use the Garmin Venu 3S, you must install the Garmin Connect app for Android and iOS, connect to your Garmin account, and add the smartwatch to the app. The process is not complicated, but it does take some time. After the watch is paired with your phone and Garmin Connect, you are recommended to go through several personalization steps, like setting up the safety features and choosing the emergency contacts your watch gets in touch with in case of incidents, setting the music service you want to use on your watch, or enabling and configuring Garmin Pay.
Setting up your Garmin Venu 3S
The app itself is quite complicated, with tons of options and menus. I suggest you familiarize yourself with all its menus, reports, and configuration options. This is the only way to get acquainted with the wealth of features available on the Garmin Venu 3S. Take time to check for software updates and install them when available. They fix bugs and improve performance and the overall experience. You should also choose how you want the different health metrics to be tracked and how often.
Finishing the setup of my Garmin Venu 3S
One aspect I found frustrating is that you can't do everything from just one app. For example, if you're unhappy with the default watch faces found on the Garmin Venu 3S, you must install the Connect IQ Store. There, you will find free and paid options, as well as third-party apps that can add new features to your smartwatch. Then, if you want to track golfing activities, you need another Garmin Golf app. And, if you want to monitor your computer gaming activities, you need another app, and so on. I hope Garmin will simplify its app ecosystem and make things friendlier. As they are right now, things are a bit intimidating, and I needed more time to understand all the options and features available than I did when testing smartwatches from other brands.
Garmin includes a wealth of tools, apps, reports, and data
As a device, the Garmin Venu 3S is an elegant smartwatch that's comfortable to wear both during the day and night. Its size and weight are well balanced, and the silicon strap is comfortable and doesn't generate any skin rashes.
Garmin Venu 3S is elegant and lightweight
Even though it doesn't have an LTE option, you can take phone calls on the Garmin Venu 3S and answer text messages using its built-in keyboard as long as your phone is near and connected to the watch. The speaker does a decent job during phone calls, and you can hear the people you speak with as long as you are in a quiet environment. However, in loud environments, you will have trouble hearing the people you talk to, and the built-in microphone does a poor job of canceling out noises. Therefore, for a good experience, you should pair your headphones with your smartwatch. This is the only way to truly enjoy listening to the music stored on your Garmin Venu 3S. Otherwise, the built-in speaker will prove underwhelming, especially if you insist on listening to music while running.
You can take calls from your Garmin Venu 3S
Some users will appreciate Garmin's integration with Siri, Google Assistant, and Bixby. You can use your voice to send voice commands to any of them and even reply to text messages using Google Assistant, for example.
Garmin Venu 3S works with your voice assistant
The battery life of the Garmin Venu 3S is good but nowhere near what Garmin promises. If you truly use the watch to track physical activities and health metrics like your blood oxygen level, you won't get anywhere close to those advertised 10 days. Instead, you will get autonomy varying somewhere between 3.5 to 6 days. During the review period, mine lasted a bit more than four days. During this time, I tracked two running sessions, one yoga session, and a few short walks. An important aspect to remember is that GPS tracking consumes a lot of battery. Therefore, if you plan to go on a long cycling or hiking trip, it is a good idea to charge your Garmin Venu 3S beforehand so that it can track your entire activity. According to Garmin, the battery lasts up to 21 hours of GPS-only tracking. If you prefer to enable all positioning systems (GPS, Glonass, and Galileo), the battery will last only up to 15 hours. Charging is done using a standard Garmin charging cable that you need to plug into a USB-Type C phone charger. In my case, the battery charged from 1% to 100% in 82 minutes.
Charging the Garmin Venu 3S takes about 82 minutes
Overall, I'm happy with my experience using the Garmin Venu 3S as a smartwatch. Except for its app ecosystem being rather complicated and the limited number of third-party apps available, I don't have any complaints. I like the watch's design and how comfortable it is to wear and use. I also appreciate the longer battery life compared to Samsung or Apple smartwatches. Next, let's see how good it is at tracking your health.
Health tracking with Garmin Venu 3S
Garmin Venu 3S has plenty of useful health features, and one of the most interesting is the new Health Snapshot. When you activate it, the watch asks you to sit still for two minutes. During this interval, it measures your heart rate, pulse oximetry (the percentage of oxygenated blood), respiration rate, and stress level. This is similar to the Health Glance feature I've tested on the HUAWEI Watch 4 Pro, and I'm happy to see this approach becoming more mainstream.
The Health Snapshot
During a normal day, the Garmin Venu 3S keeps track of the following health aspects: how many steps you make, how much you sleep and the quality of your sleep, your heart rate, heart rate variability and blood oxygen levels, your respiration, stress levels, the calories you burn, and your body battery (your energy resources). One downside is that the Pulse Ox measurements are not enabled by default, to save the battery. You should turn them on and have the Garmin Venu 3S measure it at least during sleep. Or, if you want to maximize the battery life, you can keep it turned off but perform at least one Health Snapshot each day so that it gets measured and you have daily reports about its evolution.
The many things tracked by Garmin Venu 3S
Garmin Venu 3S also has an ECG feature that uses its sensors to record the electrical signals that control how your heart beats. Unfortunately, this is available only in the United States, Hong Kong, and Vietnam. Since I'm based in Romania, I couldn't test it.
Since the Garmin Venu 3S is a device made mostly for women, it also offers women's health tracking features for keeping an eye on the menstrual cycle and pregnancy, complete with exercise and nutrition education.
One of the coolest features on the Garmin Venu 3S is the Morning Report, which tells you how much you slept, what sleep score you get, how your body's battery has replenished, the blood oxygen levels during sleep, your heart rate's variability, and other useful details, including your day's weather forecast.
The Morning Report is pretty cool
Another novelty is the Nap detection feature on Garmin Venu 3S, which automatically logs the naps you take during the day and displays a report on how they benefit your body and their ideal duration. One downside is that the sleep tracking offered by Garmin Venu 3S feels less reliable than that offered by smartwatches from other companies. For example, the sleep stages reported by Garmin were widely different from those reported by the Fitbit or HUAWEI trackers I've used recently, and they didn't reflect as well how I felt when waking up in the morning or during sleep. Therefore, the recommendations offered by Garmin's Sleep Coach seemed off to me, unlike those received from devices from other brands.
How your sleep score is calculated
On the upside, Garmin allows users to log their daily fluid intake. I had health issues in the past, generated by the fact that I wasn't drinking enough water each day. Therefore, I appreciate that I don't have to use a separate app for this task. However, Garmin should let users personalize more cup sizes in the Connect app. Working with only three custom sizes is a bit limiting.
You can log your daily water intake
One novelty introduced by Garmin Venu 3S is that it monitors how you breathe. This is useful in better evaluating your physical fitness and detecting respiratory health problems. Also, to help users improve their breathing, the watch offers mindful breathing exercises and guided meditations that lower your heart rate and stress levels and improve your breathing.
Garmin Venu 3S monitors how you breathe too
Another interesting feature is the Jet Lag Adviser. While I didn't get the chance to test it, Garmin says that it monitors your sleep while traveling, and it then provides you with personalized tips on how to reduce jet lag and ease the transition to your local time.
Like any other smartwatch, the Garmin Venu 3S calculates how many calories you burn during the day and splits them into active calories burned (during physical activities) and resting calories (burned while performing basic functions like breathing or sleeping). And, if you want to be very detailed in your health tracking, you can connect your Garmin Connect account with MyFitnessPal, where you log your food intake and get a picture of how many calories you eat during the day.
Calculating burned calories
At the time of writing, I am 41 years old. My advancing years have made me pay more attention to my health and fitness levels. As a result, I'm focusing more than I used to on improving my relationship with my body and how I take care of it. Garmin's Fitness Age calculations have been a great motivator for me and a guide on what I should focus on improving next. As you can see below, I'm working on losing weight (I have already lost 10 kilograms since last year) and increasing the number of minutes of vigorous exercise I do each week. In the last couple of months, I went from an average of 15 minutes/week to 72, and I will keep improving until I reach 90 minutes. It's not easy, but seeing what I do and how it improves my well-being and my Fitness Age made me more motivated than ever. If you're on a similar journey of self-improvement and self-care, Garmin Venu 3S will help.
Here is my fitness age
Even though it is not a perfect device, if you are interested in keeping an eye on your health and improving it, the Garmin Venu 3S is a great companion. Its many health-tracking features are useful, and some are downright motivational. Also, they work best when coupled with physical activities, and tracking them with Garmin Venu 3S is an excellent experience. But more details about that in the next section of this review.
Sports tracking with Garmin Venu 3S
Garmin Venu 3S is built for people who are or want to become physically active, and I was surprised to see that this smartwatch can be used to track computer gaming activities with the help of an app called Garmin GameOn. To get it to work, you need Bluetooth connectivity on your computer. Tracking your gaming sessions reveals data like your stress level and heart rate. The app advises you to take breaks and gives you some biometrics-based recommendations after every gaming session. While some users may find this feature useful, I felt the need for Garmin to provide me with some data on the negative health aspects of computer gaming and to get advice on how to combat those aspects through physically intensive activities. Unfortunately, this is lacking, and this feature is more a marketing gimmick than something useful.
Tracking eSports is possible with Garmin Venu 3S
But enough about esports, let's talk about physical sports activities. As expected, this is an area where Garmin Venu 3S shines, with the devices having around 30 preloaded GPS and indoor sports apps — including walking, running, cycling, pool swimming, hiking, and activities for wheelchair users. I've used it during my testing to track running, walking, hiking, and yoga activities. Garmin does a great job at this, and you get plenty of details from the map of your tracked activity, the weather you had, and tons of stats, including how your heart rate evolved, your cadence, the number of burned calories, how intense the workout was, etc.
One of my running reports
I missed the more thorough list of tracking activities available on similar devices made by Chinese manufacturers, like HUAWEI and Xioami. Their devices can track more niche activities like dancing, which can sometimes be intense. For example, I attend weekly dance lessons, learning some very fast-paced dance moves. Unfortunately, using its built-in features, I couldn't make the Garmin Venu 3S track those lessons. I did find a third-party app on Garmin's app store, but I found it cumbersome to use and understand, and I gave up on it quite quickly.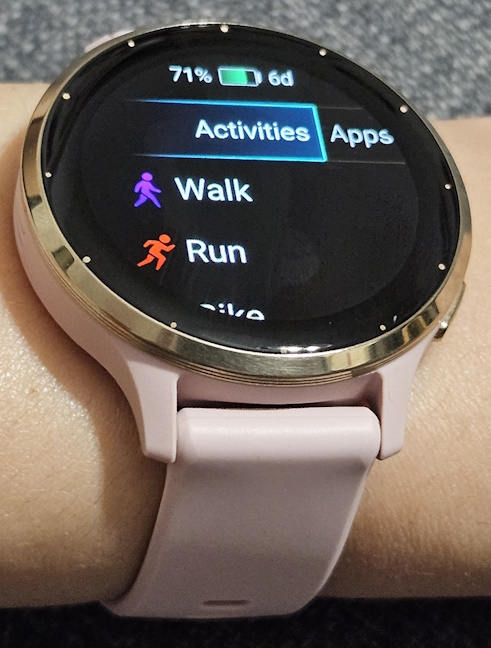 Tracking activities from my watch
Getting back to positives, a strength of Garmin devices in general is in the available workouts and coaching plans. You can create personalized workouts focusing on cardio, strength, HIIT, yoga, pilates, etc.
Some of Garmin's workouts are pretty cool
The Garmin Coach feature is good, too, and it offers several training programs for people who want to become active runners or cyclists. To keep you motivated, you can join all kinds of monthly or permanent challenges in which you compete with other Garmin users. To help you feel rewarded, you also get all kinds of fun badges for completing those challenges.
Do you need a Garmin Coach?
But what's even better about all these features is that they are free with your device. You don't have to pay an extra subscription, like on Fitbit devices. Yes, Garmin Venu 3S is more expensive than most Fitbit devices, but it also offers more when it comes to sports tracking, workouts, and coaching.
One last aspect that I appreciate about Garmin Venu 3S is that it uses three GPS positioning systems. This guarantees you the most accurate tracking possible, even when tracking activities in remote locations that are difficult to access. Professional athletes and people who hike or perform other activities in remote, dangerous areas will highly appreciate this feature.
Garmin Venu 3S can use three GPS positioning systems
Even though you can't track as many sports as with similar devices from other brands, sports tracking is a strength of the Garmin Venu 3S. The types of available workouts and coaching programs are really well made, and the tracking you get is thorough. If you are into building or maintaining an active lifestyle, Garmin Venu 3S is a great companion, even if you are a wheelchair user. Oh, and the GPS tracking system built by Garmin is second to none.
Do you like the Garmin Venu 3S?
This has been a lengthy review. Thank you for reading thus far. I hope you enjoyed learning about the Garmin Venu 3S and its many strengths and few weaknesses. If you have questions about this product that have not been answered in my review, don't hesitate to comment using the options below. And if you already use this product, share your experience with it. It will surely help others who are on the fence about whether they should buy it. Thank you!