The default app store on HUAWEI phones and tablets, AppGallery, offers an ever-expanding ecosystem of apps, games, content, and services. With a community of around 6 million developers, AppGallery is proving surprisingly versatile and useful. If you want to learn more about AppGallery and how to install apps from it, read this article:
What is AppGallery and how to access it on your HUAWEI device
Every HUAWEI smartphone or tablet comes with the AppGallery app store pre-installed. Launched in 2018, it became the third-largest mobile app store in the world in less than four years. Now, AppGallery has over 580 million active users worldwide, 43 million of whom are in Europe alone. If you just got a HUAWEI smartphone or tablet, you can find the AppGallery icon directly on the Home screen, as shown in the image below, on a HUAWEI Mate 50 Pro, the smartphone used for this article.
AppGallery is always on the Home screen of any HUAWEI smartphone
As you can also see in the next photo, the AppGallery is organized into easily accessible categories. At the bottom, you can tap Featured to see the apps and offers recommended by HUAWEI. Tap Apps to discover the most popular apps in the store, organized by category. In the Games tab, you can find the most popular mobile games in AppGallery, while the Me section is where you set up how the store works, how apps are updated, and more. There's a useful feature that lets you automatically sync apps installed on your phone from the AppGallery to all your HUAWEI devices for a more productive multitasking experience.
The AppGallery offers a growing ecosystem
How to install apps from AppGallery (HBO Max, Netflix, etc.)
Installing apps is simple and familiar, even if you have never had a HUAWEI device before. In AppGallery, open the Apps section and use the search box to enter the name of the app you want.
If you watch this input field for a few seconds, you notice that HUAWEI keeps on suggesting app names that change automatically to show the variety of apps available, covering pretty much every area of your life (banking, shopping, productivity, entertainment, fintech, travel apps, etc.).
Find your favorite app in the AppGallery
For this article, I first sought to install HBO Max, one of the most popular streaming platforms. As soon as I typed hbo, the desired result - HBO Max - showed up at the top of the list. You can tap directly on the Install button next to an app to download it. Another option is to tap on the desired result to see the app's page in AppGallery and learn more about it.
The search results are immediately displayed
I went with the second option, and AppGallery loaded the app page, showing screenshots, details about the app, and other app recommendations. Tap Install to proceed.
Tap Install
If this is your first time installing an app from AppGallery, you get a message advising you to be careful when accessing third-party content. If you don't want to see this message again (to speed up the installation process for the next apps), check Don't ask again and tap Continue.
Tap Continue
The progress bar at the bottom of the screen shows, in percentages, the app download.
Watch the app download progress
A few moments later, you are prompted to allow AppGallery to install apps. If you don't want to see this prompt again, check Don't ask me again. Then, tap Allow.
Tap Allow
Next, AppGallery scans the app for possible risks and lets you know whether it has encountered problems. HUAWEI also does daily security checks to detect any security flaws in an app and protect its users as well as possible. Tap Install to continue.
Tap Install
You can now see the AppGallery app page again, displaying the Open button at the very bottom. Tap on it, and the app you installed opens.
Tap Open
I can now connect my HBO Max account and enjoy the latest movies and series on the HUAWEI Mate 50 Pro I use.
Welcome to HBO Max
The installation process is identical for other apps, including Netflix, perhaps the most popular streaming app. In the AppGallery, tap Apps, search for Netflix, tap Install and follow the steps above.
You can install Netflix through the AppGallery
All that's left for you to do is log into your Netflix account from the app and enjoy your favorite episodes of Stranger Things. 🙂
HUAWEI Mate 50 Pro: A brief presentation
We used a HUAWEI Mate 50 Pro for this article. This smartphone stands out first and foremost due to its size and impressive design. Its display is a 6.74-inch OLED with a 120 Hz adaptive refresh rate and a pixel density of 428 ppi. The phone also offers IP68 certification for dust and water resistance (down to a maximum depth of 6 meters or 20 feet), so it can easily withstand wet and dusty environments.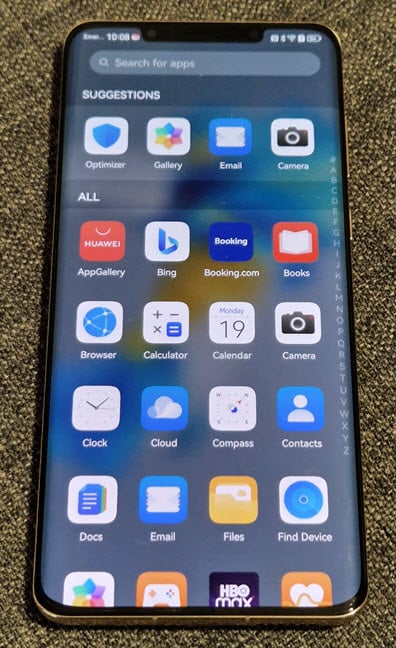 The HUAWEI Mate 50 Pro features an OLED display
However, the most impressive feature is its camera system, which has an axial symmetry that's unusual in the smartphone scene, as the cameras are positioned symmetrically on the two axes (horizontal and vertical). Furthermore, its orange, vegan-leather back looks great.
HUAWEI Mate 50 Pro has an impressive design
The camera system does a very good job and is one of the best performers in today's market. On the back, we get a 50-megapixel main camera, a 64-megapixel telephoto with 3.5X optical zoom, and a 13-megapixel ultrawide camera. The color accuracy in photos captured with this phone is among the best, and so is the quality of night and macro shots.
The camera system is excellent
The selfie camera has 13 megapixels and can take high-quality portraits in any condition. All in all, the HUAWEI Mate 50 Pro is a flagship phone with top hardware and excellent features.
What apps did you get from AppGallery?
Our guide should help any HUAWEI smartphone and tablet user install the apps they want, even if they don't have a high-end smartphone like the HUAWEI Mate 50 Pro. Use the AppGallery yourself, browse the available apps and games, and install the ones you need. Afterward, don't forget to leave a comment sharing the names of the apps you've installed and the ones you use most frequently.