HUAWEI recently launched several new Android-based smartphones, including the new HUAWEI nova 10, a phone aimed at younger audiences. With a design that immediately makes it stand out and a stunning selfie camera, the nova 10 really does have that certain something to draw you in. Let me tell you a bit about the things I like most about it. You may discover that you, too, can become a fan of the HUAWEI nova 10 smartphone:
NOTE: If you want details on what the HUAWEI nova 10 has to offer, you can find the full review here: HUAWEI nova 10 review: Flashy mid-range with great cameras.
1. High-resolution ultrawide selfie camera
I'll start this article with my absolute favorite: the selfie camera. The HUAWEI nova 10 is the world's first Android smartphone equipped with a 60-megapixel ultra-wide front camera with autofocus! Why is it impressive? Well, besides the super-high resolution sensor (60 MP vs. 32 MP on the old nova 9) and the wide angle that can encompass an entire group in a single shot, the autofocus part is often underestimated, even though it's essential for capturing good photos. The autofocus allows the camera to focus correctly on the subject, in this case, you, since we're talking about the selfie camera.
The selfie camera on the HUAWEI nova 10 is amazing
And if you're interested in creating a vlog, for instance, you need one. Not to mention young people who appreciate a good selfie or a video they can show off on TikTok.
2. A state-of-the-art main camera system
It's not just the selfie camera that's premium, but the main cameras on the back of the HUAWEI nova 10 as well. The two wide and ultrawide cameras of 50 and 8 megapixels, respectively, aided by a 2 MP depth camera, manage to capture beautiful photos with vivid colors, excellent detail, and a very good dynamic range.
The main cameras are also excellent
The cameras excel at both daytime and night photography, where I found you don't even really need to switch to night shooting mode. The HUAWEI nova 10 can capture splendid night shots even in standard photo mode.
HUAWEI nova 10 excels even at night photography
The interface of the Camera app is also well-organized and user-friendly, and if you've used a HUAWEI phone or any other Android smartphone before, you shouldn't have any trouble getting used to it right away.
3. Designed to attract younger audiences
All HUAWEI nova smartphones have had a beautiful and distinctive look as a representative detail, both in terms of the colors used and the smoothness of their build. Well, the HUAWEI nova 10 doesn't fall short of its predecessors, offering an ultra-slim design. At just 6.88 millimeters thick, the nova 10 is the thinnest phone in the nova range! Furthermore, its back, colored in black, silver, green, or purple, subtly changes color depending on how you hold the phone in your hand or the angle you look at it from.
The design of HUAWEI nova 10 is aimed at younger audiences
Another key detail on this smartphone, and one sure to catch your eye, is the style of the main cameras. They are surrounded by a golden ring that highlights them in a rather flashy way that's popular, particularly with younger people.
The camera system stands out
4. OLED display with over 1 billion colors
HUAWEI nova 10 doesn't compromise on screen quality. In addition to excellent brightness and contrast, this smartphone's screen is capable of displaying gorgeous images in over a billion colors and is based on a high-quality OLED panel. On top of that, we get HDR10 compatibility, as well as a fast 120Hz refresh rate. All of these make this phone a great choice for those who want a device they can use for watching movies or YouTube clips, among other things, or even for casual gaming.
The OLED screen on the HUAWEI nova 10 is really beautiful
5. Very fast battery charging
Although the battery of the HUAWEI nova 10 isn't very big, it's quite generous and should last you at least a day of normal use. But one aspect I particularly like about this phone is that it supports very fast charging.
Bundled with the smartphone is a 66-watt charger that can charge your phone's battery completely (from 0 to 100%) in just 37 minutes! And in case you're in a real rush because maybe you're late for work, you should know that it takes less than 15 minutes to charge your HUAWEI nova smartphone battery from 10 to 50%...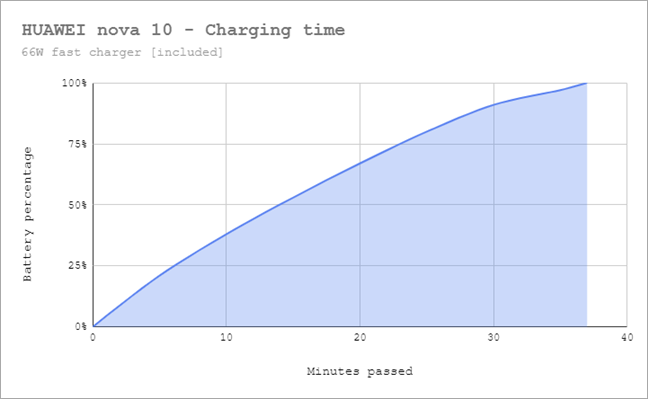 HUAWEI nova 10 charges fully in just 37 minutes
6. An increasing number of apps available in the HUAWEI AppGallery
I said it in the review I wrote for the HUAWEI nova 10, and I'll say it again: HUAWEI's AppGallery app store is getting more useful. In recent years, the company has been investing heavily in developing new apps and bringing developers into its own ecosystem, in an attempt to distance itself and create an alternative platform to Google's Play Store. And it shows: in less than four years, the AppGallery has become the third largest mobile app store, with over 580 million monthly active users. In the last year alone, there has been a 10% growth outside China, and official data says there are 43 million monthly active users in Europe.
The HUAWEI AppGallery is evolving very fast
One of the positive points for current or future HUAWEI nova 10 smartphone owners is that, apart from top apps (like Microsoft Office, Telegram, Tinder, Snapchat, TikTok, Revolut, or Curve) and top games (like PUBG Mobile, Mobile Legends, or Garena Free Fire), the AppGallery store also includes a lot of local apps, at least in our country, Romania.
You get a lot of popular apps available in the AppGallery
And if you need an app that you can't find in the AppGallery, you can always install it either from a third party (because the AppGallery actually gives you direct links to such apps) or via HUAWEI's Gspace app (that lets you install and use any Google or Play Store app).
Gspace lets you use Google apps and services
What do you like best about the HUAWEI nova 10?
Now you know what I like about the HUAWEI nova 10. What about you? What do you find most appealing about this smartphone? Maybe it's the design, perhaps the special selfie camera, or maybe the main cameras? Let me know in the comments below what your thoughts about the new HUAWEI nova 10 are.