Samsung Galaxy Watch5 is a great-looking smartwatch with enhanced durability, hardware, and software over its predecessor. While the leap from the previous version is small, it does fine-tune the Wear OS experience, getting it closer to perfection. If you're looking for a great smartwatch with lots of useful health and tracking features, the Samsung Galaxy Watch5 may just be the device for you. Read this review and learn why:
Samsung Galaxy Watch5: Who is it good for?
The Samsung Galaxy Watch5 is a great choice for:
People who want to track their health and activities
Users who are interested in a great smartwatch with lots of apps and features
People who desire a good-looking wearable device that feels comfortable
Users who are already invested in Samsung's ecosystem
Pros and cons
There are many things I like about the Samsung Galaxy Watch5:
Youthful design with two sizes (Large and Small)
Solid build quality
Comfortable to wear
Excellent sports tracking, with GPS included
Useful health-oriented features
Useful integrations with Samsung's ecosystem
Many smartwatch apps and features
There are some downsides too:
The battery life is underwhelming
The charging is rather slow
You need to install several apps to take advantage of all its features
Verdict
Samsung Galaxy Watch5 has improved over its predecessor in some key areas: battery life, a more durable design, and improved health and fitness tracking. This smartwatch is built around the latest Wear OS 3.5 and offers a large selection of apps. I appreciate the elegance of the Galaxy Watch 5, the quality of the materials used, and the entire smartwatch experience you get. While health and fitness tracking may still need a bit of improvement, they're very useful and will help users in their quest for healthier lifestyles. Despite the advances made by Samsung, battery life and charging speed remain the only major weak spots of the Galaxy Watch 5. Therefore, if you don't mind charging your smartwatch every 22 to 32 hours of use, the Samsung Galaxy Watch5 is a great buy that I recommend to all our readers.
Unboxing the Samsung Galaxy Watch5
Samsung Galaxy Watch5 comes in a simple white cardboard box made from recycled materials. You see a picture of the device and the product name on the top, while on the back, you find some technical information about the product, its serial number, manufacturing date, and other details.
The packaging used for Samsung Galaxy Watch5
When you open the package, you find another smaller box with the leaflets and accessories included with the Galaxy Watch5 and the smartwatch itself.
Unboxing your smartwatch
When you unpack everything, you find the quick start guide, several leaflets with product information and warranty details, the charging cable, the charging cradle, and the Galaxy Watch 5 you bought.
This is what you find inside the box
The unboxing experience is quick and pleasant. Inside the box, you find all the information and accessories required to start using the watch immediately. However, it is a good idea to charge the Samsung Galaxy Watch5 before setting it up.
Design and hardware specifications
Samsung Galaxy Watch5 has a very youthful and colorful design that's very similar to its predecessor's. This device is available in two sizes: a large 44 mm version with a 410mAh battery and a smaller 40 mm version with a 284mAh battery. It also comes in four colors, pictured below: Graphite, Silver, Sapphire (44mm only), and Pink Gold (40mm only).
The color options available for Samsung Galaxy Watch5
The straps are made from silicone, and Samsung also sells several interchangeable bands in many different colors, so you can match your Watch 5 with your outfit. The screen uses a Super AMOLED panel with a resolution of 450 x 450 pixels and 321 ppi (pixel density).
The touchscreen looks great
Samsung uses an aluminum metal frame and Sapphire crystal display to protect the internal circuits of this smartwatch. This makes the Galaxy Watch 5 more scratch resistant than its predecessor.
On the left side of the watch, you find two buttons for navigation: Home and Back, which are pretty self-explanatory. Pressing them simultaneously takes a screenshot, which then gets synced with your smartphone.
The buttons on the Samsung Galaxy Watch5
Inside the Galaxy Watch 5, a dual-core Samsung Exynos W920 wearable processor runs at 1.18 GHz, alongside 16 GB of internal storage, Bluetooth 5.2, an NFC chip for contactless payments, GPS, and an optional LTE modem. Samsung sells this smartwatch in LTE versions (a bit more expensive) and Wi-Fi-only versions. There's also a built-in speaker for taking calls on your watch. However, its quality is not that great, so connecting a pair of earbuds is recommended.
You get a 3-in-1 BioActive sensor with heart rate tracking, ECGs, and body composition analysis. Samsung also included an infrared temperature sensor which is not yet functional. However, the company promised to use it in future firmware updates and enable improved sleep analysis and other features based on this sensor.
Samsung uses a 3-in-1 BioActive sensor
Samsung Galaxy Watch5 has an IP68 rating, meaning that it is water-resistant in up to 5 feet of water for up to 30 minutes, and it is able to withstand dust, dirt, and sand. However, it should not be used for swimming in seawater, as it can damage it.
For more information about the specifications of this product, go to this page: Galaxy Watch5 Smartwatch.
Setting up and using the Samsung Galaxy Watch5
The initial setup for Samsung Galaxy Watch5 is done from the Galaxy Wearable app. In it, you add the watch, agree to all the terms and conditions (both from Samsung and Google), sign in with your Google account, and select the smartwatch apps you want to install. I appreciate this approach because it means you get little bloatware, which improves the whole user experience.
You don't have to install the apps you don't want
At the end of the quick setup wizard, if you're using an LTE model, you can set up a mobile plan on your Galaxy Watch 5. If you have the Wi-Fi version, you connect it to your home's Wi-Fi network. Then, you can use the Galaxy Wearable app to configure your Watch 5 and its smartwatch features. It's a great idea to set up your watch faces, the Apps screen, and the tiles shown by the watch.
The smartwatch configuration starts in Galaxy Wearable
Going through the Tips and user manual section is also a good idea, especially if this is your first Samsung smartwatch. You get to familiarize yourself with all the basic features, find out how to navigate the smartwatch, and so on.
After you finish this initial setup and go through the settings found in the Galaxy Wearable app, it's time to install and set up the Samsung Health app. This is where you get access to all your health and fitness data, and it's important to have it configured before you start using the smartwatch. First, provide the data requested of you (sex, age, height, weight, and so on), and familiarize yourself with all the sections shown by the app. Then, add, remove, and reorder the data sets based on your interests, and set your objectives regarding physical activity, weight, and so on.
Samsung Health is the place for most of your health data
One important aspect to remember is that some features like Sleep coaching become active only after one week of use, so don't get impatient with seeing all the data Samsung can offer immediately.
Wearing the Galaxy Watch5 is a comfortable experience. I received the large 44mm version for review, suitable for men and people with thicker hands. The strap is very elastic and lightweight and doesn't generate any skin rashes. The aluminum metal frame feels durable and doesn't irritate the skin either.
Wearing the Galaxy Watch5 is very comfortable
Navigating the smartwatch is easy: you use touch gestures and the Home and Back keys. You can add or remove tiles from the watch itself, including a Buds Controller that works great with the latest Samsung Galaxy Buds2 Pro we just reviewed. Thanks to this integration, you can answer calls straight from the Watch5 without having your smartphone around (if you own the LTE version). Or you can listen to music while you're out for a run or follow step-by-step directions from Google Maps. The integration offered by Samsung with its ecosystem of devices and accessories is useful and well done. However, this also means that if you have a smartphone from another brand, the Galaxy Watch5 is not as great a companion.
Galaxy Buds2 Pro work great with Galaxy Watch5
Outdoor visibility is excellent; you won't have problems with it, not even in direct sunlight. I also appreciated the screen's responsiveness, even when touching it with sweaty hands after an intense cycling competition. And speaking of sports, the Samsung Galaxy Watch5 has some of the best tracking I've seen on a wearable device. Its GPS tracking is precise, and the auto-tracking capabilities are well thought out.
Tracking activities works great
For example, if the watch detects that you have spent 10 minutes doing some form of physical activity, it automatically tracks it for you and records all the stats. I find this useful when I walk around the city I live in. It shows me how many miles I've walked, how long, how many calories I burned, and so on. Or, when tracking my cycling through the city, its algorithms detect that I'm waiting at a stop light; it pauses the tracking and resumes it when I start moving again. Therefore, my workout metrics are not impacted by the time spent waiting to cross a street.
The automatic tracking does its job very well
All the health stats provided by Samsung Galaxy Watch5 are useful and generally precise. However, there are a few bugs now and then, which can get ironed out through software updates. For example, during one of the first few nights of use, I noticed that the sleep analysis recorded less sleep than I had in reality. That night, I also wore my Fitbit for comparison and saw that the Galaxy Watch5 declared that I had stopped sleeping when I went to the loo in the morning. However, I went back to sleep immediately after and slept for one more hour. Fitbit recorded this additional hour of sleep, while the Galaxy Watch5 didn't.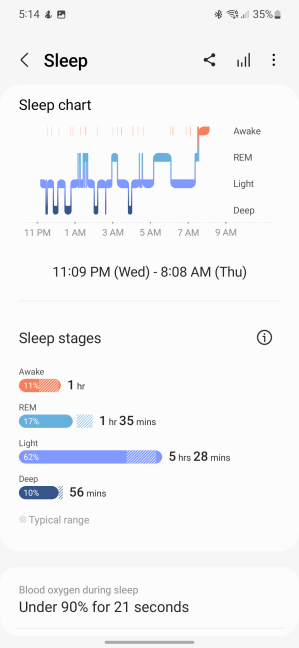 Sleep tracking isn't bad either
Besides this bug, I didn't have any issues, and I found that the Galaxy Watch5 delivered sleep data that was generally close to reality. The same with all its other measurements.
Getting back to the smartwatch capabilities, one of the coolest features of the Galaxy Watch5 is the large collection of watch faces. It includes almost everything you can think of, from stylish to data-driven and funny animated ones. You can also add Complications to the screen, meaning data collected by the smartwatch (like the number of steps, your pulse, and the oxygen blood level). And if these are not enough, you can also download third-party watch faces customized for all kinds of use cases. If you also consider that you can purchase straps from Samsung and third parties in all colors, it's clear that the Galaxy Watch5 places a lot of focus on personalization. You can easily customize your smartwatch to reflect your personality and interests, and it can become a stylish companion that complements how you dress, even on special occasions.
The watch faces can be very funny
If you don't like Samsung's app ecosystem, you'll be happy to learn that you can use Google's instead. For example, you can replace Bixby with Google Assistant and Samsung Pay with Google Wallet. You also get access to Google Maps, which is great.
The only major weakness of the Galaxy Watch5 is its battery life. I tested the large 44mm version, which has a 410 mAh battery. While Samsung advertises two days of use, I found this promise hard to keep in real life. If you track a half-hour run using GPS while listening to music, with all the health tracking features turned on, you won't get more than 30 hours of battery on a single charge. On a very active day, you will have to charge the Watch 5 before you go to bed if you want it to track your sleep too. A more realistic estimate is 22 to 32 hours of run time, depending on how you use your watch. I imagine things are worse for the 40 mm version, which has a smaller 284 mAh battery.
Charging is rather slow
Charging is also underwhelming. Yes, a half-hour charge gets you around 35%-40%, but a full charge takes about two hours, which is a lot for a battery with such a limited capacity. Samsung should have offered fast charging tech similar to smartphones and compensate for the fact that the battery doesn't last that long.
The features of the Samsung Galaxy Watch5
Samsung Galaxy Watch5 is, first of all, a sports tracker. While the default sports available on the Watch5 itself and the Samsung Health app aren't many (walking, running, cycling, running coach, other workout, hiking, swimming indoor and outdoor, and treadmill), you can add more workouts and track up to 90 types of activities. Even if there aren't as many as those claimed by HUAWEI and Xiaomi, it's more than enough for everyone.
You can add many workouts to the Galaxy Watch5
In the Fitness tab of the Samsung Health app, you also find guided workout programs you can join and then follow. They're free and helpful mostly to beginners.
Guided workouts are available
The Together tab can also help you stay motivated by creating challenges to compete with your friends or other Samsung users worldwide. But enough about sports. Samsung Galaxy Watch5 also has many useful health-oriented features:
Daily activity monitoring - measures how many steps you've walked each day, the time you've been physically active, and how many calories you've burned.
Exercise monitoring - it can track manually or automatically, with or without GPS tracking, all the sports and activities mentioned earlier in this section.
Sleep monitoring - it shows you a chart of how much you've slept, how much time you've spent in each stage, what was your blood oxygen during sleep, and how many minutes you've snored (this feature is off by default and needs to be turned on), and your sleep score. After a week of use, you also get access to sleep coaching, which gives you tips on improving your sleep quality, so that your body can regenerate itself better.
Heart rate - it continuously monitors your heart rate and shares detailed charts for each day, with the heart rate's evolution each hour. It also measures your resting heart rate, and it shows the average value for each day.
Blood oxygen - you can have your blood oxygen levels measured automatically or on demand.
ECG - it takes 30 seconds to measure your sinus rhythm on demand, using your Galaxy Watch5, and evaluate whether you show signs of atrial fibrillation. This data is collected and displayed by the Samsung Health Monitor app.
Blood pressure - if you have a cuff-based blood pressure monitor, you can calibrate your Samsung Galaxy Watch5 to measure your blood pressure on demand. The calibration is required only once. Unfortunately, I didn't have a blood pressure monitor available, so I couldn't test this feature. Again, you need to use the Samsung Health Monitor app for this feature.
Stress - automatically calculates your stress levels, showing the average daily score and graphs with your stress level each hour. When you're stressed, the Galaxy Watch5 can help you with guided Breathe exercises.
Food logging - I was pleasantly surprised by the quality of Samsung's database for food logging. You can set objectives and track your eating to improve your diet and lower your weight. While this feature is not as good as the one you get from MyFitnessPal, it is friendly and good enough to be helpful in your quest to lose weight.
Water logging - you can log how many glasses of water you've drank daily. Unfortunately, you can't add custom water quantities. Instead, you only count standard 250 ml glasses. This makes the feature a bit cumbersome and less useful than it could have been.
Body composition - you can make a manual measurement that approximates your body's skeletal muscle weight, fat mass, percentage of body fat, body water, and other useful indicators. When you want to improve your weight and lower your body fat, making these measurements help you see whether you're making progress or not.
Women's health - a menstrual cycle monitor, based on the user's input.
The body composition measurements are useful
NOTE: While you may add a Blood glucose tile in the Samsung Health app, do keep in mind that the Galaxy Watch5 doesn't have an actual sensor and can't monitor your blood sugar levels. You only add data manually, based on the medication you took and the food you've eaten.
Wear OS 3: The smartwatch platform
Samsung Galaxy Watch5 is the first smartwatch with Wear OS 3.5 preinstalled and the One UI Watch 4.5 interface on top. This makes it very familiar to the previous owners of Samsung Galaxy Watch devices and Samsung users in general.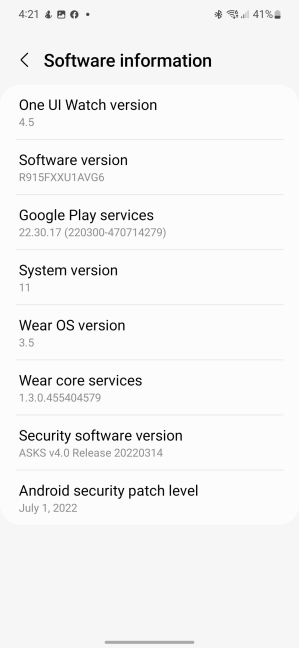 Galaxy Watch5 comes with Wear OS 3.5 and One UI Watch 4.5
All the smartwatch settings are easy to change, and enabling or disabling features is a breeze. You also get access to the largest app ecosystem outside Apple's walled garden, which is a big plus when you compare the Galaxy Watch5 to its competition from the likes of Xiaomi or HUAWEI. In addition, the Play Store for Wear OS includes many apps and watch faces, both free and paid.
There's plenty of watch settings to configure
I consider Wear OS as the Android smartwatch gold standard and the best choice for people who want a wearable device that's not made by Apple.
Samsung's app situation
You need at least two apps two manage your Samsung Galaxy Watch 5: Galaxy Wearable for installing it and setting up the smartwatch features and Samsung Health for configuring and using most of its health and fitness features. In addition, if you want to measure your blood pressure or make an ECG and view the results, you need a third app: Samsung Health Monitor.
See your ECG in Samsung Health Monitor
And, to make things even more complicated, if you want to find your smartwatch when you lose it, you should also install SmartThings to use the SmartThings Find feature. However, this is also helpful because you get automatic notifications when you leave your Watch5 behind without noticing.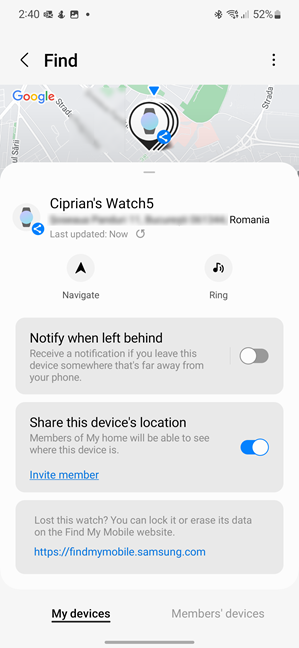 Find your lost Galaxy Watch 5 with SmartThings Find
While the apps are not that complicated, using so many makes the accommodation process a bit cumbersome. For the first couple of weeks, you'll have trouble remembering how to control each feature. I think that Samsung should spend some effort integrating the Samsung Health Monitor into the Samsung Health app to simplify the user experience.
What do you think of the Samsung Galaxy Watch5?
Now you know what I like and don't like about the Samsung Galaxy Watch5, its strengths, and weaknesses. Before closing this review, share your opinion about this product: do you like how it looks and what it has to offer? Did it persuade you to buy it? Comment below, and let's discuss.