Huawei is investing heavily in expanding its product ecosystem outside the smartphone market, and smartwatches and fitness devices are a strong focus area for them. The company recently announced their HUAWEI WATCH GT 3 Pro. It is an elegant product with excellent build quality and many features, available for both men and women. After testing it for several days, I can say that the WATCH GT 3 Pro tries to mix sports with fashion and elegant design. But does this mix make it a good product? Read this review and find out:
HUAWEI WATCH GT 3 Pro: who is it good for?
The HUAWEI WATCH GT 3 Pro is a great choice for:
Fitness enthusiasts who want to track their activities
People who want to stay on top of their health
Users who want an elegant watch, manufactured with premium materials
Those who want a fitness device with excellent battery life
Pros and cons
There are many things I like about the HUAWEI WATCH GT 3 Pro:
Premium materials and excellent build quality
Elegant design with two sizes and styles (for men and women)
Bright AMOLED display with excellent outdoors visibility
Great battery life
Lots of useful health-related features
Excellent sleep analysis
5 ATM water resistance
There are some downsides to consider as well:
The initial setup is a bit cumbersome if you don't have an iPhone or a Huawei smartphone
ECG and NFC payments are not finished/available everywhere
Huawei's app ecosystem limits the smartwatch features
No cellular or Wi-Fi connectivity
Verdict
HUAWEI WATCH GT 3 Pro is, first and foremost, an elegant piece of technology. Second, it is more of a great fitness device than a smartwatch. However, its smartwatch features are just enough to be useful, even though Huawei's app ecosystem is not as extensive as the one offered by Apple and Google. I thoroughly enjoyed testing the HUAWEI WATCH GT 3 Pro, and I think many users should consider it. If you buy it, you get excellent health and fitness tracking, great battery life, and fast and accurate GPS tracking. To top things off, the screen is beautiful, and the materials used and the overall build quality are worthy of a premium price tag.
Unboxing the HUAWEI WATCH GT 3 Pro (Titanium and Ceramic)
The HUAWEI WATCH GT 3 Pro is available in two variants with different stripes: a larger version for men and a smaller one for women. We received both in testing:
Watch GT 3 Pro Titanium - the larger of the two, designed for a male audience. It comes in a large black cardboard box, with a real-life-sized picture of the device on the top cover.
Watch GT 3 Pro Ceramic - the smaller watch, designed for the female audience. While its box has the same size as the one for the watch designed for men, it's made of white cardboard. Also, the watch is white and the same size as the picture on the top cover.
Huawei Watch GT3 Pro has very elegant packaging
When you open the box, you immediately see the device you just bought, nicely packaged in a slot that keeps it safe during transport.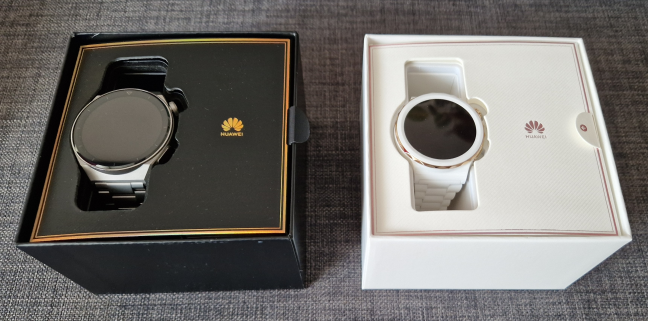 Unboxing the Huawei Watch GT3 Pro
When you unpack everything, you find the following items: the HUAWEI WATCH GT 3 Pro, a wireless charging cradle, the user guide, safety information, and the warranty card. The Watch GT 3 Pro Ceramic also includes a screwdriver that helps you lengthen or shorten the watch's strap. The Watch GT 3 Pro Titanium doesn't need the screwdriver because it has a different system for adjusting the strap length.
Everything you find inside the box
Unboxing the Huawei Watch GT 3 Pro is an enjoyable experience. Both watches come in beautiful packaging, the devices look great, and they have all the information and accessories you need to start using them immediately.
Design and hardware specifications
All HUAWEI WATCH GT 3 Pro variants look like classy high-end watches made from premium materials. In our case: titanium or ceramic. The Titanium version has a size of 46.6 mm x 46.6 mm x 10.9 mm or 1.83 x 1.83 x 0.42 inches, and it works well for wrist sizes between 140 and 210 mm or 5.51 and 8.26 inches. The Ceramic version has a size of 42.9 mm x 42.9 mm x 10.5 mm or 1.68 x 1.68 x 0.41 inches, and it was designed for wrists with sizes between 130 and 190 mm or 5.11 or 7.48 inches. Both smartwatches weigh around 50 grams or 0.11 lbs without the strap and about 110 grams or 0.24 lbs with the strap.
Huawei Watch GT3 Pro Titanic (left) vs Ceramic (right)
The strap for the male version of the Huawei Watch GT 3 Pro can be made of black fluoroelastomer, gray leather, or titanium. The price differs based on the materials used, with the fluoroelastomer strap being the cheapest and the titanium being the most expensive. While all three materials look good, titanium is the best-looking choice. Don't you agree?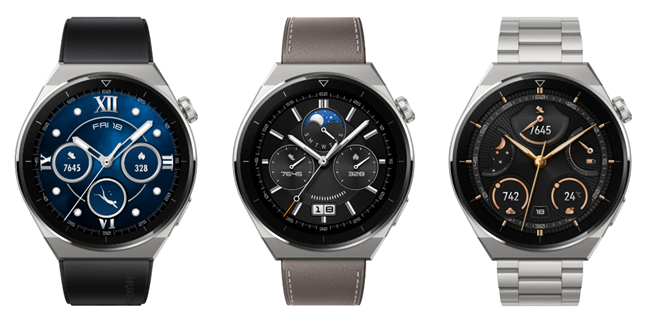 The male versions of the Huawei Watch GT3 Pro
The female version of the Huawei Watch GT 3 Pro can have a ceramic or white leather strap. Obviously, leather is cheaper, but the ceramic one looks even better.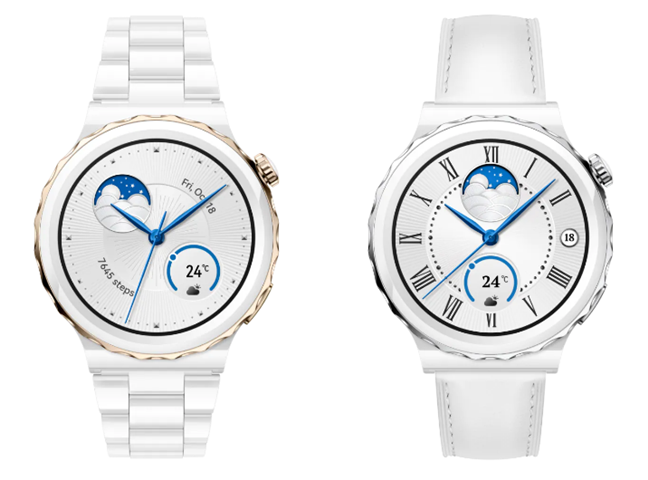 The female versions of Huawei Watch GT3 Pro
The Huawei Watch GT 3 Pro screen uses an AMOLED panel with a 466x466 resolution and a pixel density of 326 ppi (pixels per inch). The screen size differs: 1.43 inches for the male variant and 1.32 inches for the female variant. As you can see, we have both a physical button and a tactile watch crown that you can use to navigate the watch and its many features.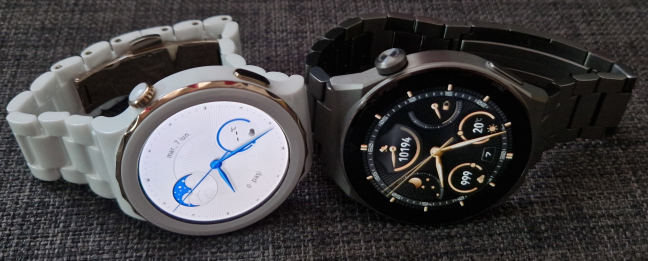 Both watches have a superb AMOLED display
A very cool aspect of the Huawei Watch GT 3 Pro is that it boasts an IP68 rating for dust, dirt, and sand resistance, as well as 5 ATM 50-meter water resistance. Therefore, this smartwatch can be worn while swimming in pools and shallow waters along the coast. However, it should not be worn in hot water, saunas, or during activities that involve high water pressure, high temperatures, high levels of humidity, or fast-flowing water. Also, according to Huawei, the Huawei Watch GT 3 Pro is not suitable for scuba diving, technical diving, and other diving activities where water depth exceeds 30 meters.
Huawei Watch GT3 Pro can be used while swimming
Leaving aside the limitations shared earlier, the HUAWEI WATCH GT 3 Pro is one of the few smartwatches that can be worn safely while swimming and used for tracking activities. This smartwatch has many sensors: an accelerometer, a gyroscope, a magnetometer, an optical heart rate sensor, a barometer, and a temperature sensor. It also features GPS, NFC (only in some regions), and Bluetooth 5.2 connectivity. To complete the picture, the HUAWEI WATCH GT 3 Pro includes both a microphone and a speaker, helpful in answering phone calls straight from your watch.
The back of the Huawei Watch GT3 Pro Ceramic
The battery on the HUAWEI WATCH GT 3 Pro has a capacity of 530 mAh, and the company says that it should last 14 days in regular use or a minimum of 8 days in heavy usage. The battery is charged wirelessly with the help of a cradle, going from 0 to 25% in 10 minutes and to 100% in 85 minutes. The operating system installed is Huawei's HarmonyOS 2.0, based on Android 10.
If you want to go through all the specs of this smartwatch, visit its official website: HUAWEI WATCH GT 3 Pro.
HUAWEI WATCH GT 3 Pro has a stylish design, with different variants for both males and females, as well as different materials and price points. The build quality, hardware specifications, and screen are impressive. This watch is aimed at users who care about an active lifestyle and an elegant design with premium materials.
Setting up and using the HUAWEI WATCH GT 3 Pro
The most annoying thing about using the HUAWEI WATCH GT 3 Pro is the initial setup which requires you to install and configure the Huawei Health app. If you don't use a Huawei smartphone with the company's AppGallery preinstalled, you won't find the latest version of Huawei Health in the Google Play Store. However, iPhone users have the newest app version in their App Store. On my Samsung Galaxy S22, I downloaded the app's latest APK and installed it manually.
The next step is to create a Huawei account, log in with it in the Huawei Health app, select your watch, and go through the setup process. There are many steps, including giving lots of permissions to the Huawei Health app, setting up notifications, and checking for software updates for the HUAWEI WATCH GT 3 Pro.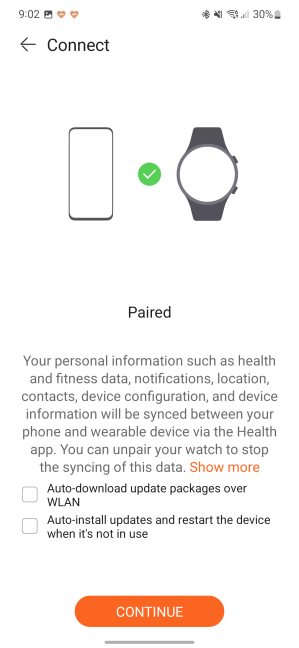 Pairing the watch with Huawei Health
The Huawei Health app is well organized and easy to use. In the app, you find all the features of the HUAWEI WATCH GT 3 Pro. You don't need to install anything else to fully utilize your smartwatch. The sections on the homepage are organized around the watch's main features and can be customized and arranged according to your needs.
The Home screen of the Huawei Health app
There's plenty of health data available, starting with the number of steps you take. If you scroll through everything, you may feel intimidated at first, but as time passes, you will understand each data set better. Over time, you'll also get useful reports about your health. One of the most valuable reports for someone reaching 40, like myself, is the one for Sleep. I was impressed by how much data the HUAWEI WATCH GT 3 Pro has and how well-made the sleep reports are.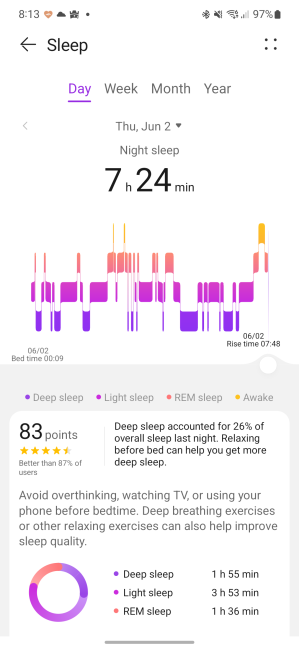 Sleep analysis is really thorough
Due to them, I learned that my Deep sleep continuity is not always the best and that I should add more exercise to my daily routine to improve this aspect. I use a Fitbit Versa 3 as my main fitness device, and while the sleep reports on it are also good, they don't provide the kind of insight the Huawei Health app does. Color me impressed!
The HUAWEI WATCH GT 3 Pro can track almost any physical workout with accurate GPS data. As long as you're not a professional athlete, the precision of the tracking and the amount of data you get should be more than enough. One of the most fun features is Dynamic Tracking, which creates a video showing your progress on a map, with various milestones you can add pictures to. It's great for activities like running, hiking, or cycling. The video can be edited quickly and saved on your smartphone. Then, you can upload it as a story on Facebook, Instagram, WhatsApp, TikTok, or any other social network you want.
The Dynamic Tracking is really cool
Using the watch is a pleasant experience. The device is always responsive, the screen is easy to see and interact with even in direct sunlight, and the controls are intuitive. The workout autodetection mechanism seems to work well too. Also, after any workout, you get a full breakdown of your data split into many categories (route, pace, charts, details) in the Huawei Health app. The watch itself only displays basic data.
You get lots of details and charts about your activities
After a week of using the HUAWEI WATCH GT 3 Pro, you may get addicted to having so much data about your body and start using it to make plans for improving the way you live.
The smartwatch features of the HUAWEI WATCH GT 3 Pro are not many, but they are all useful, except the Wallet app for NFC payments. Unfortunately, this feature is NOT implemented in many regions, including the country I'm from, Romania. Therefore, it feels like a checkmark on a spec sheet more than a real feature. Other than this, I have no complaints. On the WATCH GT 3 Pro, you can choose which notifications you want to see and set quick replies to respond to someone. You also get a nice-looking weather report, alarms, timers, and a basic Music app that can play only the songs stored on your smartwatch. Set your favorite contacts, and you can call them straight from the HUAWEI WATCH GT 3 Pro. Taking calls on the watch works reasonably well, but don't expect fantastic sound quality.
The smartwatch features available for Huawei Watch GT3 Pro
Other minor downsides of the device as a smartwatch are that HUAWEI WATCH GT 3 Pro can't connect to Wi-Fi and doesn't have cellular connectivity, so you can't fully use it as a smartwatch unless you have your phone around. However, you do get eSIM support in some countries.
I didn't get the chance to thoroughly test Huawei's advertised battery life of 14 days. After nine days of testing, the WATCH GT 3 Pro still had a 22% battery charge. This should have sufficed for another two or three days of normal use, which means that Huawei's promises are not unrealistic. If you are a light user, you should get around 14 days of use, without the screen always on.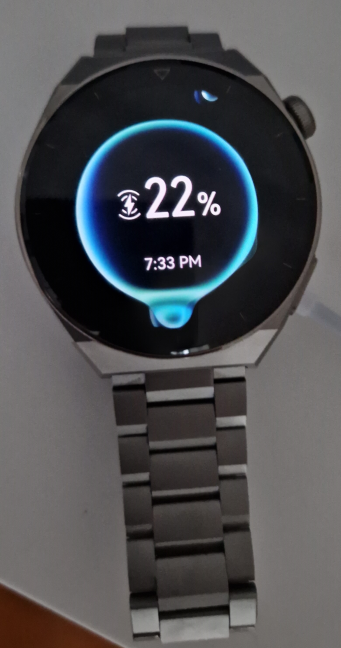 Battery life is great
Another important aspect is how comfortable the HUAWEI WATCH GT 3 Pro is to wear. Adjusting the strap to fit your wrist size is not difficult if you pay a bit of attention. However, the Ceramic and the Titanium versions feel a bit heavier than other smartwatches. If you don't like heavy accessories, you should opt for the models with lighter straps like leather or fluoroelastomer. During my nine days of use, I got no skin irritation, and I found the smartwatch comfortable to wear even during sleep. However, the first two to three days were a bit rough in this regard. While I don't even feel the weight of my Fitbit Versa 3, the HUAWEI WATCH GT 3 Pro did require some getting used to. By the end of my testing period, the weight was no longer an issue though, as my body grew accustomed to it.
To complete my understanding of the HUAWEI WATCH GT 3 Pro, I asked a female friend to wear the Ceramic variant. She thoroughly enjoyed the materials used for the watch and how comfortable they felt on her skin. She had no irritations or discomfort. Also, the elegance of the watch made her see it less as a fitness device and more as a smartwatch for people interested in fashion and looking great at all times.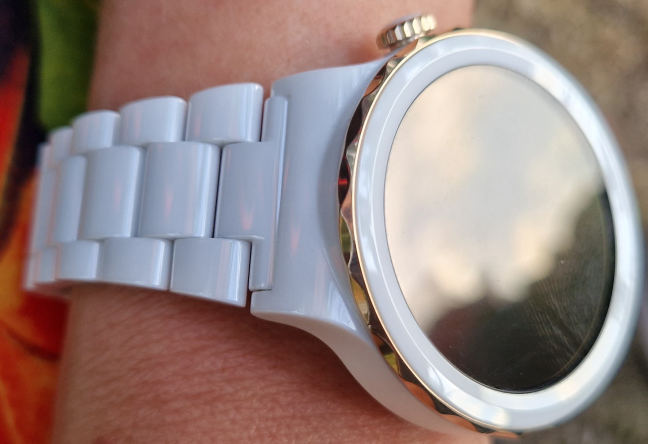 Using the Huawei Watch GT3 Pro outdoors is a pleasure
I enjoyed using the HUAWEI WATCH GT 3 Pro. The screen is bright and very visible outdoors, the battery life is excellent, the GPS tracking is fast and accurate, most smartwatch features work well, and the physical activity tracking is top-notch. What more could you ask for?
The features of the HUAWEI WATCH GT 3 Pro
HUAWEI WATCH GT 3 Pro is a smart device that aims to help you maintain and improve your fitness. The company brags about offering more than 100 workout modes. However, these modes are not accessible from the smartwatch itself but the Huawei Health app. Suppose you don't have your smartphone with you. In that case, you can start tracking from the WATCH GT 3 Pro only the following activities: Outdoor run, Indoor run, Outdoor walk, Indoor walk, Outdoor cycle, Indoor cycle, Pool swim, Open water swim, Dive, Driving range, Jump rope, Mountain hike, Hike, Trail run, Skiing, Snowboarding, Cross-country skiing, Triathlon, Elliptical, Rower, and Other.
You can track more than 100 workouts
There are also many health-tracking features available on the HUAWEI WATCH GT 3 Pro:
Heart rate monitoring - automatic and manual monitoring, resting heart rate, and heart rate curve. Huawei also included an innovative arterial stiffness detection mechanism that you don't find on many other smartwatches.
SpO2 monitoring - automatic and on-demand monitoring of the oxygen level in the blood
ECG analysis - the smartwatch includes an ECG sensor that provides single-lead ECG measurements, real-time analysis, sinus rhythm, atrial fibrillation, and premature atrial and ventricular beat evaluations. If you touch the electrode on the side of the HUAWEI WATCH GT 3 Pro for 30 seconds, you get a real-time ECG result. Unfortunately, at the time of this review, this feature is not available in all countries. You can't view a detailed report inside the Huawei Health app in the countries where the feature isn't ready. Instead, you'll have to make do with a short version shown on the smartwatch itself.
Skin temperature monitoring - you can monitor the temperature of your skin and get helpful information, especially when you have a cold or are not feeling well.
Stress monitoring - a stress score is calculated on-demand or automatically, using heart rate fluctuation data and stress models.
Cycle calendar - menstrual cycle monitor based on the user's input.
The ECG is useful
The HUAWEI WATCH GT 3 Pro has many smartwatch features too:
Weather reporting
Alarm clock, stopwatch, and timer
Compass, altimeter, and air pressure monitor
Flashlight
A useful Find my phone feature
Notifications from your smartphone for the apps you choose. You can also set quick replies to the messages you receive.
You can answer, reject, and initiate calls from your smartwatch. However, one downside is that you can't call everyone from your smartphone. First, you have to add your favorite contacts to the Huawei Health app manually, and then they will show up on your smartwatch as contacts you can call.
Huawei Wallet - you can make NFC payments from the HUAWEI WATCH GT 3 Pro. However, this feature is not available in all countries.
Music - you can add music files to your smartwatch and listen to music on it. Unfortunately, there's no Spotify or other popular music streaming available for the HUAWEI WATCH GT 3 Pro.
Watch faces - you can choose from a vast collection of free and paid faces to personalize your smartwatch.
App Gallery - the official store for the HUAWEI WATCH GT 3 Pro, used to add apps to your smartwatch. Unfortunately, the list of available apps is not that long, and many are not that useful.
Taking calls on the Huawei Watch GT3 Pro
HUAWEI WATCH GT 3 Pro packs an impressive number of features. However, some of them, like NFC payments, are not available everywhere. ECG is also not finished in all markets. However, Huawei officials have told us that this feature is a work in progress and should soon become available everywhere.
What do you think of the HUAWEI WATCH GT 3 Pro?
We have arrived at the end of this review, and now you know what I liked and disliked about the HUAWEI WATCH GT 3 Pro. Before closing this tab, I would like you to share your opinion. What do you think about this watch? Would you consider purchasing it? Is it advanced enough for you to consider it a smartwatch or do you find it more of a fitness device? Comment below and share your perspective.