When I first heard about the HUAWEI WATCH D, I was intrigued by the concept of a watch that can measure blood pressure right on the wrist, with no external cuffs required. And when I received the press release saying that this device was certified as a Class II medical device in the European Union, China, and other countries, I was super curious to test it. Therefore, if you want to know more about the HUAWEI WATCH D and the real-life user experience you get, read this review:
HUAWEI WATCH D: Who is it good for?
The HUAWEI WATCH D is a great choice for:
People with hypertension and other cardiovascular health issues
Anyone who has large hands and is OK with wearing heavier wearable devices
Beginners who want to track their physical activities
Those who want a health and fitness device with great battery life
Pros and cons
There are many things I like about the HUAWEI WATCH D:
It's certified as a Class II medical device for blood pressure monitoring
Excellent heart and health monitoring features
Top-notch sleep analysis
Bright AMOLED display with excellent outdoors visibility
Great battery life
There are some downsides to consider as well:
It's heavy and large
No loudspeaker
Fewer features compared to other similar devices
Verdict
HUAWEI WATCH D is an innovative device that tries to blur the line between wearable fitness devices and certified medical devices. This means that the company had to compromise to offer features like excellent blood pressure monitoring. However, they've pulled it off and created a product that brings real value to people who need to keep an eye on their cardiovascular health. If you need to keep an active watch on your heart's health and don't mind trying a heavier wearable device, then I think you'll enjoy what the HUAWEI WATCH D offers.
Unboxing the HUAWEI WATCH D
The HUAWEI WATCH D is packaged in a simple white cardboard box with a picture of the device on the top cover, together with the product name and the operating system that powers it. There's no printed information on the sides of the box. You find details about the product you bought, its manufacturing date, and the serial number on the back.
The packaging used for HUAWEI WATCH D
Inside the box, you get the following items: the WATCH D itself, its charging cradle, the wrist circumference ruler, which you should use to identify the strap size you need, the L-sized strap and airbag already mounted on the watch, one L-sized airbag clothing, a separate M-sized strap, airbag, and airbag clothing, an independent cover (used when the airbag is removed), the user manual, the wearing guide (I highly recommend reading it), and warranty information.
Everything you find inside the box
Unboxing the HUAWEI WATCH D is a surprising experience because it includes unusual accessories for a smartwatch or fitness watch. However, as soon as you start reading the user manual and the wearing guide and go through the initial setup, things will begin to make sense.
Design and hardware specifications
As soon as you take the HUAWEI WATCH D from its box and hold it in your hands, you may be intimidated by its size and weight. The watch itself has a size of 51 x 38 x 13.6 mm or 2 x 1.49 x 0.53 inches, and it weighs 40.9 grams or 0.09 lbs without any strap and 91 grams or 0.2 lbs with the large strap mounted. These metrics make it big and heavy compared to traditional fitness devices. For example, my Fitbit Versa 3 weighs only half as much and is noticeably thinner.
HUAWEI WATCH D is big, heavy, and intimidating
However, HUAWEI WATCH D is not a traditional fitness watch but an innovative one that tries to blur the boundaries between medical and fitness devices. For example, suppose you compare it with a conventional blood pressure monitor. In that case, it is only 1/25th the size, and it weighs only 1/6th of its weight, making it very small and portable by comparison. And speaking of medical devices, HUAWEI WATCH D is the first of its kind to receive a Class II medical device certification from the European Union, China, and other countries.
The airbag you see alongside the usual fluoroelastomer strap helps the HUAWEI WATCH D take accurate blood pressure readings. But it's also what makes it bulkier than other fitness watches. However, the airbag's surface comes encased in a skin-soothing cloth cover to make things comfortable. The micro-pump fits within the compact watch body and can ramp up the pressure as high as 300 mmHg, meeting the blood pressure monitoring needs of hypotensive users.
HUAWEI WATCH D takes accurate blood pressure readings
HUAWEI WATCH D has a 1.64-inch AMOLED screen with a resolution of 456 x 280 pixels and 326 ppi (pixels per inch). As shown in the picture below, it also uses 2.5D curved glass, protected by a durable aluminum alloy frame with two buttons on the side. The watch case is available only in graphite black, while the straps are available only in black.
The AMOLED screen is large and visible
Inside the HUAWEI WATCH D, there's a non-removable Li-Ion 160mAh battery which should last up to 7 days of use, according to the company's claims. You also get 4 GB of internal storage, GPS tracking, Bluetooth 5.1, and NFC. In addition, this device is IP68 protected against dust and water, making it safe to take for a swim. What's missing, though, is a loudspeaker.
Those straps are large, aren't they?
The WATCH D also features a comprehensive list of sensors: an accelerometer, gyroscope, optical heart rate sensor, ambient light sensor, temperature sensor, differential pressure sensor, and a Hall sensor. The operating system installed is HUAWEI's HarmonyOS 2.1, which provides compatibility between the WATCH D and Android and iOS devices.
If you want to go through all the specs of this health and fitness device, visit its official page: HUAWEI WATCH D.
Setting up and using the HUAWEI WATCH D
Before you set up the HUAWEI WATCH D, make sure that you read the wearing guide and follow the instructions. They are very important if you want accurate blood pressure readings. Then, install the HUAWEI Health app on your smartphone. If you're using an iPhone, the newest version is on the App Store. However, if you're using an Android device that's not made by HUAWEI, you must visit the app's web to get it. HUAWEI smartphone users can find the app in AppGallery. The next step is to create a HUAWEI account, log in on the HUAWEI Health app, select your watch, and go through the setup process. There are many steps, including giving lots of permissions to the HUAWEI Health app, setting up notifications, and checking for software updates for your watch.
Setting up the HUAWEI WATCH D
The HUAWEI Health app is logically organized and easy to use. With it, you can personalize and interact with all the features of the HUAWEI WATCH D. You don't need to install anything else to utilize your watch fully. The sections on the homepage are organized around the product's main features and can be customized and arranged according to your needs.
HUAWEI Health is easy to use
There's tons of health data available, starting with the number of steps you take each day, continuing with all the heart monitoring, and ending with your weight and how much water you drink each day. If you scroll through everything, you may feel intimidated at first, but as time passes, you will understand everything better. Over time, you also get useful reports about your health. One of the most valuable reports is the one for Sleep. I was impressed by how much data the HUAWEI WATCH D gathers and how well-made the sleep reports are.
The Sleep analysis is awesome
Heart-related monitoring is another strong point of this product. You can easily make ECGs (EKGs) and measure your blood pressure, heart rate, and blood oxygen level. The reports you get are detailed and easy to understand. Keeping a history of all this data is very useful if you suffer from hypertension, the most prevalent form of cardiovascular disease in the world, according to the World Health Organization. You can also set reminders to make sure you measure your blood pressure at regular intervals. To help you even more, the HUAWEI WATCH D registers whether your blood pressure is elevated or low and alerts you to the potential of a hypertensive crisis.
Do you need a history of your ECG records?
You can track many physical activities (around 70) with your HUAWEI WATCH D, and its GPS chip helps, providing accurate data. However, I missed having a loudspeaker on it, to get audio reports while working out or answering quick phone calls from my wrist.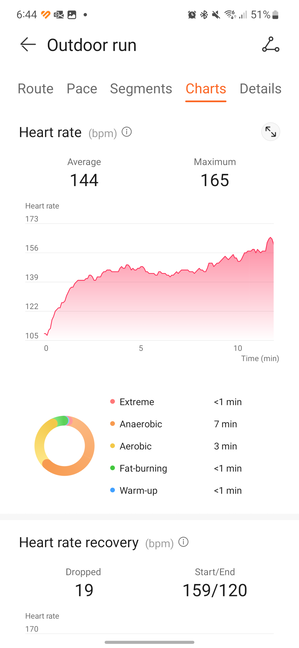 Tracking activities works well
Getting back to workout tracking: as long as you're not a professional athlete, the precision of the tracking and the amount of data are satisfying. One of the most fun features is Dynamic Tracking, which creates a video showing your progress on a map, with various milestones you can add pictures to. The video can be edited quickly and uploaded as a story on Facebook, Instagram, WhatsApp, TikTok, etc.
Using the HUAWEI WATCH D is a pleasant experience for the most part, at least if you are a male with relatively large hands. The device is responsive, the screen is easy to see and interact with even in direct sunlight, and the physical buttons are great, especially when using your watch with sweaty hands. But its main downsides are the size and weight of the device.
The physical buttons are useful
The WATCH D can feel pretty uncomfortable to wear, especially during the first days of use. For starters, I didn't like wearing it while sleeping. I found it too heavy, even though I'm not exactly a small guy and I've been using other wearable devices for years, including during the night. Unfortunately, none of them was as difficult to get accustomed to as the HUAWEI WATCH D. I don't think this watch will be well received by women or people with small hands who don't appreciate bulky and heavy devices. I hope future versions of it will weigh a bit less to increase its appeal.
Here's my blood pressure just before writing this review
Another area where some people might have issues is the airbags. While they're necessary for taking accurate blood pressure measurements, they tend to absorb and retain sweat and water for a long time. Suppose you don't clean them regularly and take them off when you know you'll sweat a lot. In that case, they may develop unpleasant odors and become uncomfortable to wear. Also, you definitely shouldn't be swimming with them on.
The airbags retain sweat and water
When it comes to smartwatch features, you don't get much outside of app notifications. You can reject calls but can't answer them; you can see the messages you receive or your emails, and you can also reply using quick replies. However, there's no onscreen keyboard for you to use, nor the capability to dictate replies.
You can reply to messages using quick replies and emojis
Regarding battery life, HUAWEI promises up to 7 days on a full charge. While my testing experience wasn't lengthy, I noticed that when you tend to use the HUAWEI WATCH D more intensively, with light GPS tracking each day, you probably get around 5 days of use. However, light users will get close to a full week of use on a charge, which is great.
HUAWEI WATCH D is effective at what it was designed to do. It's a niche health device for people who need to keep track of their blood pressure and other heart-related metrics. However, it also is big and heavy, making it suitable for regular wearing only for men and people with large hands, who have an easier time getting used to it.
The features of the HUAWEI WATCH D
HUAWEI WATCH D focuses on helping you monitor and maintain your health and improving your fitness level. The company says that this device can track more than 70 workouts. However, these modes are not accessible from the WATCH D but from the HUAWEI Health app. From the watch itself, you can start tracking only the following activities: Outdoor run, Indoor run, Outdoor walk, Indoor walk, Outdoor cycle, Indoor cycle, Jump rope, Elliptical, Rower, and Other. This list is a bit short and inferior to the one on the HUAWEI WATCH GT 3 Pro.
HUAWEI WATCH D can track around 70 workouts
Alongside the traditional steps counter and sports tracking, there are many health-tracking features on the HUAWEI WATCH D:
Blood pressure - the main selling point of this device, for which it has received certification as a Class II medical device. While I didn't have a medical blood pressure monitor, the measurements I took were very close to those reported by my doctor a month earlier.
Heart rate monitoring - automatic and manual monitoring, resting heart rate, and heart rate curve.
SpO2 monitoring - automatic and on-demand monitoring of the oxygen level in the blood.
ECG analysis - the WATCH D includes an ECG (EKG) sensor that provides single-lead ECG measurements, real-time analysis, sinus rhythm, atrial fibrillation, and premature atrial and ventricular beat evaluations. If you touch the electrode on the side of the HUAWEI WATCH D for 30 seconds, you get a real-time ECG result.
Sleep monitoring - it is one of the best in the business. Each morning, you get detailed results showing how many hours of sleep you got, how much time you spent in each sleep stage, and details about the aspects in need of improvement.
Skin temperature monitoring - you can monitor the temperature of your skin and get helpful information, especially when you have a cold or are not feeling well.
Stress monitoring - a stress score is calculated on-demand or automatically using heart rate fluctuation data and stress models.
Guided breathing - to lower your stress level.
Cycle calendar - menstrual cycle monitor based on the user's input.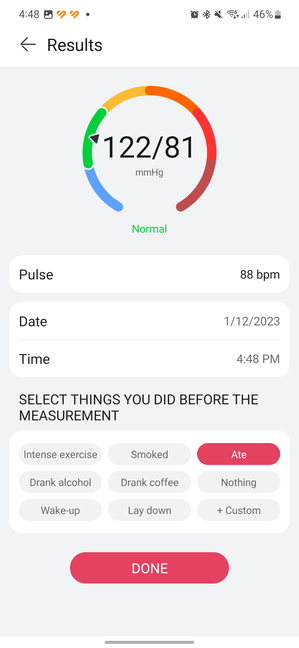 The blood pressure measurements are useful
The smartwatch features on the HUAWEI WATCH D are few and basic compared to smartwatches like the Samsung Galaxy Watch5 or Apple Watch Series 8. Nevertheless, here's what you get:
The possibility to reject calls or answer them through an SMS. You can't take calls from the HUAWEI WATCH D.
You get notifications from the apps you choose (WhatsApp, Messages, Messenger, etc), and you can answer with preset replies and emojis.
Weather reporting for your location.
Alarm clock, stopwatch, and timer.
Controls for the music played on your smartphone. You can't copy any music to the WATCH D, but you can control the music you play on Spotify while running, for example.
A basic flashlight that can be useful at times.
A Find my phone feature.
Watch faces - you can choose from a collection of free and paid faces to personalize your smartwatch.
One missing feature is the HUAWEI Wallet. The company says that the WATCH D has NFC, but it doesn't seem to be used. Adding NFC payments to this device would increase its value.
There are some nice watch faces available
HUAWEI WATCH D shines in its approach to health-oriented tracking. Yes, you can track sporting activities too, but it is not an impressive device at that, while its smartwatch features are few and rather basic.
What do you think of the HUAWEI WATCH D?
It was a long read, and you have arrived at the end of this review. Now you know what HUAWEI WATCH D is good at and the things it is not so great at. Before closing this browser tab, I would like you to know your opinion: What do you think about this watch? Would you consider purchasing it? Do you like its innovative approach to health tracking? Comment using the options below, and share your thoughts.