Small form-factor PCs or mini-PCs are attractive to a lot of people including the editors at Digital Citizen. Some of them are so small that they can fit in the palm of your hand. This is also the case with ASUS PN62. While this mini PC comes with the previous 10th generation of Intel processors, instead of the latest 11th generation, it still has some tricks up its sleeve. If you are on the lookout for a mini PC with solid build quality and plenty of connectivity options, give this review a read:
ASUS Mini PC PN62: Who is it good for?
This small form-factor computer is an excellent choice for:
People who prefer smaller computers on their desks at home or at work
Users who want reliable performance from their mini-PC
People who want Wi-Fi 6 and plenty of connectivity options
Industrial uses at extreme temperatures
Pros and cons
Here is what we like about the ASUS Mini PC PN62:
See price on:
Buy now
Small size and weight
Wi-Fi 6 and plenty of connectivity options
Performance on par with the competition
Built-in card reader
Works with 4K displays
Easy to mount on the back of your monitor
There are some downsides too:
Fairly noisy under full load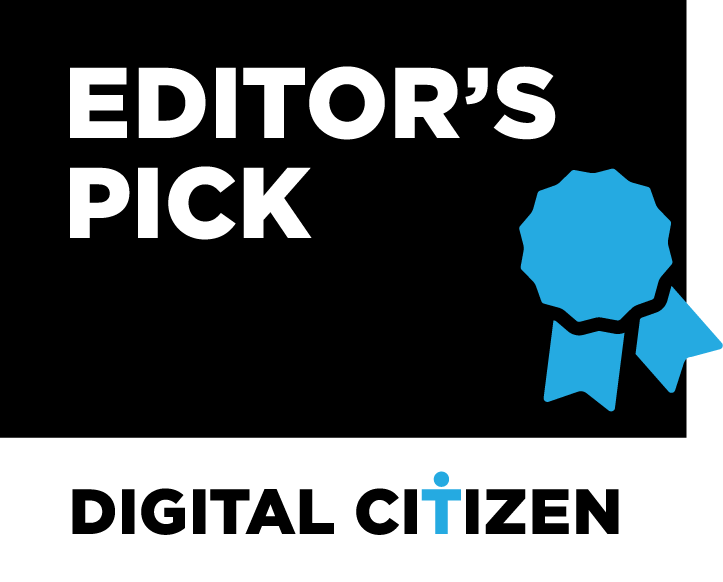 Verdict
ASUS Mini PC PN62 takes little space and can be mounted almost anywhere you want, with the help of a VESA plate and mount. It sports solid build quality, a cooling system that's slightly better than that of its competition, a handy card reader, Wi-Fi 6, and plenty of connectivity options. Overall, ASUS Mini PC PN62 is an excellent option for anyone who desires a small form-factor PC for their home, office, and especially for those who work from home and have limited space.
Unboxing the ASUS Mini PC PN62
The ASUS Mini PC PN62 comes in a relatively small box, similar to the one pictured below. All you see is the company's brand name, the name, and the picture of the computer you just bought.
ASUS Mini PC PN62 comes in a simple box
When you unbox it and take everything out, you find the mini PC itself. As you can see for yourself, it has quite a utilitarian appearance.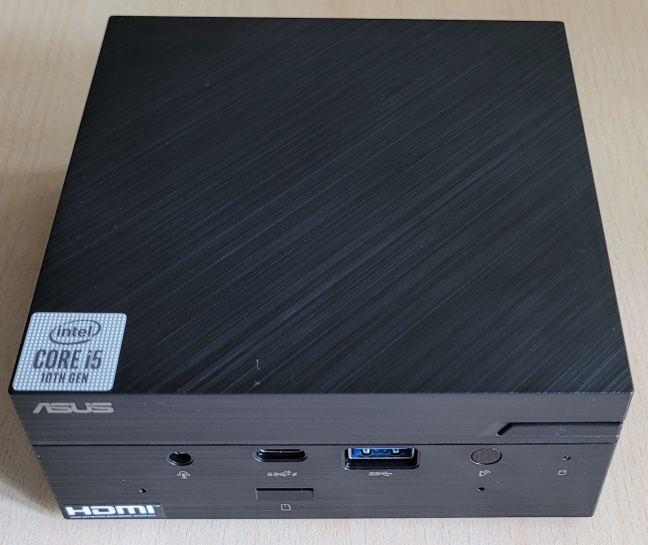 ASUS Mini PC PN62
Along with the ASUS PN62, you find the power cord, the power adapter, the technical documentation, a support disc, a bunch of screws, and a plate for the VESA mount that can be used to attach the mini PC to the back of a computer display.
The things you find inside the box
Unboxing the ASUS Mini PC PN62 is quick and painless. Inside the retail packaging, the company offers everything you need to get started with setting it up, including a plate for mounting it on the back of a computer display.
Design and hardware specifications
The ASUS Mini PC PN62 has a simple design that minimizes space and offers as many connectivity options as possible. Its case is made of black matte plastic, which looks pretty good. You see a sticker with the Intel processor found inside the model you just bought on the top cover. It can be any of the following: Intel Core i3-10110U, Intel Core i5-10210U, Intel Core i7-10510U, and Intel Core i7-10710U. On the front of the ASUS Mini PC PN62, you find the following: the Power button, a microphone for video conferencing, a headphone jack, a USB 3.2 Gen 2 Type-C port, a microSD card reader, a USB 3.2 port, an infrared receiver for remote control, and a drive activity indicator.
The ports on the front
On the right side, you find the air vents used by the cooling system and a Kensington security slot.
The right side of ASUS Mini PC PN62
The left side is all about air vents.
The left side of ASUS Mini PC PN62
You find more air vents on the rear of the ASUS Mini PC PN62, alongside one HMDI port, a DisplayPort, a USB 3.2 Gen 1 Type-C port, an Ethernet port, two USB 3.2 ports, and the power jack.
The ports on the rear
The bottom cover has four rubber feet, more air vents, stickers with details about the mini PC you just bought, and the screws that allow you to open the ASUS PN62 and see what's inside.
The bottom side of ASUS Mini PC PN62
In terms of size, this mini PC is very compact: it has 4.52 x 4.52 x 1.92 inches or 115 x 115 x 49 mm in width, depth, and height. It also weighs just 1.5 pounds or 700 grams (with a 2.5" HDD included).
The version we received for testing comes with an Intel Core i5-10210U mobile processor from the previous 10th generation of mobile processors with integrated graphics. This may be a downside to some users, who may desire a mini PC equipped with the latest 11th generation of Intel processors. The ASUS Mini PC PN62 that we tested came without RAM and storage. They have to be purchased separately and mounted before using the mini PC. Depending on where you buy it, you can find the ASUS Mini PC PN62 sold with or without RAM included (up to 64 GB) and with or without an SSD. One positive that we appreciate about this mini PC is that it has support for Wi-Fi 6 networks and Bluetooth 5 connectivity.
ASUS Mini PC PN62 has Wi-Fi 6 and Bluetooth 5
In terms of operating systems, if you buy this mini PC with storage included, you can also buy it with Windows 10 preinstalled, both in its Home and Pro editions. ASUS says that this mini PC has undergone rigorous testing. The company promises it can cope with extreme conditions, ranging from dry -40°C temperatures to humid and hot environments exceeding 60°C for long periods. This may make it an appealing choice for business users who need to use it in industrial applications.
For more detailed information about this mini PC, go to this page: ASUS Mini PC PN62.
Setting up and using the ASUS Mini PC PN62
Before using the ASUS Mini PC PN62, we needed to install a solid-state drive or a hard disk, and the RAM. Depending on which version you purchase, you may need to do the same. Luckily, accessing its internals is easy. All it takes is loosening four screws placed on its bottom and opening the bottom cover.
What is inside the ASUS Mini PC PN62
The slots for adding RAM and storage are easy to access. Also, inside the packaging of the ASUS Mini PC PN62, you find all the screws you need. In our review unit, we installed a Kingston A400 M.2 SSD with a capacity of 120 GB, capable of speeds of 500MB/s for reading data and 320MB/s for writing data. The RAM we installed was 8 GB of HyperX HX426S15IB2/8 DDR4-2666. Adding them to the mini PC took about a minute, and we were ready to go.
Adding the RAM and the SSD
We installed Windows 10, which took just a couple of minutes and then started using the ASUS PN62. The user experience was snappy no matter what we did, from booting up in just 22 seconds to browsing the web, editing documents in Microsoft Office, to some light image and video editing. The apps we used felt snappy, and the operating system ran well, without any hiccups.
How fast Windows 10 boots
As long as we did not stress the processor inside the ASUS Mini PC PN62, there was almost no noise. However, when we stress-tested the processor, the mini-PC became quite loud. To give you perspective of how loud it gets, listen to the video below.
One aspect that we like about the ASUS Mini PC PN62 is that it doesn't gather dust and fingerprints as much as other mini PCs that we tested. Its matte finish looks good even after the two weeks in which we tested it.
ASUS Mini PC PN62 doesn't gather a lot of dust and fingerprints
If you want to make the process of installing drivers as easy as possible, we recommend using Intel Driver & Support Assistant (Intel DSA). The mini PC has many Intel components inside, and this tool makes it easy to find, download, and install all drivers.
Install and use Intel DSA
This mini-PC has a Wi-Fi 6 compatible network card that works well with the fastest routers on the market. We ran a quick SpeedTest on it, and we reached 780.14 Mbps for the download speed on a Wi-Fi 6 network. However, if you want even higher speeds, you can use the Ethernet port on the back of the mini PC and connect it through a cable to the network.
The speed you get on Wi-Fi 6
We are pleased with the user experience offered by the ASUS Mini PC PN62. It is good for everything except gaming, video editing, or computer-aided design (CAD) - tasks that require a powerful video card. If you want more power, there are versions with an Intel Core i7 processor. Also, if you want a lower price, there are more affordable options with an Intel Core i3. The choice is yours.
Performance in benchmarks
To see how well the ASUS Mini PC PN62 performs, we compared it with the Intel NUC10i5FNH in several benchmarks. Both mini PCs share the same Intel Core i5-10210U processor and a similar approach to design and build quality.
The first benchmark we used is CPU-Z. In the Single Thread test, ASUS Mini PC PN62 had a score of 429 points, 10% lower than Intel NUC10i5FNH.
CPU-Z Single Thread score
In CPU-Z's Multi-Thread test the difference between the two mini PCs was of only 5% - indistinguishable for most users.
CPU-Z Multi-Thread score
Next, we ran PCMark 10, a benchmark app that evaluates the system's performance in regular daily activities. That means web browsing, video conferencing, app start-up times, productivity, and digital content creation. In this benchmark too, the difference was 5% in favor of the Intel NUC.
PCMark 10 score
We also checked how fast the two mini PCs are at browsing the web. We used the JetStream 2 benchmark in Google Chrome, which uses JavaScript and WebAssembly. The higher score you get, the faster your PC is at rendering websites. This time, ASUS Mini PC PN62 had a 5% performance advantage.
JetStream 2 score
7-Zip is a file archiving app that's great for checking how fast a processor is. In the compression test, ASUS Mini PC PN62 was 10% slower than Intel NUC10i5FNH.
7-Zip Compression speed
In the decompression test, ASUS Mini PC PN62 was 4% faster than the Intel NUC.
7-Zip Decompression speed
To test the temperatures reached by the processor inside the two mini PCs, we ran AIDA64's stability test. The maximum temperature measured by the ASUS Mini PC PN62 was 88 degrees Celsius (190 Fahrenheit). This result shows that the cooling system developed by ASUS is slightly more efficient than the one developed by Intel.
The maximum temperature reached by ASUS Mini PC PN62
The maximum power consumption was the same for both mini PCs because they use the same processor. 39 Watts is an excellent result that showcases the energy efficiency of the laptop-oriented processors used inside the two mini PCs from our comparison.
The Power drawn by ASUS Mini PC PN62
ASUS Mini PC PN62 offers reliable performance that's very close to that of the Intel NUC10i5FNH, a similar mini PC with the same processor. The two exchange blows, and in most cases the performance difference is negligible. However, ASUS seems to have the upper hand when it comes to the efficiency of its cooling system, which provides maximum temperatures that are slightly lower than Intel's.
What is your opinion about the ASUS Mini PC PN62?
Now you know what we think about the ASUS Mini PC PN62, and its pros and cons. You also know what to expect from it in terms of performance and the configuration options available. Before closing this review, tell us your thoughts about ASUS Mini PC PN62. Do you like what it has to offer? Are you interested in purchasing it? Comment below, and let us know what you think.