A few days ago, I was invited to a local event organized by ASUS, where the company showcased several products which are different from the usual devices that make their brand famous. Therefore, I didn't see any ASUS laptops or gaming monitors. Instead, I had the chance to get hands-on experience using a couple of niche products. Some of these are quite innovative! Here are the products that caught my attention:
ASUS VivoWatch 5 AERO: Introducing new health metrics
This exciting fitness band offers a new way to measure Pulse Transit Time (PTT). It can help identify changes in your body's inspiratory effort, and PTT is an important measurement system for detecting upper airway obstruction and increased respiratory effort during sleep. For example, it can be useful to people who suffer or suspect they're suffering from obstructive sleep apnea. ASUS VivoWatch 5 AERO has built-in micro-electrical (for ECG) and optical (for PPG) sensors on its display to calculate this metric.
ASUS VivoWatch 5 AERO
Alongside this innovation, the smart wristband also features other useful types of tracking: heart rate monitoring, blood oxygen level, ECG, sleep tracking, exercise tracking, and more. I will receive it in testing soon, and I'm looking forward to writing an extensive review about it.
ASUS VivoWatch SP: A health tracker for geeks
While the ASUS VivoWatch SP looks like a smartwatch, it doesn't aim to be one, so don't let its looks fool you. Instead, this wearable health-tracking device is designed for running, pace coaching, speed monitoring, distance, and route mapping. There's even an altimeter included for people who like hiking.
ASUS VivoWatch SP
The ASUS VivoWatch SP has a range of useful sensors for tracking your stress levels, sleep quality, pulse, or the amount of oxygen in your blood. If you're a health and fitness geek who loves data, this wearable device is a good fit for you.
ASUS ZenScreen MB249C: Versatility and mobility
If you want a portable monitor to enhance your productivity, check out the ASUS ZenScreen MB249C. It features a 23.8-inch IPS display with Full HD resolution, wide viewing angles, and vivid colors. In addition, its slim 7.6 mm profile and light 2.8 kg weight ensure portability around the home, office, or co-working spaces.
ASUS ZenScreen MB249C
The ASUS ZenScreen MB249C is portable in the sense that you can install it and carry it around easily in an office or home setting. For example, you can hang the monitor from your cubicle wall or use the included height-adjustable desk mount. And if you need to take the monitor to a meeting room in the same building, you can unlatch it and use the integrated kickstand to prop it up on a desk. ASUS has also included a wall partition, desk mounts, and USB-C and HDMI cables in the box.
ASUS Mini PC PB62: Durability and customizability
In one of our reviews, we've covered the ASUS Mini PC PB62 in detail. It is a small form factor computer that shines through the flexibility of the hardware you can pack into it, the extensive number and variety of ports it bundles, and its durability, certified to comply with the military MIL-STD-810H standard. As a result, it's a smart choice for enterprises and businesses that need small computers on the factory floor or even outdoors, not just in their offices.
ASUS Mini PC PB62
This mini PC can function well in high and low-temperature environments, in places with high humidity, and it can withstand frequent transportation in case you need to move it to different locations regularly. Those interested in buying it can find it on Amazon, here.
ASUS Prime AP201 MicroATX Case: Minimalistic design
The ASUS Prime AP201 is a minimalistic microATX computer case with an elegant look. Its mesh design comprises over 57,000 precision-machined 1.5 mm holes, which increase airflow, reduce dust ingress, and provide a compelling view of the components within your build. While it doesn't take up a lot of space, it was engineered to fit 360 mm AIO coolers and graphics cards up to 338 mm long. This is quite a feat, making it ideal for gamers who want the ultimate performance, but prefer their desktop PC to have a low profile and small footprint on or under their desks.
ASUS Prime AP201
Another useful aspect is its smart engineering, which allows you to mount and fit up to six cooling fans inside this microATX case. The rear side is home to a pre-installed 120 mm fan, and the bottom can fit up to two 120 mm fans. On the top side of the case, there's space for three 120 mm fans, two 140 mm fans, or a water-cooled system with a radiator length of up to 360 mm. And to make things even more interesting, you can find it for a good price on Amazon, here.
ASUS ProArt B760-CREATOR D4: Designed for content creators
ASUS ProArt B760 Creator D4 is a high-end motherboard designed for content creators who require top-notch performance doing work like virtual production, 3D rendering, and 4K/8K video editing. It works with the latest 12th and 13th Gen processors from Intel and DDR4 memory. There's also an ASUS ProArt B760-CREATOR motherboard with DDR5 support for those who want the latest and greatest in terms of hardware.
ASUS ProArt B760-CREATOR D4
Another positive of this motherboard is its generous network connectivity options: you get 2.5 Gbps and 1 Gbps Ethernet ports, plus an M.2 slot for installing Wi-Fi/Bluetooth modules for wireless connectivity. If you're interested in building your next PC using this motherboard, you can find it on Amazon.
ASUS Tinker Board 2S: For DIY enthusiasts
If you feel like tinkering and creating your custom solutions, consider the ASUS Tinker Board 2S. This is a Single Board Computer (SBC) equipped with a six-core Rockchip RK3399 system on a chip, an ARM Mali-T860 graphics chip, and dual-display support to a resolution of up to 4K. You also get Wi-Fi 5 and Bluetooth 5, Ethernet, and three USB 3.2 Gen 1 Type-A ports.
ASUS Tinker Board 2S
If you're an IoT enthusiast or hobbyist, you can use it to create desktop apps or a home server that does anything you want. ASUS Tinker Board 2S can be found on Amazon, here.
High-tech solid-state drive enclosures: Make your SSD storage mobile
Some of the most surprising niche products ASUS makes are enclosures for fast nVMe M.2 and SSD storage:
ASUS TUF Gaming A1
If you need portable, fast storage in a package that can endure the harshest conditions, ASUS TUF Gaming A1 is an SSD enclosure you may want to consider. It supports both NVMe M.2 PCIe and SATA storage drives, and its USB-C 3.2 Gen 2 connectivity enables superfast data performance at speeds of up to 10 Gbps. Meeting the military MIL-STD-810H drop resistance standard and the IP68 water and dust resistance standard, one of its most important features is durability.
ASUS TUF Gaming A1
The ASUS TUF Gaming A1 is compatible with mobile devices, laptops, PCs, and the latest PlayStation and Xbox gaming consoles. If you want to buy it to protect your SSD, you can find it on Amazon.
ASUS ROG Strix Arion
Alternatively, if you're a gamer passionate about RGB lighting, you may prefer the ASUS ROG Strix Arion M.2 NVMe SSD enclosure instead. It features an original design that appeals to gamers, with toolless access for changing or replacing the SSD and excellent cooling. In addition, ASUS ROG Strix Arion has a protective holder with a stylish, detachable R-hook, which protects from bumps and hard hits to keep your SSD operating properly.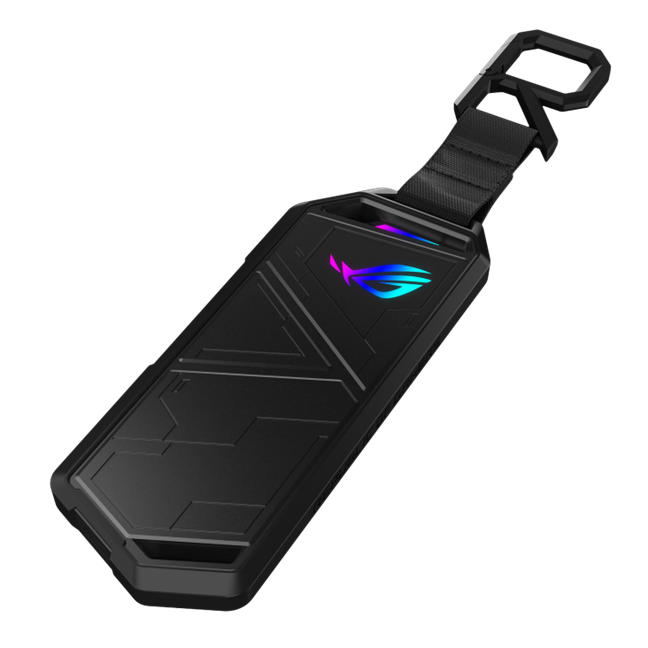 ASUS ROG Strix Arion
While it doesn't offer the same military-grade protection as the ASUS TUF Gaming A1, it represents an interesting choice for anyone who wants a good-looking enclosure for their fast storage. And by the way, it works with various devices, from computers to smartphones to consoles. If you're interested in purchasing one, check it out on Amazon.
ASUS 4G-AX56 & 4G-AC86U: For small businesses in remote areas
If you have a small business like a restaurant or a bed & breakfast, and you need to give Wi-Fi access to your customers but don't have broadband internet in your area and only 4G mobile connectivity, you could use a router like the ASUS 4G-AX56. It gives you Wi-Fi 6 connectivity, 4G SIM card support, an easy-to-use Wi-Fi Portal you can set up for your customers, and access to security tools through the AiProtection module. The router is available at a discounted price, on Amazon.
ASUS 4G-AX56
If you want to avoid jumping on the Wi-Fi 6 bandwagon and prefer a Wi-Fi 5 router, which tends to be more affordable, you can also opt for ASUS 4G-AC86U, a popular model that gives you access to similar features.
ASUS 4G-AC86U
ASUS 4G-N16: Exceptionally mobile
The summer holidays are coming; some people may visit remote areas without easy internet access. In such situations, you could take the ASUS 4G-N16 router with you. You can insert a 4G LTE SIM card, and its built-in modem connects to the internet wirelessly.
ASUS 4G-N16
You can then give Wi-Fi access to your friends and family and share the available 2.4 GHz band emitted by this router.
Which product(s) do you find most interesting?
The list I shared with you includes many useful products, some of which are new and innovative. I look forward to reviewing some of them with my colleagues at Digital Citizen. But until then, what do you think: is there a product that caught your eye, and why? Do you already own some of the products in this roundup? If you do, what has been your experience with them? Comment below, and share your perspective.