At the beginning of June, ASUS revealed a new compact computer case specially designed for MicroATX motherboards. Available in either black or white, it's large enough to fit a standard ATX power supply unit, large processor AIO coolers, and massive graphics cards. If you're interested in building a powerful yet compact computer for gaming or any other demanding workloads, this PC case might be just what you need. Interested to know more about it? Read this article and find out what you get from the ASUS Prime AP201 MicroATX Case:
What to expect from the ASUS Prime AP201 MicroATX Case
When I received the ASUS Prime AP201, my first impression was that I was looking at a computer case with a pleasant design, all covered in mesh. Measuring 20.5 x 35 x 46 centimeters (or 8.07 x 13.78 x 18.11 inches), it's evidently a compact PC case. However, it's surprisingly spacious, offering more than most MicroATX cases I've seen or read about online.
The ASUS Prime AP201 is a compact MicroATX case
The total volume of the ASUS Prime AP201 is no more no less than 33 liters, and despite the compact size, it can fit any regular ATX power supply up to 18 centimeters long, any AIO (All In One) processor cooler with a radiator size of up to 360 millimeters, and graphics cards with a maximum length of 338 millimeters. Even Nvidia's GeForce RTX 3090 Ti monster, with its huge 336 mm length, can fit inside this small PC case. That's quite a feat, isn't it?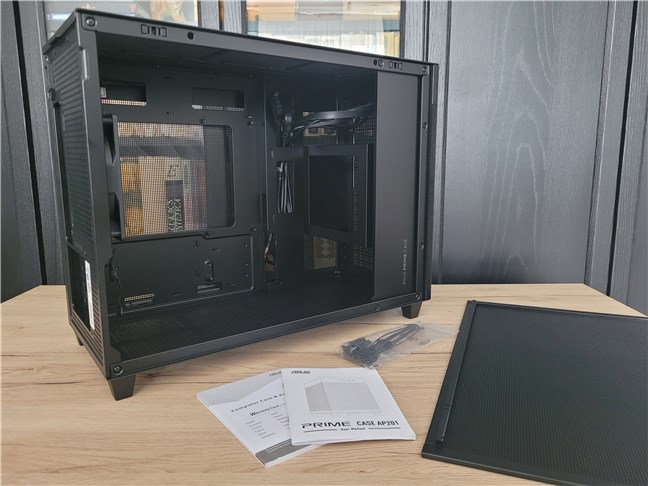 ASUS Prime AP201 can fit a standard PSU and large graphics cards
The case's panels can be detached without having to resort to any tool. And they're also designed for maximum cooling efficiency. Everywhere you look, the case is perforated by tiny holes. According to ASUS, there are over 57,000 such holes, each with a diameter of 1.5 mm. Only a robot could count that. 🙂
And by the way, the punctured patterns also allow you to get a glimpse of the hardware components inside. The visual effect could be quite interesting, even if the case has no built-in RGB lighting.
The mesh panels give you a glimpse of the hardware inside
Inside the case, ASUS managed to create a layout that allows you to mount and fit up to six cooling fans. On the rear side, there's a pre-installed 120 mm fan, while on the bottom, you can mount up to two 120 mm fans. On the top side of the case, there's space for three 120 mm fans, two 140 mm fans, or a water-cooled system with a radiator length of up to 360 mm.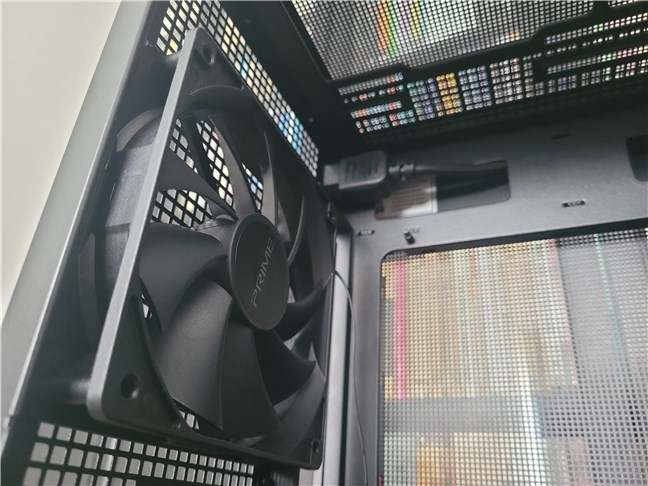 You can fit up to six fans inside the ASUS Prime AP201
Cable management is also good: you can route all the PSU, SATA, and other types of cables from the hardware components through a 32 mm gap and other smaller cutouts to hide them from view.
Cable management is excellent
And the number of cables inside a DIY (Do-It-Yourself) desktop computer can really go up, especially if you also install a lot of drives. Which I'm happy to say that you can do in the ASUS Prime AP201, as this case comes with one 2.5" bay and another combo bay that can accommodate three 2.5" or 3.5" drives!
Going back to the outside of the case, the minimalist design continues on the front panel too. Besides the power button, headphone, and microphone jacks, you get two USB 3.2 Gen 1 Type-A ports and a USB 3.2 Gen Type-C port that supports data transfers at speeds of up to 10 Gbps.
The front panel includes a fast USB-C port
In the end, I'm pretty sure that the ASUS Prime AP201 MicroATX case's design and specs have the potential to intrigue professionals, business users, and gamers alike. If you're looking for a compact case to build a new and powerful computer, then this might be it!
P.S. You can find out more about this case on ASUS' website: Prime AP201 MicroATX Case.
What's your opinion about the ASUS Prime AP201 MicroATX Case?
It seems more and more people want to build minimalist and compact desktop computers these days. Whether because of limited space in their home office or simply because they love clean setups, compact PC cases are clearly getting more interest. Does the ASUS Prime AP201 look interesting to you? It does for me, and I can't wait to get my hands on a MicroATX motherboard to build a new PC in this case. Let me know what you think about it in the comments section below.