Do you want a curved 34" ultra-wide display with a 4K resolution? Do you need it to have accurate colors and to be pre-calibrated by its manufacturer? Would you like a monitor that's easy to fine-tune using all the standard colorimeters and spectrometers? What about a monitor with plenty of ports and connectivity options? If you're looking for all these features, yet you can't afford to pay an exorbitant price, you should consider the ViewSonic VP3481a. Read this review to learn why:
ViewSonic VP3481a: Who is it good for?
The ViewSonic VP3481a monitor is a good choice for:
Content creators who require accurate color reproduction
People who work with many apps simultaneously
Users that own an AMD Radeon graphics card
Pros and cons
The ViewSonic VP3481a has many strengths:
Plenty of screen space for people who want maximum productivity
Generous adjustment options for a curved ultra-wide monitor
Pantone Validated and first-grade color gamut coverage for content creators
Generous connectivity options and ports selection
There are some downsides to consider, too:
It occupies a lot of space on your desk
The OSD (On-Screen Display) menu is difficult to navigate
Verdict
The ViewSonic VP3481a is a curved ultra-wide 4K monitor with a VA panel useful to both digital content creators who need excellent color accuracy, and business users focused on maximizing productivity. Its sheer size makes it look intimidating, and some people may find it too big for their desks. However, it's a solid monitor with excellent specs and many useful features. While it may not be for everyone, its intended audience will likely find it appealing.
Unboxing the ViewSonic VP3481a monitor
The ViewSonic VP3481a monitor is packaged in a large box of thick regular brown cardboard. The packaging protects its contents well, even when it's reused multiple times, like the one I received in testing. The box was in poor shape because the monitor was showcased at several events and technical demos. Leaving this detail aside, the box used for this monitor is large and heavy, and I recommend two people to take out its contents. To give you an idea, the package has 38 x 20.7 x 14.6 inches or 96.5 x 52.5 x 37 cm, weighing 17.2 kilograms or 37.91 pounds.
The packaging of the ViewSonic VP3481a
Open the box with care and take everything out. Inside, you find the following items: the monitor itself, its stand, a DisplayPort cable (v1.2), an HDMI cable (v2.0), a USB 3.1 Gen 1 Type-C cable, a USB 3.0 cable, the power cord for the monitor, its quick start guide, and a color calibration factory report.
The items found inside the box
While you can install the monitor on your own, I recommend that two people handle it. VP3481a is large and heavy. It is much easier to align it and slide it in the upper hooks of the stand mounting slots when you have some help. Also, you'll be happy to learn that you can mount it on a wall, as it is VESA-compatible.
The unboxing experience is slow, and you must be careful due to the sheer size of the ViewSonic VP3481a. However, the process is not complicated, and the quick setup guide provides the information you need to install and use the monitor.
Design and hardware specifications
ViewSonic VP3481a is a wide monitor with a diagonal of 34", a curved VA panel with a contrast ratio of 3000:1, a brightness of 310 cd/m2, and a response time of 5 ms. Its size is 31.9 x 18.91~21.23 x 9.6 inches or 809 x 480.46~539.23 x 24.3 mm in width x height x depth, with the stand included. It's relatively heavy too, as it weighs 11.2 kg or 24.6 lbs with the stand included. As you can see in my pictures, the display has a straightforward design without any bells and whistles. If I were to describe it in one word, I would say it's functional. Rather than trying to impress, the ViewSonic VP3481a just aims to do its job as efficiently and discreetly as possible. I like this approach.
ViewSonic VP3481a
The panel is Pantone Validated, a certification useful to professionals who work with colors, requiring excellent color accuracy and calibration options. ViewSonic VP3481a also offers 100% sRGB color coverage and HDR10 compatibility.
The monitor has an ultra-wide 21:9 aspect ratio, a maximum 100 Hz refresh rate, a maximum resolution of 3440 x 1440 pixels, and support for AMD FreeSync. ViewSonic VP3481a is pre-calibrated from the factory, but it also provides users with easy tools for adjusting its colors according to their needs through the Colobration software. The company also says that this model has a Delta E<2, a standard measurement that quantifies the differences between two colors on the screen. A Delta E that's as close to zero as possible is desirable, especially for visual content creators.
Using the Colobration software is easy
The display has an anti-glare hard coating for protection, making it ideal for use in all office environments. You can adjust its height to 130 mm, swivel it for up to 120 degrees and tilt it forward or back between -6 and 21 degrees.
You can adjust the height, swivel it or tilt it
The connectivity on the ViewSonic VP3481a is good. You get two HDMI 2.0 ports, one DisplayPort, one USB Type C, one USB upstream port, two USB 3.2. Gen 1 ports, and an Ethernet port. The monitor also features two 5 watts speakers and a Kensington lock.
You find all the ports on the back
These are the most important specs about the ViewSonic VP3481a. It's pretty clear that this monitor targets a niche audience and isn't designed for everyone.
If you want all the technical information provided by the manufacturer of this product, visit this page: ViewSonic VP3481a.
Using the ViewSonic VP3481a monitor
ViewSonic VP3481a is designed for an audience with specific needs. The large 34" ultra-wide format makes it appealing to people focused on productivity. It's great when you work with multiple app windows and want to place them side by side using Snap layouts. It's easy to copy and paste data from one document to another, browse the web, and check your email, all in separate windows with plenty of room.
ViewSonic VP3481a is excellent for fitting many apps on the screen
Its 4K resolution, Pantone validation, and other technical specifications related to image quality make the ViewSonic VP3481a ideal for content creators: photographers, video editors, digital artists, architects, etc. However, if you're a casual user wanting to watch movies on their computer, its curved VA panel doesn't make it a great choice. Thanks to the monitor's FreeSync support and 100 Hz refresh rate, gaming is also possible, even in 4K, especially if you have an AMD Radeon graphics card, like the Radeon RX 7900 XTX we reviewed recently. However, there's no support for NVIDIA's G-Sync technology, which makes this monitor less appealing to gamers who are fans of the Green team.
ViewSonic VP3481a brags about its color accuracy
The viewing angles are good, and so are its adjusting options. They're especially generous for a curved, ultra-wide monitor. However, the built-in speakers are underwhelming, as I expected. They're similar in quality to what you can find on an entry-level laptop. Therefore, don't expect an immersive audio experience. They're there just to give you some sound in case you don't have any speakers or the budget to buy some.
ViewSonic VP3481a doesn't offer great audio
Setting up the monitor can be done through its software and its OSD (On-Screen Display) menu:
vDisplayManager - an app that's easy to use and allows you to switch color modes, change color calibration profiles, set the color blindness features, choose how the screen is split into separate areas, perform firmware updates, etc.
Colorbration+ - allows you to use all kinds of colorimeters and spectrometers to fine-tune the display's color accuracy.
While the apps are intuitive and helpful, navigating the OSD menu is difficult because you have to press some buttons on the bottom-right corner of your screen, and these buttons are not labeled. A joystick controller would've made things much easier.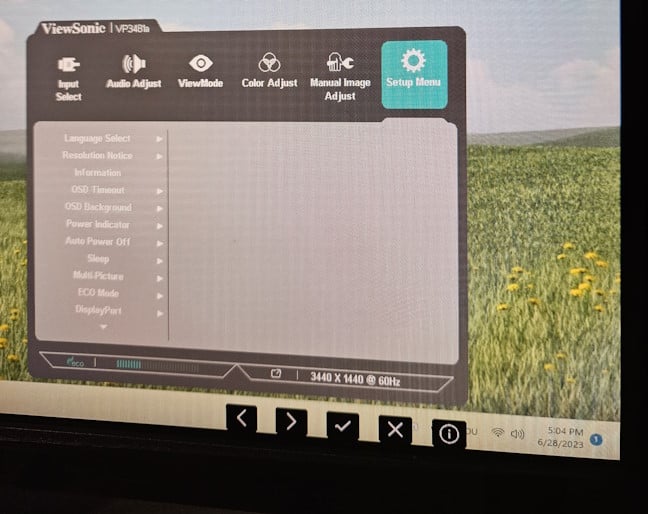 The OSD menu is difficult to navigate
On the upside, ViewSonic VP3481a is a great option for people who need many connectivity options. Its generous selection of ports, including an Ethernet port, makes it ideal for business users who want to connect their laptop to their monitor and as many USB devices as possible.
Here are all the ports
In the few days I used the ViewSonic VP3481a, it was evident that this monitor is a niche product aiming to please digital content creators, as well as professionals who want to be more productive. Casual users, gamers, and people interested in entertainment are better served by other models.
Do you like the ViewSonic VP3481a?
Now you know what the ViewSonic VP3481a has to offer its users, and you should have a pretty good understanding of whether it is a good fit for you. Before closing this review, tell me your thoughts: Do you like the ViewSonic VP3481a and its features? Are you interested in buying it? Also, do you have any questions that need to be answered? Comment using the options below, and share your thoughts.