The ASUS ZenScreen MB249C is a monitor that might be worth looking into if you're interested in something that's both portable and large. With a 24-inch IPS display, this portable monitor breaks the limits of what I thought portable meant. Still, with the help of a built-in smart handle that doubles as a stand, a desk arm, and a wall partition hook bundled in the package, the ZenScreen MB249C could be the "portable" display you've always wanted. In this review, I'm going to take a look at the design, performance, and usability of the ZenScreen MB249C. If you're curious to see what it can do, read on:
ASUS ZenScreen MB249C: Who is it good for?
The ASUS ZenScreen MB249C can be a great choice for people who:
Are looking for a monitor they can easily move around the house or office
Want a secondary screen for both their laptop and PC
Don't mind paying the price for a beautiful ASUS monitor
Pros and cons
The ASUS ZenScreen MB249C has more than a few qualities:
It's a monitor with a beautiful design
Includes HDMI and USB-C with 60W Power Delivery
You can mount it on its built-in kickstand, which also acts as a handle
The package includes a desk arm, as well as a wall partition hook
The IPS panel translates into good color reproduction, high contrast, and wide viewing angles
5 ms response time and 75 Hz refresh rate are more than you get on regular office monitors
I also have to mention a couple of drawbacks:
The monitor is quite expensive
Lack of additional ports such as DisplayPort or USB-A
1080p is a rather low resolution for a 24-inch screen
Low-quality built-in speakers
Verdict
With a 24-inch IPS panel, Full HD resolution, and a generous bundle of accessories, the ASUS ZenScreen MB249C is a portable monitor like no other. I for one, didn't encounter any portable monitor this large until now. However, although ASUS presents it as a portable screen, the truth is that you'll be quite limited in terms of portability. While you can move it around your home office just as easily as you can move it between desks or even different floors at work, the ASUS ZenScreen MB249C is not a device you can carry while traveling. Or at least you're not going to want that. But, if you're looking for a monitor with many mounting options, one that you can take off your desk and easily put on a table or hang on a wall partition in your office's conference room, the ASUS ZenScreen MB249C may be the right choice. I suspect that its niche is quite small, but it's still a niche, right?
Unboxing the ASUS ZenScreen MB249C
Although the ASUS ZenScreen MB249C is advertised as a portable monitor, it kind of pushes the boundaries of what portable means. With a 24-inch screen, it's quite a large device, and its box is even larger, accommodating many accessories. The package is made of thick regular cardboard, and although the monitor itself can be looked upon as a premium piece of tech, the box is underwhelming. Few details are printed on it, and the essential message seems to be that the "Incredible comes from within." 🙂
The package of the ASUS ZenScreen MB249C
Inside the box, the monitor is protected by an additional cardboard frame, also designed to hold the accessories it comes with. When you unbox everything, you find the portable monitor with its power adapter and cord, a desk arm, an HDMI and a USB-C cable, an L-shaped screwdriver, a wall partition hook made of two elements, the quick start guide, and the warranty card.
What's inside the box of the ASUS ZenScreen MB249C
Unboxing the ASUS ZenScreen MB249C is a pleasant and overwhelming experience. While the package looks simple, it contains a generous bundle of accessories, and the care for detail is evident.
Design and hardware specifications
When it comes to portable monitors, you're probably thinking about displays with a screen size of 15.6 inches or maybe up to somewhere around 17 inches in diagonal. Surprisingly, I might say, the ASUS ZenScreen MB249C has a 23.8-inch panel! Measuring 539.34 by 346.3 by 23.6 mm (21.23 x 13.63 x 0.93 inches) in width, height, and depth and weighing 2.85 kg (6.28 pounds), this is definitely larger and heavier than any portable monitor I've seen. And it seems to target a special niche, one comprised of people who mainly want to be able to move their monitor around their office or home. Clearly, it's not made to tuck next to your laptop inside a bag or a backpack.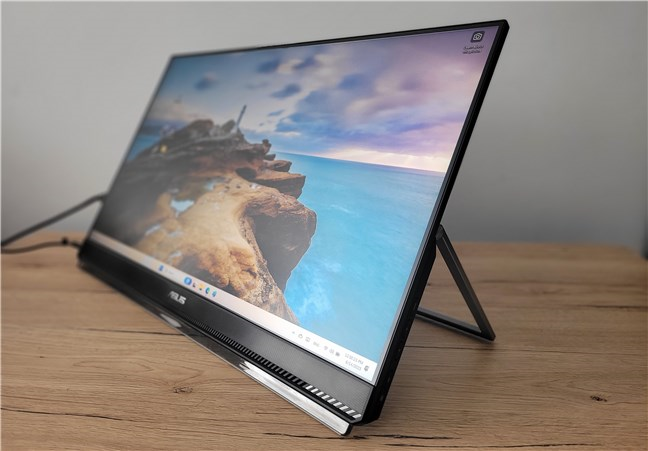 The ASUS ZenScreen MB249C has a built-in kickstand
Apart from having a size similar to that of a regular office desktop monitor, the mounting options offered by the ASUS ZenScreen MB249C are quite spectacular. You can place it on any plane surface using its built-in kickstand, put it on the desk arm that's bundled in the package, or hang it on a wall partition where you mount its hooks. When placed on the desk arm, it's worth noting that the portable monitor allows you to adjust its height, as well as tilt, swivel, or rotate it into portrait mode (90°).
With the ASUS ZenScreen MB249C, you also get a desk arm
The ASUS ZenScreen MB249C features a 24-inch widescreen IPS panel with a 16:9 aspect ratio and an FHD resolution of 1920 x 1080 pixels. The display has generous viewing angles (178° both horizontally and vertically), offering good color reproduction, a maximum contrast ratio of 1000:1, and a maximum brightness of 250 cd/m2. While these are specs common for office monitors, the ZenScreen MB249C goes a bit further by offering a slightly faster response time (5 ms) and a slightly higher refresh rate (75 Hz) than usual work displays. And while it doesn't support HDR, the monitor is compatible with AMD FreeSync, which could be useful if you connect it to your gaming laptop.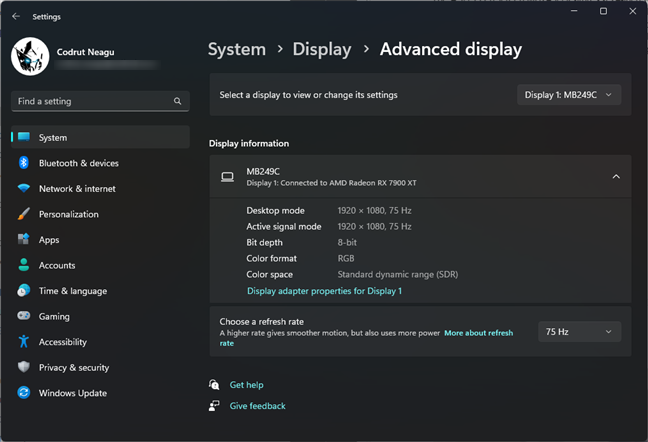 1080p resolution & 75 Hz refresh rate
The portable monitor comes with a USB-C (with DisplayPort Alt Mode and 60 watts Power Delivery) port, an HDMI 1.4 port, and one 3.5 mm audio out jack. All these ports are found on the left edge, towards the bottom.
The ports available on the ASUS ZenScreen MB249C
On the opposite side (the right edge), there's the power button, a Kensington lock, and three physical buttons for navigating the monitor's OSD menu.
The buttons are on the right side
Unfortunately, you won't find any DisplayPort or USB Type-A port on this portable monitor. Considering the niche it targets, I'd say that these would've been quite welcomed. But hey, maybe a future version of the monitor will include that too.
The ASUS ZenScreen MB249C has a typical power consumption of 13 Watts. In power-saving mode, it should draw less than 0.5 Watts, and when it's off, it requires less than 0.3 Watts. Thanks to its USB-C port, which supports up to 60 Watts of Power Delivery, you can use the monitor while at the same time charging your laptop from it.
The USB-C port supports 60 Watts Power Delivery
In theory, when connected via USB-C, the monitor should also be able to get its power directly from your laptop without needing its own power brick, as long as your laptop can deliver at least 60 Watts of power. However, in my testing, this wasn't possible, even if I tried it with an ASUS ROG Strix G17 G713 that should deliver up to 100 Watts.
If you want to see all the specifications and features for the ASUS ZenScreen MB249C, visit this page: ASUS ZenScreen MB249C Tech Specs.
The ASUS ZenScreen MB249C's specifications are typical for office monitors, but its design is not. It looks modern, and the number of accessories you get with it is generous. I like its appearance, and I certainly appreciate the options you get out of the box in terms of mounting options. While it's too large a screen to consider it a true portable monitor that you can travel with, the ASUS ZenScreen MB249C looks like a good choice for those who need a display that's portable enough to easily move from one desk to another, from the wall partition of a meeting room to an office cubicle, and so on.
Using the ASUS ZenScreen MB249C
There are some things that I like quite a lot about the ASUS ZenScreen MB249C portable monitor. Using it daily for a week or so, I've found its display quality adequate for my daily habits. Browsing the internet on the lookout for news and information, reading and writing, as well as watching clips on YouTube were satisfactory activities. Colors are vivid, contrast is good, brightness is high, and fonts look smooth. However, I must mention the fact that I mainly kept the monitor at an arm's length away on my desk, mounted on its arm.
The IPS panel offers good image quality
If you need to move it often from one desk to another, or you just like working on your coffee table, the built-in kickstand is the way to go. In my opinion, this is the best choice if you intend to use it as a secondary monitor, as well as for situations when you need to show a presentation to your coworkers. The kickstand is quite sturdy, and the bottom bezel of the monitor ends in a transparent glass-like support with a rubber bottom. All that translates into stability and good grip on any surface you place the monitor on.
The built-in kickstand offers good grip
On the other hand, when I used the ASUS ZenScreen MB249C, propped on its built-in kickstand, as a secondary screen for my laptop, I had the tendency to place the monitor closer to the eye. In that situation, the fonts on the display looked coarse, and the edges of the images on the screen were quite grainy. Unfortunately, this is a direct consequence of the large screen size versus the rather small resolution. For a 24" display, 1080p seems a bit low; a 1440p resolution would've certainly made a difference. However, that would have also increased the price of the portable monitor, which is quite pricey anyhow.
The fonts look jagged if you keep the monitor close
When it comes to watching movies and playing games, the ASUS ZenScreen MB249C does a pretty good job for a portable monitor. Though it can't compare with a gaming monitor, the 5 ms response time, paired with the 75 Hz refresh rate and the AMD FreeSync compatibility, delivers a fine gaming experience. I've used it for playing games on my laptop, and I, for one, appreciate the larger screen estate offered by this monitor.
Alas, there is one thing that I, and probably you too, won't like when it comes to multimedia: the built-in speakers. There are two of them, but at 1 watt each, they're too weak to deliver a pleasant audio experience. Though not great, I discovered that my laptop's speakers are better than the ones on this portable monitor.
The multimedia and gaming experience is good
Last but not least, a thing that I need to mention is the OSD menu of the ASUS ZenScreen MB249C. Instead of offering a joystick button like what I've seen on most of the recent ASUS monitors, this model comes with physical buttons. They do their job, there's no question about it, but navigating the OSD menu is not exactly user-friendly.
Navigating the OSD menu would be easier with a joystick
Overall, the ASUS ZenScreen MB249C feels like an excellent choice for those who need a "movable" monitor. I can't exactly call it a portable monitor, as advertised by ASUS, because it's too big and heavy to carry around while traveling. However, it is a monitor that's easy to move around the house or office. Its many accessories allow you to mount it on a desk arm, place it on any surface using its kickstand, and even hang it on a wall partition. That's great for those who need this kind of flexibility. Furthermore, the display looks good, better than the average 24" office monitor.
What's your opinion about the ASUS ZenScreen MB249C?
After testing and using the ASUS ZenScreen MB249C, I can say that I found it to be an interesting monitor. Its portability is limited, but at the same time, it's more than what you get from a standard desk monitor. It comes with many accessories, its design is modern, and the image quality is OK. So the question is: Do you need such a "portable" monitor? What's the reason you'd buy it? Let me know in the comments section below.