ASUS ROG Strix G17 G713 is an interesting lineup of gaming laptops that bundle the latest AMD Ryzen processors with powerful graphics cards from Nvidia, at an excellent price. This lineup includes several models at different price-points, including some that are surprisingly affordable. One of the best in terms of price per performance is the G713QC-HX008, a laptop that we tested and then bought as one of our work laptops. It's a 17.3" gaming notebook that features a high-end AMD Ryzen 7 5800H processor, 16GB of DDR4 RAM, and the GeForce RTX 3050 graphics card. If you want to know more about the ASUS ROG Strix G17 G713 lineup in general and the G713QC model in particular, read this review, and see how it works with Windows 11:
ASUS ROG Strix G17 G713: Who is it good for?
The ASUS ROG Strix G17 G713 laptop is an excellent choice for:
People who want a gaming laptop with an excellent price per performance ratio
Those who long for a beautiful notebook with great design and RGB lighting
Anyone who needs a modern laptop that can run Windows 11 and also intends to use it for productivity tasks
Pros and cons
There are many good things to say about the ASUS ROG Strix G17 G713QC model that we tested:
It comes with a top-notch processor (AMD Ryzen 7 5800H)
The Nvidia GeForce RTX 3050 supports ray tracing and DLSS
144Hz display
RGB illuminated keyboard and large trackpad
Well built, with a beautiful design
Good selection of ports
The cooling system is good
Battery life is fine
Good value for the price
As for negatives, this laptop:
Has a graphics card with a low amount of memory (only 4GB)
Doesn't have a webcam
Doesn't come with a card reader
Has no Off switch for the Republic of Gamers logo on its lid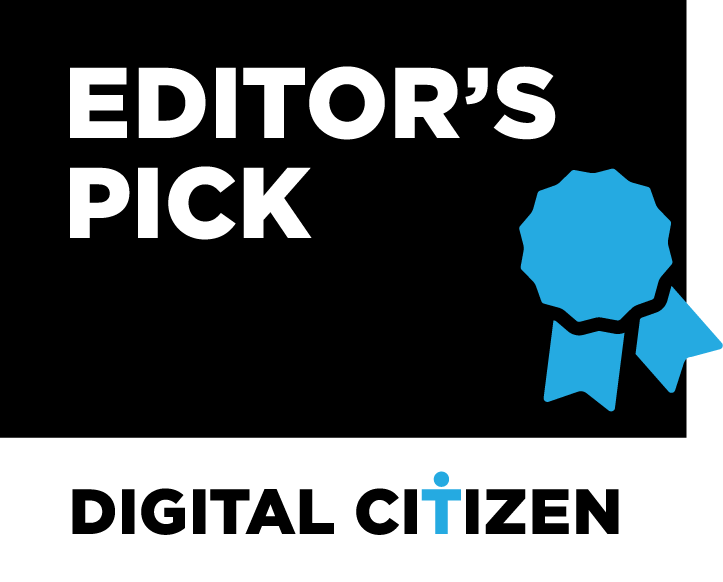 Verdict
The ASUS ROG Strix G17 G713 proves to be a good gaming laptop series that we recommend to anyone who wants a powerful device, able to run any game in Full HD resolution at medium to high graphics settings. The processors included in this series are capable of handling anything, and the graphics cards are good for modern games, although our specific model could have benefited greatly from more RAM on its GeForce RTX 3050. However, in its price range of about 1200 USD, you really get a lot of value and performance. Suffice to say that productivity tasks are something that this notebook aces without any problem. All in all, the ASUS ROG Strix G17 G713QC-HX008 is a well balanced laptop.
Unboxing the ASUS ROG Strix G17 G713
The ASUS ROG Strix G17 G713 laptops arrive in large boxes made of black and dark gray hardened cardboard. The design of the package is on the minimalist side. Besides the red Republic of Gamers logo, it also features the message "For those who dare" painted in large letters.
The packaging used for ASUS ROG Strix G17
In the package, you find the laptop, its power adapter, and power cable, the quick start guide, the warranty card, and a leaflet inviting you to install the MyASUS app.
Unboxing the ASUS ROG Strix G17
Unpacking the ASUS ROG Strix G17 is a straightforward experience. What we can say is that we loved the looks of the laptop from the first glance.
Design and hardware specifications
The G713QC model that we tested is a powerful gaming laptop with an impressive design. The matte gray chassis, with its slick lines and Republic of Gamers patterns and logos, looks great and makes you feel like you've got a premium device in your hands.
What the ASUS ROG Strix G17 G713QC looks like
On the laptop's screen lid, the ROG logo is also illuminated, although it only lights up in white and cannot be disabled even if you want such a thing.
The lid of the ASUS ROG Strix G17 G713QC
The hinges that connect the screen to the laptop's body are pretty large and seem to be robust. The laptop's rear and sides hold generous air vents, and the bottom is filled with tiny holes arranged in patterns that fit the main heating components like the processor, graphics, and RAM. Everything put together should provide adequate airflow to keep the laptop's insides cool at all times.
ASUS ROG Strix G17 G713QC has robust hinges
The ASUS ROG Strix G17 G713 series has 17" laptops with a body size that is not as large as you might expect, measuring 5.55 x 11.10 x 0.84 ~ 0.97 inches or 39.5 x 28.2 x 2.14 ~ 2.46 cm in width by depth by height. The weight is 5.29 pounds or 2.40 kg.
The laptop gets its wits from an AMD Ryzen 7 5800H processor, a model launched by AMD in the spring of 2021. It's built on the 7-nanometer manufacturing process and comes with 8 cores (16 threads) running at a base frequency of 3.2 GHz and a maximum boost clock of 4.4 GHz. The CPU also offers 16MB of Level 3 cache memory and has a default TDP of 45 Watts. It's one of the fastest and most powerful mobile processors available today.
ASUS ROG Strix G17 G713QC: Processor details
In terms of memory, the laptop we tested had 16GB of DDR4 RAM running at a frequency of 3200 MHz. There are two SO-DIMM slots available on the laptop, and, if you need or want, you can upgrade to a maximum of 32GB of RAM.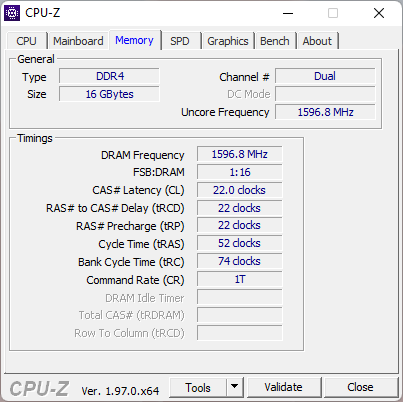 ASUS ROG Strix G17 G713QC: RAM specs
Regarding graphics, the ASUS ROG Strix G17 G713QC laptop is equipped with a GPU chip included in its processor, but also a dedicated Nvidia graphics card. The processor's GPU chip is an AMD Radeon Graphics with 8 cores running at 2000 MHz.
ASUS ROG Strix G17 G713QC: Integrated GPU details
The more powerful discrete graphics card is an NVIDIA GeForce RTX 3050 with 4GB of GDDR6, running on a 128-bit bus width. Although the RAM is a bit less than you might expect, this graphics card offers support for Nvidia's Ray Tracing and DLSS technologies and should be able to run any game today, at least on medium video quality settings.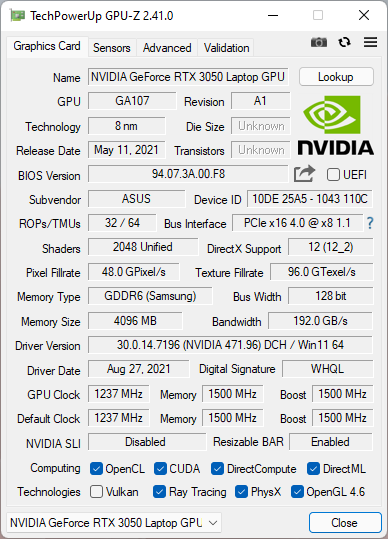 ASUS ROG Strix G17 G713QC: Geforce RTX 3050
The display uses an IPS-Level 17.3" FHD (1920 x 1080 pixels) panel with a high refresh rate of 144 Hz. However, the IPS-Level term is misleading, as it does not mean that it's an IPS panel. It only means that ASUS considers that its quality is close to that of an IPS panel. In reality, it's probably a TN or VA panel.
As for the storage options available, the ASUS ROG Strix G17 G713QC comes with a 512GB M.2 NVMe PCIe 3.0 solid-state drive made by Samsung, mounted in one of the laptop's two M.2 2280 PCIe 4.0 slots. Unfortunately, there are no standard SATA ports inside it, and the two M.2 slots don't support M.2 SATA SSDs either, only NVMe.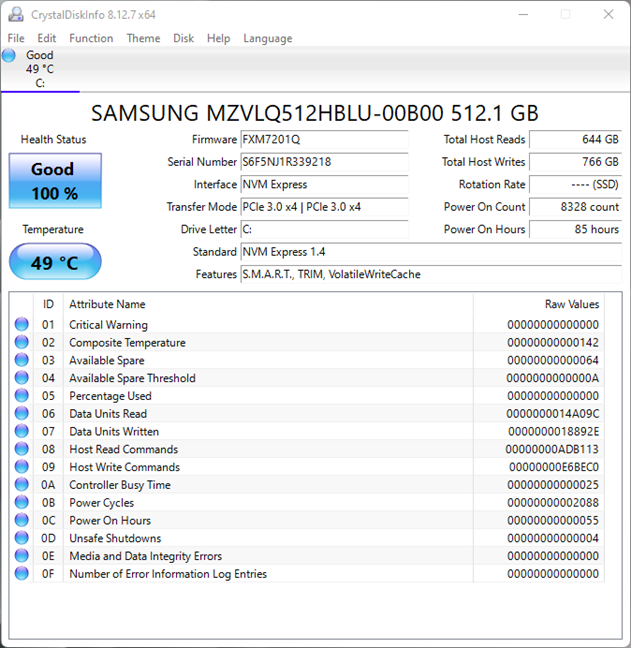 The Samsung SSD used by the laptop
ASUS ROG Strix G17 G713QC bundles great options in terms of networking. On the wireless side, you get WiFi 6 (Intel AX201) with 2×2 MU-MIMO with Bluetooth 5.0, and for wired connections, you get Gigabit LAN (Realtek RTL8168/8111).
Regarding audio, the ASUS ROG Strix G17 G713 laptops deliver it via a set of built-in stereo speakers, each rated at 2 Watts, and Dolby Atmos. There's also a noise-canceling microphone for when you need to talk. 🙂 Unfortunately, there's no webcam whatsoever, so if you intend on using your laptop for video conferences, you'll need to buy a webcam.
The laptop is relatively generous when it comes to the input/output ports available. Some are found on its rear side, while others are found on the left. On the rear, there is a USB 3.2 Gen 2 Type-C port, a USB 3.2 Gen 1 Type-A port, an RJ-45 Ethernet port, an HDMI 2.0b port, and the AC power connector.
The rear ports found on the ASUS ROG Strix G17
On the left edge of the laptop, you get two USB 3.2 Gen 1 Type-A ports and a 3.5 mm combo audio jack. The only thing missing here is a card reader, in case you were wondering. 🙂
The ports found on the notebook's left side
Finally, you should also know that the ASUS ROG Strix G17 G713 bundles a 4-cell Li-ion battery with a capacity of 56WHrs. Our exact model didn't have any operating system installed, although other variations of the laptop can come with Windows 10 Home or Pro. ASUS also says that this laptop supports Windows 11, and we can testify to that, as we already installed the Beta version.
For more details about the features and technical specs of this laptop and alternative configurations for it, visit the ASUS ROG Strix G17 G713 webpage.
The hardware specs of the ASUS ROG Strix G17 G713 series recommend it to anyone who wants a gaming laptop that can run any game at medium to high graphics settings. The design is neat, and the RGB-illuminated keyboard, as well as the LED bar on its bottom front, can make this laptop a "light delight." 🙂
On the next page of this review, we share details about the user experience, the software, and apps bundled with the ASUS ROG Strix G17 G713QC laptop, as well as its benchmark results.