Each year, gaming laptops are getting lighter and thinner than they've ever been. However, no gaming laptop can truly match ultraportables in terms of portability. That's where ASUS goes off the beaten path with the new ROG Flow X13. It's a thin 13.4-inch gaming convertible laptop that weighs less than 2.87 lbs (1.5 kg) but features AMD's impressive Ryzen 9 5980HS mobile processor with eight physical cores and sixteen execution threads. Another unique feature is the possibility to add one ASUS ROG XG Mobile - an external graphics card that combines gaming performance and versatility with portability. If all this has piqued your interest, read this review of ASUS ROG Flow X13 GV301 to see if this is the next laptop for you:
ASUS ROG Flow X13 GV301: Who is it good for?
This laptop is an excellent choice for people who want:
An original gaming laptop and can afford to pay a premium price
One of the best mobile processors available today
The ability to use the external ROG XG Mobile GPU (GeForce RTX 3080)
Pros and cons
There are many positives about the ASUS ROG Flow X13 GV301:
Excellent hardware
Top-notch performance
The screen looks great, and it supports touch
Well built, with high-quality materials
Support for Wi-Fi 6
You can add a ROG XG Mobile external graphics card
There are also a few downsides to consider:
Battery life fails to impress
It tends to get hot under full load
The price is not accessible to everyone
Verdict
The ASUS ROG Flow X13 GV301 is an unusual and marvelous appearance in the mobile gaming world. Although some quirks hold it back, we have to admit that we like the idea of a small gaming laptop that connects to an external graphics dock to become much more powerful. The hardware and performance offered are premium; there's no question about that. However, we believe that ASUS could have chosen a better built-in video card than an Nvidia Geforce GTX1650. All in all, we like the ASUS ROG Flow X13 GV301 quite a lot, and we do recommend it to those of you who have generous budgets and want to try something new.
Design and hardware specifications
The ASUS ROG Flow X13 GV301 is such a small and elegant laptop that it's quite hard to consider it a gaming device. Weighing only 1.30 kg, which is 2.87 lbs in the imperial system, and with a screen size of only 13.4 inches in diagonal, it's easy to mistake it for just another ultraportable notebook. However, it is much more than that!
A view of the ASUS ROG Flow X13 GV301
An AMD Ryzen 9 5980HS processor delivers the computing power of the ASUS ROG Flow X13 GV301. It's a mobile CPU that was launched recently, on January 12, 2021, and has eight cores and sixteen threads running at a base frequency of 3.0 GHz and a maximum boost clock of up to 4.8 GHz. These are impressive specs for a mobile processor.
Processor details shown by CPU-Z
The processor is accompanied by 32 GB of DDR4 RAM running at a high frequency of 4266 MHz. Note that there are no SO-DIMM slots available on the laptop, so you can't upgrade to even more RAM. Still, 32 GB should be enough for any gamer, and for a long time from now on.
RAM details shown by CPU-Z
Moving on to the graphics part, this is where things get interesting. ASUS went off the beaten track and, on top of putting some powerful hardware inside the laptop, also made a special external graphics card dock for this laptop. It's called ROG XG Mobile and, according to ASUS, it can use an Nvidia graphics card from the RTX 3000 series, up to GeForce RTX 3080. That's what really transforms the ASUS ROG Flow X13 GV301 into an excellent gaming rig. Unfortunately, the sample laptop we received in testing didn't arrive with the ROG XG Mobile, so we couldn't test it.
However, the ROG Flow X13 GV301 laptop also features a decently powerful built-in dedicated GPU. It's an NVIDIA GeForce GTX 1650 with Max-Q Design and 4GB of GDDR6.
Graphics card details shown by GPU-Z
The laptop features a 13.4-inch touch display with a 4K resolution (3840 x 2400 pixels) and a refresh rate of 60 Hz. ASUS says that the screen is IPS-level, which means that it offers an image quality close to that of IPS panels. A nice touch is also the fact that the laptop's screen is Pantone Validated.
ASUS ROG Flow X13 GV301 in tent mode
When it comes to storage options, the ASUS ROG Flow X13 GV301 offers only one M.2 2230 SSD slot (NVMe PCIe Gen3). The sample we tested came with a 1 TB SN530 solid-state drive from Western Digital.
SSD details shown by HWiNFO64
The ASUS ROG Flow X13 GV301 features an Intel Wi-Fi 6 AX200 Wi-Fi network chip and support for Bluetooth v5.1. As for the input/output ports you can use, the laptop offers a decent amount. Some of them are positioned on the left side, while others are found on the right side. On the left, there is the ROG XG Mobile Interface, which includes a USB 3.2 Gen 2 Type-C port, an HDMI 2.0b port, and a 3.5 mm combo audio jack.
ASUS ROG Flow X13 GV301: Ports on the left
On the right side, you get the power button, one USB 3.2 Gen 2 Type-A, and one USB 3.2 Gen 2 Type-C port.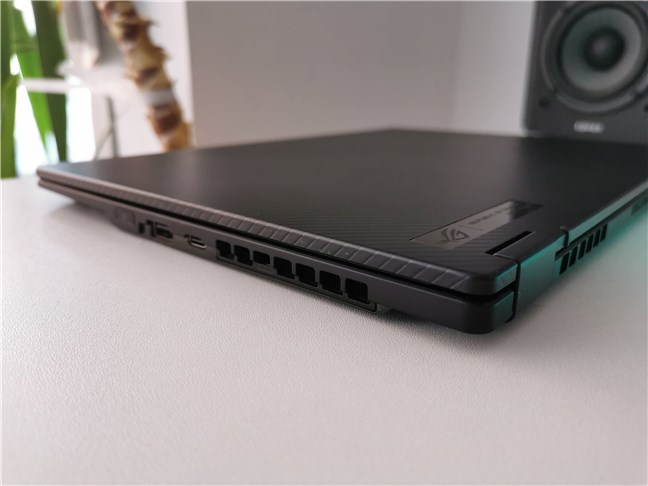 ASUS ROG Flow X13 GV301: Ports on the right
The audio part is delivered via a set of built-in stereo speakers, each with a power of 1 Watt. You also get a built-in array microphone and a 720p HD webcam. Regarding the operating system, ASUS delivers the Flow X13 with Windows 10 Pro or Home. When it is not connected to a power socket, the laptop gets its autonomy from a 4-cell Li-Ion battery that can deliver 62 watts per hour.
The bottom of the ASUS ROG Flow X13 GV301
For more details about the features and technical specs of this laptop, visit ROG Flow X13 GV301 Tech Specs.
Using the ASUS ROG Flow X13 GV301
The hardware inside this laptop is powerful and more than capable of easily handling any productivity apps. I've used the ASUS ROG Flow X13 GV301 daily for browsing the web, writing documents in Microsoft Word, and watching YouTube and Netflix. The user experience is top-notch in such scenarios, especially as we're talking about a convertible device. While switching the laptop to tent mode is my favorite choice when watching movies, the tablet mode is the best for reading or endlessly scrolling on Facebook. 🙂
ASUS ROG Flow X13 GV301 in tablet mode
I also used the ASUS ROG Flow X13 GV301 laptop for playing Shadow of the Tomb Raider and League of Legends. The performance offered by the built-in Nvidia Geforce GTX 1650 is decent for on-the-go gaming in Full HD resolutions. However, for a premium gaming experience, you have to buy the ROG XG Mobile external video card (that can feature a Geforce RTX 3080).
In League of Legends, the frame rate was obviously very high, in the counts of hundreds (I've seen from 150 to 230 fps). However, in Shadow of the Tomb Raider, set to play on the High graphics preset, not Highest, the laptop was only able to render 45 frames per second on average (35 min fps).
ASUS ROG Flow X13 GV301 benchmarked in Shadow of the Tomb Raider
One of the things I like most about the ASUS ROG Flow X13 GV301 is the keyboard. Its backlit keys offer a rather long travel distance compared to what I've seen on other similar laptops. The keyboard is comfortable to type on, it doesn't bend, and it also looks great. The touchpad feels responsive, and its size is large enough to make it easy to use.
ASUS ROG Flow X13 GV301: Keyboard and touchpad
One other essential detail for any gaming laptop is how hot it gets. The ASUS ROG Flow X13 GV301 has an adequate cooling system, but its chassis is small and thin, so things tend to get more than just warm. When using it to play games, I found that the right side of the keyboard, as well as the bottom of the laptop, tend to get quite hot. It certainly doesn't hurt if you use a good cooling pad to help the Flow X13 dissipate more heat.
Top view of the ASUS ROG Flow X13 GV301
The audio quality is good for a laptop, and the two stereo speakers manage to deliver well-balanced sounds, even for low frequencies (bass).
The ASUS ROG Flow X13 GV301 offers a great user experience, worthy of a premium laptop.
On the next page, you can see the laptop's results in benchmarks and find out more about the bundled software.