Nowadays, you can find all kinds of portable monitors on the market. They're great for boosting your productivity on the go but can also be a good match for your home office if you want to create a dual-screen setup for your desktop PC. During the last few weeks, I was the first tech blogger in the world to test and use the ASUS ZenScreen Go MB16AWP, the latest model from ASUS. It is a portable monitor with an IPS panel, built-in speakers, wired and wireless connectivity, and that you can even mount on a tripod. If you want to find out more about it and whether it would be an excellent choice for you, read this review:
ASUS ZenScreen Go MB16AWP: Who is it good for?
The ASUS ZenScreen Go MB16AWP is an excellent choice if:
You want to work on a dual-screen setup while on the go
You like the idea of having a monitor that you can easily carry with you
You want a portable monitor with rich connectivity options
Pros and cons
There are many good things to say about the ASUS ZenScreen Go MB16AWP:
It looks beautiful, and it's made of premium components
It's portable and so slim that you can tuck it in your laptop's bag
It uses an IPS panel that offers excellent image quality and brightness
It has a built-in stand and a tripod mount
You can connect it both wired and wirelessly to any device you own (desktop computer, laptop, tablet, smartphone)
Its built-in speakers sound better than most laptops
Its embedded battery can keep it running for about four hours
The only drawback I identified is that the monitor doesn't support touch.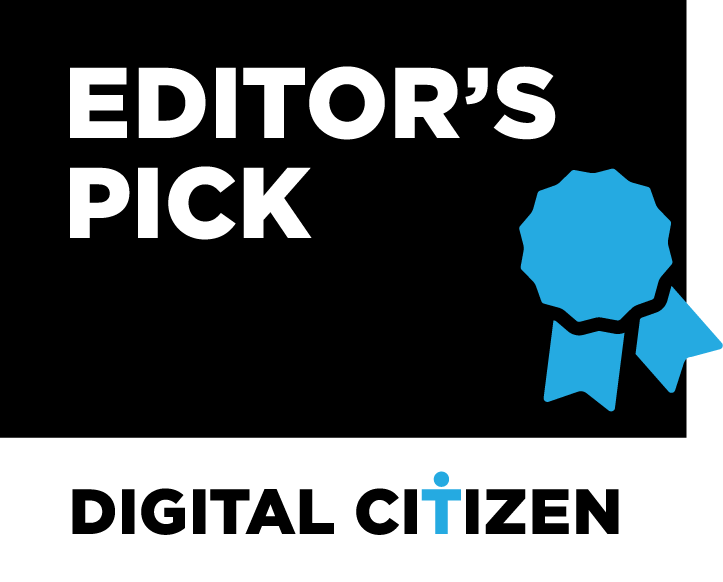 Verdict
I love using the ASUS ZenScreen Go MB16AWP portable monitor. I find it to be an excellent addition to my toolkit, and I especially appreciate the larger screen estate I have at hand while traveling. The image quality is great, and the connectivity options available are more than generous, enabling you to use it with any kind of device, be that your desktop PC, your laptop, tablet, or even your smartphone. If you're looking for a portable monitor, in my opinion, the ASUS ZenScreen Go MB16AWP is one of the best you could get.
Unboxing the ASUS ZenScreen Go MB16AWP
The ASUS ZenScreen Go MB16AWP comes in a relatively large box for a portable monitor. It's manufactured from thick cardboard, and the only things you see on it are the name of the monitor and the fact that its screen is 15.6 inches in diagonal. However, on the sides, you can learn more about the device, as some of its specs and details are printed on a couple of stickers.
The package of the ASUS ZenScreen MB16AWP
Inside the box, the ZenScreen Go monitor and its accessories are all protected by large shock-absorbing elements. The portable monitor is accompanied by a USB Type-C cable, an HDMI to mini-HDMI adapter, a small plastic cover for the monitor's tripod mount, its power adapter, warranty documents, and its user manual. ASUS also included a nice-looking bag useful for those who travel and want to take their portable monitor with them.
What's inside the box of the ASUS ZenScreen Go MB16AWP
Unboxing the ASUS ZenScreen Go MB16AWP is a fine experience. The package has everything you need, and the care for details is obvious.
Hardware specifications
The ASUS ZenScreen Go MB16AWP is a slim and relatively light portable monitor (measuring just 11.5mm in thickness and weighing 1.09kg) with a non-glare 15.6-inch screen. It uses the standard 16:9 aspect ratio and features Full HD resolution (1920 x 1080 pixels). The monitor is built with an IPS (In-Plane Switching) panel that ensures good contrast (1200:1) and offers a maximum brightness of 250 cd/m2, confirmed by our measurements. The color reproduction is excellent, and viewing angles are very generous, as expected (178° both horizontally and vertically).
Using the ASUS ZenScreen MB16AWP wirelessly
In addition to the image quality offered, the ASUS ZenScreen Go MB16AWP portable monitor impresses with its connectivity options. It can connect to your computer (desktop or laptop) via USB Type-C and mini HDMI ports, and you can also project wirelessly from practically any device.
The monitor supports wireless mirroring from laptops, tablets, or smartphones via WiFi, Miracast, and AirPlay. While it boasts a 60 Hertz refresh rate when connected via HDMI or USB-C, when I switched to wireless projection, the refresh rate was limited to 30 Hertz. Oh, and by the way, the monitor even has two embedded 1-watt speakers and an earphone jack.
Connection ports on the ASUS ZenScreen MB16AWP
The ASUS ZenScreen Go MB16AWP has a typical power consumption of 7.6 Watts, and, surprise, it has an embedded battery! With a capacity of 7800 mAh, ASUS promises an autonomy of up to four hours. Charging the monitor is done via a dedicated USB Type-C port at 5 Volts and 3 Amperes.
If you want to see all the specifications and features for the ASUS ZenScreen Go MB16AWP, visit this page: ASUS ZenScreen Go MB16AWP Tech Specs.
The hardware specifications of the ASUS ZenScreen Go MB16AWP are better than what you would get from most laptops. It offers an excellent screen, many connectivity options, and even a built-in battery. Read on to see what it's like using it in real life.
Using the ASUS ZenScreen Go MB16AWP
When I looked at this portable monitor, even if it was still turned off, I couldn't help myself from marveling at how ASUS managed to make it so slim, with incredibly thin bezels, and stuff a battery inside at the same time. Sure, we've all seen incredibly slim tablets before, but we're talking about a 15.6-inch computer screen here, which is not the same, as tablets usually have much smaller screens. On the same note, even if it's a larger screen, the monitor's dimensions are similar to those of a regular laptop. So, you won't have any issues finding a place for it in your laptop's bag or backpack. And even if you don't - maybe you own a smaller ultrabook or even a work tablet - the sleeve you get from ASUS with the monitor is quite nice and useful. Either way, I promise you that carrying around the ZenScreen Go MB16AWP with you when you travel won't be an issue.
The ASUS ZenScreen MB16AWP uses an IPS panel
Another thing that impressed me when I got the ASUS ZenScreen Go MB16AWP portable monitor was its design. That was even before I actually started using it. This monitor is a beautiful device: it feels stylish, and its metallic case looks great.
And on top of the excellent build quality, two other physical features make it stand out from the crowd: its built-in stand and the presence of a tripod socket. The stand is adjustable and easy to use, and if you want even more freedom in positioning the monitor on any surface, you can simply attach any regular tripod (like the one you might already have for your digital camera) to the back of the screen.
On its back, the ASUS ZenScreen MB16AWP has a tripod mount and a built-in stand
On the usability side of things, I unquestionably have to admit that having a secondary screen available is useful, especially if you're a writer, like us at Digital Citizen, a software developer, or even if you're simply addicted to watching Netflix. 🙂 While I had it, this portable monitor definitely made my life easier. During weekends, I tend to leave home and visit my father or meet with friends in other cities. But, even then, I still keep on writing for a few hours a day. And when I had the ZenScreen Go with me, connected to my laptop, I was able to split my desktop into two separate areas. I had my Google Docs article on the laptop's screen, while on the portable monitor, I kept Slack, Skype, and Spotify. No longer did I have to Alt-Tab to get to the latest messages: just a quick look on the left, and there they were. I don't know about others, but for me, that's something I love.
Using the ASUS ZenScreen MB16AWP with my laptop
Connectivity-wise, the monitor is rich, both wired and wirelessly - if you hate cables. 🙂 Though it worked perfectly fine wirelessly when I used it for writing and browsing the web, I preferred using the USB-C and the mini-HDMI connections for watching videos. Compared to the Miracast connection established between my laptop and the monitor, the cable HDMI one allowed for a full 60 Hertz refresh rate, which felt much better on Netflix.
Perspective of the ASUS ZenScreen MB16AWP
And, last but not least, I'd like to tell you about the monitor's autonomy when on battery. As you know, ASUS says it can last up to four hours. I've checked: fully charged, connected wirelessly via Miracast to my laptop, and with its brightness set at 80 percent, the monitor lasted indeed exactly four hours and six minutes. What can I say? Great job, ASUS!
In my opinion, the ASUS ZenScreen Go MB16AWP is an excellent addition to my computing toolbox. It's a great portable monitor that I love using, and I feel it makes me more productive on the go. I probably would've said the same thing at home if I didn't already have a large 32" desktop monitor. So, if you're working mainly on your laptop or have a small or average-sized desktop monitor, a portable screen like this will make you happy, there's no question about it.
What's your opinion about the ASUS ZenScreen Go MB16AWP?
I like the ASUS ZenScreen Go MB16AWP a lot, and I feel that it's an excellent choice for anyone who's looking to work on two screens, especially while traveling, but also at their home office. Do you think the same? Are you interested in buying a portable monitor like this one? Let me know in the comments section below.