The choices available for professionals in terms of monitors these days are plenty. Every monitor manufacturer seems to go out of its way to make the best screen possible, with as many bundled features. ViewSonic is one of them, and one of the company's most interesting professional monitors I've recently tested is the ViewSonic ColorPro VP2776. Using a 27" IPS display, this monitor promises first-class color accuracy and a high refresh rate, extensive adjustment options, a lot of ports, backlighting, and even a dedicated control dial that sits on your desk and can also be used to calibrate the monitor's colors. If you'd like to know more about the ViewSonic ColorPro VP2776, then read this review and find out what it's like to use it:
ViewSonic ColorPro VP2776: Who is it good for?
The ViewSonic ColorPro VP2776 monitor is a good choice for:
Photographers who require accurate color reproduction
Anyone looking for a high-quality IPS display
Those who want excellent performance for a midrange price
Pros and cons
The ViewSonic ColorPro VP2776 has a lot of qualities:
IPS display with excellent image quality and high refresh rate
Pantone Validated and first-grade color gamut coverage
Plenty of adjustment options
It bundles the ColorPro Wheel, backlighting, and a foldable shade
Pre-factory calibrated colors and built-in color calibrator
Generous selection of ports on its back, including USB-C with Power Delivery
Metallic desk plate stand and leg
Good price for what it offers
As for downsides:
It offers a maximum resolution of 1440p, instead of 4K, as you might expect.
Verdict
The ViewSonic ColorPro VP2776 is a splendid choice if you're looking for a professional monitor with first-grade color accuracy and added goodies such as its bundled ColorPro Wheel or USB-C Power Delivery. I believe it's a great choice for anyone involved in image editing, including photographers but also web designers, for instance. However, I don't believe it's a great match for videographers who probably require 4K screens these days. Otherwise, if 1440p is enough for you, but color reproduction is vital, then yes, you should consider buying a ViewSonic ColorPro VP2776.
Unboxing the ViewSonic ColorPro VP2776 monitor
The ViewSonic ColorPro VP2776 monitor is packaged in a rather simple box made of thick regular brown cardboard. Though it's not what I'd call attractive, the box does a really good job at protecting its contents: as you can see in the next image, the package I got looks like it survived a courier apocalypse (Death Stranding vibes anyone? :), yet the monitor inside is still in one piece.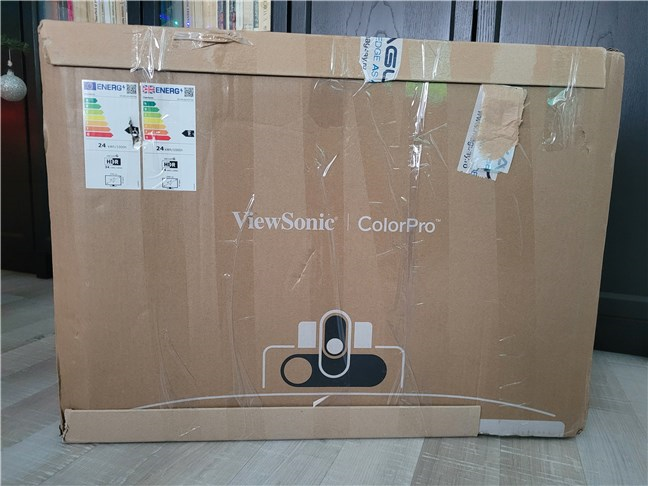 The box of the ViewSonic ColorPro VP2776
Unboxing the monitor and taking everything out is an experience you'll surely like, as the bundle is pretty generous. You get the monitor itself (disassembled in three parts: screen, leg, desk support plate), a series of different cables: power, DisplayPort, USB-C, USB-A to B, and also a couple of documents (quick start guide, warranty, etc.). Additionally, you'll also find a small device called ColorPro Wheel (useful for calibrating the monitor colors, changing its settings, or as a tool in image/video editing software).
Unboxing the ViewSonic ColorPro VP2776
Unboxing the ViewSonic ColorPro VP2776 monitor is a pleasant experience. Even if the box is not attractive by any means, the contents are generous.
Design and hardware specifications
As I've come to expect from professional monitors, the ViewSonic ColorPro VP2776 features a relatively conservative design. Unlike gaming monitors, for example, this one has straighter lines overall and a more conventional look. However, that doesn't mean that it doesn't look good; quite the opposite. Both the desk base plate and the leg of the monitor are made entirely out of metal, which is something you don't often see, as most monitors these days rely on plastics a little too much. The only plastic on the ViewSonic ColorPro VP2776 is found on the back of the screen. Speaking of which, the monitor's screen has a 27-inch diagonal and a 16:9 aspect ratio. Including its stand, the ViewSonic ColorPro VP2776 measures 614 by 234 millimeters (24.2 by 9.2 inches) in width and depth. Depending on how you adjust it, the monitor's height ranges between 449.36 and 569.36 millimeters (17.69 and 22.42 inches). This translates into about 120 mm of vertical travel distance.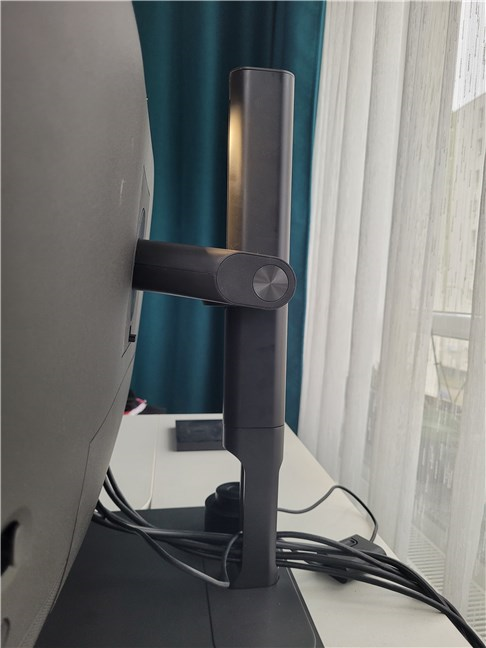 The desk leg of the ViewSonic ColorPro VP2776
Moreover, the other position adjustments are also generous, as the monitor allows swiveling at a maximum of 120º, tilting between -3º and 21º, and 90º / 90º pivot movement. Oh, and if you intend to mount it on a desk arm, you should know that the monitor is also VESA-compatible (100 x 100 mm) and that without its stand, it weighs 5.1 kg (11.2 lbs).
Tilting the ViewSonic ColorPro VP2776
On the back of the monitor, there's a generous selection of ports. Besides the mandatory power port, you also get two HDMI, a DisplayPort, two USB Type-C, one USB-B, two USB-A, a Micro USB port, and a headphones jack. One of the USB Type-C ports also supports Power Delivery (5 Volts, 3 Amperes, up to 90 Watts), which means that you can use it to charge your laptop directly from the monitor. Furthermore, the back of the monitor also houses two built-in 3 Watts speakers and a cool LED strip light that you can configure to shine white, warm white, or dim yellow.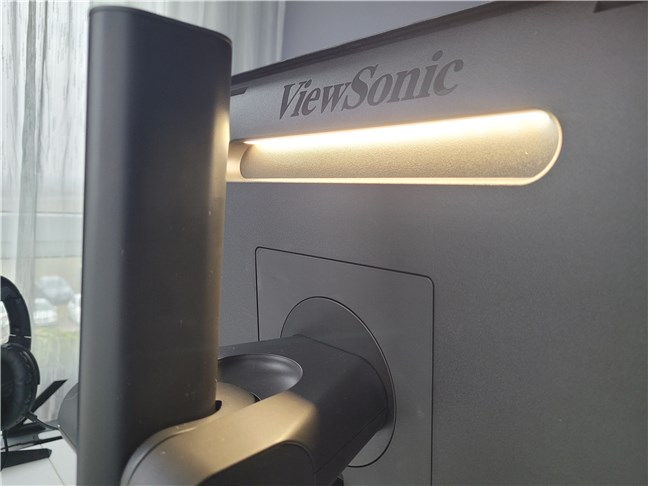 ViewSonic ColorPro VP2776 has built-in backlighting
The ViewSonic ColorPro VP2776 features an IPS panel of very good quality, with 10-bit (8-bit + A-FRC) color space support, capable of displaying images in 1440p resolution. The panel has a typical static contrast ratio of 1000:1, a brightness level of 400 cd/m2, a response time of 3 ms, and 178 degrees horizontal and vertical viewing angles. Besides all that, the monitor can brag about its extensive color coverage and accuracy. It's a Pantone Validated device that offers 100% color gamut coverage for EBU, REC709, SMPTE-C, and sRGB, 87% for Adobe RGB, and 95% for DCI-P3.
The ViewSonic ColorPro VP2776 is a 27" professional monitor
Although the monitor comes factory pre-calibrated, you also get a special surprise: the ColorPro Wheel. This is a small device that also includes a lens-based color sensor that you can use together with ViewSonic's Colorbration software to calibrate your monitor's colors easily. Furthermore, you can also use the ColorPro Wheel to access the monitor's OSD (On-Screen Display) and change settings. In the near future, once ViewSonic releases a special app called ColorPro Integrate, you'll also be able to use this wheel as a secondary tool in compatible applications such as Adobe Creative Suite or Capture One (for actions like zoom in and out, adjust brush size, brightness settings, opacity, etc).
The ColorPro Wheel of the ViewSonic ColorPro VP2776
These were just the main features and specs of the ViewSonic ColorPro VP2776 professional monitor. If you'd like to find out more details about it, check its official webpage: ViewSonic ColorPro VP2776.
Using the ViewSonic ColorPro VP2776 monitor
I used the ViewSonic ColorPro VP2776 monitor for quite a while now, and during the few weeks I had it, I can say that I've been satisfied with it. The image quality is top-notch, and the 1440p resolution matches perfectly with the 27" diagonal size. The pixels are small and hard to distinguish, which is a good thing, and the colors are accurate. Although the monitor is pre-calibrated, I still chose to use ViewSonic's color-calibration software together with the ColorPro Wheel to make sure everything is tip-top. I'm only an amateur photographer, but even if I edit photos only occasionally, I can say that the visual experience offered by the monitor was excellent. Over and above that, I suspect that the high 165 Hz refresh rate, together with the first-grade image quality, is exactly what videographers want, as editing videos should be quite a smooth experience on this monitor.
ViewSonic ColorPro VP2776 is a great choice for photographers
For a professional monitor with this price, the ViewSonic ColorPro VP2776 feels like an outstanding choice. I liked the built-in backlighting a lot, as well as the folding hood shade that you can attach to the screen. These two things, which might seem insignificant at first, make the whole user experience better. I, for one, am used to placing a desk lamp behind my monitor to ease the strain on the eyes at night. Moreover, because my computer is positioned right beside a large window, reflections and sunlight coming in from the outside are often bothering me. Thus, you can understand why both the backlighting and the hood of the ViewSonic ColorPro VP2776 are things I appreciate and rate highly.
Using the hood shade on the ViewSonic ColorPro VP2776
Another thing that many will value about the ViewSonic ColorPro VP2776 is the fact that it offers generous adjustment options. Besides tilting, swiveling, and adjusting height, the monitor's leg also allows you to rotate the screen from landscape to portrait mode.
The ViewSonic ColorPro VP2776 in vertical mode
While I believe that the ViewSonic ColorPro VP2776 is an outstanding monitor in terms of quality and performance at this (midrange) price point, there's one thing that might not make it the one you want: its resolution. 1440p is a good choice for a 27" screen and might be exactly what you need if you're a photographer. However, most videographers today use and need to work with 4K footage, which means that this monitor is not what they require. For me, 1440p is enough, but what about you?
In the end, the ViewSonic ColorPro VP2776 is an amazing monitor, and I loved using it. Both its color accuracy and features are outstanding.
What is your opinion about the ViewSonic ColorPro VP2776 monitor?
Now you know what my thoughts are about the ViewSonic ColorPro VP2776 monitor. You know its pros and cons, what it excels at, and where it doesn't shine. Are you considering getting one? If you do, what convinced you? If you don't, what made you look for other monitors? Let me know in the comments section.