LG recently released a couple of new monitors for gamers. Among them, one caught my interest: the LG UltraGear 27GP850-B. It's a 27" monitor with an IPS screen, quick response rate, and fast refresh rate that goes up to 180 Hz. And it's also available for a reasonable price that many can afford. I've asked the company whether I could test it, and they said yes. Now, I want to tell you what I liked about the LG UltraGear 27GP850-B, its strengths, and its weaknesses. Interested? Then, read this review:
LG UltraGear 27GP850-B: Who is it good for?
The LG UltraGear 27GP850-B monitor is an excellent choice for:
Gamers who want to play in 1440p resolution at a fast refresh rate
People looking for a good quality IPS display
Anyone searching for a beautiful gaming monitor
Pros and cons
There are plenty of good things to say about the LG UltraGear 27GP850-B:
IPS display that offers good image quality
Fast refresh rate: 165 Hz standard and 180 Hz in overclocking mode
Support for Nvidia G-Sync and AMD Freesync (Premium)
Good height and tilt adjustment options
Excellent selection of ports on its back
Pleasant design with a matte coating
Competitive price
There's a downside to consider too:
The colors are vivid but sometimes can feel oversaturated and a bit unnatural
Verdict
The LG UltraGear 27GP850-B is a great gaming monitor that I recommend to anyone who likes to play on their computer. If you don't need a premium 4K monitor and 1440p is enough for your needs, this monitor is a great choice. You'll enjoy a high maximum refresh rate, support for both G-Sync and Freesync, as well as solid image quality. Its price is also quite reasonable for all the goodies it offers, so yes, you should definitely take the LG UltraGear 27GP850-B into account when looking for your next gaming monitor.
Unboxing the LG UltraGear 27GP850-B gaming monitor
The LG UltraGear 27GP850-B is a relatively large monitor, and its box matches its size. Made of thick cardboard to withstand delivery, it features large stylized images of the monitor on both sides. You know that you're looking at a gaming monitor from the first encounter.
LG 27GP850-B comes in a massive box
Inside the package, LG bundled everything you need to mount and quickly start using the monitor. You get the monitor itself - disassembled in three parts: screen, leg, and desk support - together with various documents, a driver disc, cables (HDMI, USB 3.0 Type-A to B, DisplayPort), and the corresponding power adapter.
What's inside the box when you buy an LG 27GP850-B
Unboxing the LG UltraGear 27GP850-B monitor is a very pleasant experience. The tough protective box includes everything you need to use the monitor as soon as you unpack it, and the monitor itself looks good. Overall, it made a very good first impression.
Design and hardware specifications
The LG UltraGear 27GP850-B is a flat LCD monitor, and its thickness is relatively average: 5.17 centimeters (2.03 inches), which is more than most professional displays but definitely thinner than some bigger gaming screens. The 16:9 display has a 27 inches diagonal, while the whole screen measures 61.42 centimeters (24.18 inches) in length and 36.48 centimeters (14.36 inches) in height. Its support increases the monitor's footprint on the desk to 29.12 centimeters (11.46 inches). Also, depending on how you prefer to use it, the monitor's leg allows you to adjust its height to anywhere between 46.59 and 57.59 centimeters (18.34 and 22.67 inches, respectively).
LG 27GP850-B is a 27" gaming monitor
The monitor can also tilt from -5° to 15° vertically, and it's VESA-compatible (100 x 100 mm). In the latter case, it's important to know that the LG UltraGear 27GP850-B weighs 4.2 kilograms (9.26 pounds) without the desk support, so you won't have trouble finding a compatible VESA mount if you intend to place the monitor on a wall or a desk monitor arm.
You can tilt the screen
The LG UltraGear 27GP850-B uses a high-performance 10-bit Nano IPS panel with a 1440p resolution (2560 x 1440 pixels) and a fast refresh rate of 165 Hz that can be overclocked to an even faster 180 Hz. In addition, the response time can also be set to 1 ms! The panel covers 98% of the DCI-P3 color gamut, which means approximately 135% of the sRGB color space. In other words, you get vivid colors and above-average saturation, which is probably what you want in games though not so much for professional work where color accuracy is essential.
LG 27GP850-B uses an IPS panel with vivid colors
The LG 27GP850 has a minimum brightness of 350 cd/m2, the typical one is advertised to reach 400 cd/m2, and the standard contrast ratio offered is 1000:1. The viewing angles are generous, as is the norm with any IPS panel, equalling 178 degrees both horizontally and vertically.
Regarding design, I can tell you that both the back of the screen, the desk stand, and the monitor's leg look quite nice, all featuring black as the dominant color and red for emphasis. The materials used by LG are mostly plastics, keeping the price reasonable, but the inside framing is metallic, as proved by the joints, where you can see the endings and the screws that hold everything together.
The framing is metallic, while the outside is plastic
Everything is matte, both the plastics and the screen's coating. That's something I appreciate as it helps decrease glare and reflections on the screen, as well as smudges and fingerprints on the bezels, desk stand, and otherwise on the monitor.
LG 27GP850-B supports adaptive refresh rates
The back of the monitor is home to a generous selection of input and output ports. You get two HDMI 2.0, one DisplayPort 1.4, one upstream USB 3.0 Type-B, and two downstream USB 3.0 Type-A. In addition, there's also a 3.5 mm headphone jack and the power input.
The ports on the back of the LG 27GP850-B
Last but not least, in terms of hardware specs, it's important to note that the LG 27GP850 is definitely a gaming monitor: it supports both Nvidia's G-Sync and AMD's FreeSync (Premium) technology. To benefit from either, make sure you use a DisplayPort cable, not an HDMI one.
If you want to know more about the technical specifications of this monitor, you can visit its official presentation webpage: LG 27'' UltraGear QHD Nano IPS 1ms 165Hz HDR Monitor with G-SYNC® Compatibility (27GP850-B).
Using the LG UltraGear 27GP850-B gaming monitor
While I don't have professional equipment to test and measure things like real-life color accuracy, contrast, response time, etc., I can tell you my subjective opinion on what using the LG UltraGear 27GP850-B gaming monitor is like.
First of all, even if this is a gaming monitor, I'll tell you about my work days. In the week I had it on my desk, I used the LG UltraGear 27GP850-B for writing articles (and this review), as well as for playing games (Horizon Zero Dawn and League of Legends).
For the office part of the day, I found the monitor to be surprisingly well balanced. The most important thing for me in a monitor, besides a relatively large size, is how well it displays text. Obviously, because I read a lot and I write a lot, too. The LG UltraGear 27GP850-B manages to be great for both things: the 1440p resolution paired with the 27" diagonal size means I get smooth fonts on web pages and a reading experience that's not tiring to the eye. After eight to ten hours of watching my monitor and my smartphone, I could still play an hour or two of my favorite games without feeling my eyes tired. That's a big plus for me.
Fonts look smooth on the LG 27GP850-B
At the end of the day, I also enjoyed gaming, and yes, the LG UltraGear 27GP850-B really is a good gaming monitor. The 1440p resolution is great on a 27-inch monitor like this one: it offers the best balance when it comes to image quality, as the pixels are small enough to make the image look smooth, while the monitor still has a relatively large physical size. And, in games, the fast 165 Hz refresh rate is more than a regular gamer will probably ever need. 180 Hz and more really goes into the esports territory from my point of view. By the way, in Horizon Zero Dawn, the game I play obsessively these days, I didn't notice any motion blur or any sort of trailing/ghosting. Considering that it also supports Nvidia G-Sync and AMD Freesync, I believe this monitor is an excellent choice for mid-range gaming.
LG 27GP850-B is excellent for gaming
Furthermore, there are a couple of other things I like about this monitor: the adjustment options, the OSD menu and navigation, and the USB hub on its back. The LG 27GP850 lets you adjust the screen height and tilting, something I find very helpful. It permits me to keep a more natural, ergonomic posture while working, which is vital for a 40-year-old like me. 🙂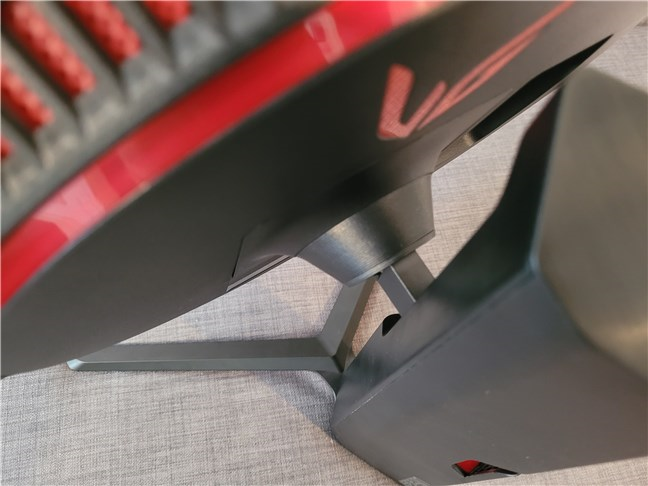 You can adjust the height of the LG 27GP850-B
The USB ports are handy too for me, as I get to connect both my keyboard and mouse directly to the monitor. The latter is something I want from my monitor because I'm also using a standing desk, and that helps quite a lot with cable management.
The USB ports on the back are very useful
And finally, I always like it when manufacturers choose to offer a miniature joystick controller for the onscreen display (OSD). Menus are much easier to navigate with a joystick as opposed to the traditional buttons found on the vast majority of computer monitors. Fortunately, LG did just that: the small power button under the screen also acts as a joystick.
OSD navigation is done with a mini joystick
Overall, I like the LG UltraGear 27GP850-B a lot. It offers top-notch performance, vivid colors, plenty of gaming features, and an attractive design. For its price, I believe it's an excellent choice for anyone out there looking for a 27" 1440p gaming monitor.
What's your opinion about the LG UltraGear 27GP850-B monitor?
Now you know what the LG UltraGear 27GP850-B gaming monitor has to offer. Does it sound like a good buy to you, or are you interested in something else? Is there anything else you would've wanted LG to include on this monitor? Let me know in the comments section below.