LG has a tradition of making excellent displays, both for TVs and monitors. And that's also reflected in their gaming monitors series. I've had the chance to test some of them, and the last one on my desk was a 24" model called the UltraGear 24GN650. If you're curious to know more about it and wonder whether you should get one, read this review to see what's good and what's not so great about the LG UltraGear 24GN650:
LG UltraGear 24GN650: Who is it good for?
The LG UltraGear 24GN650 monitor is a good choice for:
People who have an entry-level gaming rig and are playing games in 1080p resolution
Anyone looking for a monitor with a fast refresh rate
Those who want a monitor with a good quality IPS panel
Users with budget AMD Radeon graphic cards
Pros and cons
There are quite a few good things to mention about the LG UltraGear 24GN650:
Good image quality thanks to the IPS panel it uses
Fast 144 Hz refresh rate
Support for AMD Freesync (Premium)
Its height and tilt can be adjusted
Nice design and anti-glare coating
It's VESA compatible
On the other hand:
The price is a bit high compared to similar options on the market
No support for Nvidia G-Sync
No USB hub
Verdict
The LG UltraGear 24GN650 monitor is a good choice for people with entry-level gaming computers, running AMD Radeon graphic cards. If your gaming PC is built for 1080p gaming, the 24GN650 will deliver excellent image quality and a fast refresh rate. LG UltraGear 24GN650 also has a pleasant design that fits well with any gaming computer, and useful height and tilt adjustment options. Unfortunately, I can't ignore the fact that there are similar monitors out there with the same or even more features, at slightly lower prices. However, if LG is a brand you like, and this monitor meets your PC gaming requirements, then you should definitely consider it.
Unboxing the LG UltraGear 24GN650 gaming monitor
LG's UltraGear 24GN650 is a medium-sized monitor, so its box is not huge either. The package is made from thick cardboard, and while it doesn't look fancy, it tells you some of the main features and specs of the device inside.
The box of the LG UltraGear 24GN650
In the box, you'll find the monitor's parts: the screen, leg, desk stand, and power adapter. In addition, the package of the sample I got also included a DisplayPort cable, a driver disc, the user manual, warranty, and other documents.
Unboxing the LG UltraGear 24GN650
Unboxing the LG UltraGear 24GN650 monitor is a straightforward experience. The package includes all the essentials you need to quickly mount and start using this gaming monitor.
Design and hardware specifications
The LG UltraGear 24GN650 is a 24" gaming monitor with relatively standard dimensions. The screen is 1.7 inches (4.32 cm) thick, with a width and height of 21.3 by 12.8 inches (54.1 by 32.5 cm). The desk stand increases the monitor's footprint on your desk to 11.5 inches (29.21 cm).
The LG UltraGear 24GN650 is a 24" gaming monitor
The monitor's leg allows you to adjust the height of the screen from a minimum of 17.4" (44.2 cm) to a maximum of 21.7 inches (55.12 cm). While you can't swivel the panel, you can tilt it vertically between -5° to 15°, and you can also mount it on a desk arm or on a wall, as it is VESA-compatible too (100 x 100 mm). In case you're looking for a desk arm for it, you should know that the monitor's weight without its desk stand is 7.5 lbs (3.4 kilograms).
LG UltraGear 24GN650 is VESA-compatible
The LG UltraGear 24GN650 features a high-quality IPS panel with a 1080p resolution (1920 x 1080 pixels) and generous viewing angles of 178 degrees both horizontally and vertically. Featuring a refresh rate of up to 144 Hz and a fast response time of 1 ms, the display also covers 99% of the sRGB color gamut, while delivering a brightness level of 300 cd/m² on a contrast ratio of 1000:1.
LG UltraGear 24GN650 uses an IPS panel
In terms of design, the LG UltraGear 24GN650 looks similar to its bigger brother, the LG UltraGear 27GP850-B. It uses the same black color with red accents, the same plastic materials and metallic joints to connect the parts. Overall, it looks good and is aesthetically pleasing.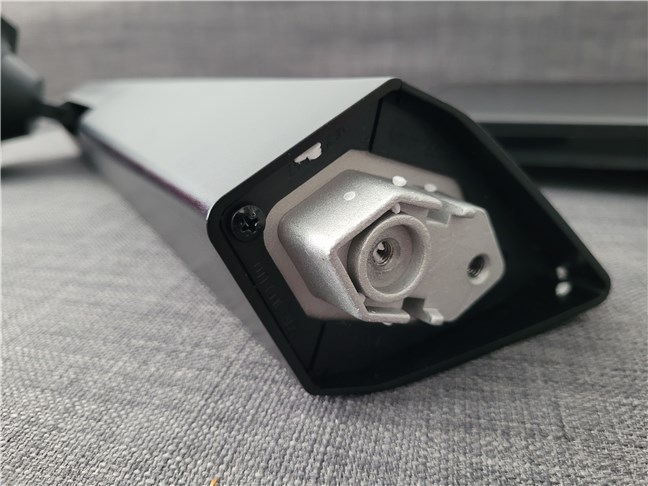 The joints are metallic, while the body is made of plastic
A good thing for gamers but not only is that the monitor's screen is covered by anti-glare coating, reducing reflections. The stand, back, and bezels are matte, which is also good because it means fewer fingerprints left on the monitor after adjusting its position.
On the monitor's back, you get a selection of ports that includes one DisplayPort, two HDMI, and a 3.5 mm headphone jack. The power jack is also found here.
The ports on the back of the LG UltraGear 24GN650
Although the LG 24GN650 doesn't support Nvidia's G-Sync, it is compatible with AMD's FreeSync (Premium) technology, and it also features HDR 10. For more details on the technical specifications, check its official webpage: LG 24'' UltraGear FHD IPS 1ms 144Hz HDR Monitor with FreeSync.
Using the LG UltraGear 24GN650 gaming monitor
While I had the LG UltraGear 24GN650 monitor, I've used it daily on my main desktop computer, both for working and gaming. I'll start with a confession: 24 inches feels too small for me. As years passed by, I've moved on from using a "small" monitor such as this one to dual-screen setups and, finally, to a larger 32" curved display. And in doing so, I've grown accustomed to splitting my screen into at least two areas while working: the left is for mail, research, chat apps, etc., and the right one is for writing in either Microsoft Word or Google Docs. A 24-inch monitor such as the LG UltraGear 24GN650 is too small to be comfortable in this setup. On the other hand, if you have a different way of working on your computer, this size might suit you.
Working on the LG UltraGear 24GN650
In terms of color and contrast, my subjective opinion is that the LG UltraGear 24GN650 does pretty well. The colors are quite vivid and punchy, and even the contrast ratio is good, although not as high as the one on a VA panel.
The gaming part is excellent if you're OK with the 1080p resolution. I've used it to play Horizon Zero Dawn and League of Legends, and I've actually enjoyed the monitor while playing these games. In Horizon Zero Dawn, everything's as it should be, while in League of Legends, gamers will certainly appreciate the 144 Hz refresh rate of the monitor, which should ensure a smooth gameplay and a faster response time.
Gaming on the LG UltraGear 24GN650
Last but not least, besides the performance offered, I also like the adjustment options and the controls offered by the LG UltraGear 24GN650 gaming monitor. In my opinion, being able to increase or decrease the height of the screen on your desk is mandatory, as is the option to tilt it. Fortunately, this monitor offers both. The only thing missing is the ability to swivel, but that's not as disconcerting for me, as I can always simply pivot the whole monitor together with its desk support. The other thing I appreciate is the small joystick button used for navigating the OSD menu. It's much easier to use than standard buttons.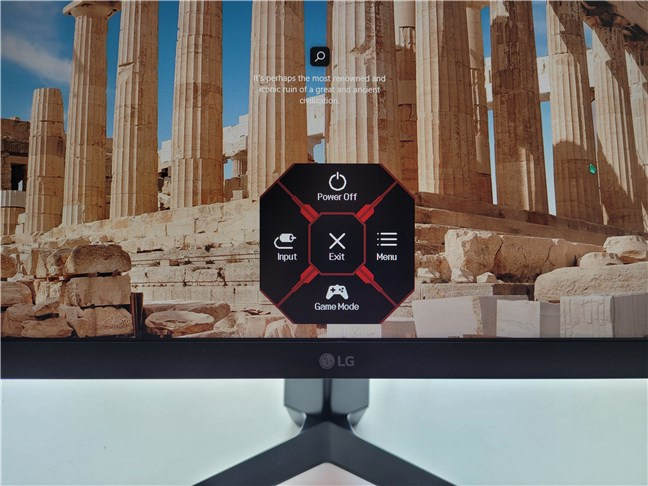 OSD menu on the LG UltraGear 24GN650
There are some aspects that I like about the LG UltraGear 24GN650 gaming monitor, such as its performance, image quality, and physical design. And I believe it's a good choice if you want a relatively small display (24") for gaming in 1080p resolution.
What's your opinion about the LG UltraGear 24GN650 monitor?
You know now what the LG UltraGear 24GN650 has to offer, and you also know what my experience with it has been. Does it sound like a good choice for your next monitor? If it does, what's the key aspect that raised your interest in it? Let me know in the comments section.