All computer viruses are bad, but some are nastier than others. When an evil one infects your system and takes control of your PC, you might find yourself "in prison": you can't use your infected computer for anything, including removing the viruses from it. When something like this happens, a way to get out and escape from the virus' hands is to create an antivirus rescue disk on another PC and use it to boot up and clean your infected Windows computer. A few antivirus companies still develop and maintain disk images for antivirus rescue disks, which you can burn on a CD/DVD or write on a bootable USB memory stick. Here are the disk images you can still confidently use today to remove viruses on your Windows 10 and Windows 11 computers:
1. ESET SysRescue Live
ESET SysRescue Live is an antivirus rescue disk with an easy-to-use graphical user interface and lots of ways to customize the scans that you perform. You can run smart antivirus scans and custom ones, you can set exclusions, choose custom folders or files to be scanned, and even decide whether you want to look for possibly unwanted programs on your infected computer. ESET SysRescue Live can also update its antivirus definitions to help you clean your computer even if it's infected with a very new virus.
Free antivirus rescue disc: ESET SysRescue Live
Download: ESET SysRescue Live
TIP: This rescue disk uses the same antivirus engine in ESET Internet Security. If you want to know how efficient it is, read our review: Review ESET Internet Security: Powerful and easy to use.
2. Kaspersky Rescue Disk
The Kaspersky Rescue Disk has a long history, dating back to 2010. Before starting to check your computer, it updates the malware definitions to ensure that the antivirus scans you'll perform are efficient. Kaspersky Rescue Disk offers a good-looking graphical user interface that's easy to use and includes many customization options: you can scan boot sectors and/or hidden startup objects, specific folders or files, only files with specific extensions, and you can set exclusions. It's really useful when you need a virus removal tool that can deal with nasty infections like rootkits, some forms of ransomware, and so on.
Antivirus scan with the free Kaspersky Rescue Disk
Download: Kaspersky Rescue Disk
3. Avast Rescue Disk
Avast doesn't offer a standalone download ISO file for creating an Avast Rescue Disk. The only way you can create an Avast Rescue Disk is from within an Avast Security product. The good thing is that you can create this rescue disk even from the free version of Avast Antivirus, so you don't have to buy one of Avast's paid products.
Free antivirus rescue disc: Avast Rescue Disk
Avast Rescue Disk offers a simple graphical user interface that's easy to use. You can either scan all your hard disks for malicious files, or you can choose to scan only some disks or folders.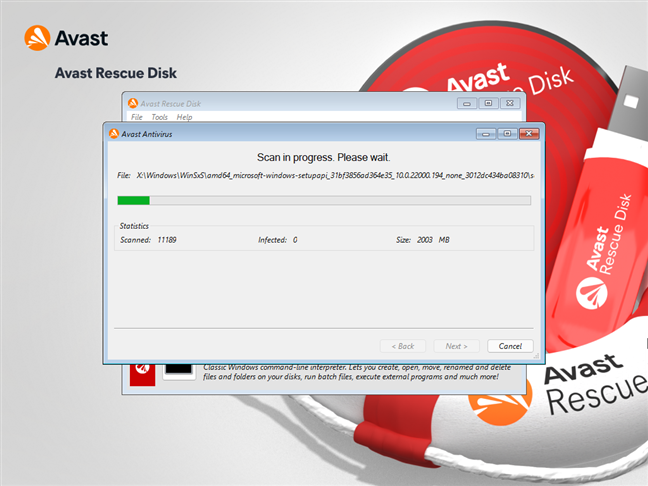 Scanning a computer for malware using Avast Rescue Disk
Download: Avast
Antivirus rescue disks are going extinct
A decade ago, many companies used to offer antivirus rescue disks. However, most of them didn't continue maintaining such tools. That's the case with rescue disks such as Bitdefender Rescue CD, which was retired in 2019. And the same thing can be said about other antivirus rescue disks that you can still find on companies' websites but no longer work for modern computers running Windows 10 or Windows 11. Among those, we can count popular tools such as Trend Micro's Rescue Disk, Norton's Bootable Recovery Tool, AVG's Rescue CD, Avira's Rescue System, F-Secure's Rescue CD, or Panda's SafeCD. Unfortunately, security vendors have lost interest in offering such tools, and, in this article, we show the few disks that remain up to date. Is that a sign that Windows computers have gotten more secure and fewer people need antivirus rescue disks? What's your take on this? Let us know in the comments section below.