The world we live in is more connected than ever. Whether you use your computer for remote work, gaming, or simply browsing the web looking for multimedia content, it's inevitable that, sooner rather than later, you'll stumble upon malicious websites or even malware. To be prepared for such moments, and ensure your safety, you've got to have a good antimalware solution installed on your PCs. While there are more than just a couple of players in this field, one of the best and most respected is ESET. In this review, we're going to show you what ESET's Internet Security can do for you and how good it is at protecting your Windows devices. We're covering everything from the user interface to its NOD32 antimalware software and firewall efficiency. Did we manage to make you curious? Read on to see if ESET Internet Security is the best security product for you in 2022:
ESET Internet Security: Who is it good for?
ESET Internet Security is an excellent security solution for those who:
Want to secure their computers against malware
Like software that's easy to use, with a clean user interface
Need a good firewall for protection against network attacks
Like having access to advanced settings to be able to control their software in the tiniest detail
Are interested in improving the security of their network, not just that of their computers
Pros and cons
These are the things we like the most about ESET Internet Security:
The antimalware engine is outstanding, able to clean and remove even the most aggressive malware encountered
The antivirus engine runs fast
The security suite doesn't have a significant impact on the speed of your PC
Its user interface looks good, and it's easy to use both by beginners and advanced users
The firewall offers good security against network attacks
The additional tools are helpful
There's only one thing that's missing from ESET Internet Security. The company doesn't include a VPN service, which would have been helpful when connecting to unsecured public Wi-Fi networks.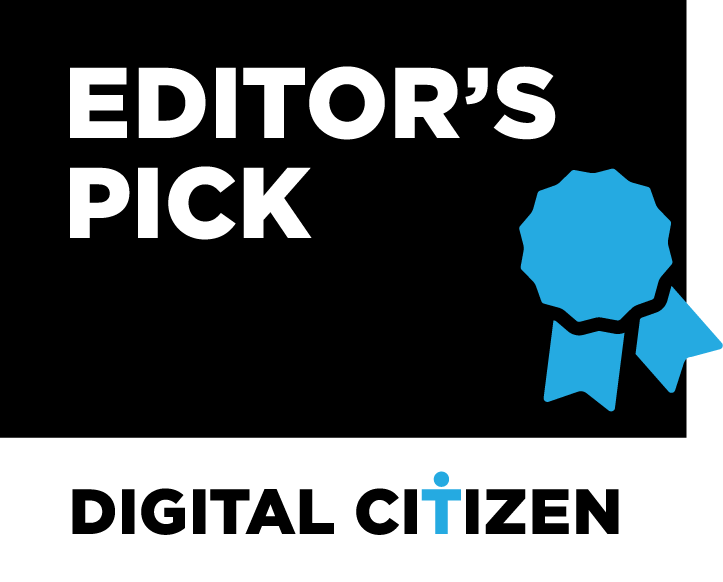 Verdict
ESET Internet Security proves to be one of the most powerful security solutions available on the market in 2022. While testing it, we learned that its antimalware engine is efficient, fast, and robust, and that the firewall module can successfully shield you against network attacks. While these are the most important aspects of a security suite such as this one, we also appreciate ESET's care and attention to the user interface and bundled tools. All in all, it's a great security product that we recommend to anyone looking to protect their Windows devices in 2022.
The download and installation experience
Getting ESET Internet Security on your PC starts with downloading a small executable file called eset_internet_security_live_installer.exe. It has just 8 MB, but it downloads another 67.7 MB of data from ESET's servers during the installation.
Install ESET Security
The installation wizard asks you to select the language you prefer to use and accept the End-User License Agreement. Then, if you only want to test ESET Internet Security for 30 days, click the Skip login button.
Log in to your ESET HOME account or Skip login
NOTE: If you already have a license attached to your ESET HOME account, you should connect to your account to activate the product instead of skipping the login. Alternatively, if you have a license key but no ESET account, create one right now: click or tap the Create account link, and enter a valid email address and a password. Then, check your email and activate your account by clicking the link in the email sent by ESET. No other personal details are required.
If you've chosen to Skip login and intend to use the trial version of ESET Internet Security to see how you like it, on the next step, click or tap on Free trial. This will require you to enter an email address and select the country you live in, but nothing else.
ESET Internet Security offers a trial version for 30 days
The installation wizard allows you to choose whether you want to "Enable ESET LiveGrid feedback system" and to enable or disable the "detection of potentially unwanted applications." We recommend that you turn on the ESET LiveGrid feature. It allows ESET to collect information about suspicious items and process them as quickly as possible. That can help ESET's security products react faster to new threats.
We also believe it is a good idea to enable the detection of PUPs (potentially unwanted applications). They may not be actual viruses, but they can be just as annoying.
Enable ESET LiveGrid and the detection of PUPs
Then, you can choose whether you'd like to participate in ESET's Customer Experience Improvement Program. This means that you allow ESET to collect anonymous information on how you use its products. However, it's entirely optional, so you can decide whether you want to participate.
Participate in Customer Experience Improvement Program
The installation takes its course. When that's done, ESET loads its user interface and asks if you also want to enable some of the additional security tools: Parental Control and Anti-Theft. To use the latter, you also need to create an ESET account.
Choosing the additional ESET security tools to enable
ESET Internet Security automatically updates its virus signature database (about 146MB on our test laptop), and then runs a full computer scan, ensuring that the system's health is checked as soon as possible.
ESET Internet Security updates its malware database immediately after install
Although the first complete system scan can take a fairly long time, subsequent scans will be a lot faster.
The initial scan takes a while
Downloading ESET Internet Security on your computer is easy, and we like that the only information you have to provide to activate the trial version is your email address. We also appreciate that it automatically updates and runs a full system scan as soon as it finishes installing.
Integration with Windows, web browsers, and universal Windows platform apps
ESET Internet Security takes control of and disables both the Windows Firewall and Microsoft Defender Antivirus during its installation. This ensures that you do not encounter performance issues or software conflicts because of similar security products running simultaneously.
Windows Security sharing the status of ESET Security
The product is also well integrated with Windows and its networking features. We did not encounter issues accessing our local network's shared resources. Installing or running apps from the Microsoft Store was also trouble-free. When we first installed ESET Internet Security, we noticed that the firewall module actively monitors the network profile you set in Windows and automatically adjusts its protection accordingly. This is the right approach.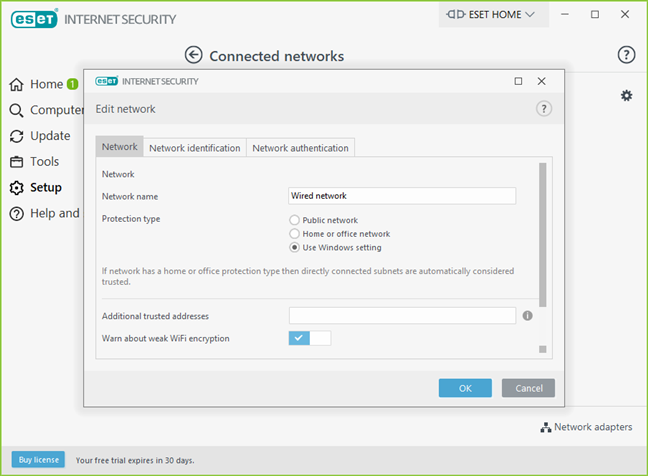 ESET firewall options for the network protection type
ESET Internet Security chooses to scan all the internet traffic on your computer, and it does not install web browser extensions. This means that you are protected just as well in any web browser.
Web protection settings
We checked whether all the processes run by ESET Internet Security are protected against unwanted termination. They are, and nasty malware should have a tough time disabling this security suite. If you are concerned that the security suite might slow down your PC, worry not. When scanning a drive for malware, ESET Internet Security used less than 100 MB of RAM on our test laptop, and the processor usage was about 9 percent (on an AMD Ryzen 7 5800H mobile CPU). Furthermore, the boot time we measured with BootRacer before and after installing the suite was almost the same (a difference of less than one second).
ESET Internet Security uses less than 100MB RAM
To check whether the internet or local network speeds are affected by ESET Internet Security, we also ran a few tests with Speedtest.net and LAN Speed Test. These tests showed that neither the upload speed nor the download speed went down when using this security product.
ESET Internet Security is a security suite that is well integrated with Windows and its networking features. For example, we like that the firewall module can automatically adjust its protection level according to the network profile you set in Windows. We also appreciated the almost nonexistent negative effect on our test PC and network performance.
Ease of use and configuration
ESET Internet Security's user interface mixes traditional and modern design, resulting in a pleasant experience for the user. You get a user interface that is generously spaced, with large sections and buttons. You also have switches controlling everything in and about. The essential tools and options are arranged into a few main areas on the left side of the window, while the details from the current section are shown on the window's right side. On the dashboard, you see a message about the current security state. If it is green, things are OK, but there are urgent issues that you need to take care of when it turns red.
The ESET Internet Security user interface
As the user interface features large buttons, tiles, and switches for all the essential tools and settings, it is easy to use ESET Internet Security, even on touchscreen devices.
ESET Internet Security setup options
You can configure most of ESET's protection modules and tools by accessing each individually. However, if you want to see all the advanced settings and configuration options, click or tap on the Advanced Setup button from the Setup section's bottom-right corner. Inside the Advanced setup, you can adjust the way ESET Internet Security works in the tiniest detail.
The advanced settings available in ESET Internet Security
ESET Internet Security explains its settings and features well in context. Still, if you stumble upon something you don't understand, clicking or tapping the small "i" button next to it gives you additional tips and details. If you need more comprehensive support, ESET Internet Security includes plenty of Help information and a Customer Care section.
The Help and Support options available in ESET Internet Security
If something important is happening on your computer or when your input and decisions are required, ESET Internet Security displays concise and clear notifications on your desktop, near the system tray.
Notification displayed by ESET Internet Security
ESET Internet Security collects information in its log files which you can investigate. It also shows you protection statistics, the processes running on your computer together with details about their reputation, and details about the network connections present on your device.
Security reports and logs available in ESET Internet Security
The user interface of ESET Internet Security is well designed. It is easy to use and understand by beginners, but it is also full of advanced settings and detailed security information, which experienced users will surely appreciate. We like how traditional and modern design meet and the way simplicity and details intertwine.
On the second page of this review, you will learn how good ESET Internet Security is at protecting your Windows 11 PC from network attacks and malware. You will also see what additional features are bundled with this security suite, and you can check our recommendations for a few settings you should adjust.