The smartphone experience on the Samsung Galaxy S23+
The thing I noticed as soon as I started using the Samsung Galaxy S23+ is just how snappy it is. The Snapdragon 8 Gen 2 for Galaxy is much better than the Exynos chips of the past, which lowered the quality of the user experience for users in Europe and other markets. The new chip provides excellent performance in everything you do, from running all the basic apps to the more demanding games, and delivers improved battery life.
Samsung Galaxy S23+ is great for watching high-resolution movies
As expected from a premium smartphone, phone calls were of high quality, and so was the signal reception. The audio is clear and you can set it to reach a high volume. Talking with someone on the loudspeaker is also a great experience, with no sound distortions and plenty of volume.
Samsung Galaxy S23+ uses an under-display ultrasonic fingerprint reader, which is accurate and reasonably quick. The face-unlock feature also works well and fast, including for people wearing glasses, like myself, who have to record their faces with the glasses on and off.
The fingerprint screen reader works great
Gaming is a highly satisfying experience on the Samsung Galaxy S23+. On this smartphone, you can play anything, at the best available image quality, with an excellent frame rate. Popular games Diablo Immortal, Fortnite, or Elder Scrolls Blades run very well. You'll be happy with the responsiveness of the phone, its refresh rate, and image quality.
Gaming on the Samsung Galaxy S23+ is a blast
Another area where the Samsung Galaxy S23 Plus performs great is the audio experience. This smartphone is quite loud, with a rich bass and excellent mids. Listening to music is an enjoyable experience, as is watching movies, due to the superb display that complements the speakers. The screen looks great, is fast and responsive, and offers great visibility, even when using your phone outdoors. To make things even better, the panel supports HDR10+, making everything look nicer and more realistic.
Galaxy S23+ offers a good audio experience too
However, one area where Samsung Galaxy S23+ is way behind its competitors is fast charging. Even though I used a Samsung 45W fast charger, the charging speeds I got were very slow. Other websites reported charging the Samsung Galaxy S23+ from 0% to 100% in one hour. However, in my testing, it got from 0% to 100% in 83 minutes, which is a lot for today's standards. Even mid-range smartphones like the Motorola Edge 30 Fusion go from 0% to 100% in just 42 minutes. Others phones charge completely in just 30 minutes or less.
Charging the Samsung Galaxy S23+ is slow
While there may be an issue with my fast charger (for the last year, I've been using it daily to charge my Galaxy S22), it's still disappointing that Samsung has made no improvements on this front for so many years. On the upside, the autonomy offered by Samsung Galaxy S23+ is excellent. This phone easily lasts one day and a half in normal use. If you're a light user, you can expect up to two days of autonomy on a single charge, which is great.
Samsung Galaxy S23+ is an excellent smartphone with an elegant and satisfying user experience. The display looks great indoors and outdoors, and its performance and autonomy are superb. The only important weakness of the Samsung Galaxy S23+ is how slow it charges compared to its competitors.
The camera experience on the Samsung Galaxy S23+
The Camera app offered by Samsung remains as easy to use as ever. It's chock-full of features and works great, no matter what you want to capture. One important addition is the tight integration with the new Expert RAW app, which lets you use advanced controls for taking professional pictures. The results are saved using the RAW format, and you can then tweak them in Adobe Lightroom and similar image editing products.
The Camera app on the Samsung Galaxy S23+
The only thing I dislike about Samsung's Camera app is the lack of a dedicated Macro shooting mode. However, the Samsung Galaxy S23+ can take macro pictures, as you'll see in the sample album below.
The images captured with the main 50 Megapixels camera are binned down by a factor of 4 to 12MP, though you can choose to capture 50MP photos if you wish. However, you won't notice a substantial uptick in image quality if you do so. Moreover, your pictures will take up a lot more storage space.
Quality-wise, it doesn't matter whether you use the main camera or the ultrawide one; colors are vibrant and sharp, the contrast is well-balanced, and highlights don't get blown out. Simply put, your pictures will look great in any lighting conditions.
Night photography has been boosted, and video recording in low-light conditions also works great. Here's a sample I've recorded in 4K resolution at 60 frames per second:
Video stabilization is very good. You can find a sample, with the Super steady mode turned on, in the clip below:
The selfie camera has received a welcome upgrade this year, which results in sharper images, including in low-light conditions.
Selfies are sharp and look great
The camera experience on the Samsung Galaxy S23 Plus is great in all lighting conditions. Night mode works even better than on the Galaxy S22+, the Camera app is a pleasure to use, and the new Exper RAW app will be appreciated by users who are into professional photography.
Android 13, OneUI 5.1, and bundled apps
Samsung Galaxy S23+ comes with OneUI 5.1 preinstalled, which is based on Android 13. In addition, this version features some nifty new features like the Battery widget, which is integrated with Samsung's ecosystem of smartphone accessories. One of the best things about buying this phone is its excellent software support. The company promises four generations of its OneUI interface and five years of security updates.
You get awesome software support
One downside of Samsung's ecosystem is that it can include many apps and Samsung clones of Google's default Android apps. However, you can choose to install only some of them. In case you allow Samsung to install all the apps its wants, the full experience includes the following:
Samsung Internet Browser - while I prefer to use Google Chrome or Microsoft Edge, the Samsung Browser is fast and has the advantage of being fully tested on Samsung devices
SmartThings - Samsung's app for the management and automation of smart devices. One of its most useful features is the ability to locate missing Galaxy devices with SmartThings Find
Bixby - Samsung's intelligent voice assistant in the cloud, ready to help
Samsung Health - a health & fitness app for Samsung wearables like the Galaxy Watch5
Galaxy Wearable - helps you pair and configure Samsung wearable devices with your smartphone
AR Zone - allows you to play with augmented reality emojis, doodles, and other items
Galaxy Store - Samsung's app store. I can't help but wonder: Are there any people using it instead of the Google Play Store?
Samsung Calculator - a simple app that helps you with math, unit conversions, and more
Samsung Voice Recorder - a simple voice recording app that does what you expect it to do
Samsung Members - helps you connect with other Samsung Galaxy device owners and get help when running into problems
Spotify - the popular music streaming service
Gallery - Samsung's alternative to Google Photos
Samsung Notes - a good and easy-to-use app for note-taking. You might enjoy using it.
Game Launcher - a mix between a game store and a gaming platform, allowing users to play games without installing them. It also allows tweaking performance settings for games.
Samsung Global Goals - an app that enables users to donate money to charity by viewing ads or donating directly
Samsung Free - Samsung's alternative to Google Discover. I find it an inferior choice to Google's product.
Smart Switch - a migration tool that helps move all your files, apps, and games from your old smartphone to your new Samsung Galaxy S23+
Samsung bundles many apps
The default configuration includes several Microsoft apps (Microsoft 365, OneDrive, LinkedIn, and Outlook) and the usual Google apps. The Samsung Galaxy S23+ also has several productivity-oriented features like Samsung DeX (which allows you to use the phone like a PC) and Edge Panels for quick app access.
If you opt for the default configuration, the Samsung Galaxy S23+ can be filled with many unnecessary apps. However, it's just as easy to deselect them in the initial setup. Furthermore, you can uninstall most of them. On the upside, it's great that Samsung will provide updates for five years to its excellent albeit bloated software.
Performance in benchmarks
In this review, we've seen how the Samsung Galaxy S23+ looks and what it's like using it, both from a hardware and software perspective. To get a better idea of its power, I also ran some benchmarks:
The first one I ran was Geekbench, a benchmark that measures the processor's performance both on single-core and multi-core. The Samsung Galaxy S23+ got impressive results: the Single-Core score was 1937 points, and the Multi-Core one was 5104 points. The GPU Compute test also revealed a high score of 9113 points. These scores are much better than those reached by the Exynos 2200 chipset used on the Galaxy S22 lineup.
Geekbench results
Next, I installed PCMark for Android, which simulates a wider range of tasks (browsing, text editing, etc.). In the Work 3.0 test, the Samsung Galaxy S23 Plus scored 13258 points, making it one of the best-performing smartphones in the Android world.
The score in PCMark for Android
To evaluate the potential for gaming performance, I ran 3DMark. In the standard Wild Life test, it maxed out and proved too powerful. However, in the Wild Life Extreme test, it scored 3460, 65% higher than what last year's model got, equipped with an Exynos 2200 chipset. This proves that the Snapdragon 8 Gen 2 for Galaxy mobile platform is a much better fit for the Galaxy S lineup.
The scores in 3DMark
The GFXBench scores were also excellent, up to 50% better than those reached by the previous generation, based on the Exynos 2200 mobile platform.
The scores in GFXBench
I used the Battery Life 3.0 test from the PCMark suite to see how long the battery lasts. It ran for 20 hours and 46 minutes of continuous use. This is a great result, confirming that efficiency and battery life are a strength of the Samsung Galaxy S23+.
Battery Life 3.0 test
5G mobile reception isn't great with my current carrier, so I didn't test the speeds you get when using 5G mobile networks. I did measure the Wi-Fi 6 speeds, though, using Ookla's Speedtest. The results were excellent: 825 Mbps for the download speed and 792 Mbps for the upload (the maximum allowed by my internet connection is 800 Mbps).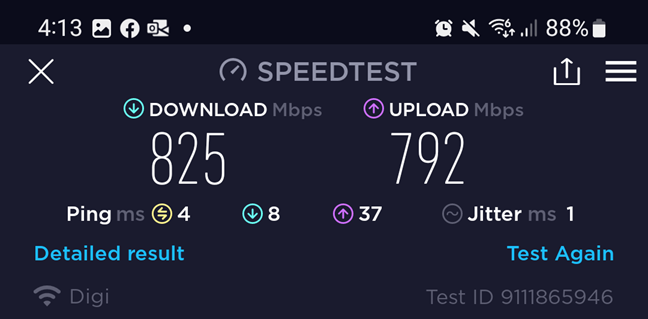 The speed you get on Wi-Fi 6
Samsung Galaxy S23 Plus performs beautifully, offering the most performance you can get from a smartphone that's part of the Android ecosystem. All the benchmarks I've run confirm that the Snapdragon 8 Gen 2 for Galaxy mobile platform is superb.
Do you like the Samsung Galaxy S23+?
Except for true fast charging, there's little more one could ask from a 2023 flagship smartphone. Using the Samsung Galaxy S23+ is a great experience, and I love that it's equipped with the same Snapdragon 8 Gen 2 for Galaxy mobile chip in all markets, providing excellent performance and battery life. The camera experience is also better than last year, and that's another area I appreciated when reviewing the S23+. Before closing this article, let me know your thoughts: Do you like the new Samsung Galaxy S23 Plus? Would you like to buy it, or are you considering other alternatives? Comment using the options below and share your perspective.