The smartphone experience on the realme 8 5G
Thanks to its 90 Hz display, and solid mid-range hardware, the realme 8 5G feels snappy when using it. The Realme UI 2.0 responds quickly to your commands, and starting and using apps is a pleasant experience. The screen's brightness is suitable for outdoor use, especially when you set it to the maximum.
The display on the realme 8 5G
One aspect worth improving is the number of built-in apps. There are a lot of them. The manufacturer should preinstall fewer apps or customize the app list to be more suitable to the market where the user is from. For example, our test sample had many apps aimed at users from Asian countries, which are not helpful for people from other continents. Also, these apps tend to bother you with many notifications you may not want. Yes, you can uninstall most of them manually, but that's an annoyance you shouldn't go through after you just bought yourself a new smartphone.
Gaming works too on the realme 8 5G, as long as you stick to casual titles with less demanding graphics. Otherwise, you may experience some slowness and low frame rates.
Playing games on the realme 8 5G
Watching movies is a pleasant experience on this smartphone as long as you use a headset. The built-in mono-speaker is underwhelming for people that care about audio quality. It works well for a mono speaker, but don't set it to the maximum volume. The high-frequency sounds will sound too loud and high-pitched, while the bass will be barely audible.
Watching movies on the realme 8 5G
Phone calls made on the realme 8 5G are clear for both parties. However, my voice sounded a bit more metallic than on other phones. The suppression of ambient sounds works well while indoors, and there aren't any loud noises around you. However, if you speak on the phone while walking on the street, and the wind is blowing, the quality of the conversation lowers significantly, and the other party has trouble understanding what you say. Voice calls work reasonably well using the built-in speaker, but don't expect high-quality audio or hearing the other person when you are far from your smartphone. In terms of signal reception, we did not have any issues with realme 8 5G. However, we used it only in busy urban areas with good mobile coverage.
The options available for unlocking your smartphone work well. However, the fingerprint sensor was faster than the facial recognition, and you might prefer it too. Also, it is a more secure way to unlock your phone.
Face recognition is available on the realme 8 5G
Battery life is stellar on the realme 8 5G. As long as you don't run many energy-intensive tasks on your smartphone, like GPS tracking for long hours, it should last for two days on a single charge.
Faster charging is useful and it works reasonably well. After 30 minutes, the battery charges from 0 to 28%, while in one hour it charges up to 50%. A full charge was made in two hours and 18 minutes.
realme 8 5G works well for casual users who don't need a lot of performance or are not into mobile gaming. Even though its display is not as great as on the 4G variant of the same model, it is still better than the average you get from 5G smartphones at a similar price-point. Also, battery life is stellar.
The camera experience on the realme 8 5G
The Camera app is easy to use and similar to that of many other smartphones. When you use it without fiddling with its settings, it doesn't take 48 MP pictures, as you would expect, but 12 MP ones. There is a separate mode for taking 48 MP shots, and you need to activate it first. When using this mode on the realme 8 5G, you get pretty pictures as long as you shoot in good lighting conditions. However, one thing we noticed is that shadowy areas tend to lack contrast and detail. In low light conditions, the results are a bit disappointing. Pictures lack details and become grainy. Zooming-in results in many details getting lost and in even more graininess. We don't recommend using a zoom level higher than 2X.
Camera options on the realme 8 5G
One downside to taking pictures in 48 MP is that the file size increases dramatically. The pictures taken in 48 MP take 3 to 4 times more storage space than normal ones, with similar settings.
Using the Ultra Macro mode on the realme 8 5G is not useful because of its limited 2MP macro-camera. We ended up preferring zooming in with the primary 48 MP camera, then using the dedicated mode. Due to its much more limited sensor, the macro camera takes pictures with a lot less detail, and it has some problems focusing, though not as much as the macro camera from Samsung Galaxy A32 5G. If you're curious, there's a Pro mode too, which allows you to change many camera settings.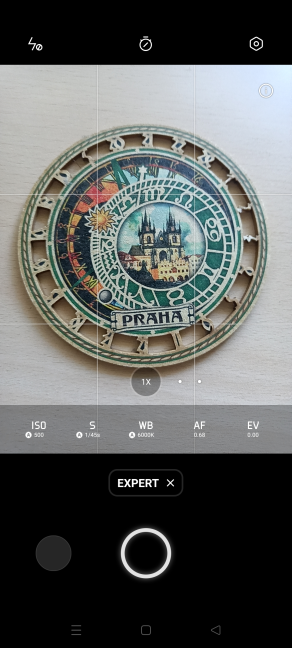 The Pro mode on the realme 8 5G
The selfie camera tends to smooth your face too much, and it doesn't seem to focus very well. Also, the blur effect from the background is overdone, which lowers your pictures' quality. If you want to know more, we have a few samples to look at in the gallery below:
When shooting videos, we noticed that realme hadn't activated its UIS video stabilization by default, which means you get underwhelming results, like in this video:
However, things get a bit better after you turn on UIS from the Camera app. However, you lose the ability to zoom in while the video stabilization is turned on. We would have preferred for both features to be available for use together.
Here is another video with plenty of moving subjects, filmed with UIS turned on:
When reading the realme 8 5G specs, you may have the impression that this smartphone delivers a great picture-taking/video recording experience. However, that is not the case. The camera system cannot produce better results than those found on competing 5G smartphones with comparable prices.
Android 11 and bundled apps
realme 8 5G comes with Android 11 preinstalled and the Realme UI 2.0 custom interface. It is relatively clean, easy to use, and not that different from the stock Android user experience. There are plenty of icon packs available and visual configurations that some users are going to appreciate. One thing we don't like about the Realme UI 2.0 is that it heavily promotes its app market and tries to convince the user to install many apps. Also, the App Market is not fully translated into English, and there are many apps and app categories in languages you don't understand.
realme 8 5G tries to convince you to install many apps
The Realme 2.0 UI feels snappy, and you can easily navigate through it. The Settings are easy to find and configure, even though they are organized slightly differently than on stock Android. The Dark Mode looks good too. Alongside the standard Google apps, realme 8 5G comes with the following apps:
Apps preinstalled on the realme 8 5G
App Market - realme's alternative for the Google Play store. It seems to be aimed at Asian markets more than western ones.
92 - it looks like an Instagram clone. Most of its users appear to be located in Asian countries.
Agoda - an alternative to Booking.com aimed at the Asian market. It is a bit weird that we get the Booking.com app too.
Browser - realme's custom web browser. Most users are going to prefer Google Chrome or other mobile browsers.
Clone Phone - realme's app for moving your data from another smartphone to your brand new realme 8 5G.
Compass - your standard compass app that helps you identify the true magnetic north, measure the angles of different surfaces, etc.
File Manager - a basic file management app that helps you organize files and folders on your smartphone.
Game Center - an alternative to Google's Play Games portal.
Game Space - an app for managing installed games, boosting gaming performance for them, and managing in-game screen captures.
Hey Fun - another game store. We don't understand why there are so many on this phone.
HeyTap Cloud - an app for backing up files and data from your smartphone to the cloud.
Hot Apps & Hot Games - shortcuts to promoted apps and games chosen by realme.
iQIYi - a mobile movie streaming app similar to HBO GO and Netflix, aimed at the Asian market.
Lazada - a mobile shopping app for Asian customers.
ORoaming - an app that is selling mobile roaming packages for Asian customers.
Phone Manager - your basic smartphone management app that is useful for cleaning up storage, app management, and more.
realme Link - you can set up a Realme account, link it with your smartphone, and access realme's services.
Recorder - a simple app for making audio recordings with your smartphone.
Soloop - an app that you can use to edit and enhance photos and videos.
Videos - a useful video player for your smartphone.
WeTV - another mobile movie streaming service aimed at the Asian market.
WPS Office - a helpful app for working with Office files.
There are also popular apps preinstalled like Netflix, Facebook, TikTok, and Weather, apps which most users want on their smartphones.
realme 8 5G has a long list of preinstalled apps, many of which are aimed at Asian markets. We wish for Realme UI 2.0 to optimize this list and install only apps relevant to the country where the user is located.
Performance in benchmarks
As always, we ran several benchmarks to get a more objective view of the performance offered by realme 8 5G. First, we ran Geekbench. It got 573 points in the Single-Core tests and 1771 in the Multi-Core tests. These scores are higher than those obtained on a Samsung Galaxy A32 5G and similar to those obtained by a Xiaomi Redmi Note 9 Pro.
realme 8 5G - Geekbench Scores
We then used PCMark for Android to measure how well realme 8 5G fares in productivity tasks. It had a score of 11024 points, which is very similar to its predecessor: realme 7 5G.
realme 8 5G - PCMark score
In the 3DMark benchmark app, we ran the Sling Shot Extreme – OpenGL ES 3.1 test. This smartphone rendered a maximum of 7.1 frames and 14.8 frames respectively, and it had a score of 2347 points, confirming that realme 8 5G is not a great choice for games with complex graphics.
realme 8 5G - 3DMark score
The Car Chace and 1080p Care Chace Offscreen tests from GFXBench confirmed the same story. realme 8 5G could render a maximum of 11 fps and 14 fps, respectively, confirming that this smartphone is a good choice for casual gaming only.
realme 8 5G - GFXBench scores
To evaluate the autonomy offered by realme 8 5G, we used PCMark's Work 2.0 battery life test with the display brightness set to auto. The battery lasted 18 hours and 16 minutes, two hours more than the Samsung Galaxy A32 5G. It is an excellent result, and it confirms that, in regular everyday use that doesn't involve too much gaming, this smartphone's battery should not have any problems lasting for two days on a single charge.
realme 8 5G - Battery score
Unfortunately, we don't have 5G connectivity in our area, and we couldn't test the mobile data speed you get with this phone.
The benchmarks we ran confirmed that realme 8 5G offers good performance for general productivity tasks and excellent battery life. However, this smartphone is not a good choice for gaming.
Do you like the realme 8 5G Android smartphone?
Now you know what we like and what we don't like about the realme 8 5G. You also know some of the differences from its 4G variant. Before closing this review, tell us your opinion about this model and whether you prefer the 5G variant of realme 8 or the standard one, and why. Or maybe you like the slightly older realme 7 5G. Comment below, and let's discuss.