The market of 5G smartphones is getting more crowded by the day, including lower-priced devices that many people can afford, like the realme 8 5G. This is a positive trend that will only increase the adoption of 5G devices and motivate telecom providers to upgrade their networks faster. If you want to jump on the 5G bandwagon without spending a lot, and you're looking for a reliable phone, you may want to give the realme 8 5G a try. Here are seven reasons why:
1. Hardware that offers satisfying performance
As shared in our realme 8 5G review, this smartphone comes with solid mid-range hardware that ensures reliable performance for all tasks and mobile 5G connectivity for ultra-fast mobile data connections. To be more specific, the realme 8 5G features an eight-core MediaTek MT6833 Dimensity 700 5G system on a chip, with two Cortex-A76 cores running at 2.2 GHz and another six Cortex-A55 cores running at 2 GHz. It is also available in configurations with 4, 6, or 8 GB of RAM and 64 or 128 GB of storage space - enough for many users.
The hardware inside the realme 8 5G
Along with the screen's high refresh rate, these hardware specifications lead to a user experience that feels fast and fluid.
2. Fast 90 Hz display
Speaking of the phone's screen - the realme 8 5G has a solid 90 Hz refresh rate display, with an IPS LCD panel. It has a maximum of 600 nits brightness - a good level for a display of its type, that makes it easy to use the smartphone outdoors, in direct sunlight. As you can see below, the display has a punch hole around the top left corner to make room for the selfie camera. The resolution is Full HD (2400 x 1080 pixels), and the density is 405 pixels per inch (ppi).
realme 8 5G has a 90 Hz display
If you want to optimize the power consumption, you can also set the screen's refresh rate to 60 Hz instead of 90 Hz. However, the high refresh rate gives you the impression that everything works faster, and apps seem like responding quickly to your taps. The most significant difference is noticed when playing car racing games or action-packed games, where latency is reduced thanks to the high refresh rate.
3. Dual SIM and expandable storage
Some smartphone manufacturers force their users to choose between Dual-SIM and expandable storage. If you have to use two SIM cards (one for work and one for personal use) and extend the storage space to make room for many pictures and videos, realme 8 5G is a great choice, as it doesn't force you to make tradeoffs.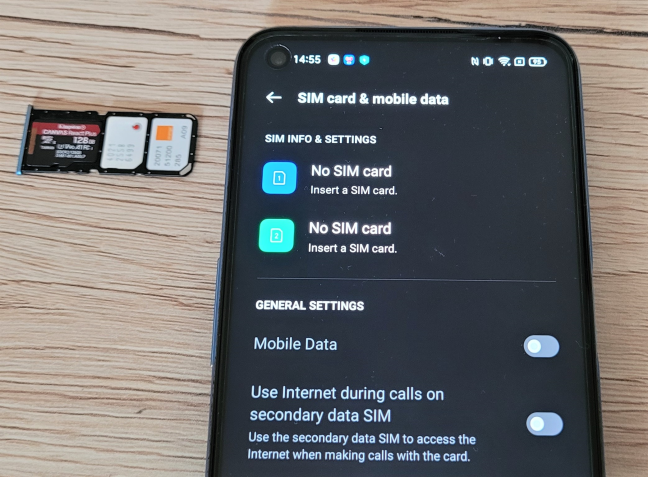 realme 8 5G takes two SIM cards and a microSD
You can enjoy plenty of storage space and two SIM cards at the same time.
4. Generous battery and fast charging
The realme 8 5G has a battery with a capacity of 5000 mAh. Even though the smartphone has a 90 Hz display, its battery can last up to two days on a single charge, especially during lighter use.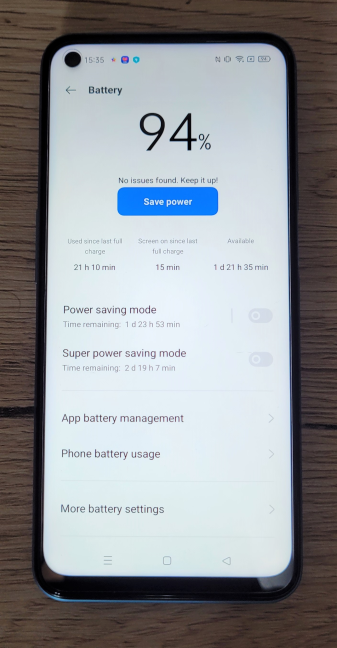 The battery has a capacity of 5000 mAh
To shorten the charging times, realme 8 5G offers 18W fast charging. A complete battery charge takes 2 hours and 18 minutes, while in 30 minutes, the battery charges from 0 to 28%.
5. realme 8 5G comes with protection in the box
You may call us "old-school," but we like it when smartphone manufacturers bundle means of protection so that you don't spend more purchasing them separately. The realme 8 5G is an affordable device, and it helps that you get a silicone transparent case and a factory pre-applied protective film on its display.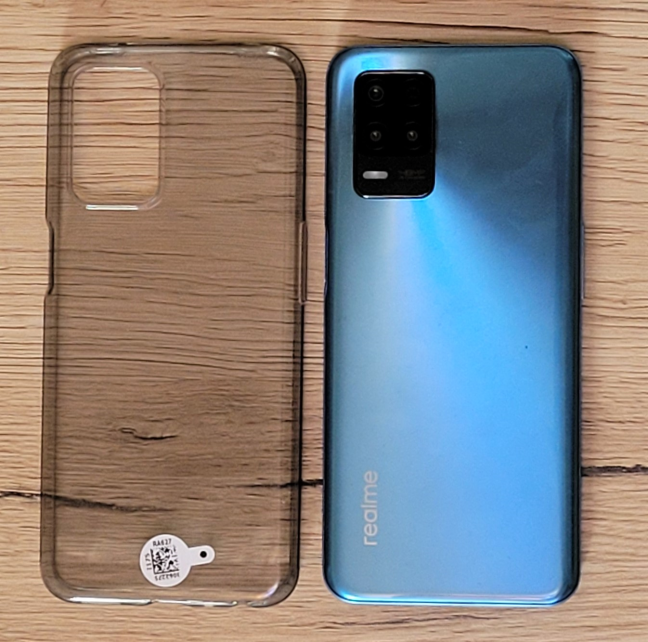 realme 8 5G comes with a transparent case
6. Fast unlock with face recognition or your fingerprint
For a fast smartphone experience, it's handy to have more options to unlock your device. The realme 8 5G has a power button that also acts as a precise fingerprint reader. Using it to unlock your smartphone is swift. Facial recognition is also available, and it works well. Sometimes it is the fastest option for unlocking your phone. You just look at it, and it's already unlocked for you.
Setting up face recognition on the realme 8 5G
7. Android 11 and at least two years of updates
The realme 8 5G smartphone comes with Android 11 preinstalled and Realme UI v2 - its manufacturer's latest user interface. The Realme UI v2 is easy to use and configure, and Android users won't have any issues finding their way around. The company making this phone promises at least two years of Android updates:
For the first six months after launch, the realme 8 5G will get monthly updates
After that, it will get updated once every two months, for up to two years
The phone comes with Android 11 and realme UI 2.0
What do you like about the realme 8 5G?
Now you know what we like about the realme 8 5G and the reasons why we would consider buying it, outside of its 5G connectivity. Before closing this article, tell us what you think about this smartphone. Also, if you already have it, share your experience with it. Comment below, and let's discuss.