If you're a gamer and you usually keep your browser open even when you're playing games, you might want to check out Opera GX. It's a unique web browser, designed especially for gamers, and full of tools, features, and personalization options. If you've seen it, you know that it easily stands out from other browsers. But is it actually a good browser? Is it fast, and does it really offer features gamers would want? Find out from this review:
Opera GX: Who is it good for?
In my opinion, Opera GX is an excellent choice for:
Gamers of all types and for all preferences
Anyone looking for a highly customizable web browser
Users who want a fast browser
Pros and cons
The main positive aspects of Opera GX are these:
Easy to install and set up
Surfing the web feels fast
A lot of gamer-oriented features
Many personalization options
Tools that allow you to control hardware resources
As for downsides:
The default interface of Opera GX might not be to everyone's taste
There's no Opera GX for Linux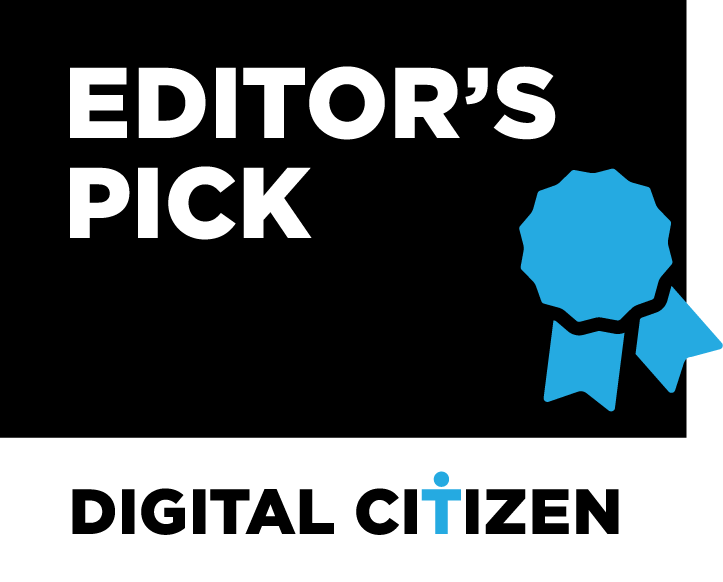 Verdict
Opera GX is a web browser designed with gamers in mind. Features like CPU and RAM limiters, Twitch integration, and easy access to the gaming news deck all prove that. When using it, I found Opera GX to be a fast web browser, and I love the multitude of customization options it offers. I believe that Opera GX is a great choice for gamers and users who love customizing their web browsers to a great extent.
Downloading and installing Opera GX
The first step in your journey to Opera GX is getting it on your computer. This is a straightforward process that I personally found to be just as easy as with any major web browser and, quite frankly, easier than getting many less popular ones. You start by downloading an installer from the Opera GX webpage: save it somewhere on your PC, and run it.
Download Opera GX
The installation wizard begins by letting you know that Opera GX is a gaming browser and asking you to accept the license agreement. If you want, you can also change a few essential options regarding the installation, like where to install the browser. Once you're OK with everything, click Accept and Install, and Opera GX will move on to the next step of the installation process.
Accept and Install Opera GX
Opera GX then asks you whether you'd like to "Help Make Opera Better" by allowing the company behind it to collect some data about your browsing habits. If you're OK with that, you can continue by pressing Accept. However, if you want more privacy and don't fancy the idea of sending data about you, click the "Configure in settings" button to adjust Opera GX's behavior in this key area.
Help Make Opera Better
Then, Opera GX is installed on your computer. During this short time, you can see a few bits of information about the browser's main features.
Installing Opera GX
When the installation is done, Opera GX is immediately launched.
The download and installation of Opera GX is an effortless process. In my opinion, getting it on your computer is just as easy as it is for any other major web browser, and compared to other second-league browsers, installing Opera GX is even more straightforward.
Setting up Opera GX
Once you've finished downloading and installing Opera GX, you're greeted by an easy-setup wizard. If this is the first time you're using Opera GX, I recommend you follow its steps, as it provides a very straightforward way of customizing the browser to your liking. Otherwise, if you've previously used Opera GX and already know what you want from it, you can simply skip this part by clicking on the Skip tutorial link in the bottom-left corner of the window.
The initial setup wizard of Opera GX
The steps of the initial configuration wizard are easy to go through. With a couple of clicks, you can choose a theme you like, apply Mods that change how the browser looks and sounds, enable or disable gaming features such as GX Control or GX Cleaner (I'll speak more about these in the next chapter of this review), block ads with the built-in Ad Blocker, and more.
The initial configuration of Opera GX is easy
The initial configuration of Opera GX is a process I recommend you go through. It doesn't take long, allowing you to personalize this gaming web browser as soon as you've finished installing it.
Opera GX's gaming features and user experience
At its core, Opera GX is a web browser like any other, its main purpose being that of helping you navigate the internet. It's based on the Chromium open-source project, just like most of the popular browsers today. However, Opera GX offers a series of features specially designed for gamers, features you won't find in other browsers and that are defining for your user experience. These are the attributes I'd like to focus on in the next paragraphs, as they're the ones that make Opera GX special.
The feature I believe makes Opera GX stand out most as a gamer-oriented web browser is GX Control. This is a panel that lets you adjust how much processor, memory, and network bandwidth the browser can use. By setting limits for each of these hardware resources, you can prevent the browser from slowing down your games or consuming too much data. Furthermore, it also allows you to monitor your system performance and network speed in real-time, which can be very useful when you suspect your browser is hogging your computer.
Opera GX has a built-in RAM Limiter and CPU Limiter
Another feature I love about Opera GX is the GX Corner, a hub aggregating gaming news, deals, and free games. You can launch it by clicking on the small controller symbol next to the Opera GX logo in the top-left corner of the browser window. Furthermore, I like the fact that you can customize it to show you the content that interests you, such as gaming news from different regions of the world, upcoming releases, game reviews, and trailers.
GX Corner is a hub for news, trailers, games release dates, etc.
Another feature of Opera GX that many gamers will love is its integration with gaming platforms and services. Among the most popular of them, you can count Twitch and Discord. They're all easily accessible from the browser's sidebar, allowing you to stay updated on your favorite streams, as well as chat with your friends and communities without having to leave Opera GX.
Twitch is handily available from Opera GX's sidebar
Opera GX also offers a sleek design that you can customize to match your preferred style. There are various themes and colors you can apply, as well as sound effects, animations, and even background music that reacts to your browsing.
Opera GX offers many personalization options
One other thing that I found quite useful is that not only does Opera GX support dark mode, but you can also force web pages to go dark. That's something I like and want not just because it makes this gaming browser look great but also because it reduces eye strain and saves battery life when I'm using Opera GX on my gaming laptop.
You can force web pages to go dark
On top of the extensions and add-ons available in Opera's store, Opera GX also works with most of the ones found in the Chrome Web Store, which means you can further enhance your browsing experience with your favorite tools. Moreover, the browser also has other built-in features that many gamers will find useful, such as a VPN, an ad blocker, and a tracker blocker, all of which can protect you from unwanted ads, trackers, and malicious websites. There's also a video pop-out player and support for various messengers.
There's a built-in VPN in Opera GX
Then there's also the modding: Opera GX comes with built-in support for GX Mods, a special kind of customization packs that include not just regular browser themes but also sounds, wallpapers, background music, etc. While you do have the option to create your own custom GX Mod, it's likely that you won't feel the need to do that, as there are over 300 templates available in the GX Store already. With a simple search, you'll probably find one you like. And once you find it, all you have to do to apply it on your Opera GX is simply click a button to install it.
Apply the Anime mod to Opera GX
AI chatbots seem to be everywhere right now, and many people want to use them. Well, good news on this front, too: Opera GX allows you to use ChatGPT and ChatSonic straight from the sidebar. Furthermore, once you've enabled them, selecting any text on a webpage will trigger AI prompts that you can immediately use to get more insight on the matter or even compose or rewrite that text. Check this webpage for more information: Generative AI. Now in Opera GX.
ChatGPT is one click away when using Opera GX
Overall, Opera GX shapes up as an excellent web browser for gamers who like having detailed control over how they're navigating the internet and want to enhance their gaming experience. Although when I first started using it, I wasn't so sure that a gaming browser can be better for me than a regular one, I can now say that Opera GX impressed me. It's fast, secure, and customizable, its unique built-in gaming features are useful, and as far as I can tell, there are no other browsers to offer similar tools and customization options.
TIP: Opera GX is available not only for Windows but also for Mac, Android, and iOS devices. You can download it from the official website. If you also want it on your mobile devices, you can get Opera GX from Google's Play Store or from Apple's App Store.
Benchmarking Opera GX
Although Opera GX feels like a fast web browser, this is just a subjective opinion. So, in order to get a clearer idea of how fast it actually is, I ran a couple of benchmarks. Before I show you the results, know that I ran the tests on a desktop computer with the following hardware and software components:
Also, I compared Opera GX's scores with those reached on the same PC by three popular web browsers: Google Chrome, Microsoft Edge, and Mozilla Firefox.
The first benchmark was JetStream 2.1, a JavaScript and WebAssembly benchmarking suite that advertises itself as focusing on the most advanced web applications. The highest scores are awarded to browsers that start up quickly, execute code fast, and run smoothly. Opera GX proved to be just as fast as Chrome! While Microsoft Edge wasn't too far behind, Mozilla Firefox was significantly slower than Opera GX, far away in the gaming browser's rearview mirror.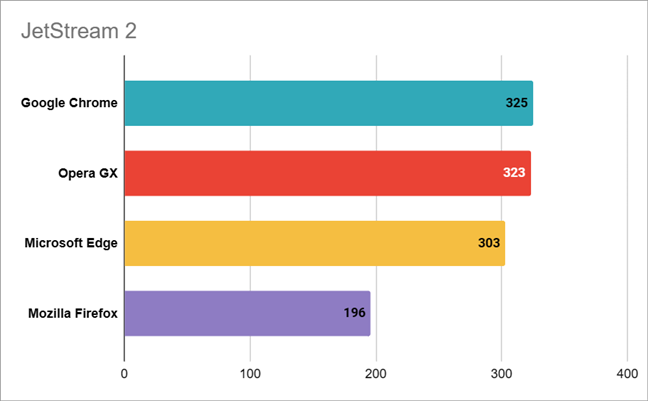 Benchmark results in JetStream 2
Next, I ran MotionMark, a graphics benchmark that gives you an insight into how well a browser can animate complex scenes. While no browser could compare with Chrome, Opera GX managed to be almost as fast as Microsoft Edge and, again, significantly faster than Firefox!
Benchmark results in MotionMark 1.2
The third and last benchmark was Speedometer. This browser benchmark measures how responsive web applications are by simulating user actions. Here, Opera GX won second place in the competition, with a similar result as Edge, and not far behind Google Chrome. All browsers, including Opera GX, proved to be notably faster than Mozilla Firefox.
Benchmark results in Speedometer 2.1
In conclusion, Opera GX feels fast in everyday use, and the benchmarks confirm that this gaming browser is quite capable. Your web browsing experience won't be slower than the one you get with other browsers. Therefore, if you like its gamer-oriented features, it's a great choice as your main browser.
What do you think about the Opera GX gaming browser?
Now you understand what Opera GX is, and you know that it offers a unique gaming and browsing experience. Its many gamer-oriented features make it stand out from the crowd. If you're looking for a web browser designed for gamers, one that doesn't compromise on performance and is highly customizable, you might want to give Opera GX a try.