If you're a gamer, you might want to take into account Opera GX, the web browser designed specifically for gaming. What makes it stand out are its features, like the ability to control how much CPU and RAM it uses, or its deep customization, unlike anything you've ever seen on traditional browsers. After using it for a month or so, I've come to realize that I really like some of the features it offers. Without further ado, here are my seven favorite things about Opera GX:
NOTE: In this article, I merely present the features I love most about Opera GX. However, it has much more to offer. If you want to find out more about what this gaming web browser can do and how fast it is, I recommend you to read my full review of Opera GX. Also, if you want to install it on your Windows computer, you can get Opera GX from its official website.
1. GX Control (Network, CPU, and RAM Limiter)
If there's one thing I would keep in Opera GX, no matter how it evolves over the years and what its developers and designers think is best, it's the GX Control feature. This is a sort of in-browser control panel that allows you to set limits on how much of your computer's resources Opera GX can use. GX Control includes limiters for the network, processor, and memory usage and is definitely useful when your computer or laptop doesn't have unlimited resources, and you want it to allocate as many as possible to the game you're playing while still keeping your browser open in the background.
GX Control (Network, CPU, and RAM limiter)
When configured properly, the GX Control can lend a helping hand to your PC, allowing you to play games without compromising their performance and avoiding lag or crashing.
2. Twitch integration
Among the many gamer-oriented features of Opera GX, one of the most useful for those who like watching streamers is the Twitch integration. Once you've logged into your Twitch account, Opera GX can give you notifications when your favorite streamers go live without having to open new tabs or windows. On top of that, you're also able to access any of the channels you're following, your subscriptions, and whispers with just a click.
Twitch integration in Opera GX
Opera GX's Twitch integration is perfect for keeping up with the latest gaming content and interacting with the community without leaving your browser.
3. Discord integration (and other messengers)
Similar to Twitch integration, Opera GX allows you to access many chat platforms directly from the sidebar. One of them is Discord, probably the most popular communication platform for gamers. In Opera GX, you can chat with your friends, join servers, and even share your browsing activities on Discord without leaving the current tab or window.
Discord integration in Opera GX
Obviously, I'm not just using Discord to chat. You're also probably using other messengers, and Opera GX has most of them covered. Its sidebar can fit in Facebook Messenger, WhatsApp, Telegram, VK, Instagram, TikTok, and Twitter. So just choose your "poison" and enable the ones you want. 🙂
4. Design (GX mods, themes, wallpapers, sounds)
Who doesn't love customization? I know I do, and Opera GX delivers plenty and then some! This gaming browser's personalization options are extensive. You can change Opera GX's appearance with different color schemes, icons, wallpapers, and even sounds and background music. Whether you want Opera GX's look to match your gaming setup or just your current mood, you can easily get there.
Using Opera GX with the Anime mod
Opera GX takes the theming experience a step further with the so-called Mods. These are customization packs that include everything I've mentioned earlier (theme, wallpaper, music, sounds) and can be applied with just a click. There's a multitude of mods already available in the GX Store, and if you're feeling adventurous, you can even create your own.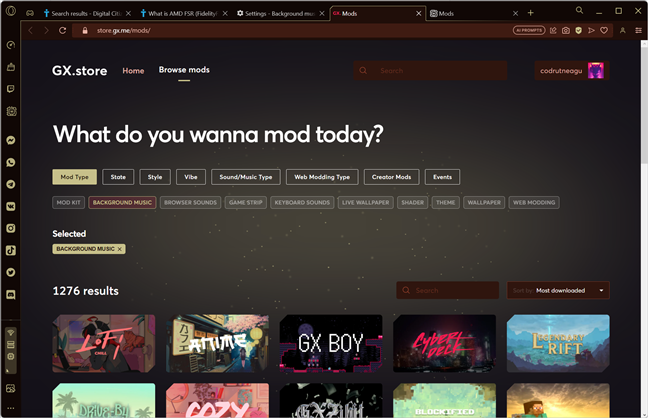 Mods available in the GX Store
Opera GX is definitely a browser designed to let you express your personality as a gamer.
5. Built-in VPN and ad blocker
Another feature of Opera GX that's really useful at times is its built-in VPN service. With just one click or tap, you can browse the web securely and privately. There's no need to install specialized VPN apps or configure complex settings in Windows. Furthermore, it's free, and you can even choose servers from several virtual locations.
Opera GX's built-in VPN feature
And on the same note, the VPN service is accompanied by a built-in ad blocker that's just as easy to use. Opera GX can block annoying ads and trackers and thus further protect your data and privacy, not to mention that it also helps improve browsing speed.
Opera GX has a built-in ad blocker
6. GX Corner
The next feature of Opera GX I like is the GX Corner. This is a special tab in the browser that gives you access to the latest gaming news, deals, releases, and trailers. You can even get free games! Furthermore, the GX Corner section can be customized to show in your feed only the topics and platforms you're interested in (Windows, PlayStation, Xbox, Switch, Mac, Linux, VR).
GX Corner is your gaming feed and news aggregator
It's also worth noting that the GX Corner is different from the regular Speed Dial, which is the default page loaded when opening a new tab. GX Corner is a feed dedicated to the gamer in you, while Speed Dial is your web browsing starting place.
7. GX Cleaner
Last but not least, there's GX Cleaner, a sidebar panel that helps you maintain the gaming web browser in tip-top shape. It can free up disk space by deleting unwanted files, clearing your browsing history, removing cache files and cookies, and even closing unused tabs or hiding unused sidebar icons.
GX Cleaner keeps Opera GX in shape
TIP: If any of the Opera GX features presented raised your interest, and you don't already have it on your computer, you can get this gaming browser from here: Download Opera GX.
What's your favorite thing about Opera GX?
And with that, I'm ending this roundup of the features I like most about Opera GX. The browser has other cool things to show off, but the seven I've mentioned are the ones that made me switch to using it daily instead of my previous favorite browser, Microsoft Edge. If you're a gamer, too, you should give Opera GX a try and see for yourself whether you like it. And if you already did, do tell: What's your favorite feature of Opera GX?