NFC or Near Field Communication is a wireless communication standard that allows the devices that support it to transfer data between them over a distance of 4 cm or less. If you have an Android smartphone, you can use NFC to connect your smartphone to a wireless speaker, make contactless payments, or share data with other devices. Regardless of how you plan to use it, here's how to check if NFC is available on your Android and how to enable it:
NOTE: This guide applies to Android 13, and to write it, I used a Google Pixel 4a and a Samsung Galaxy S21 Plus. The procedures are similar on all Android-powered devices, although you might come across some small differences depending on your device's manufacturer and Android version. Oh, and before I forget, if you don't already know what NFC is and why it's useful, here's a quick guide explaining all that: What is NFC? How to use NFC.
Does your Android phone have NFC? How to find out
There are several ways to find out whether there's NFC on an Android smartphone. You can try looking for it on this list of NFC-enabled mobile devices, but the info there does not seem to be up to date - for instance, my Samsung Galaxy S21 Plus isn't listed. Furthermore, it's easier and faster to just look through your phone's settings to see if it has NFC. Here's how it goes:
How to check for NFC on Android using search
The fastest and easiest way is to open Settings and then search for NFC. The best thing about this method is that it works the same on any Android phone, regardless of brand, model, or operating system version. The first step after launching Settings is to look for the search feature. For example, in stock Android, you should have a Search settings field at the top of the Settings screen. On a Samsung Galaxy phone or tablet, you can access the search feature by tapping the magnifying glass icon in the top-right corner of the Settings app.
Open Settings and access Search
Then, all you have to do is type "nfc" in the search field, and, in an instant, your Android smartphone should return a list of results. If one of them is NFC, Near Field Communication, Use NFC, NFC and contactless payments, or anything else similar, then your phone has NFC.
How to find out if your Android has NFC
TIP: Did you know that all modern iPhones have NFC too? Here's more on the subject: Do iPhones have NFC? How do you use NFC on an iPhone?.
How to check if your Android has NFC in the Settings app
You can also manually look for NFC in your Android's Settings. On standard Android, like on Google Pixel smartphones, access Connected devices, and on the next screen, tap Connection preferences. Then, you should see an NFC or Near Field Communication entry listed right after Bluetooth.
Use Settings to locate NFC on an Android phone
On a Samsung Galaxy smartphone or tablet, the path to find out whether you have NFC is even shorter. Tap Connections in the Settings app and if you see a switch called NFC and contactless payments on the next screen, then your phone has NFC.
Use Settings to locate NFC on a Samsung Galaxy phone
NOTE: You should be able to follow a similar path on any other Android device. However, namings could differ depending on who made your phone or tablet and what user interface it uses. For example, HUAWEI likes to include the NFC options in the More connections page from the Settings app.
How to turn on NFC on an Android phone
As you might have figured out by now, once you find the NFC option on your smartphone, all you need to do to enable NFC on your Android is tap its switch.
How to turn on NFC in Android
It's that simple!
How to turn off NFC on an Android phone
To disable NFC on your Android, tap the switch again. However, if you're using it often, it's better to just leave it on, as it doesn't drain your battery noticeably.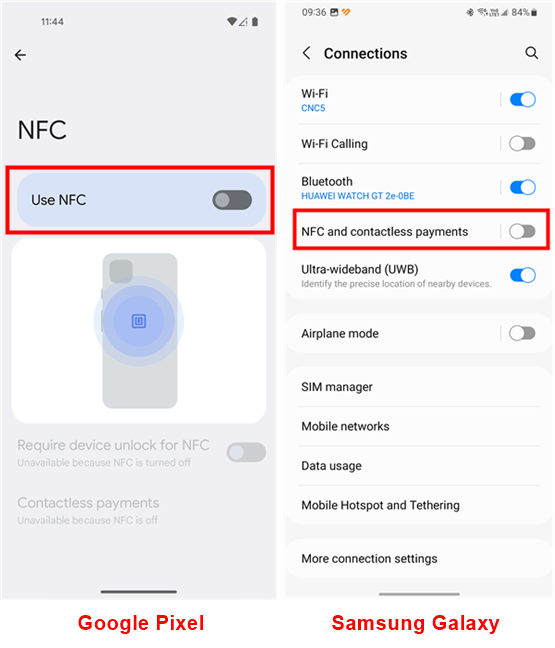 How to disable NFC in Android
That's all! But wait, there's one more way to turn on or off NFC if you have a Samsung Galaxy device:
BONUS: How to enable or disable NFC on Samsung Galaxy using quick settings
Unlike the stock Android (like the one on Google Pixel devices), the One UI skin used by Samsung Galaxy smartphones and tablets also lets you turn NFC on and off from the Quick Settings panel. If you happen to have one such device, you can edit the Quick Settings panel to include an NFC button. We've covered all the steps to do so in a separate guide called How to customize the Android Quick Settings menu, but if you're in a hurry and don't have time to read that one too, here are the quick steps:
On your Samsung Galaxy phone or tablet, swipe your finger from the top of the screen to access the Quick Settings. Then, swipe again to enlarge the panel, and tap the + (plus) button at the end of the list.
Open the Quick Settings panel and tap plus
This will show a list of additional buttons available to add to the quick settings panel of your Samsung Galaxy device. Locate the NFC button in it and then drag and drop it anywhere in the list of Quick Settings.
Drag and drop NFC in the Quick Settings panel
Once you do that, the NFC button will be added to your Quick Settings list, like in the next screenshot. Tap Done to save the new layout for your Quick Settings.
Place NFC in Quick Settings and tap Done
After saving the new layout, you'll always see the NFC button in your Quick Settings. Now, all you have to do to turn on NFC on your Samsung Galaxy phone is tap it.
Turn on NFC on Samsung Galaxy
To disable NFC on your Samsung Galaxy, simply tap the NFC button again in the Quick Settings.
Turn off NFC on Samsung Galaxy
Neat, right? And much faster than on regular Android… 🙂
Do you keep NFC enabled on your Android phone?
NFC is popular nowadays, as more devices with it become available, and it's also starting to be used in new areas, like public transport. I keep NFC turned on permanently on my phones, as I often make contactless payments with it. How about you? Does your phone have NFC and did you enable it? If so, what do you use NFC for? Let me know in the comments below.