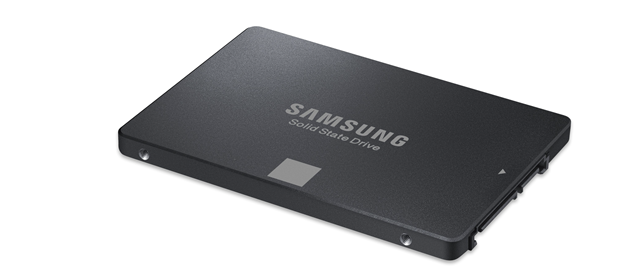 Solid state drives (SSD) are one of the best solutions for improving the performance and the speed of our computers. That's because they are always faster than traditional hard drives with spinning discs. One of the major SSD manufacturers today is Samsung, a company which is known by everyone, especially for their smartphones. These last few days, we tested their Samsung 750 EVO solid state drive: a device that promises to deliver fast read and write speeds at a reasonable price. Here's what we like and what we don't like about the Samsung 750 EVO SSD, in this review:
Unboxing and hardware specifications
Solid state drives are not devices that are sold in spectacular packages, with intricate designs. They usually come in simple, barebone, boxes and the Samsung 750 EVO makes no exception from this rule.
This SSD is packaged in a thin square shaped box, made from matte white cardboard. On the upper side of the box, you can see a picture of the SSD, its name and storage capacity.
On the back of the package, there's more information printed, including information about your warranty. You will be pleased to learn that Samsung 750 EVO SSD benefits from a 3-year limited warranty.
Inside the box, you'll find the SSD sitting on a plastic tray, and a printed Warranty Statement Summary. There's nothing else!
The Samsung 750 EVO SSD has a form factor of 2.5 inches, which means that it will fit just as well in a desktop PC as it will in a notebook.
As you can see in the image below, the SSD connects to your PC via SATA 3 connectors.
The exact dimensions are 3.94 x 2.75 x 0.27 inches (100 x 69.85 x 6.8 mm) in width, height and depth. It's especially a good choice if you need to use it in a portable device, like in a laptop or convertible PC, because it's so light: it weighs less than 50 grams.
Samsung manufactures and sells the 750 EVO SSD in multiple versions, with different capacities: 120 GB, 250 GB, and 500 GB. The sample that we tested had 250GB of storage space. Windows 10 reported it to have a usable capacity of 232 GB.
Samsung says that the 750 EVO SSD is capable of reading data at speeds of up to 540 MB/sec and can write data at up to 520 MB/sec. Of course, these are the maximum theoretical speeds when data is read or written sequentially.
These speeds are achieved with the help of the Samsung MGX controller and Samsung NAND Flash Memory inside. We'll see later in this review what the real-life speeds that we managed to achieve are.
If power consumption is important for you, you should know that the 250 GB Samsung 750 EVO SSD has an average power consumption of 2.1 Watts when reading data and 3.7 Watts when writing data.
If you want to see more details and specifications, visit the official website, here: Samsung 750 EVO SSD Specifications.
Performance in benchmarks
To get a better idea of the performance and operating speed offered by the Samsung 750 EVO solid state drive, we ran a few benchmarks, using the following test system:
Processor: AMD FX-8350
Motherboard: ASRock 970 Extreme3
Memory: HyperX Predator 8.00GB Dual-Channel DDR3 at 2133MHz
Graphics Card: Sapphire AMD Radeon R9 270X Dual-X
Operating system: Windows 10 Home 64-bit with Creators Update
The first benchmarking app that we used was CrystalDiskMark, which runs several tests for reading and writing data, both sequentially and randomly:
Seq Q32T1: Sequential (Block Size = 128 KiB) Read/Write with multiple queues and threads
4K Q32T1: Random 4KiB Read/Write with multiple queues and threads
Seq: Sequential (Block Size = 1 MiB) Read/Write with a single thread
4K: Random 4KiB Read Write with a single queue and thread
As you can see in the screenshot below, the sequential read and write speeds we measured with CrystalDiskMark on our test system are very close to those advertised by Samsung for their 750 EVO solid state drive.
To get a second opinion, we also ran a few tests with another popular SSD benchmarking app called AS SSD Benchmark. Although the read and write transfer speeds that we measured with the AS SSD Benchmark are not as high as those we've seen with CrystalDiskMark, they are close enough to confirm that this is a fast drive.
The tests we ran with AS SSD Benchmark are:
Seq: tests the sequential read/write performance
4K: tests the random read/write performance using 4KB blocks of data
4K-64Thrd: tests the random read/write performance using 4KB blocks of data and 64 threads
Acc.time: it measures the solid state drive's access time
In both benchmarks - CrystalDiskMark and AS SSD Benchmark - we were quite impressed by the writing speeds that the 250GB Samsung 750 EVO SSD manages to achieve. At its price range, there are many solid state drives that can sustain these read speeds, but there aren't that many which can sustain the same high writing speeds.
Bundled software: Samsung Magician
On the support page of the Samsung 750 EVO solid state drive, the company offers software that bears a rather funny name: Samsung Magician. It's available for free to all Samsung 750 EVO owners. We recommend that you download and install it, because it will help you increase the performance you get from your new SSD, as well as provide firmware updates for it and show you further information about your SSD, like its health state for instance.
The most important feature of the Samsung Magician software is called RAPID Mode. RAPID Mode is a tool that can increase your solid state drive's speeds, by creating and using a cache system in your computer's RAM memory, which is then used to optimize and increase read and write transfers on Samsung's SSD. RAPID Mode is enabled with a simple switch from the Samsung Magician user interface, and it requires only a system reboot to start working.
The Samsung Magician software also shares information about the health of your SSD, the total amount of data written on it since the first day, the firmware version installed and the latest available, and so on.
You can also use a Performance Benchmark tool to see how fast your SSD is, and a Secure Erase tool to permanently delete data stored on your Samsung 750 EVO solid state drive.
The Samsung Magician software helps you boost your solid state drive's performance, upgrade its firmware when a new version is available, and it also shares useful information about the state of your SSS drive. We believe that the Samsung Magician is a great piece of software and we recommend that you use it.
Pros and cons
Here are the pluses we identified for Samsung 750 EVO SSD:
It's a fast solid state drive, with high read and write speeds
It costs less than other Samsung solid state drives
The Samsung Magician software and its RAPID Mode can boost the SSD's performance even further
There are also a few downsides to consider:
The 250 GB Samsung 750 EVO SSD is a bit pricier than other similar solid state drives from other manufacturers
It has a warranty of three years, which means that it's clearly a consumer device, not aimed at businesses that require more endurance
Verdict
The Samsung 750 EVO solid state drive is a great choice for consumers who want a new storage drive. The 750 EVO offers high read/write speeds, and it's available in multiple storage capacity versions, ranging from 120GB to 250GB and up to 500 GB. Although the price for a unit is slightly higher than for other solid state drives manufactured by other companies, its performance is definitely great and you will enjoy using it.