The smartphone experience on the Realme 10
I'll start this section with the most basic part of any smartphone: the phone part. 🙂 In my experience, the Realme 10 is a great phone when it comes to making and receiving calls. The reception is excellent, and the audio quality during calls is great. Both parties involved in a phone call are able to understand each other well, the voices sound clear, and the volume is high.
The AMOLED display is nice too, and not only for reading or browsing the web but also for watching movies and videos. I enjoyed the latter quite a bit while I had the Realme 10 in testing. Moreover, I can also say that the screen's brightness is more than adequate, as I had no issues understanding what was displayed even when I used the phone outdoors on a sunny day.
Watching videos on the Realme 10 is a treat
The loudspeaker is relatively powerful, and the sound is punchy, although it doesn't impress in terms of low frequencies. It gets the job done, but I recommend using a pair of headphones for better audio quality, especially if you like watching movies on your smartphone.
As strange as it may sound, gaming on the Realme 10 proved to be one of the things I savored the most. The Helio G99 chipset powering this smartphone might be a mid-range one, but it's quite good at gaming. All the games I tried ran well and without any lags or stuttering. Notwithstanding the fact that I used automatic quality settings, the games usually adjusted their graphics to medium and sometimes high quality. Moreover, the framerate was high enough to offer a smooth, fluid experience, and the smartphone didn't get hot even after long gaming sessions.
Gaming on medium graphics quality is excellent
Interacting with the smartphone's user interface and apps, as well as browsing the web, were up to standard. Animations, transitions, loading, and the interaction, in general, are fast and smooth, so I've got no complaints in this area.
Realme 10 offers high performance for daily tasks
The smartphone's fingerprint sensor that's built into the power button is reasonably fast. It usually registered my fingerprint accurately, but there were times when it simply refused to. However, this happened only a couple of times in two weeks, so I won't count it as a negative aspect.
Battery life is outstanding! The large 5000 mAh accumulator can keep the Realme 10 running for two days easily if you're not playing a lot of games or shooting tons of photographs and videos. On top of that, the Realme 10 can also charge quickly. According to my measurements, it takes 74 minutes to get from 0 to 100% using its bundled 33W fast charger, which is excellent considering the battery's capacity!
Realme 10 charges from 0 to 100% in 74 minutes
For everyday use, the Realme 10 is a fine Android smartphone. Launching apps is fast, and the user interface is snappy. The smartphone's display looks great, the audio quality during phone calls is top-notch, the battery life is stellar, and charging is fast. It's great even for gaming, albeit on medium graphics quality settings.
The camera experience on the Realme 10
NOTE: For optimization purposes, the pictures in this review are resized. If you want to see the full-sized original photos and videos I shot with the Realme 10, open this gallery:
The Realme 10 promises quite a lot when it comes to its cameras. Alas, things aren't as bright as the manufacturer would have us believe. While not bad at all, the photo and video quality is what I'd call adequate, not outstanding. Worth noting that, unlike its predecessor, the Realme 9, the Realme 10 doesn't have an ultrawide camera. Its rear camera system features only a main wide camera with a 50-megapixel sensor and a sidekick camera for depth. On the front, the 16-megapixel camera seems to be identical to the one on the older Realme 9.
There's no ultrawide camera on the Realme 10
The Camera app has a simple user interface that offers all the standard shooting modes you'd expect. Navigating it is easy and intuitive, and if you've ever used a smartphone for taking pictures, you won't have any problems understanding what's what. It's worth pointing out that the cameras support HDR, night mode, and AI Scene detection. Zooming is also possible, but 2x is the maximum recommended, as anything above that will result in poor quality. 2x is also just a cropping result, by the way, not something achieved by using the actual lens.
The Camera app is easy to use
Getting to the photo quality, I must say that if the lighting is good, the photographs are generally good too. The contrast is OK, and the colors look correct and feel natural. Some lack of detail and over-sharpening is visible though, even in photos shot outdoors.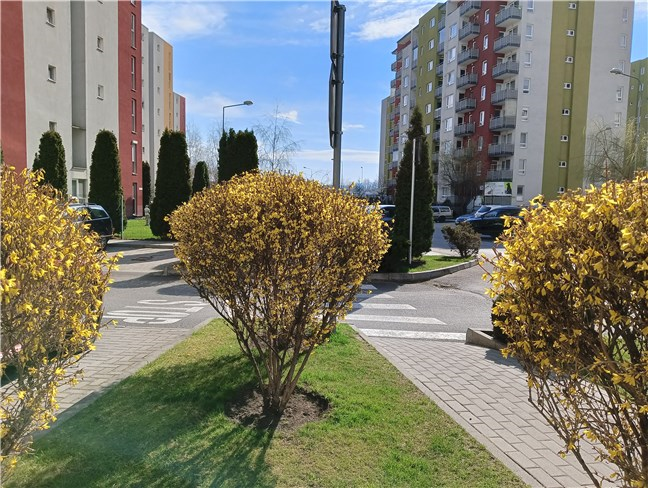 Over-sharpening is visible in outdoor photos
Photographs shot at night are OK, too. There's noise in them, but that's to be expected in poor lighting conditions. The exposure is appropriate, and the colors appear to be quite accurate. Enabling the Night Mode leads to an increase in noise, but colors still feel natural, and the exposure seems a bit better than for photos shot without Night Mode.
Night shots have decent quality
I like the way portraits and selfies are captured. Both the front and rear cameras do quite a good job of separating the subject from the background, even if this is likely a software thing. Skin tones and textures are realistic, and color reproduction is natural.
Selfie portraits are of good quality
In terms of video, both the front and rear cameras are limited to 1080p resolution, and while both can record at a framerate of 30 fps, the back camera also supports 60 fps. As this is a mid-range smartphone, I won't count the lack of 4K video recording as a negative either. However, I don't like the fact that the smartphone doesn't offer any kind of image stabilization, neither optical nor electronic, for any of its cameras.
Videos come out with realistic colors and good contrast. As long as your hand doesn't shake, the results are good in this regard. To get an idea of what to expect, here's what a relatively static video looks like:
Next, take a look at what the smartphone's main camera can do when shooting a more dynamic video with more movement involved:
The cameras offered by the Realme 10 smartphone are average, not outstanding, but not bad either. Photo quality is generally good in adequate lighting and decent at night, just as videos look good if your hand doesn't shake.
Android 12 (upgradeable to Android 13) and bundled apps
If there's one thing most people who've ever had a Realme smartphone appreciate, I believe it is software. Realme smartphones usually come with the latest available version of Android and a clean user interface. This holds true for the Realme 10 I'm reviewing right now. When I got it, the smartphone came with Android 12, but after a few days, I received a notification that an update to Android 13 was available to download and install. Similarly, on top of the original Android 12, the phone had Realme UI 3.0, but it didn't take long for the smartphone to receive an update to Realme UI 4.0 too. This is a launcher that offers a relatively simple user interface, close to that of the original Android, but with a couple of additional personalization options that include icon packs, fonts, and colors.
Realme 10 received an update to Android 13 and Realme UI 4.0
Regarding long-term support, I didn't find detailed information about the Realme 10 smartphone. However, if Realme's update policy holds true, it should get three operating system updates and up to four years of security updates.
Apart from all the standard Google apps that come with the Android operating system, the Realme 10 also includes the following pre-installed applications:
Amazon: the app of the well-known online store
Booking: useful for planning trips and making hotel reservations
Bolt: handy when you need a taxi service
Compass: a simple app that indicates the cardinal points
Calculator: can be of service when you're struggling with math
Clock: does what it says, which is telling what time it is 🙂
Clone Phone: helps you migrate your data from your old phone to your new Realme 10
Facebook: the app of the popular social network
Facemoji Keyboard: a keyboard app that allows you to use custom emojis, keyboard themes, GIF animations, etc.
Games: a hub where you can find and manage all the games installed on the Realme 10
Joom: a shopping platform for products made in China
LinkedIn: the app of the popular business and employment-focused social network
Lords Mobile: Kingdom Wars: a mobile strategy game set in a fantasy world where players build and manage their own kingdoms and armies, and battle others in real-time
My Files: useful for managing the files and folders on your smartphone
Music: an app that helps you manage and play your music
Phone Manager: helps you keep an eye on the wellbeing of your smartphone and perform optimizations
Recorder: lets you record sound using the phone's microphones
Screen Lock: does one thing only, and that's to lock your screen as soon as you tap on this app 🙂
SHAREit: allows you to share and transfer files
Sneaker Art: a game where you can paint sneakers and other footwear, and sell them in your own shoe store
Spotify: the popular music streaming service
ThiefPuzzle: a game in which you have to set the trajectory of your thief's arm in order to steal things
TikTok: the gate to the social network bearing the same name
Videos: a relatively simple app that lets you play locally stored videos
Weather: displays the weather forecast for the upcoming days
Apps and games bundled with the Realme 10
I appreciate the clean user interface and the prompt updates for both Android and Realme UI. However, the number of bundled apps is a bit high. Some of them, like games, shopping apps, and social networking apps, are quite unnecessary. A better approach would've been for Realme to let the user choose more of the apps they want to install.
Performance in benchmarks
We've seen what the Realme 10 smartphone looks like and what it feels like using it, and we also know what its specs are. But using and telling you about it is one thing, and actual performance is another thing. To give you a clearer picture of the latter, I ran a series of benchmarks on the Realme 10. Here's what they show:
The first benchmarking app I ran was Geekbench. In its tests, the Realme 10 got a Single-Core score of 636 points and a Multi-Core score of 1817 points. The GPU Compute scores were 1442 for OpenCL and 1423 for Vulkan. All these results point out the same thing: the smartphone has a mid-range chipset, offering performance levels similar to other mid-range Android smartphones like the OnePlus Nord CE 5G, the Samsung Galaxy A53 5G, or the Motorola Edge 30 Neo.
Benchmark results in Geekbench 6
The second benchmarking app that I used was 3DMark. In the Wild Life test, the Realme 10 scored 1369 points, while in Sling Shot, it got 3637 points. While not formidable by any measure, these scores show that the smartphone is capable of running games at good framerates on medium graphics quality settings.
Benchmark results in 3DMark
I continued with running PCMark for Android, a benchmarking app that can test the daily performance of smartphones, as well as the battery life you should expect in real-world situations. While the 10821 points Realme 10 got in the Work 3.0 performance test is a good score, the really impressive part is the 16 hours it managed to run on battery: outstanding!
Benchmark result and battery life in PCMark 10
The last aspect I checked was the wireless performance of the Realme 10, which supports Wi-Fi 5 but not Wi-Fi 6. Using Ookla's Speedtest app, I measured the Wi-Fi speed on my 1 Gbps internet connection. The results were excellent for a Wi-Fi 5 device, as the Realme 10 achieved a speed of 253 Mbps for download and 322 Mbps for upload. Speedtest also showed that the smartphone should have no trouble at all streaming videos and movies in 4K resolution.
Internet speed results in Speedtest
According to the benchmarks results, the Realme 10 is a capable mid-range smartphone that delivers solid performance both in productivity tasks and gaming. Its chipset can handle most apps and games smoothly and without lag. However, in order to avoid stuttering in games with high system requirements, you might want to use their medium or automatic graphics quality presets. The battery life of the Realme 10 is exceptional and should easily keep you going for about two days.
What's your opinion about the Realme 10?
Now you know that there are quite a few things I like about the Realme 10. From its looks to how it fares in everyday use, it feels like a good choice for anyone who wants a capable Android device but doesn't want to break the bank for it. What's your opinion? Do you agree with my findings? Let me know in the comments section below.