Tablets are no longer what they used to be a couple of years ago. Most manufacturers refrain from designing and creating as many models as they used to, but some are still keeping the market alive. Not too long ago, I received in testing a reasonably affordable tablet running on Windows 11, made by an Italian company called Microtech. As it's been a while since I've seen a Windows tablet, albeit one with Windows 11, you can imagine I was quite curious. This is a review of the Microtech e-tab Pro 4 tablet. If you'd like to know what it has to offer and whether it's worth buying it, read on:
Microtech e-tab Pro 4: Who is it good for?
The Microtech e-tab Pro 4 could be a good choice for:
People who want to pay an affordable price for a Windows tablet
Someone with low expectations in terms of performance
Those who are going to use it only for undemanding activities
Pros and cons
There are some positives about the Microtech e-tab Pro 4:
Its body looks good, and the tablet feels robust
The display has beautiful colors, good contrast, and adequate brightness
The selection of ports is good, with both USB 3.0 Type-C, Type-A, and Micro HDMI
Affordable price for a Windows tablet
Battery life is decent
There are quite a few downsides too:
Equipped with a dated processor and just 4GB of RAM
The eMMC flash storage is slow and leads to poor performance
It's too easy to mix up the 3.5 mm audio jack with the power port and end up plugging the wrong plug into the wrong jack
Verdict
The Microtech e-tab Pro 4 shapes up as a Windows 11 tablet with a good-looking body and a fine screen but inferior hardware. The old processor, slow eMMC storage, and low amount of memory are things that hold me back from recommending it to our readers. Regrettably, even if it's an affordable tablet, the modest performance it offers leads to a frustrating experience with modern software. It struggles to run the Windows 11 Pro operating system pre-installed on it, and even browsing the web or working with Office apps feels slow. Hence, I recommend taking a look at the Microtech e-tab Pro 4+, which offers more RAM and storage space, and also a keyboard for a little extra money
Unboxing the Microtech e-tab Pro 4
The Microtech e-tab Pro 4 comes in a relatively thin yet adequately sized box for a tablet. The package is made of hardened white cardboard and features a large photo of the tablet on its top cover. You also find out that it runs on Windows, and if you look at the sides of the box, you get to see some of its main specifications.
The box of the Microtech e-tab Pro 4
Although the tablet bears the Pro moniker, the box contains only the bare essentials: the Microtech e-tab Pro 4, a charger with a non-detachable cable and a 3.5mm plug, and the user manual.
Unboxing the Microtech e-tab Pro 4
The packaging of the Microtech e-tab Pro 4 tablet looks good, but the contents are a tad spartan. Overall, the unboxing of this tablet is fast and straightforward.
Hardware specifications
The Microtech e-tab Pro 4 features a 10.1-inch IPS LCD display with an aspect ratio of 16:9. On the bright side, using an IPS panel usually means good color reproduction and generous viewing angles of 178 degrees both horizontally and vertically. The panel has an FHD resolution of 1920 by 1080 pixels, which is a bit low for the screen's diagonal size and translates into a pixel density that's not very impressive: 218 ppi. The refresh rate is standard - 60 Hz - and there's no support for more complex viewing technologies like HDR or Dolby Vision.
The Microtech e-tab Pro 4 features an IPS LCD 10.1-inch screen
The tablet is powered by an older (launched in late 2019) dual-core Intel Celeron N4020 processor with a low 6 Watts TDP. While it runs at a base frequency of 1.10 GHz, it can reach 2.80 GHz in boost mode. The CPU also includes an Intel UHD Graphics 600 unit that ticks at 200 MHz and can burst to 650 MHz. On the software side, the GPU offers support for DirectX 12 and OpenGL 4.4.
The tablet has an old Intel Celeron CPU
The Microtech e-tab Pro 4 offers just 4 GB of DDR4 RAM (running at 2400 MHz) and 64 GB of internal flash storage. Unfortunately, the latter is eMMC (Embedded MultiMediaCard), a type of storage soldered directly to the motherboard that's affordable but also slow. The only good news here is that the tablet includes a card slot which you can use to add a MicroSD card with a capacity of up to 128 GB.
The storage is eMMC, which is slow
Regarding connectivity, the Microtech e-tab Pro 4 features an Intel Dual Band Wireless-AC 3165 chip. This allows the tablet to use both the 2.4 and 5 GHz network bands, connect to Wi-Fi 5 networks, and offer link speeds of up to 433 Mbps. Bluetooth is also present, but you only get the old 4.2 revision.
Microtech e-tab Pro 4 supports Wi-Fi 5 and Bluetooth 4.2
In addition to the mandatory power jack, the tablet offers a Micro HDMI port, two USB 3.0 ports (one is Type-A, the other is Type-C), and a 3.5 mm audio jack.
The ports on the Microtech e-tab Pro 4
In terms of audio and video, the Microtech e-tab Pro 4 is equipped with two 1 Watt speakers and one microphone, as well as two cameras, each with 2-megapixel sensors, one on the front and one on the rear.
The tablet has two cameras, each with 2 megapixels
The tablet measures 16.8 cm (6.61 inches) in height, 25.3 cm (9.96 inches) in width, and 9.2 cm (3.62 inches) in thickness. Weighing 620 grams (21.87 ounces), it bundles a lithium polymer battery with a capacity of 3150 mAh. The battery is charged by a standard power adapter that outputs 12 Volts and 2 Amperes. The charger's cable is non-detachable and uses a round 3.5 mm connector.
The power adapter uses a 3.5 mm connector
Last but not least, although this is not a hardware spec, you should know that, on the software side, the Microtech e-tab Pro 4 comes with Windows 11 Pro pre-installed.
If you want to check the full list of technical specifications, visit this webpage: Microtech e-tab Pro 4 - Specs.
Design and user experience
The Microtech e-tab Pro 4 looks fairly elegant, featuring a design that makes you think of a business-class device. The silver-gray body is made of aluminum alloy that feels robust and doesn't bend while also providing a good grip.
The back of the tablet is made of aluminum
E-tab Pro 4's completely flat rear holds only a small camera cutout on one side and a built-in desk support on the other. While using the tablet, I found the latter to be quite helpful.
The built-in desk support is quite handy
On the front, the screen is surrounded by thick bezels on all sides, which don't look great, to be honest. Still, just like the entry-level and older hardware inside the tablet, this design choice was probably a necessary trade-off considering the price of the device.
The screen is surrounded by thick bezels
The edges of the Microtech e-tab Pro 4 are covered by plastic and are home to all the ports and buttons of the tablet. On the left side, you have the 3.5 mm audio jack, the power button, and the volume rocker. The right side houses the power jack, the Micro HDMI and USB ports, and a small hole where the microphone is found.
The edges of the tablet are covered in plastic
There's nothing to complain about when it comes to the positioning of the buttons and ports except for the fact that both the power and the audio jacks have the same diameter and are placed symmetrically. That makes it too easy to mix them up: if you're not careful enough, you can find yourself trying to plug the charger's connector into the audio jack or the other way around.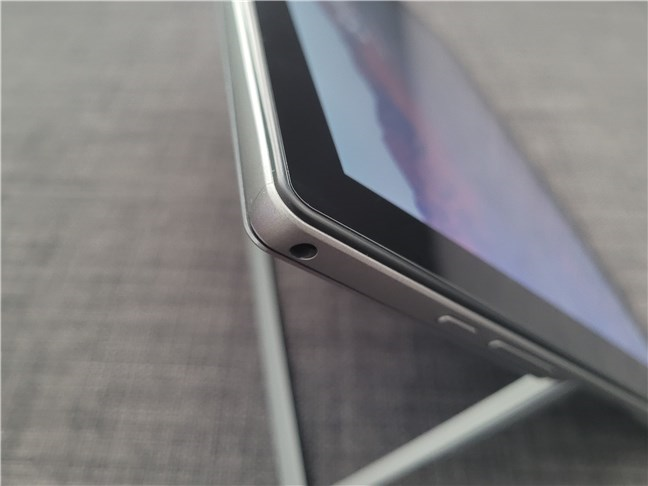 The audio jack is easily mixed up with the power jack
As expected, the IPS LCD panel used by the tablet's screen offers excellent color reproduction and good contrast. Brightness is OK, too, though I would say it's rather average when it comes to its maximum levels. I found the information on the screen easy to see in almost any lighting conditions, including outdoors. However, in bright daylight, I had to set the brightness to the maximum, which significantly decreased the battery life of the tablet. As it turns out, my habit of keeping a lot of browser tabs open while simultaneously listening to music (on either Spotify or YouTube) drained this tablet's battery in about two and a half hours.
Browsing the internet and watching YouTube
Another user experience detail that I must point out regarding the Microtech e-tab Pro 4 tablet is related to how fast working on it feels. It actually feels quite slow, which is not great at all! Sadly, the processor is old, and the memory is in short supply. Every activity I performed and every app I ran on this tablet felt slow, and lags were constant, from browsing the internet to editing documents in Microsoft Word or spreadsheets in Excel.
Working with Office apps on the Microtech e-tab Pro 4
Audio is good if you're using headphones, but the built-in 1 Watt speakers of the tablet are weak both in terms of maximum volume and sound quality. Similarly, the cameras are really OK for online meetings or chatting with your colleagues or friends. I wouldn't recommend any of the two cameras for taking photos to anything other than documents maybe.
The cameras are OK for online meetings
There's just one last thing about the user experience offered by the Microtech e-tab Pro 4 tablet. Devices like this one come with passive cooling systems, which means they usually have spots that heat up more than others, and in some cases, they can be unpleasant to hold in your hands if the temperatures get too high. Fortunately, that's not true for this tablet. While both its front and rear get warm to the touch, the temperatures on the body and screen surfaces are not high at all.
Heatmap for the Microtech e-tab Pro 4
The Microtech e-tab Pro 4 offers a pleasant design, a robust body, and a screen that looks good. However, when it comes to performance in everyday tasks, it feels slow and underpowered.
Performance in benchmarks
To get an objective overview of the performance offered by the Microtech e-tab Pro 4, I also ran a couple of benchmarks. Here's what I found:
This is clearly not a tablet destined for gaming, and its hardware doesn't recommend it for entertainment either. So, I decided to start by testing it in productivity situations, which is more in tune with what the tablet could be good for. However, the result I got in PCMark 10 confirmed my subjective impressions shared earlier: the tablet is underpowered for today's software, including the Windows 11 Pro operating system it runs on. This tablet will have its moments of struggling even in web browsing and working with Office applications.
Benchmark results in PCMark 10
Wanting to see how long it takes to boot the tablet from zero to Windows 11 hero, I ran BootRacer. The times measured varied significantly, although no system updates took place. The average boot time was quite high at 67 seconds, and the best one was only a bit under one minute at 57 seconds. Furthermore, I've also seen the tablet take as long as one minute and 21 seconds to finally reach the Windows 11 desktop, which is a lot no matter how you look at it.
The tablet's boot times into Windows 11
You and I both know from the tech specs that the tablet uses an old Intel processor model: Celeron N4020. However, relying on old hardware doesn't necessarily mean poor present-day performance. To see what applies to this tablet, I ran the processor benchmarks offered by CPU-Z and Geekbench 6. Alas, every score I got was low, showing that the tablet is quite underpowered for today's software requirements.
Processor benchmark results
The Microtech e-tab Pro 4 offers 64 GB of eMMC storage, which is a slow type of flash memory. That's one of the reasons why the boot times are long and launching apps is slow too. Furthermore, the lack of speed offered by the eMMC storage was confirmed by CrystalDiskMark's benchmarks.
Storage benchmark results
Finally, I returned to PCMark 10 to check how much time the battery could last in daily use. The benchmark's results showed that, with the screen brightness set at 75%, the Microtech e-tab Pro 4 has an autonomy of about four hours while performing common productivity tasks.
Battery life benchmark results
The conclusion born from gathering the benchmark results is that the Microtech e-tab Pro 4 is an entry-level device in terms of performance. Its scores were modest, confirming that this tablet is quite underpowered for modern-day software.
What's your opinion about the Microtech e-tab Pro 4?
Now you know what the Microtech e-tab Pro 4 tablet offers, what it can do, and what its weaknesses are. Though its body and display look nice, the hardware inside is quite humble. Before leaving this review, do let me know: Are you thinking of buying this Windows tablet? What's your reason for wanting it? Write a comment below to share your thoughts.