Apple is aware that your iPhone wallpaper is important, so it offers plenty of options when deciding on an iPhone background. With just a few taps, you can set images from the Photos app or default iPhone wallpapers on your Home Screen and Lock Screen. And did you know you can use a Dynamic or Live wallpaper for iPhone? Read this guide to learn more about iPhone backgrounds and to find out how to change the iPhone wallpaper to whatever makes you smile:
NOTE: To create this tutorial, we used an iPhone 11 running iOS 14.3, but the settings are similar for most iOS devices. However, you need an iPhone 6s or newer to use a live wallpaper - with the exception of the iPhone XR and iPhone SE, which don't support the feature. If you're not sure about your iPhone model, there are three ways to tell what iPhone you have.
How to change wallpaper on iPhone or iPad from Settings
Settings is the go-to app for most changes on your device, whether it's setting a new ringtone or using your iPhone as a Wi-Fi hotspot. To access all the options available for your iPhone background, open the Settings app, scroll down a bit, and then tap Wallpaper.
Press on the iPhone Wallpaper setting from the third section of the app
On the Wallpaper screen, the iPhone Lock Screen background is shown on the left-hand side, and you can see the iPhone Home Screen wallpaper displayed on the right. Tapping on either lets you bring minor changes to the current iPhone wallpapers. However, to change the iPhone background, press the "Choose a New Wallpaper" option at the top.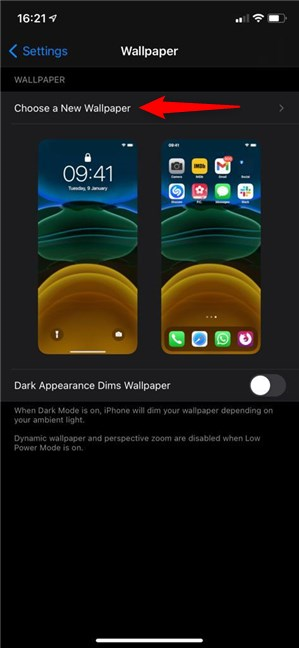 Tap to Choose a New Wallpaper for iPhone
Next, you can choose an iPhone wallpaper from your picture folders, listed at the bottom, or from the three iPhone background folders shown by default at the top of the screen.
Choose an image or one of the default iPhone backgrounds
The three default folders correspond to the three types of wallpapers you can use on your iPhone or iPad:
Dynamic - these animated wallpapers may seem static at first glance, but keep watching to notice their subtle and slow motion across your Home Screen and Lock Screen.
Stills - regular images you can use as your iPhone background, including most photos included in your picture folders.
Live - these wallpapers are animated, but they only play briefly when you touch-and-hold your Lock Screen. While this category includes images from your Live Photos, any live wallpapers become stills when used on your Home screen.
NOTE: In this chapter of our guide, we discuss the options available when setting a live wallpaper on iPhone. The steps are similar no matter what you choose, but you can check out the next chapter for details on using your still photos as iPhone backgrounds.
Look through the available folders, find the iPhone wallpaper you want to use, and tap on it. Some of the default wallpapers for iPhone appear to be split down the middle and display a round icon at the bottom. This indicates how a background looks in Light Mode (on the left) or Dark Mode (right).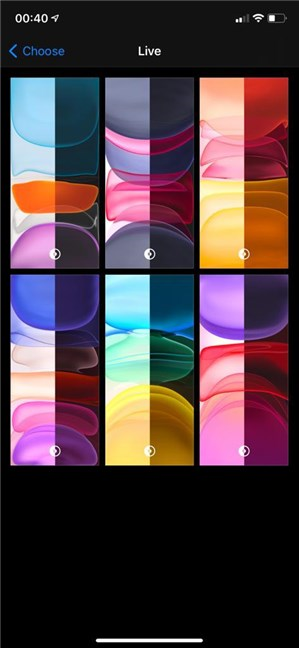 Set a wallpaper for iPhone from the Live default folder
Tapping on any background opens its preview screen. You can see "Live Photo: On" at the bottom, while pressing on the screen animates your chosen wallpaper. If everything is to your liking, tap Set from the lower-right corner.
Press Set to change the background for iPhone
Next, you are prompted to decide if you want this wallpaper set on the Lock Screen, the Home Screen, or both. Tap on the option you prefer.
Decide if you want an iPhone Lock Screen wallpaper, a Home Screen one, or both
Your new wallpaper is applied according to your wishes. While this is the only method to use iPhone default wallpapers, there are two other ways to set your pictures as background on iOS, as we're about to see in the next chapters of this guide.
How to change iPhone background from the Photos app
To use a picture as your iPhone wallpaper, open the Photos app, and browse your folders to find the image you want.
Browse the folders in Photos to find the iPhone background you want
Press on the picture you want to use to see it expanded on your screen and get a better look. Then, tap on the Share button from the bottom-left corner.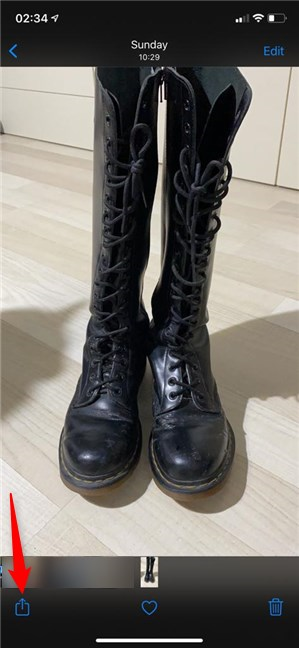 Press Share to use the image as your iPhone background
Scroll down and tap on the "Use as Wallpaper" option.
Select Use as Wallpaper to change background on iPhone
This opens the preview screen, where you can change how the selected image appears and behaves as your iPhone wallpaper. Use your fingers to zoom in and out, or drag to move the picture around.
Adjusting your photo can turn Perspective Zoom on or off, as indicated by the message at the bottom of the screen. The Perspective Zoom option slightly moves the wallpaper as you tilt the screen, making sure the image faces you, in an attempt to create a 3D effect. This subtle feature eats up both battery and processing power, but you can also tap on it to disable it.
When you are done, press the Set button from the lower-right corner.
How to change background on iPhone from Photos
Decide if you want to change wallpaper on iPhone for the Lock Screen, Home Screen, or both by tapping on the appropriate option.
Set wallpaper on iPhone for the Lock Screen, Home Screen, or both
Your new wallpaper is applied right away.
How to set an iPhone wallpaper from the Camera app
If you just took a fantastic picture and can't wait to use it as your iPhone wallpaper, you don't have to postpone: iOS gives you the option to change your background directly from the Camera app. To begin, tap on the thumbnail shown in the bottom-left corner of your screen.
Tap to use a recent picture as your iPhone background
This opens the most recent photo saved on your iPhone or iPad. You can slide to the right to see more images. When you find the image you want to set as wallpaper on your iPhone, tap on the Share button displayed in the lower-left corner.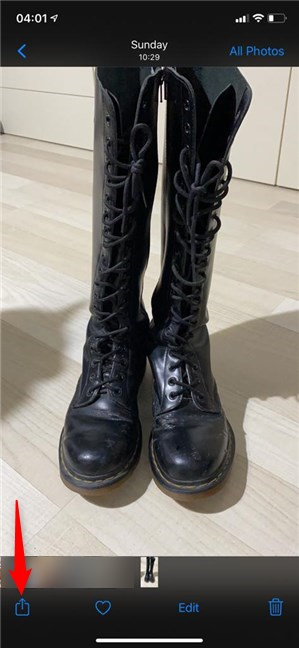 Set a background for iPhone from the Camera app
From this point on, the instructions are identical to the ones in the previous chapter. Press on "Use as Wallpaper," adjust your image, tap Set, and decide the screen where you want the new background displayed. You can scroll up for more details on changing your iPhone wallpaper.
TIP: You can also change the wallpaper on your other devices you're using, like your Android or your Windows 10 PC.
What type of backgrounds do you prefer? Did you use a live wallpaper on your iPhone?
I find it fun to customize my iPhone and my iPad with backgrounds that bring me joy and reflect my passions. What about you? Before you close this tutorial, we'd like to know what type of background you chose for your iPhone. Did you go with a live wallpaper or ended up using one of your photos? Let us know in the comments section.