ASUS Blue Cave is a wireless router that looks different from most routers on the market, and it includes an Intel processor, instead of Broadcom, Qualcomm, or MediaTek, as you usually find on many other routers. Its technical specifications are promising, and it is also integrated with Amazon's Alexa voice assistant and task automation services like IFTT (If This, Then That). We were lucky to be the first people in the world to test and review this product. If you are curious to know how well it performs and whether it is a good fit for you, read this detailed review:
ASUS Blue Cave AC2600: Who is it good for?
ASUS Blue Cave is an excellent choice for the following types of users:
People that want a good looking home networking device, instead of a traditional router filled with external antennas
Users who want the best security for their smart home devices
People who desire high-speed WiFi
Users who want advanced firmware that offers complete control
People who want task automation services from their wireless router, through IFTT
Users who want to control their home network using the Alexa voice assistant
People who desire an advanced mobile app from which they can personalize almost everything the router has to offer
Pros and cons
There are many great things about the ASUS Blue Cave:
Top-notch performance on both WiFi bands
Excellent security features that secure your smart home
Modern hardware that can handle many clients and simultaneous connections
Advanced smartphone app for administering your wireless router
Great multi-lingual support and easily accessible Help documentation
A great offer to secure up to four devices with Trend Micro antivirus products, for free, for one year
Cons:
The WiFi network starts two minutes later than the wireless router
It is not clear that you can use the smartphone app from anywhere on the internet, even though it works, if you pay attention to its configuration
You cannot mount it on walls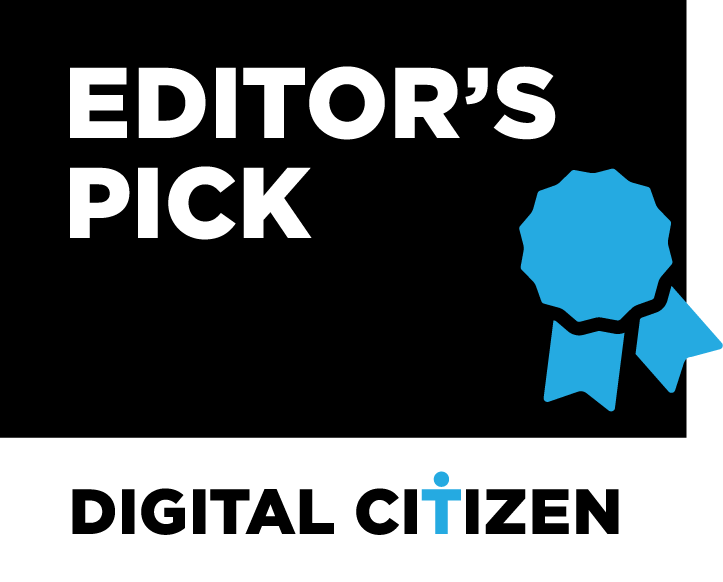 Verdict
ASUS Blue Cave AC2600 is one of the first wireless routers to feature an Intel processor and wireless chipset. Some people might assume that it will not work all that well because it features an Intel processor, and the company has little experience in the smart home space. Luckily, that is not the case. ASUS Blue Cave impressed us with its unusual design, excellent speed potential on WiFi, its very fast USB 3.0 port, and the wealth of features that it packs in its firmware. ASUS has efficient built-in security, useful parental controls, and integration with Amazon Alexa and IFTT. If you are looking for your next wireless router, you should consider buying ASUS Blue Cave AC2600. It is an excellent choice that we highly recommend to our readers.
Unboxing the ASUS Blue Cave AC2600 wireless router
The packaging used for the ASUS Blue Cave wireless router is different from the one used for most ASUS routers. It comes in a square box, through which you can see the center of the device. On the sides, you can see pictures of this router and plenty of data about its features and hardware specifications.
When you open the box, you find inside two other boxes. One of the contains the wireless router, and the other has the user documentation and all the accessories.
Inside the packaging you find the following elements: the Blue Cave wireless router, a network cable, the power adapter, the warranty, the quick setup guide, and a leaflet with a great offer from Trend Micro that allows you to get 1 year of free antivirus protection on four devices (Windows, iOS or Android).
The unboxing experience for ASUS Blue Cave is a pleasant one. The packaging is worthy of a premium device, and ASUS has bundled a nice surprise: an offer to secure four devices with antivirus products from Trend Micro, for one year. Please note that it isn't clear to us whether this offer is valid in all countries where ASUS Blue Cave is sold, or in just a few.
Hardware specifications and design
According to ASUS, Blue Cave has a multi-core Intel Lantiq PXB4395EL (GRX350) processor running at 1.2 GHz, 512 MB of RAM and 128 MB of storage space for the firmware. When you check the firmware of this router, it reports that it has a processor with three cores, while the ASUS website mentions two cores. We did a bit of research, and it seems that two cores are used for WiFi, and the third is used for other features like IPTV.
ASUS Blue Cave offers support for all the modern networking standards, including 802.11ac Wave 2, and can provide 4x4 MU-MIMO wireless connections. To provide this, it has four internal antennas. The maximum theoretical bandwidth is of 800 Mbps for the 2.4 GHz band and 1734 Mbps for the 5 GHz band. That is a total of 2534 Mbps, a little less than the 2600 Mbps promised in the product naming.
All the buttons and ports are on the back side of the device, alongside the vents for the cooling system. It has the following: the Power button, the Power jack, the Reset button, one USB 3.0 port, four Ethernet ports working at 1 Gbps, the WAN port, and the WPS button.
The design of this device is discreet and relatively pleasant. However, some people might not like it and compare it to a mini-washing machine or a speaker. One small downside is that ASUS Blue Cave is made to be placed on furniture in your home. It is not designed to be placed on walls, and it has no system for mounting it on walls.
As for size, it has 6.29 x 6.29 x 1.49 inches or 160 x 160 x 80 mm in Width, Depth, and Height. The weight is 1.76 lb or 800 grams.
If you would like to learn more about the official specifications of this wireless router, go to this page: ASUS Blue Cave specifications.
Setting up and using the ASUS Blue Cave AC2600 wireless router
Setting up the ASUS Blue Cave is the same as other wireless routers. After you plug into the powerline, connect it to the internet and one computer, you can set it up in a web browser. The setup wizard looks different than that of other ASUS routers, even though it works the same.
You have to enter a username and password for administering the wireless router (an excellent security precaution), and then the router detects the type of your internet connection and asks for the connection details. Once that is done, you get to set the name and password for the two wireless networks that are broadcast by ASUS Blue Cave. One new step is that ASUS Blue Cave automatically checks for new firmware and installs it during the quick setup.
After the firmware update is performed and ASUS Blue Cave reboots, you are shown a summary of your settings. Now it is time to load the administration user interface. It is the same as on other ASUS routers, meaning that it is well organized, easy to use and available in a total of 19 languages. Few manufacturers of wireless routers offer such great multilingual support. One neat little aspect is that you can configure the brightness of the LED in the middle of the ASUS Blue Cave, straight from the home address of the user interface.
All the settings are split into logical sections and finding your way is easy. You can configure everything that matters about your wireless router in detail, and advanced users will be pleased with this fact. Also, the user documentation is well done and accessible. One neat trick is to move the mouse cursor over a setting you do not understand, and a question mark is shown. Click on it, and you see information explaining that setting.
One less positive aspect that we noticed is that some settings require a reboot. While the ASUS Blue Cave takes about two minutes to restart, the wireless network does not restart as soon as the reboot is done. You have to wait another minute or two until it comes back online. During this time, the firmware displays a message saying "Wireless is setting…" We consider this a minor issue that should be fixed in future firmware updates.
Modern wireless routers tend to have mobile apps for remote controlling your network with ease. ASUS has a mobile app for this router and all its other routers. It is easy to connect it to the Blue Cave and administer the network. Through recent updates, the app is capable of working from anywhere on the internet, with the help of the DDNS feature, or through a relay server, depending on where you are on the internet. Unfortunately, this is not very obvious, as ASUS has a different approach when compared to other vendors that use a cloud account.
We connected about fifteen devices to the network managed by ASUS Blue Cave, including desktop PCs, laptops, tablets, smartphones, one wireless printer, two smart plugs, one smart bulb, and an Xbox One console. We enjoyed fast download speeds, good signal strength, easy file sharing, and stable connections.
ASUS Blue Cave offers a good wireless networking experience, worthy of the ASUS brand, and other great routers that were manufactured by this company.
If you would like to learn more about the real-life performance of this wireless router and our benchmarks, read the next page of this review.