Xiaomi is a popular brand for people who desire affordable health and fitness trackers that are easy to wear and use. With their Xiaomi Smart Band 7, the company wants to keep its lead in the budget sector and offer some neat features: always-on display, more workout tracking options than ever, and a useful notification system. But is this enough for Xiaomi to keep its leadership position in this crowded market? Read this review and find out:
Xiaomi Smart Band 7: Who is it good for?
This device is a great choice for:
People with limited budgets
Users who want a small and lightweight fitness band
People who are just starting to track their health and fitness
Those who want a fitness device with excellent battery life
Pros and cons
My tests revealed the following qualities of the Xiaomi Smart Band 7:
Good outdoors visibility
Accurate step recording
All-day monitoring and health features make it useful for people who focus on well-being
Easy-to-use companion app
Solid battery life
Lots of band faces and sports modes
Reasonable price that many can afford
There are also some important downsides:
The sleep analysis isn't great
You can't interact with the notifications you get
Although the battery life is good, Xiaomi's official claims are widely exaggerated
Your phone's GPS workout tracking can only be started from the Mi Fitness app, not the band itself
Verdict
Xiaomi Smart Band 7 improves a bit on the Xiaomi Mi Smart Band 6 we reviewed last year. The AMOLED screen is of good quality, and the new always-on functionality might be a major selling point for some users, even if it greatly impacts the battery life. Furthermore, the new sports tracking modes are useful, and the battery life remains solid. Unfortunately, the price is a bit higher than last year's model, which may lower the appeal for some people. Even so, I consider Xiaomi Smart Band 7 a great match for fitness amateurs who want an affordable device that checks all the right boxes.
Unboxing the Xiaomi Smart Band 7
The Xiaomi Smart Band 7 fitness tracker comes in a small black cardboard box. It features the product name, the Mi logo, and a picture of the device on the front.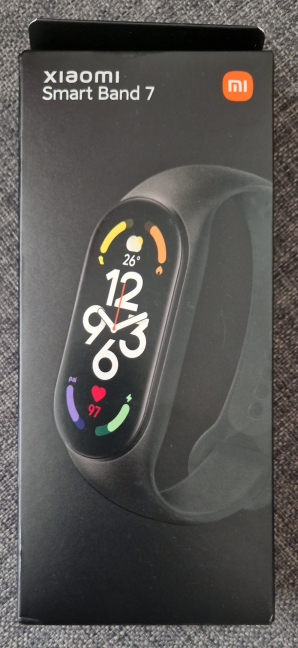 The packaging used for Xiaomi Smart Band 7
On the sides, Xiaomi advertises the main features of the fitness tracker, while on the back, it provides details about the product you just bought: the model name, the package contents, and some technical information. When you unpack everything, you find the user manual, the fitness tracker with a black strap, and the charging cable. Unfortunately, there's no charger included in the box. However, you can connect the USB cable to a smartphone charger or computer and have the band charge without issues.
This is what you find inside the box
The unboxing experience for the Xiaomi Smart Band 7 is straightforward, and you get all the items and information you need to start immediately. However, before setting up the fitness tracker, it is a good idea to charge it.
Design and hardware specifications
Xiaomi Smart Band 7 looks like your typical fitness tracker and comes only in black. However, you can purchase colorful straps in ivory, olive, orange, blue, black, and pink. Some of them look great, and you may want to get another strap or two to match your fitness tracker with your outfit.
You can purchase straps in multiple colors
The Xiaomi Smart Band 7 is very small, thin, and light. The tracker itself (without the strap and protrusions) has a size of 46.5 mm x 20.7 mm x 12.25 mm or 1.83 x 0.81 x 0.48 inches in height, width, and thickness. It also weighs 13.5 grams on its own and around 27 together with the strap. This makes it ideal for people of all ages and sizes. This band will fit you nicely, even if you're a teenager with thin hands.
Xiaomi Smart Band 7 is both thin and light
The strap is made of TPU or Thermoplastic Polyurethane - a special class of plastic that is elastic and has good resistance to oil, grease, and abrasion. In addition, its length is adjustable, ranging from 160 to 224 millimeters or 6.2 to 8.81 inches. Xiaomi Smart Band 7 features a 1.62-inch AMOLED touchscreen with a resolution of 192 x 490 pixels and a pixel density of 326 ppi (read: What is PPI and does it matter?). If you look closely, you notice that the display is slightly curved and has a tempered 2.5D glass surface.
The AMOLED screen is curved and relatively bright
Xiaomi Smart Band 7 is water resistant: up to 5 ATM and 50 meters or 164 feet in depth. It can be worn while swimming in a pool or shallow water. However, it is not a good idea to wear it during hot showers, saunas, or when diving.
Xiaomi Smart Band 7 is water resistant
The sensors built into the Xiaomi Smart Band 7 are the following:
6-axis sensor (3-axis accelerometer and a 3-axis gyroscope) to count the steps and calculate things like burned calories.
PPG heart rate sensor (PPG - light-based sensor, ECG - electrical impulse-based sensor) with SpO2 (oxygen saturation) monitoring.
Barometer and proximity sensors.
There's no GPS chip on this fitness tracker, and considering its affordable pricing, I wasn't expecting one. However, the Xiaomi Smart Band 7 can connect to your smartphone via Bluetooth 5.2 to use GPS with the help of the Mi Fitness app. NFC and Wi-Fi aren't available either.
The sensors on the back of the Xiaomi Smart Band 7
Xiaomi advertises a 180 mAh battery on this fitness band which should last between 9 and 14 days, depending on how you use the device. However, you should take these estimations with a grain of salt.
For more information about the technical specs and advertised features, go to this page: Xiaomi Smart Band 7.
Xiaomi Smart Band 7 has a pleasant design, and its AMOLED screen looks good. In addition, it's thin, lightweight, and comfortable to wear. Furthermore, if you take into account its sensors and hardware specs, it seems like a good device for the entry-level sector.
Setting up and using the Xiaomi Smart Band 7
Before using the Xiaomi Smart Band 7, it's a good idea to charge it for a while. If you receive the band completely discharged, you should know that its battery fills from 0% to 100% in about 1 hour and 30 to 40 minutes. Then, install the Mi Fitness app on your Android smartphone or iPhone, and open it.
Charging takes one hour and 30 to 40 minutes
You have to provide some data about yourself: your birthday, sex, height, and weight. Then, you should turn on the sync service, add the Xiaomi Smart Band 7, and sign in with your Xiaomi account (or create one first).
Adding Xiaomi Smart Band 7 to the Mi Fitness app
Once the fitness tracker is added to the Mi Fitness app, you're shown some details about its outstanding features. Then, you're asked whether you want to synchronize all the notifications on your smartphone or only those sent by certain apps. I recommend you to only turn on certain notifications from the apps that matter to you. Otherwise, you risk turning the Xiaomi Smart Band 7 into an annoying device that keeps distracting you.
Do you want to sync all notifications?
Next, select whether you want the band to notify you of incoming calls. I like this feature, but the downside is that you can't answer calls from the Xiaomi Smart Band 7. You only get alerts when someone calls you. Finally, when you think the setup process is over, the Mi Fitness app informs you about new firmware updates. You should update the tracker's firmware as it will fix bugs and add features that weren't fully ready when the device was manufactured.
You should install the latest firmware
After a couple of minutes, the firmware update is performed, and you can finally start using the app and the fitness tracker. The Mi Fitness app is split into logical sections:
Health - this is where you see an overview of your day and your statistical health data: the number of steps, calories burned, sleep, heart rate, movement and standing data, blood oxygen, stress rating, PAI (Personal Activity Intelligence), etc. The app makes it easy to personalize the data shown based on your interests.
Workout - this is the screen where you start workouts that need GPS tracking from your smartphone (running, cycling, etc.) Because Xiaomi Smart Band 7 doesn't have a GPS chip to keep the cost low, it can't provide this type of tracking. Also, another limitation is that you can't start tracking the workouts from the band itself. None of the workouts started from the band provide GPS data.
Device - this is where you configure most of the features of the Xiaomi Smart Band 7. By default, Xiaomi disables most of its advanced tracking to save battery. If you want detailed heart-rate information, sleep statistics, and so on, go through all the settings and enable what you want. However, remember that turning on those features also decreases battery life. Therefore, getting anywhere close to those 14 days of autonomy advertised by Xiaomi is impossible.
Profile - this is where you configure your Xiaomi user account, the apps connected to it, device permissions, and more.
This is the Mi Fitness app
The first night I used the Xiaomi Smart Band 7, I was bothered by many notifications that woke me up. I then realized that this fitness band doesn't have an automatic Do Not Disturb mode that shuts down notifications during the night. However, if you look into the Settings on the band itself (not the app), you'll find the Do Not Disturb mode, which you can configure and turn on. Then, you can enjoy a good night's sleep.
Don't forget to configure Do Not Disturb mode
The AMOLED touchscreen is relatively bright and ensures good outdoor visibility, except for those hot summer days when the sun is incredibly bright and hot. Unfortunately, one thing that doesn't help in such situations is that the Xiaomi Smart Band 7 lacks an ambient light sensor, so you'll have to adjust the screen's brightness manually. I think this is an aspect Xiaomi should improve in future versions of this product.
Outdoors visibility is generally good
The notification system is useful even though it has limitations. You can easily see most notifications and get enough useful information displayed on the screen for incoming calls, text messages, calendar events, alarms, health alerts, and reminders. The tricky part is when you receive emails and other lengthy information. In these situations, what you see on the screen doesn't look great, and you won't understand much. Also, you can't interact with your notifications and answer calls, for example. Therefore, I recommend that you experiment with the notifications settings and only leave On those that tend to work well with this device.
Xiaomi Smart Band 7 displays all kinds of notifications
Another important aspect to consider is whether to keep the display Always On. While the different watch faces look great and provide useful information, this feature severely lowers battery life. Therefore, if you have all the health tracking features enabled and you receive many notifications during the day, you may end up depleting the battery of the Xiaomi Smart Band 7 in about two days. That's a far cry from the nine days of heavy use promised by the manufacturer. Speaking of which, during my testing, the battery on the Xiaomi Smart Band 7 lasted for six days of what I consider normal usage. On three of those days, I tracked cycling activities:
On the first day, I tracked 34 minutes of cycling without GPS tracking
On the second, I tracked about 3 hours of cycling using GPS
During the third, I tracked about 2 hours on my bike with the GPS turned on.
Tracking a cycling route
During the other three days, I only walked without any specific tracking turned on. However, all the band's health monitoring features were turned on, so I gathered enough valuable data for this review. While I'm happy with the six days that the Xiaomi Smart Band 7 lasted on a single charge, I'm not pleased with the super optimistic claims broadcasted by Xiaomi. It might be a good idea for them to make more realistic claims for their products.
Regarding tracking activities, I was happy with how fast the synchronization process between the app and your band is. Also, the data provided by Xiaomi at the end of my workouts had a reasonable amount of heart-rate information, speed, and other data that can help improve my health and fitness.
Heart rate data provided at the end of a cycling workout
However, the data sets offered by this fitness tracker don't compare to what you get from more professional devices. So the Xiaomi Smart Band 7 isn't a good match for you if you're seriously into sports.
I am a long-time Fitbit user, and I simultaneously used a Fitbit Versa 3 to track the same things I did with the Xiaomi Smart Band 7 and compare the data offered by both devices. During my comparisons, I noticed that Xiaomi is better at counting steps. The measurements made by Xiaomi Smart Band 7 were very good in this regard. The heart rate data was relatively similar, and I didn't notice any meaningful differences. However, the sleep analysis was wildly different. Unfortunately, even with the more advanced sleep tracking turned on, Xiaomi Smart Band 7 reported that I slept more than I did and had a higher quality sleep than in reality. I noticed a striking contrast on August 10th, 2022, when Xiaomi reported that I had a great 8 hrs and 21 minutes of sleep, with plenty of it spent during the Deep sleep stage.
The sleep analysis is very inaccurate at times
Unfortunately, that wasn't the case, and what my Fitbit reported was much closer to reality: I had slept only 7 hours, was very agitated, and spent only 38 minutes in the Deep sleep stage. When I woke up, I felt really tired and stressed, as well as surprised by the sharp contrast between how I felt and what the Xiaomi Smart Band 7 reported.
Another aspect I noticed is that the closing system for the wristband is not always secure: the wristband became unfastened while searching for items in my backpack or when changing my clothes after a lengthy workout. Somehow, the push-button got pressed accidentally. On the upside, I didn't get any skin rash or allergic reactions to the wristband, which is great.
Overall, I'm pleased with my testing experience. While not perfect, Xiaomi Smart Band 7 is a solid budget device for tracking your health and fitness. It's small and light and checks all the basics people need. However, sleep tracking needs improvement, and I hope Xiaomi will fix its sleep algorithms in future firmware versions.
The features of the Xiaomi Smart Band 7
Xiaomi Smart Band 7 is a fitness tracker with limited additional features outside health and fitness tracking. Here's what you get:
Dynamic band faces - Xiaomi brags about offering over one hundred of them. I used only a couple and browsed through a few dozen band faces. Overall, I enjoyed how they looked and their diversity.
Apps and calls notifications - you can choose which notifications you want to see on your fitness band. However, notifications are read-only, and you can't interact with them as you do on a smartwatch.
Heart rate monitoring - you can manually measure your heart rate at any time or have the band measure it at regular intervals. The Mi Fitness app then displays your daily summaries and charts, showing your resting heart rate, minimum, maximum, and average heart rate.
SpO2 monitoring - Xiaomi Smart Band 7 can manually or automatically track the oxygen saturation in your blood and display daily summaries and graphs with the lowest, highest, and average SpO2 levels.
Sleep monitoring - you should turn on the more advanced sleep monitoring and analysis as soon as you start using this fitness tracker. Even so, Xiaomi lags behind the competition with its rather underwhelming sleep analysis.
Stress level monitoring - the Mi Fitness app gives you a score for your stress level each day and details how much time you were under moderate, mild, or high stress.
Guided breathing - follow the band's breathing instructions so that it helps you relax and lower your heart rate faster.
Workout tracking - the manufacturer brags about the Xiaomi Smart Band 7 being able to track approximately 110 sport modes. During my testing, I tracked only three types of activities and was generally satisfied with the data provided. However, don't forget that if you also need GPS tracking, you must start your workouts from the Mi Fitness app, not the band itself.
VO2 max workout analysis - measures your maximum oxygen uptake and gives you ratings for your aerobic and/or anaerobic exercises. This way, you know whether each workout contributes to improving your fitness level.
Personal Activity Index (PAI) - Xiaomi Smart Band 7 gives you PAI points every time your heart rate increases: The higher your heart rate, the more PAI you earn. The PAI is added for each day of the week, and the theory says that if you achieve 100 PAI or more every week, you can increase your life by an average of eight years.
Female Health Management - if you're a woman, you can use this band to track and predict your menstrual period.
How high is your PAI?
While it's not a smartwatch, Xiaomi Smart Band 7 also offers a couple of other minor features that you may find useful:
Find My Phone is useful when you don't remember where your phone is. I used it twice in my testing period, and it worked well.
A countdown timer.
A basic weather forecast app that shows you meteorological data on your band.
You can turn the Xiaomi Smart Band 7 into a flashlight. While the screen doesn't get very bright, it can sometimes be useful.
Unlock My Phone - you can set it to automatically unlock your smartphone when you're around, wearing the Xiaomi Smart Band 7.
Even though it's a budget device, Xiaomi Smart Band 7 has an impressive number of features. The only thing lacking in my view is GPS tracking. Luckily, if you use the Mi Fitness app to track your activities, you can get around this limitation.
What do you think about the Xiaomi Smart Band 7?
We have arrived at the end of this review, and now you know what I liked and disliked about the Xiaomi Smart Band 7. Before closing this browser tab, share your opinion about the fitness tracker: Does it appeal to you? Do you consider purchasing it? Does it offer enough health data for you? Comment below and share your perspective.