Microsoft recently released a new app called Microsoft Defender. It's not a new version of the company's anti-malware software, and it's probably something completely different from what you might expect. You'll be able to get it on Windows, Android, and iOS, and it will theoretically help you manage the security of your devices from a single unified dashboard. Want to know more about it? Read on to find out what Microsoft Defender is, what it does, and whether it's worth installing:
What is Microsoft Defender?
Microsoft Defender is a new app that, according to Microsoft, is designed to help protect our data and devices from malicious threats.
Following Microsoft's tradition of poorly chosen names, the Microsoft Defender app can mislead you into thinking it's something else than it truly is. If you are like me, you may assume that it is a new antivirus product or at least an improved version of their previous Windows Defender. Unfortunately, that is not the case.
Microsoft calls its Windows security hub Windows Security, its antivirus is named Microsoft Defender Antivirus and sometimes Windows Defender, and its firewall is Windows Defender Firewall. Microsoft Defender is none of those. It's an app that acts as a central security dashboard for all your devices. It's available for Windows, Android, and iOS, and, depending on the platform, it allows you to perform the following activities:
See the security status of your computers, smartphones, and tablets
Protect your devices against malware
Secure your devices against phishing links
Receive alerts when a threat is identified on any of your devices
Microsoft Defender in Windows 11
While the Microsoft Defender app is free, you can use it only if you have a Microsoft 365 Personal or Family subscription. And even then, you can only add up to 5 (five) devices to monitor on your user account. Speaking of which, you will need to connect to the app using a personal Microsoft account, as it doesn't support work or school accounts.
Microsoft Defender requires a Microsoft 365 Personal or Family subscription
You can get the Microsoft Defender from the Microsoft Store using this link: Microsoft Defender.
What can you do with Microsoft Defender?
Let's delve a bit deeper into what you can do with the Microsoft Defender app on Windows, Android, and iOS:
1. Keep tabs on the security status of your devices
The one thing that works on all supported operating systems - Windows, Android, iOS - is the central dashboard of Microsoft Defender. This is the place where you can view and manage the online security of all your devices.
The central dashboard of Microsoft Defender in Windows
On Windows, you can get quick info about your computer's security status. But other than that, if you need to take action or want to change some settings for how your real security solution works, you only get shortcuts to it. For example, if you don't use third-party antimalware software, you'll get a shortcut that opens Windows Security. 🙂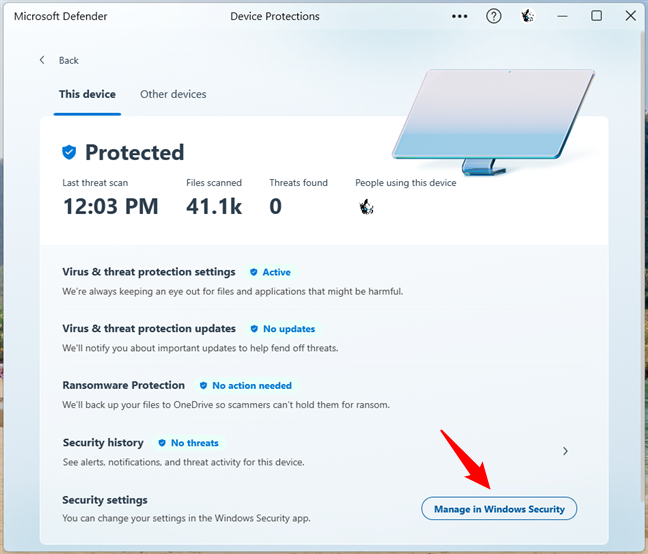 Manage in Windows Security
As for the other devices you've added to Microsoft Defender, you'll only get information about their security status. You can't, for instance, trigger an antimalware scan remotely.
Other devices shown in Microsoft Defender for Windows
The same applies to Android and iOS: Microsoft Defender shows you the security status of your devices.
The dashboard of Microsoft Defender in Android vs. iOS
While it doesn't let you remotely scan any of your devices, it does allow you to adjust some settings and run certain scans on your current device (the one you're using Microsoft Defender on right now). Unfortunately, what you're allowed to do also depends on the platform (Android or iOS) - read on to see exactly what your options are.
2. Protect (some of) your mobile devices against malware
On Android, you can use Microsoft Defender to scan your device for malware. The app does that automatically each day, but it also allows you to manually run a scan at any given time.
Microsoft Defender malware protection on Android
On iPhones, however, antimalware protection is not available. The reason is probably related to Apple.
3. Secure your mobile devices against phishing links
A welcome feature that works on both Android and iOS is the one called Web protection. This one secures your smartphones (and tablets) against phishing links and websites that try to steal personal information.
Microsoft Defender Web Protection in Android vs. iOS
However, there's something you should know about this feature. While on Android, it works by directly scanning inbound and outbound data transfers, on iOS (iPhone), Microsoft Defender creates and requires a custom VPN. That means that, if you want Web protection on your iPhone, you won't be able to use your other VPN configurations.
Microsoft Defender creates a custom VPN in iOS
So, in the end…
Is it worth installing Microsoft Defender?
There might be a couple of reasons why you might benefit from installing Microsoft Defender. For starters, if you already have a Microsoft 365 Personal or Family subscription, why not? It's free. Secondly, the app can help you increase the security of your devices, especially on smartphones and tablets. And third, you will get alerts when threats are identified on any of the devices on which you've installed Microsoft Defender.
Microsoft Defender in the Microsoft Store
On the other hand, there are sufficient reasons to ignore the Microsoft Defender app too. It's quite limited in what it offers, and the few real security features it has are not available on all platforms. What you get on Windows differs from what you get on Android, and the Android features are different from the ones on iOS as well. Furthermore, on Windows, it feels useless, to be honest: the app doesn't do much except for sending notifications if there are security issues on your other devices. And the built-in Windows Security already does that anyway. And last but certainly not least, you must have a Microsoft 365 Personal or Family subscription to be able to use the app, and even then, you'll only be able to add a maximum of five devices to your account. That kind of defeats the purpose of having a centralized dashboard with all your devices and all your family devices. I, for example, have too many of my own devices to even consider adding my wife and child's smartphones, laptops, and tablets.
What do you think about Microsoft Defender?
That's all there is to know about Microsoft Defender today. The initial version of this app feels underwhelming and has very limited functionality. Hopefully, as time passes, and Microsoft continues to develop it, it will become a more comprehensive security app. Or maybe it will not. I really don't know. Before closing this article, I'm curious to know what you think about Microsoft Defender. Will you try it? Do you think it's useful? Let me know in the comments section below.