Mesh Wi-Fi systems have become a lot more popular in recent years. They are a very good choice when you want wireless coverage for larger living spaces or office areas, and most of them offer almost the same features as traditional routers do. This is also true for Synology WRX560, the latest mesh router from Synology. This model brings Wi-Fi 6 support and is capable of working with ultra-fast 2.5 Gbps internet connections that are slowly popping up worldwide. If you're curious to learn more about Synology WRX560 and what it offers, read this review:
Synology WRX560: Who is it good for?
This mesh Wi-Fi system is a suitable choice for:
Users with fast 1 Gbps or 2.5 Gbps internet connections
People who need Wi-Fi coverage for larger spaces, including multi-floor homes or small business offices
Users who want efficient security, parental controls, VPN, and other advanced features on their router
Wi-Fi networks with many connected devices
People who are looking for a mesh router with a fast USB port and intend to turn it into a NAS or media server
Pros and cons
Here are the things I like about Synology WRX560:
Solid hardware that can handle many network devices
Great performance when using Wi-Fi 6
WPA3 encryption support
Modular firmware with many advanced features
Ultra-fast USB 3.2 Gen 1 port
Top-notch security tools and parental controls
Excellent help documentation
There are some downsides too:
It should have had more than one LAN 2.5 Gbps port
When using Wi-Fi 5 (802.11ac), the speed you get is not that great
Verdict
The Synology WRX560 is a perfect mesh router for modern smart homes and small offices. It bundles Wi-Fi 6 connectivity, excellent software, the ability to work with ultra-fast 2.5 Gbps internet connections, and many additional features like VPN Plus, efficient parental controls, and advanced security tools. If you already have a Synology router and want to extend your network coverage, Synology WRX560 is a great choice. The same applies if you're building a mesh Wi-Fi system from scratch. I recommend it to anyone who wants a great mesh solution for their home or small company office.
Unboxing the Synology WRX560
Synology WRX560 comes in a simple cardboard box with a sticker on it. You can see a picture of the device and some of its most important characteristics.
The packaging for Synology WRX560 is very straightforward
On the back, there's some information about its hardware and a list of what you're supposed to find inside the box.
There are few details printed on the back
As soon as you open the box, you see a black fabric cover protecting the mesh router. When you take everything out, you get the Synology WRX560, its power adapter, a short CAT5e network cable, and the quick installation guide.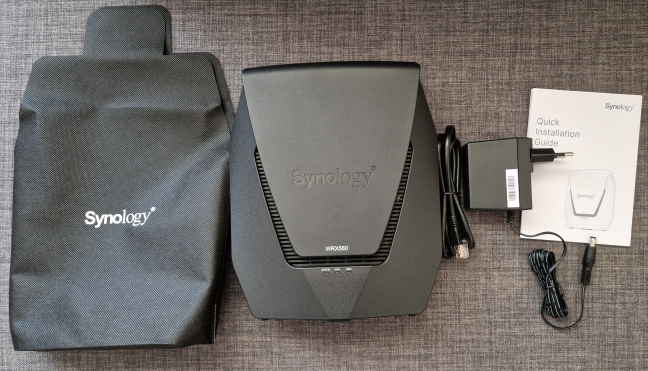 Everything you find inside the box
Unboxing the Synology WRX560 is a straightforward experience. Inside the box, you only find the basics needed to get started.
Hardware specifications and design
Synology WRX560 is a mesh router, meaning that it was designed to be used in tandem with other Synology routers or mesh devices to provide Wi-Fi over a larger area, like a multi-floor home, small business office, or industrial space. I used it together with a Synology RT6600ax router I reviewed a few months ago. As shown in the picture below, this mesh router doesn't have a classical design.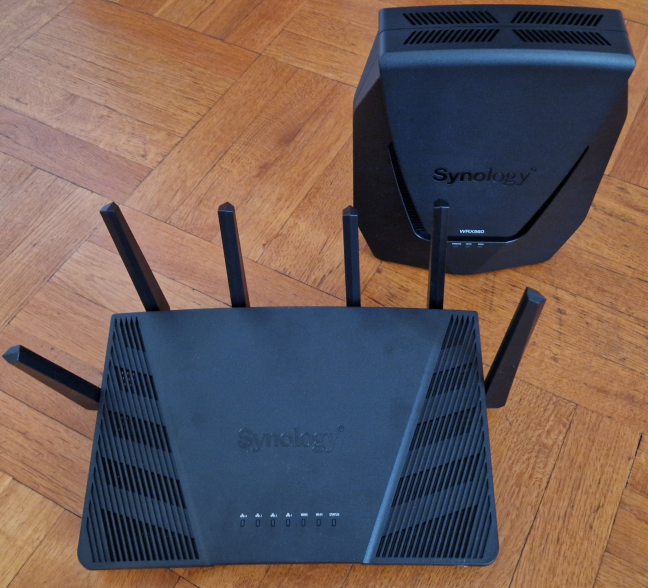 Synology WRX560 in tandem with Synology RT6600ax
Synology WRX560 is a tall vertical device without any external antennas. It is 9.17 x 7.63 x 2.59 inches (or 233 mm x 194 mm x 66 mm) in height x width x depth. Weighing 2.97 lbs (1.35 kg), it's not a small device, but it's not as heavy as a typical router either. On the front, you see Synology's logo, some discreet ventilation grids, the model name, and the LEDs signaling the device's working status.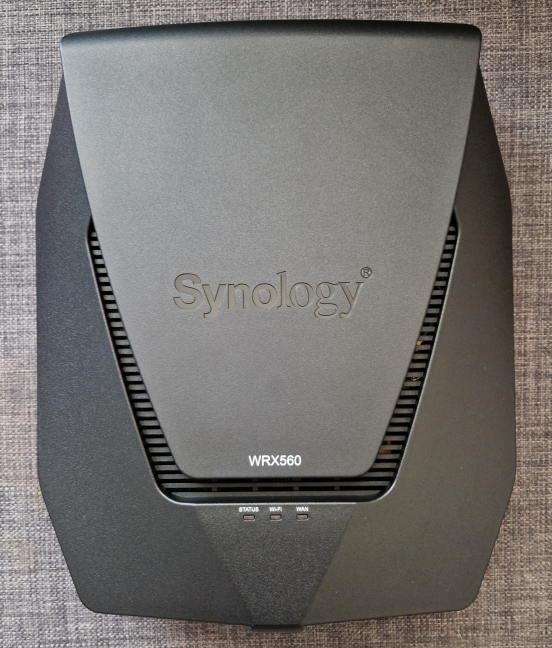 Synology WRX560 has no external antennas
On the back, there's a sticker with information about the mesh router you just bought, its serial number, MAC address, and so on. You also have the Power button and the Power jack, one 1 Gbps WAN port, one 2.5 Gbps WAN/LAN port, and three LAN ports working at 1 Gbps. The Reset button is next to them.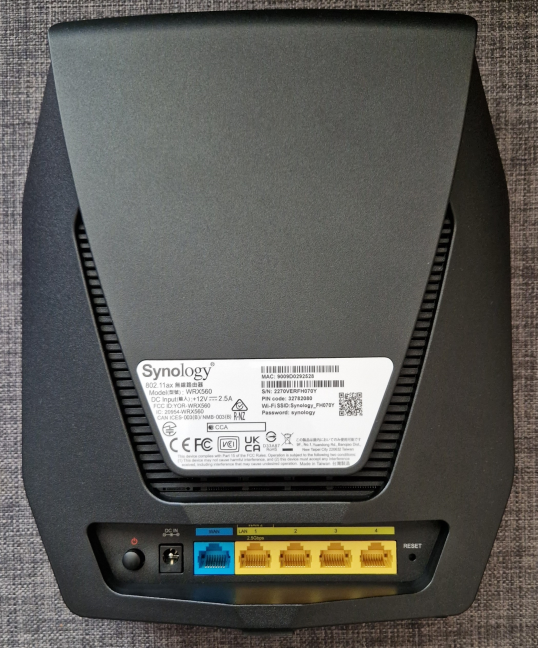 The ports on the back
Considering that Synology WRX560 is a powerful Wi-Fi 6 mesh router, I would have preferred it to have at least two 2.5 Gbps ports, if not more, so that more devices can benefit from its power.
On one side of the mesh router, you find one USB 3.2 Gen 1 port alongside the WPS and WiFi buttons.

Synology WRX560 has a USB 3.2 Gen 1 port
On its bottom, there are four rubber feet, useful for keeping the mesh router in place on a flat surface, and several ventilation grids. Unfortunately, there's no system available for mounting the Synology WRX560 on walls, which may be a downside for some users.
Four rubber feet hold the Synology WRX560 into place
This dual-band mesh router emits its signal on the 2.4 GHz and 5 GHz bands. The maximum theoretical bandwidth is 600 Mbps on the 2.4 GHz band and 2400 Mbps on the 5 GHz band. It also offers 2x2 MU-MIMO transfers on the 2.4 GHz band and 4x4 MU-MIMO transfers on 5 GHz. Synology WRX560 can work with all wireless standards up to Wi-Fi 6, and it offers support for WPA3 encryption too. It can also use the 160 MHz channel width on the 5 GHz band. Inside the Synology WRX560, there's a quad-core Qualcomm Hawkeye IPQ8071A processor running at 1.4 GHz and 512 MB of DDR4 RAM, which should be more than enough for most users.
Details about its hardware configuration
For even more technical information about this product, I recommend visiting its official page: Synology WRX560.
Setting up and using the Synology WRX560
Before you install the Synology WRX560, I recommend reading this guide on how to set up your mesh Wi-Fi: How do I deploy my Synology Wi-Fi system to achieve the best connection?
While the Synology WRX560 works great on its own, it is better to pair it with a more powerful router like the Synology RT6600ax I used for this review. For more information about Synology routers, and their capabilities, check this page: Meet the Synology router family.
Synology products for mesh Wi-Fi
You can set up the Synology WRX560 using a web browser on a computer connected to the network managed by this mesh router and with the DS router app for Android or iOS. However, since I was building a mesh, I first configured the main router (Synology RT6600ax) and then added Synology WRX560. The instructions for adding Wi-Fi points are clear and easy to follow.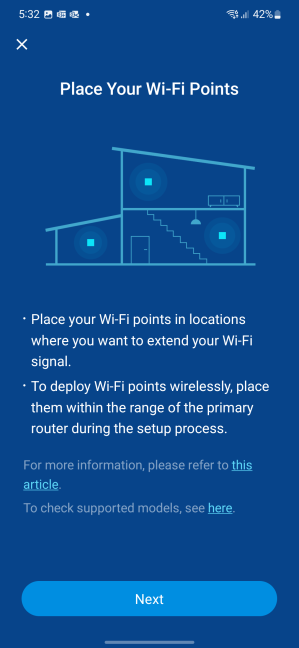 Adding Wi-Fi Points from the DS router app is easy
Before you add the Synology WRX560 to the mesh system, you should first update the SRM firmware on the main router to the latest version to ensure that it's compatible with the WRX560.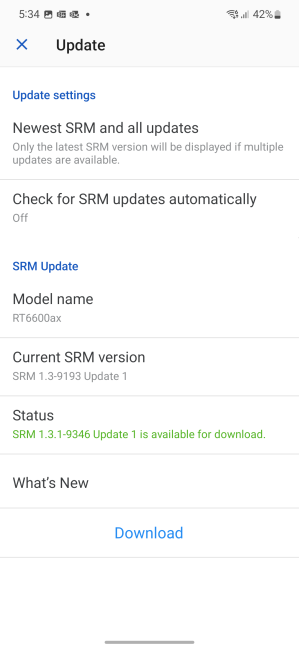 Updating SRM is a must
You can add one or more Synology WRX560 Wi-Fi points to your network, depending on your needs. You'll see them in the Network Map, and they'll automatically clone the settings on your main Synology router.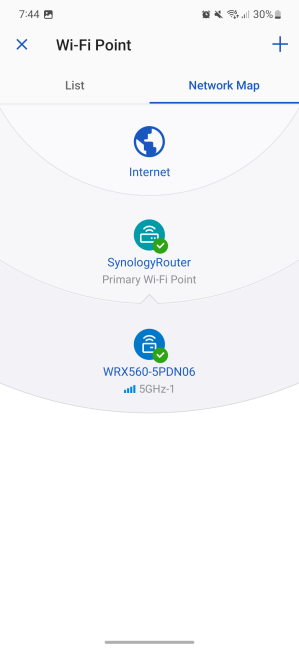 A mesh Wi-Fi network with Synology devices
Therefore, any settings changes on the main router get replicated by the WiFi points in your network, and you'll see them function as one unit instead of separate ones.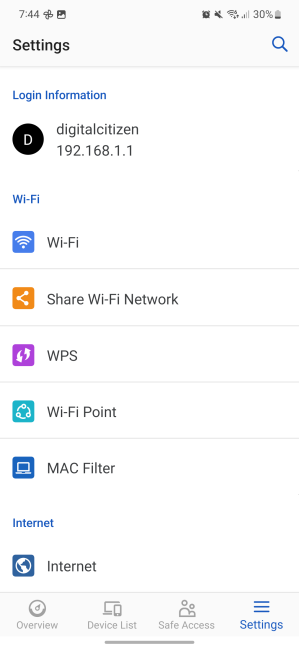 DS router includes many settings
The DS router app offers an extensive list of configuration options. You can manage your Wi-Fi settings, share the connection details with others, manage connected devices, configure parental controls, and access many other features like VPN, port forwarding rules, the firewall, or firmware updates. While the DS router app is not as comprehensive as the web-based admin interface (Synology Router Manager or SRM), it covers most of the things you need.
Moving on to the SRM, it is available in twenty languages (less common languages like my native Romanian are not included though), incredibly modular (you install the features/packages you want and remove those you don't), well organized, and with plenty of advanced configuration options.
SRM is available in twenty languages
Navigating it feels like using a Linux desktop, which is great and makes it easy to use, even if you're not very tech-savvy.
SRM looks like a Linux desktop
Another upside is the well-organized and easily accessible user documentation. Even if you come across more technical settings, you have all the information you need to properly set things up. And you can also contact Synology's support team straight from the SRM interface, which is very helpful when encountering problems you can't fix.
The Help Documentation is very thorough
Another aspect I appreciate about the SRM is its focus on security and privacy. You can set up different user accounts with different roles and explicit permissions and even enable two-step verification to ensure it's not easy for someone outside your network to hack into it.
While using the mesh Wi-Fi network managed by the two Synology devices I received for testing, I didn't stumble upon any connection or stability issues. I appreciated how well the network worked when using Wi-Fi 6 and how stable network transfers were, especially on the 5 GHz band. Below, you have an example of a network transfer made through the Synology WRX560 in a room separated by one wall from the main router (Synology RT6600ax). It's very stable, with small differences between the minimum and maximum speed.
A Wi-Fi 6 data transfer on the 5 GHz band
Overall, I'm pleased with my experience with Synology WRX560. It's a great mesh router that offers almost everything you need.
If you want to know more about the real-world performance offered by the Synology WRX560, go to the next page of this review, where I present detailed measurements and comparisons.