Today, Samsung has launched several exciting devices. First, we have the Galaxy Z Flip4 and Galaxy Z Fold4, which are available for pre-order and will be shipped starting August 26th. We also have Samsung Galaxy Buds2 Pro, promising to deliver better audio quality and active noise cancellation, and Samsung Galaxy Watch5 and Watch5 Pro - the first wearables to feature the new Wear OS 3. We had the opportunity to see and play for a bit with all these devices at a local event. Here's what we've learned:
Samsung Galaxy Z Flip4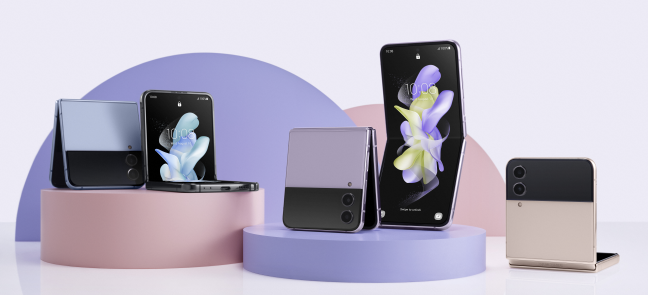 Samsung Galaxy Z Flip4 - color variants
Samsung Galaxy Z Flip4 is my favorite pick from our brief hands-on experience. We like this smartphone's looks, its color options, its weight, and how it feels to hold and use. It will surely be appreciated by people who enjoy the design, lightness, pocketability, and ease of use with one hand. Compared to the previous Flip3, the Flip4 is an evolutionary improvement that packs a few upgrades in some key areas.
Browsing the web is a cool experience
First, we get a bump in processor and overall performance and a slightly lower battery use due to the better hardware platform: the latest octa-core Qualcomm Snapdragon 8+ Gen 1 processor, 8 GB of RAM, and 128 GB, 256 GB, or 512 GB of storage space. Furthermore, the battery has a larger capacity than the one used for the previous generation: 3700 mAh, and it features a more rapid fast charging (at 25W, going from 0% to 50% in 30 minutes), fast wireless charging, and reverse wireless charging.
I love the form factor. Do you?
The small secondary screen has better software support, allowing you to perform more actions on it, like taking calls without opening the smartphone, replying to text messages, or unlocking your car. It also has some beautiful themes you can use to personalize your experience.
Samsung Galaxy Z Flip4 is really easy to pocket
While the camera system doesn't seem very different from the one on the Galaxy Z Flip3, Samsung brags about the Flip4 offering more software features that enhance the camera experience. For example, they have partnered with Meta and implemented a FlexCam mode, allowing you to take pictures and videos optimized for Instagram, Facebook, Messenger, or WhatsApp. They also improved the process for switching between cameras and the way you record hands-free videos.
Samsung Galaxy Z Fold4
Samsung Galaxy Z Fold4
This year's Galaxy Z Fold4 has focused on improving durability and productivity. The smartphone has an Armor Aluminum hinge, with Corning Gorilla Glass Victus both on the front and the back. The display also features an improved protection coating that should lower the damage caused by external shocks to your smartphone.
A unique feature of the Samsung Galaxy Z Fold4 is that it's the first smartphone to come with Android 12L on it - a special version optimized for large-screen devices and foldables. In addition, the smartphone features a new taskbar at the bottom of the screen, where you can add your favorite apps for quick launch access.
Samsung Galaxy Z Fold4 aims to be a tablet replacement
We get new gestures for switching between apps, improved split screen options, and many productivity enhancements for Google Chrome, Gmail, Google Meet, Office, and Outlook. Samsung will also offer new cases for the S Pen, so you can carry it with you and use it for taking notes and drawing while on the go.
The folded screen accommodates some interesting productivity scenarios
Samsung Galaxy Z Fold4 also features the latest octa-core Qualcomm Snapdragon 8+ Gen 1 processor for maximum performance, a brighter 7.6-inch screen than last year's model, with an adaptive refresh rate of 120 Hz, and a new 50 MP wide camera with 3x optical zoom and 30x digital zoom. The software for the camera system has also been improved with new features like Zoom Map, which takes advantage of the smartphone's form factor. In addition, the Facebook app has also been enhanced to use the available screen space better and display more information than it did on the previous Fold3 model.
Samsung Galaxy Buds2 Pro
I enjoy using my Samsung Galaxy Buds Pro and was curious about the new Samsung Galaxy Buds2 Pro. They have a more compact design, taking 15% less space than the previous version, and they feature Hi-Fi 24-bit sound with a higher dynamic range for a better audio experience when you're listening to music.
Samsung Galaxy Buds2 Pro - color variants
The active noise cancellation (ANC) algorithms have been improved, and you should get around 5 hours of use on a full charge with active noise canceling turned on and up to 8 hours with ANC off. If you take many calls, you should be happy to know that Samsung Galaxy Buds2 Pro lasts up to 3.5 hours in calls with ANC on and up to four hours with it off. All these measurements were made by Samsung, not by third parties.
Samsung Galaxy Buds2 Pro are smaller and better
In my brief hands-on experience, I enjoyed both the colors available for the Samsung Galaxy Buds2 Pro, their design, and smaller size. Unfortunately, I couldn't properly test the audio quality they offer, so I won't comment on that until I get to review them.
Samsung Galaxy Watch5 and Watch5 Pro
Samsung Galaxy Watch5 and Watch5 Pro are the first to run Wear OS 3, a unified platform that integrates apps made by both Google and Samsung. I'm curious to test it and see whether it represents a major improvement over the competition.
Samsung Galaxy Watch5 and Watch5 Pro
The Samsung Galaxy Watch5 comes in two sizes: S (40 or 42mm) and L (44 or 46mm), which should cater to people with different tastes and hand sizes.
Samsung Galaxy Watch5 looks great
Samsung Galaxy Watch5 Pro seems to be available in just one size, and its frame is made of titanium for increased endurance. Furthermore, both the Watch5 and the Watch5 Pro should provide improved battery life over the previous generation (2 to 3 days), better blood pressure monitoring that's FDA approved in the United States, more watch faces, and color options for increased personalization.
Samsung Galaxy Watch5 Pro features very durable materials
Details were scant, so there's nothing else to report on these smartwatches. However, I'm curious to review them here, at Digital Citizen.
Which device do you like best?
Personally, after playing with all these devices, I got excited about testing the Samsung Galaxy Z Flip4, Samsung Galaxy Buds2 Pro, and Samsung Galaxy Watch5. They're great-looking devices with promising specs and interesting features that I would like to evaluate in real-life use. So, before closing this brief presentation, tell me what you think. Which devices do you like best and why? Comment below, and let's discuss.