A while back, we told you about Samsung launching a series of new and exciting devices. I've been testing and playing with many of them for over a week now. The new Samsung Galaxy Buds 2 Pro wireless earbuds are my favorites from the line-up. I'm a happy long-time user of the previous generation Galaxy Buds Pro, and at first, I felt that the new Buds 2 Pro was more of a relatively small and incremental upgrade. But after less than a day of use, I discovered I was mistaken. Here's why:
1. Their appearance and texture
I like the color options for the Samsung Galaxy Buds 2 Pro, especially the purple ones that I got for testing. A lot of people noticed me wearing them and liked both their color and the quality of the materials used. I also enjoy how smooth they feel to the touch when holding the charging case in your hand or handling the earbuds.
What color do you like best for the Samsung Galaxy Buds 2 Pro?
The smooth, matte plastic used by Samsung is simply a pleasure to touch and gives you the feeling that you're using a truly premium device, built with great attention to detail.
2. Smaller and more comfortable
One key aspect where the Samsung Galaxy Buds 2 Pro are improved compared to the Galaxy Buds Pro is their size: the new earbuds are 15% smaller and lighter than their predecessors (from 6.3 grams/each to 5.5 grams). They're also no longer made of glossy plastic like the previous generation, but one that's matte and soft to the touch. All these little finishing touches make the new Galaxy Buds 2 Pro very comfortable to wear for long periods of time and easier to handle.
Samsung Galaxy Buds 2 Pro are smaller and lighter
Whereas the first generation Galaxy Buds Pro would sometimes make my ears go numb after wearing them for a longer time, I didn't experience any discomfort with the Galaxy Buds 2 Pro, even when I wore them nonstop for 90 minutes.
3. Connectivity with Samsung products
Samsung Galaxy Buds 2 Pro are designed to fit seamlessly into the Samsung ecosystem. As soon as you charge them and open the charging box, your Samsung Galaxy phone immediately detects them if it's anywhere near them. You can connect and start using them immediately. While testing the Samsung Galaxy Z Flip4, I really liked the control panel I could add to the secondary screen, which made it possible to see the battery life of my earbuds and quickly control other features on them, like ambient sound activation or touch controls.
You can control your earbuds from the secondary screen of the Galaxy Z Flip4
The Samsung Galaxy Watch 5 offers the same elegant connectivity. It detected the earbuds very quickly and allowed me to connect to them and listen to music directly from my watch while walking or going for a light run. The Galaxy Watch 5 also provides you with a tile to quickly access features like dynamic noise cancellation and touch controls.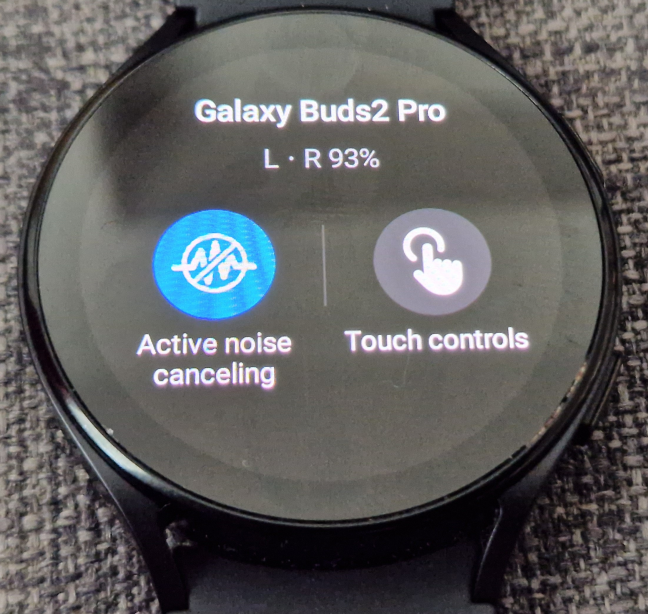 Galaxy Buds 2 Pro also work perfectly with Galaxy Watch 5
Samsung Galaxy Buds 2 Pro are incredibly easy to connect and use in the Samsung ecosystem, working well with everything from phones to tablets, smartwatches, laptops or Smart TVs. Switching between devices is also quick, and there's no need to disconnect the earbuds from one Samsung device to reconnect them to another.
4. Sound quality in tandem with other Samsung devices
One area Samsung has focused heavily on with the Galaxy Buds 2 Pro is audio quality. As long as you have a Samsung Galaxy phone with the OneUI interface version 4.0 or newer, you can enjoy very high fidelity 24-bit sound using the Samsung Seamless Codec. It has a sampling rate (bitrate) of up to 2304 kbps, worthy of a high-fidelity audio experience, that you don't often find on wireless earphones.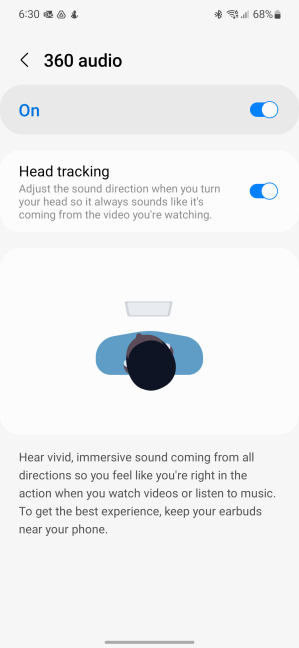 The audio quality is excellent
The earbuds also feature 360 audio, which plays sound on 5.1 or 7.1 channels via Dolby Atmos and monitors your head movements to synchronize the sound with your movement. The aim is to hear the sound from the direction it's coming from and give you a surround-sound experience. After a week of use, I have to say I'm impressed: in terms of sound quality, the Samsung Galaxy Buds 2 Pro are the best true wireless earbuds I've ever used.
5. Smart active noise canceling
Active noise canceling (ANC) works very well and is effective, providing quality sound during phone calls, when listening to music, watching a movie or playing games. But the best part is the clever way of turning it on or off. For instance, let's say you're playing a game and ANC is on. If you start talking, ANC is automatically disabled and the ambient sound is activated, so you can hear the people around you.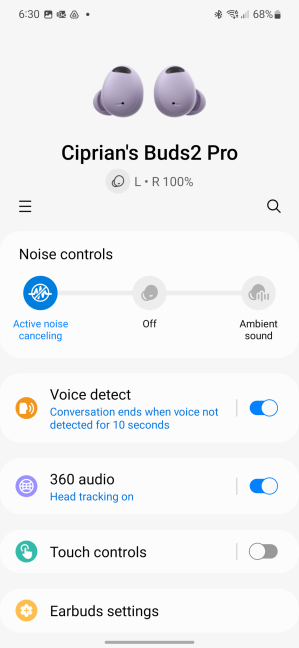 The smart ANC works very well
On another occasion, I was on a long phone call and at one point, the Samsung Galaxy Buds 2 Pro picked up some loud noises: first a thunderclap, signaling the start of a storm, and then a window slamming from the wind. The Galaxy Buds 2 Pro cleverly turned off the noise cancellation, allowing me to hear those loud sounds, so I could take action and close the windows in time.
What do you like about the Samsung Galaxy Buds 2 Pro?
These are the key aspects I like about the Galaxy Buds 2 Pro wireless earphones. They are absolutely gorgeous visually and to the touch, but more importantly, they deliver an exceptional audio experience. I'll be back soon with more details in a review. Until then, I'm curious to learn your thoughts on these earbuds and any questions I can answer in the review coming soon on Digital Citizen.