The smartphone experience on the realme 11 Pro+ 5G
Using the realme 11 Pro+ 5G daily was a satisfying experience for me. I like the way it feels in the hand, although I do have to mention that I've used the smartphone without its protective cover. The vegan leather is soft, and its 3D texture provides both a good grip and the sensation that you're holding an expensive device. But, in order to get that, you need to use the phone without its protective silicon cover, which may not be a good idea if you have a history of dropping your smartphone. 🙂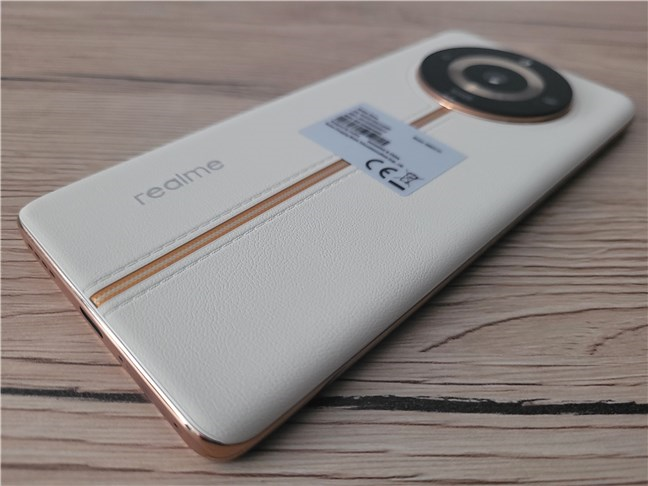 The realme 11 Pro+ 5G is a beautiful device
I also like the screen a lot. It's large and bright, and you can read what's displayed on it even under direct sunlight. Plus, its colors are vivid, and everything looks very much alive. Although in my case, the phone's size is not an issue, for some people (like children or women with smaller hands or short fingers), the width and height of the screen may mean that they will have to use two hands to navigate it properly.
Using the smartphone with one hand
Regarding the most basic use of a smartphone, which is phone calls, I can say that the realme 11 Pro+ 5G works just as expected. To make it clear, it's been quite a long time since I've had to complain about a smartphone in terms of phone call quality or signal reception. And the realme 11 Pro+ 5G did not disappoint here either. Speaking to my family and friends over the phone proved to be a good experience, with clear and crisp voices. Neither I nor the people to whom I've talked had anything negative to say about that.
Phone call quality is excellent
Handling, screen, and phone quality aside, the overall performance offered by the realme 11 Pro+ 5G is also good. I had no issues with daily tasks or media playback; all of that was easily handled by the smartphone. Gaming was decent, too, especially for casual games. As long as you're ok with using medium or, in some cases, low graphics quality, any higher-end game will also run smoothly on this device.
Gaming on the realme 11 Pro+ 5G
The stereo speakers deliver a good audio experience for a smartphone. However, although I didn't notice any distortion, and while the maximum volume is quite high, don't expect powerful lower frequencies (bass).
The fingerprint reader is quite accurate and pretty fast too. I'd go out on a limb and say that it's actually better than the fingerprint reader found on 90% of all the smartphones I've tested in the last few years. For as long as I had the realme 11 Pro+ 5G in testing, it only failed once or twice in reading my fingerprint correctly from the first attempt.
The fingerprint reader is fast and accurate
The battery easily got me through the day, and unless you're an avid gamer or someone who uses their phone 8 hours a day, two days of battery life are perfectly achievable. Charging the realme 11 Pro+ 5G is blazing-fast. Coming from a smartphone that only supports 25W charging, the 100W fast charging offered by the realme 11 Pro+ 5G is like switching from a steam-powered car to a fire-spitting turbocharged V8 monster. Charging from 1% to 100% took just 26 minutes!
realme 11 Pro+ 5G: Charging time
Overall, using the realme 11 Pro+ 5G is a fine experience: you get a premium-looking phone with an excellent screen, good battery life, and super fast charging. Furthermore, the performance in daily activities is up to the mark.
The camera experience on the realme 11 Pro+ 5G
NOTE: The pictures in the article are resized for optimization purposes. You can find pictures and videos captured by the realme 11 Pro+ 5G in the gallery below:
The realme 11 Pro+ 5G boasts a triple-camera setup that includes a 200 MP main camera, an 8 MP ultrawide camera, and a 2 MP macro camera. The main camera uses a Samsung ISOCELL HP3 Super Zoom Edition sensor that delivers high-resolution images with rich details and colors. The ultrawide camera has a 112° field of view that lets you fit more scenery or people in your shots. The macro camera allows you to take close-up shots of small objects at a recommended focus distance of 4 cm.
There are three cameras on the back
The Camera app on the realme 11 Pro+ 5G is fairly simple and easy to use, and it supports various modes and features that can enhance your photography experience. For example, the Night mode can help you take bright and clear photos in low-light conditions, the Starry Mode allows you to take snapshots of the night sky using long exposure, and the Street mode can auto zoom on your subjects and center them in the photos you take.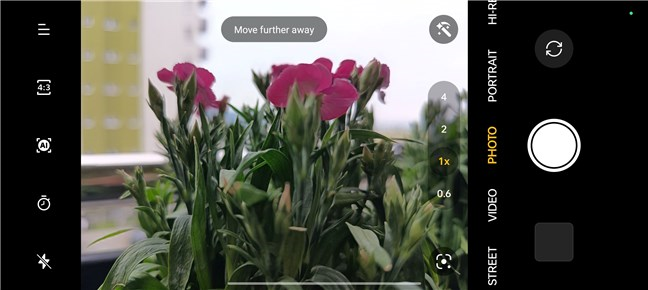 The Camera app on the realme 11 Pro+ 5G
The photos I took in daylight were of the highest quality, with a lot of detail, excellent contrast, and dynamic range. In good lighting conditions, there's no visible noise, as far as I can tell. The same is true about the photos I took using 2x and 4x zoom. According to realme, zooming at these levels is done without loss of quality, and my experience seems to confirm that. Unlike what I've seen on other smartphones that claim the same thing, the realme 11 Pro+ 5G seems to actually be able to take advantage of the 200-megapixel sensor of its main camera.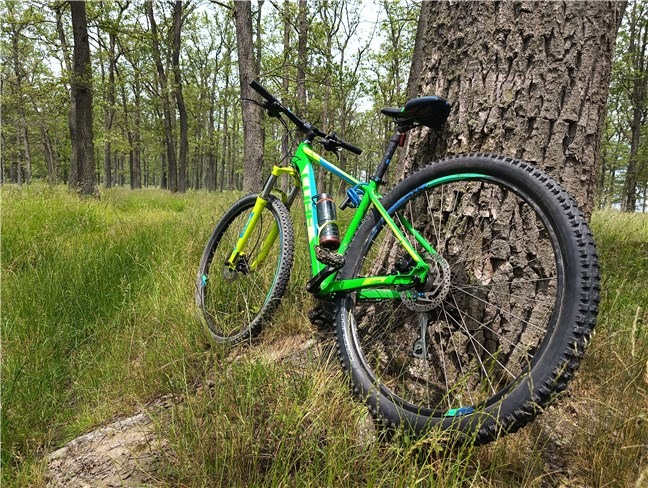 Daylight photography on the main camera is exceptional
The widescreen camera is almost as good as the main one. The colors are vivid and match the ones on the main camera, the contrast is excellent, and the dynamic range is wide.
The widescreen camera is good too
The only part where the main camera system of the realme 11 Pro+ 5G doesn't shine is macro photography. When it comes to that, the quality of the photos I took is far behind what the main and ultrawide cameras offer. Macro shots have a lot of visible noise and lack detail.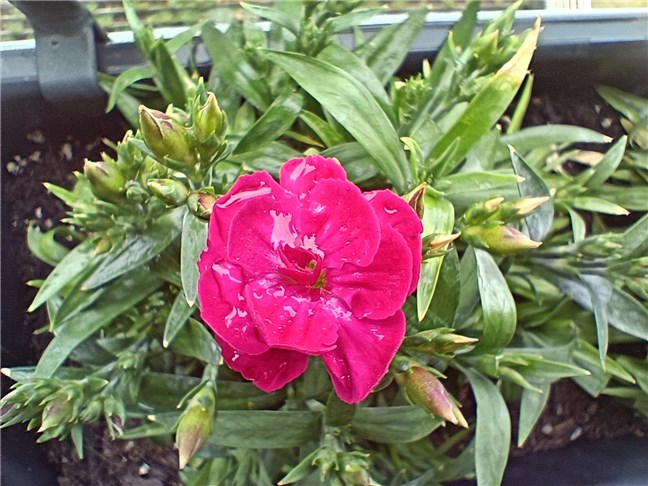 Unfortunately, the macro camera is underwhelming
Portraits and selfies are of very good quality. The skin texture and colors are realistic, the colors are natural, and the subject separation (the blur on the background) is good.
Portraits and selfies are of excellent quality
Photos shot during the night or in low-light conditions are surprisingly good. Obviously, there is a bit of detail loss in these photos, but the level is very low compared to the average mid-range Android smartphone. And, what's essential for night photography is the fact that the main camera on the realme 11 Pro+ 5G is one that captures pictures without noise and good exposure.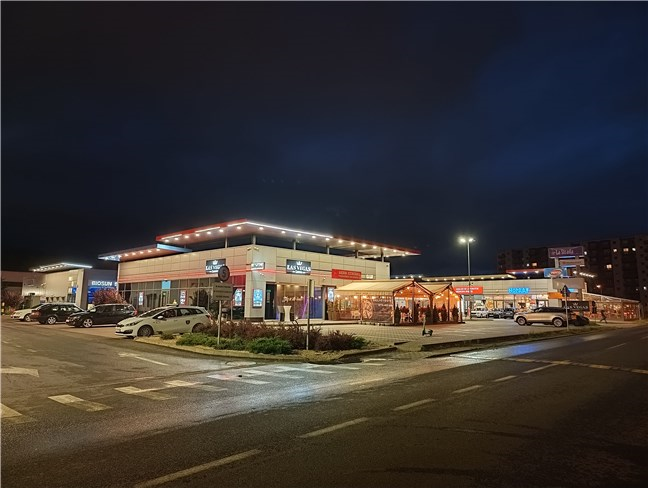 Night photography is better than I expected
Now that you know my opinion about the realme 11 Pro+ 5G, which I believe excels in photography (except for macro shots), what about video recording? The device's main camera can record videos in up to 4K resolution at 30 fps. 1080p recording is available for both the main camera, the ultrawide camera, and the selfie one. When using the main camera in 1080p, you can also increase the framerate to 60 fps, which delivers more cinematic results than the standard 30 fps. Electronic image stabilization (EIS) is also available for all the mentioned cameras, except when recording in 4K.
To get a clearer picture of how good video recordings are, watch the next clip, shot at 4K resolution and 30 frames per second. As you can see, the smartphone can capture a lot of details, the contrast is high.
In the next video sample, recorded in 1080p and 60 frames per second, with more movement, you can notice a similar level quality, and how the image stabilization does it job:
The realme 11 Pro+ 5G is a smartphone that offers an amazingly good photo and video recording experience. Better than I expected, actually. With the sole exception of the macro camera, both the wide, ultrawide, and selfie cameras deliver outstanding results. And that's true for any situation, regardless of whether we're talking about daylight or night-time photography. While the chipset of the realme 11 Pro+ 5G classifies it as a mid-range smartphone, the camera quality it offers is flagship-grade.
Android 13, realme 4.0, and bundled apps
The realme 11 Pro+ 5G runs on Android 13 with the realme 4.0 user interface on top. During the time I had the phone, it received two software updates, improving system fluency, stability, and security, as well as optimizing other features like the fingerprint reader speed, standby power consumption, or the Camera app performance. According to realme's policy, the realme 11 Pro+ 5G should receive two operating system updates (Android 14 and 15) and three years of security patches.
realme 11 Pro+ 5G comes with Android 13 and realme UI 4.0
The realme UI 4.0 is an easy-to-use interface that enhances the default one in Android and comes with several optimizations. realme UI is relatively uncluttered yet filled with features and customization options. Among many other things, it's worth mentioning that it allows you to configure the way the always-on display feature works, personalize the phone's overall appearance (wallpapers, icons, fonts, etc.), enable a smart sidebar (similar to Samsung's Edge Panels) that lets you launch apps and quickly access shortcuts, and set how much storage space you'd like the phone to use as RAM (when the phone's built-in RAM is all used up).
The main interface of the realme 11 Pro+ 5G
When you start the realme 11 Pro+ 5G for the first time, the smartphone allows you to review and (de)select some of the apps that are automatically downloaded and installed. As I've always favored a lighter operating system, I refused all the recommended apps. However, even if I did that, the realme 11 Pro+ 5G still installed many apps that I didn't need and didn't ask for. They weren't shown in the list I've mentioned, and there was no way I could avoid having them on the phone.
Also, during the first configuration of the smartphone, you can choose how you prefer to handle system updates, whether or not to enable the Lock Screen Magazine (randomly selected photos that appear on the lock screen), and whether you'd like to use realme's Global Search (a search tool for finding content on the phone and on the internet). I decided to disable the latter because I found it to be quite inefficient.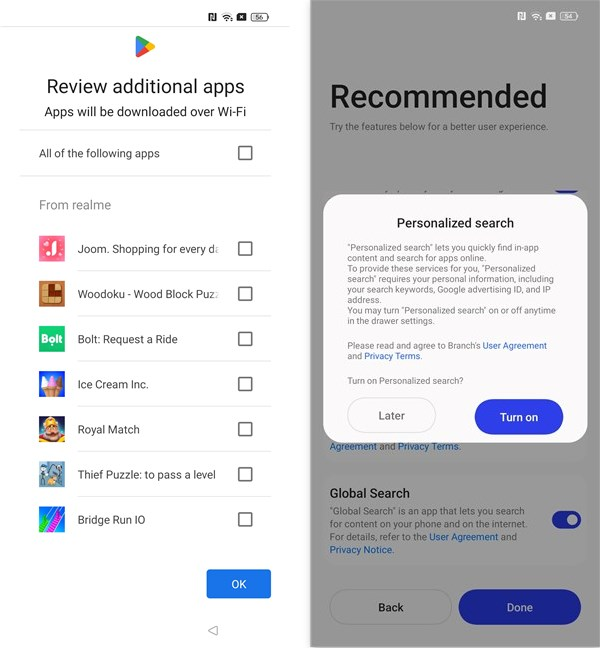 Additional apps recommended by realme
Besides all the regular Google apps you find on Android and the recommended apps that you could decide whether to install while configuring the smartphone, the realme 11 Pro+ 5G also includes the following ones, by default:
Amazon Shopping: the app of the well-known online store.
App Market: an alternative to Google's Play Store.
Booking: useful for planning trips and making hotel reservations.
Calculator: can be of service when math gives you headaches.
Clock: does what it says, which is telling the time.
Clone Phone: helps you migrate your data from your old phone.
Compass: a simple app that indicates the cardinal points.
Facebook: the app of the popular social network.
Games: a hub where you can find and manage all the games installed on the smartphone.
Genshin Impact: a free-to-play action role-playing game available for Android, iOS, PlayStation, and Windows, featuring an anime-style open-world environment and an action-based battle system with elemental magic and character-switching.
Internet: a web browser with a simple user interface.
LinkedIn: the app of the popular business and employment-focused social network.
Lords Mobile: Kingdom Wars: a mobile strategy game set in a fantasy world where players build and manage their own kingdoms and armies and battle others in real time.
Miravia: an online shopping platform that seems to address citizens of Spain; I have no clue why it's installed by default on realme 11 Pro+ 5G smartphones sold elsewhere, like in Romania. 🙂
Music: an app that helps you manage and play your music.
My Files: useful for managing the files and folders on your smartphone.
Notes: a minimalistic note-taking app that also lets you create to-do lists.
Phone Manager: helps you keep an eye on the well-being of your smartphone and perform optimizations.
Photos: the default gallery app on the smartphone.
Recorder: lets you record sound using the phone's microphones.
Screen Lock: does one thing only, and that's to lock your screen as soon as you tap on this app. 🙂
Snapchat: the app of the popular multimedia messaging app bearing the same name.
Spotify: the popular music streaming service.
TikTok: the digital gate to the social network bearing the same name.
Videos: a relatively simple app that lets you play locally stored videos.
Weather: displays the weather forecast for the upcoming days.
Zen Space: an app designed to help you eliminate distractions and focus on what matters. Its two features, Deep Zen and Light Zen, automatically silence all notifications for a set amount of time, to help you give your undivided attention to what you're doing, not your phone.
Preinstalled apps on the realme 11 Pro+ 5G
While I do like the realme UI overall, and I do appreciate the multitude of customization options, I'm not a fan of the company's approach to bundled apps. On one hand, it's nice to see that when configuring the smartphone for the first time, the user can choose what additional apps are to be installed. On the other hand, there are so many bundled apps that are preinstalled without giving you the choice to decline them… Unfortunately, no matter how you look at it, the realme 11 Pro+ 5G is an Android phone filled with bloatware.
Performance in benchmarks
Now that you know what the realme 11 Pro+ 5G smartphone has to offer in terms of design, specs, camera quality, software, and overall user experience, let's take a more in-depth look at its performance. For that, we need benchmarks:
I began benchmarking the realme 11 Pro+ 5G with Geekbench. In the tests offered by this app, the smartphone got a Single-Core score of 932 points and a Multi-Core score of 2401 points. The GPU Compute scores were 2399 for OpenCL and 2400 for Vulkan. These results tell the story of a mid-range smartphone with a performance similar to other mid-range Android devices, such as the Samsung Galaxy A34 5G, Redmi Note 12 Pro, Xiaomi Mi 11 Lite, or Google Pixel 4.
Benchmark results in Geekbench 6
The second app I used for benchmarking the realme 11 Pro+ 5G was 3DMark. In the Wild Life test, the smartphone scored 2301 points, while in Sling Shot, it got 5189 points. While not formidable, these scores show that it can run casual games without any kind of issue. You can get good framerates in higher-end games too, albeit with some compromises in terms of graphics quality settings.
Benchmark results in 3DMark
I continued with running PCMark for Android, a benchmarking app that evaluates the daily performance of the smartphone and can also give you an accurate insight into the battery life you should expect in real-world situations. The realme 11 Pro+ 5G got an excellent score of 14099 points in the Work 3.0 performance test and an impressive result in terms of autonomy: almost 15 hours!
Benchmark results in PCMark
The last aspect I checked was the wireless performance of the realme 11 Pro+ 5G. Though my mobile subscription plan doesn't include 5G, I did test the smartphone's speed when connected to a Wi-Fi 6 network with an internet connection of 1 Gbps. Ookla's Speedtest app measured a download speed of 636 Mbps and an upload speed of 322 Mbps, which are top-notch results for a mobile device like this smartphone. Speedtest also showed that the realme 11 Pro+ 5G would have no issues streaming videos and movies in 4K resolution.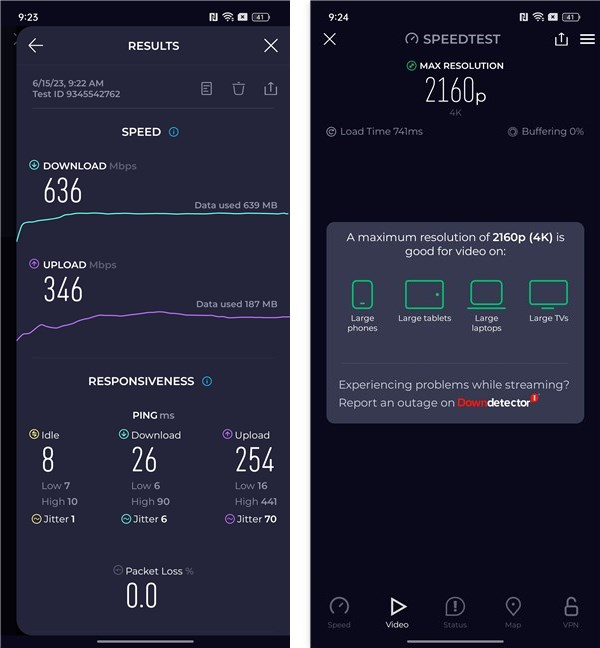 Benchmark results in Speedtest
The results of the benchmarks indicate the realme 11 Pro+ 5G is an impressive mid-range smartphone that delivers solid levels of performance. It does great in productivity tasks and handles casual gaming without issues. For more demanding games, you might need to set a lower resolution or accept a trade-off in terms of graphics quality, but still, they can run well. And last but not least, the battery life of the realme 11 Pro+ 5G is quite exceptional and will easily keep you going for at least one, if not two days before having to charge it.
What do you think of the realme 11 Pro+ 5G?
Now you know more about the realme 11 Pro+ 5G: what impressions it's left me, how it performs in real-life, what its cameras can do, and what the benchmarks say about its performance. What's your opinion about it? Do you intend to buy a realme 11 Pro+ 5G? What other smartphones are you comparing it with? Let me know what you think in the comments section.