The smartphone experience on the OPPO Reno10
Besides offering plenty of performance in everyday usage, the OPPO Reno10 smartphone also has a design that I've come to like quite a bit. The back of the Silvery Grey model that I tested is smooth and comfortable to hold and somehow manages to give the phone a premium feel. However, if you're like me - afraid of dropping the phone by accident - you'll want to get a protective case for it. The Reno10 5G looks and feels great, but it doesn't look like it could handle a drop without getting broken.
The Silvery Grey model looks beautiful
The screen of the OPPO Reno10 is one of the details I enjoyed most. The phone offers a large and bright display that is easy to read even in bright sunlight. The colors are also vibrant and make everything look lively. The smartphone's size is also a good fit for me, as it's not too wide to be uncomfortable to use with only one hand. However, it will not suit everyone: if you have small hands or short fingers, you may need to use both hands to navigate the phone's large display.
Display brightness is high
The OPPO Reno10 delivers satisfactory performance when it comes to the primary function of a smartphone, which is making phone calls. I haven't encountered issues with the sound quality or the signal reception. The voices of my family and friends were clear during our conversations, and they didn't report any problems with hearing me either.
Phone calls are of good quality
In daily use, the OPPO Reno10 delivers good performance: whether it's browsing, watching videos, or listening to music, the smartphone can handle it all without any lag or stutter. For gaming enthusiasts, I can say that the device can run most games smoothly, as long as you don't mind lowering the graphics quality in more demanding titles.
Playing a game on the OPPO Reno10 5G
The sound quality of the stereo speakers is decent for a smartphone. They don't distort, and the audio sounds nice. However, I've had the impression that the volume is not as high as what I've heard on other phones.
Regarding the fingerprint reader, it seems to be quite reliable and fast. I think it's better than many of the fingerprint sensors on the smartphones I've tried in recent years. The OPPO Reno10 hardly ever failed to recognize my fingerprint on the first try.
The fingerprint reader is fast and accurate
The OPPO Reno10 offers excellent battery performance and charging speed. I was able to use the phone for a whole day without worrying about running out of battery. And on top of that, the 67W fast charging feature is also quite impressive. It took me about 19 minutes to get the battery up to a 50% charge and 47 minutes to reach 100%. These are top-notch numbers for a mid-range smartphone like this one!
Charging takes 47 minutes to go from 0 to 100%
The OPPO Reno10 delivers a satisfying experience for its users. It handles everyday tasks smoothly and efficiently, plus it has a sleek design, a good-looking display, a long-lasting battery, and a rapid charging feature. In other words, I loved using it during my testing period.
The camera experience on the OPPO Reno10
On the front, you get a 32 MP selfie camera, while on its rear, the OPPO Reno10 offers a triple-camera setup with a 64 MP main camera, an 8 MP ultrawide camera with a 112˚ field of view, and a 32 MP telephoto camera with 2x optical zoom. The latter is a rare thing on a mid-range smartphone like this, and it's something that adds a lot to its value, at least in my opinion.
The rear cameras on the OPPO Reno10 5G
The OPPO Reno10 has a simple and user-friendly Camera app that offers various modes and features to improve your photographs and videos. The modes can be accessed by swiping the screen or by tapping on their names on the side of the viewfinder. Other controls for things such as the flash, timer, or aspect resolution, as well as the options for HDR and the entry point to Settings, are also available from the opposite side of the viewfinder (top while in portrait mode, left in landscape mode).
The Camera app on the phone
Both the main camera and the telephoto cameras on the OPPO Reno10 deliver outstanding results in daylight. The images are sharp, well-exposed, and rich in detail. I didn't notice any noise in the photos taken with good lighting, even when zooming. Furthermore, the photos I took in such conditions with the OPPO Reno10 have good dynamic range, the colors look natural, and I didn't see any hue changes between the shots taken on the main camera versus the telephoto camera.
The photo quality is excellent on the main and telephoto cameras
The main, the selfie, but especially the telephoto camera manage to capture portraits with high quality. The phone renders the skin texture and colors realistically, the colors look natural, and the subject separation is effective, with the background blur enhancing the focus on the subject.
The OPPO Reno10 5G captures high-quality portraits
The OPPO Reno10 delivers good results in night or low-light photography. The photos have minimal detail loss, unlike most mid-range Android phones. Both the main camera and the telephoto camera avoid noise and maintain good exposure, which are crucial for capturing dark scenes. The only thing disappointing here is the quality of the photos shot with the ultrawide camera, which come out with a lot of noise.
Night photography is very decent
To get a complete perspective of the camera experience you get from the OPPO Reno10 smartphone, browse through the pictures embedded in the gallery below. The photos you've seen until now were resized for optimization purposes, but the ones in this gallery are the original samples I shot with this phone:
It looks like the OPPO Reno10 is a great choice for photography lovers, especially for those who love taking portraits. But how does it perform in video recording? The device can capture 4K videos at 30 fps with its main camera. It can also record 1080p videos with all its other cameras. The main camera supports 60 fps in 1080p mode, which gives a more cinematic feel than the usual 30 fps. All the cameras have electronic image stabilization (EIS), but there's no support for OIS (Optical Image Stabilization).
The next clip demonstrates the quality of video recordings taken at 4K resolution and 30 frames per second. You can notice that the smartphone manages to capture a lot of details, there's no noise, and the colors look natural.
And here's a sample video with more movement involved, which I recorded in 1080p (60 fps) with EIS turned on:
In the next sample, you can see how the smartphone fares when recording video at 2x zoom with its telephoto camera. The result is similar to that on the main camera, with plenty of detail, no noise, and natural-looking colors.
The OPPO Reno10 is a smartphone that impressed me with its photo and video capabilities. It exceeded my expectations in almost every aspect. The main, telephoto, and selfie cameras produce excellent results for a mid-range device. The phone's only shortcoming is its ultrawide camera, which doesn't match any of the others.
Android 13, ColorOS 13.1, and bundled apps
Reno10 runs on Android 13 but with OPPO's ColorOS 13.1 user interface on top. According to company's policy, the OPPO Reno10 should receive three Android operating system updates and four years of security patches.
OPPO's Reno10 comes with Android 13 and ColorOS
OPPO's ColorOS 13.1 user interface offers a variety of features and enhancements to improve the user experience. For instance, it includes a smart assistant that gives you quick access to frequently used apps, contacts, and functions, or a game space that optimizes the performance, network, and battery of the device when gaming. In general, I found ColorOS to be fast and smooth in daily use and interaction, as well as filled with personalization options. However, I can't say that I liked OPPO's approach when it comes to bundled apps…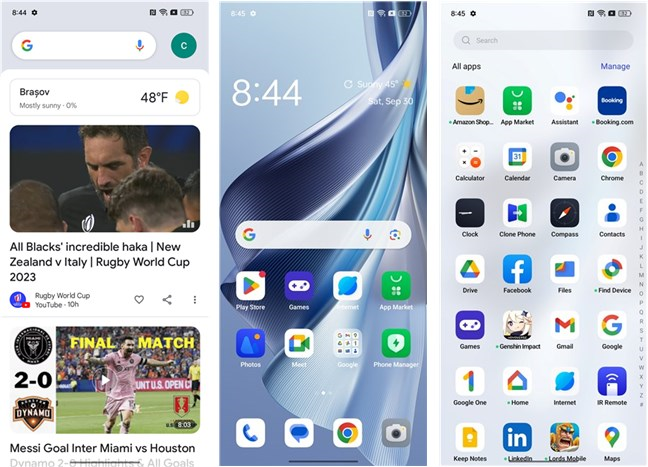 The user interface of the OPPO Reno10 5G
… though the company lets you choose (select or deselect) some of the bundled apps (mostly games) when you start your phone for the first time, those aren't the only ones you'll get.
Additional apps offered during the setup wizard
Unfortunately, the OPPO Reno10 will still install many apps that you didn't ask for. Here's the list of apps you'll get besides all the regular ones from Google:
Amazon Shopping: the app of the world's largest online store.
App Market: an alternative app store to Google's Play.
Booking: a useful app if you use Booking's services to plan trips and make accommodations.
Calculator: if math isn't your friend, the Calculator will be.
Clock: lets you know what time it is, and you can also use it to set alarms.
Clone Phone: helps you move your data from your old phone to your new Reno10 5G.
Compass: points you in the right direction, geographically, that is. 🙂
Facebook: the place where you can find old friends and read old news, amongst others.
Games: a hub where you can manage your games and optimize your smartphone for gaming.
Genshin Impact: a free-to-play action role-playing game that can be played on various platforms, including Android, iOS, PlayStation, and Windows. The game offers an anime-style open-world environment where players can explore, fight, and interact with different elements and characters.
Internet: a web browser that looks like a simpler version of Google Chrome.
IR Remote: an app that uses the infrared sensor on your phone to let you control devices in your home.
LinkedIn: where professionals show their CVs and networking skills. 🙂
Lords Mobile: Kingdom Wars: a mobile strategy game set in a fantasy world where you can build and manage your own kingdom and army, as well as battle others.
Music: a simple media player that lets you play your locally stored songs.
My Files: can be useful for managing the files and folders on your smartphone.
Netflix: the app that you need in order to watch movies and TV shows streamed by the Netflix service.
Notes: a note-taking app that you can also use to create to-do lists.
O relax: an app that gives you ambient sounds and calming music to relax or fall asleep more easily.
Phone Manager: useful for keeping an eye on the health of your smartphone and making some optimizations.
Photos: the default picture gallery app on the smartphone.
Recorder: useful when you need to record sound using the phone's microphones.
Screen Lock: an app that's a button, if I can say that - tapping it locks your phone.
Spotify: the media player of the music streaming service bearing the same name.
TikTok: where you go when you want to get rid of all that time you have in your life. 🙂
Videos: a basic app that you can use to play locally stored videos.
Weather: shows the weather forecast.
Zen Space: an app designed to help you eliminate distractions and focus: its Deep Zen mode allows you to receive calls and make emergency calls only, while its Light Zen mode lets you use only some apps that you previously selected.
OPPO's ColorOS has some positive aspects, such as its customization options, but it also has a major drawback: the amount of bloatware. The user can deselect some apps during the initial setup, but many others are preinstalled and cannot be removed. This makes the OPPO Reno10 feel like a cluttered Android phone, which isn't something I like at all. The company should offer a cleaner software experience.
Performance in benchmarks
Now that you know what the OPPO Reno10 smartphone has to offer in terms of design, specs, camera quality, software, and overall user experience, let's take a more in-depth look at its performance. Here's what the benchmarks had to say about it:
I began benchmarking the OPPO Reno10 with Geekbench. In the tests offered by this app, the smartphone got a Single-Core score of 946 points and a Multi-Core score of 2410 points. The GPU Compute scores were 2378 for OpenCL and 2403 for Vulkan. These results are almost identical to those of other mid-range smartphones: the realme 11 Pro and the realme 11 Pro+ 5G. On the other hand, the scores are slightly lower than what I got on the Samsung Galaxy A34 5G or what my colleague, Ciprian, had on the Motorola Edge 40 Neo.
Benchmark results in Geekbench 6
The second app I used for benchmarking the OPPO Reno10 was 3DMark. In the Wild Life test, the smartphone scored 2285 points, while in Sling Shot, it got 5200 points. These scores are not impressive, but they indicate that casual games can run smoothly on this device. For more demanding games, you may need to lower the graphics quality settings to achieve decent framerates.
Benchmark results in 3DMark
Next, I evaluated the smartphone's daily performance in realistic scenarios using PCMark for Android. The OPPO Reno10 scored a good 9524 points in the Work 3.0 performance test. Unfortunately, the Work 3.0 battery life test ended with an unknown error each time I attempted to run it (two times), so I didn't get a number from it. However, I can tell you that the phone lasted for roughly 15 hours before the error triggered, which is an excellent running time before having to recharge the smartphone.
Benchmark results in PCMark
Last but not least, I also evaluated the wireless performance of the OPPO Reno10. While connected to my 1 Gbps Wi-Fi 6 network, the Speedtest app showed that the smartphone can achieve a download speed of 496 Mbps and an upload speed of 358 Mbps. These are excellent results for a mobile device and are also proof that the OPPO Reno10 can stream videos and movies in 4K resolution without any kind of issues.
Benchmark results in SpeedTest
OPPO Reno10 is an excellent smartphone for the mid-range segment, with strong performance in daily tasks. It can handle work-related apps and casual gaming smoothly, though it requires some adjustments for more intensive games. The battery life also appears to be outstanding and can last for a day or two with moderate usage.
What do you think of the OPPO Reno10?
I hope this review has given you some insights into the OPPO Reno10: its design, features, performance, and camera quality. Do you like this smartphone? Are you planning to get an OPPO Reno10? Share your thoughts with me in the comments section. And, if you'd like to read more of the reviews we publish here on Digital Citizen, don't hesitate to subscribe to our newsletter.