The trend is clear, Dark Mode is the new black. Making all the buttons and interface elements look as dark as the future of humankind seems to be very attractive these days. Developers have jumped on this bandwagon, introducing a "dark mode" for their respective applications and operating systems. Is there a dark mode for Google Chrome? Definitely, although depending on your operating system, the setting might be trickier to find than you would expect. Here's how to enable it:
NOTE: In this article, we cover Google Chrome for Windows, Android, and iPhone. Each operating system has its own section.
Turn on Dark Mode for Google Chrome in Windows 10
You looked everywhere in Chrome for a Dark Mode setting, didn't you? Here's the thing: when using Chrome on Windows, the dark mode is linked to the operating system Colors setting. Thus, when changing the Windows 10 color scheme to Dark, Google Chrome automatically turns dark as well. Here's a summary on how to change this setting:
First, press Start, then click or tap on Settings (the icon that looks like a cog in the lower left side of the Start Menu). Then, go to the Personalization section.
In Settings, go to Personalization
On the left sidebar, click or tap Colors. You should then see several settings related to colors.
In the "Choose your color" dropdown list, select Dark, and all your user interface elements will change color, along with any apps that support it (including Google Chrome). If you want to turn on Dark Mode only for applications and not for the whole Windows interface, you can select Custom and then choose the individual settings.
Enabling Dark Mode in Windows 10 will enable it in Chrome too
We explain everything about Dark Mode in a dedicated article, Windows 10 Dark Mode: How to turn it On and Off!
Change Google Chrome to Dark Mode on Android
In order to set Google Chrome to Dark Mode on Android, you need to first open the browser, then tap on the three-dots icon from the upper right corner. After that, scroll down to Settings and tap on it.
First, find the Settings button and tap on it
You then need to scroll down again until you find the Theme setting. Tap on it, select Dark, and you're all set!
The Theme setting will let you choose between Light and Dark modes
TIP: You might want to switch the whole Android interface to a darker appearance, not just Google Chrome. Here's how to turn on Dark mode on Android in 3 different ways.
Enable Dark Mode in Google Chrome for iPhone
Similarly to devices with Windows operating systems, the Dark Mode for Chrome is linked to the color scheme of the iOS operating system. In order to enable the dark theme for Chrome, you must set your iPhone's appearance to Dark. First, find the Settings app and tap on it. Then, scroll down and tap on Display & Brightness.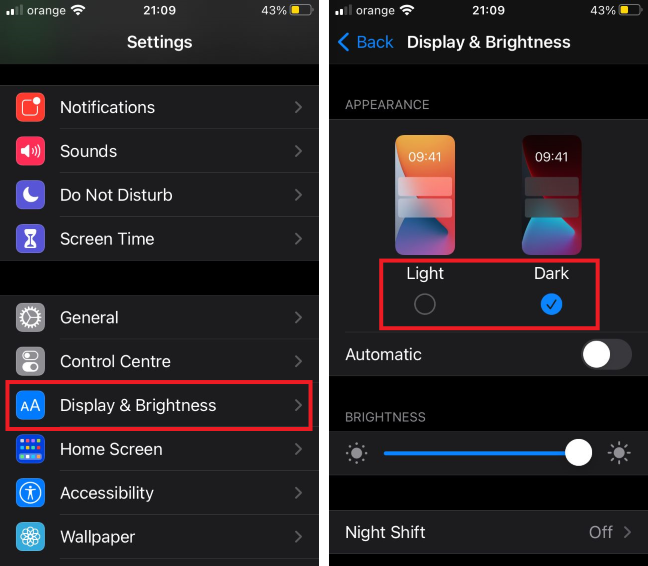 Dark Mode is available in the Display & Brightness menu
You can then choose to set your theme to Light, Dark, or Automatic (based on a schedule). Once you tap on Dark, all the interface elements should change color, along with all the applications that support dark themes, including Google Chrome.
TIP: Here's more information about Dark Mode, Light Mode, and all related settings on your iPhone: How to enable the Dark Mode on your iPhone.
Dark Mode for Chrome, purely cosmetic or practical feature?
Dark mode improves readability and minimizes eye strain when using your PC or device in a dark room. However, the claims about energy saving are valid only for OLED screens. Even within our team, opinions are split between using Dark Mode on a schedule, using it in certain situations, or not using it at all. So we would love to know if you use Dark Mode. Choose an option in the poll below and comment if you have any particular usage patterns.