The options for building a new computer based on Intel 13 or 12 Gen Core processors are quite generous right now. Apart from motherboards that work with DDR4 memory, there are new models that support much faster DDR5 memory. One of the most interesting ones is the ASUS ProArt Z790-CREATOR WIFI, a motherboard with a Z790 chipset at its core, capable of delivering extreme performance and featuring a lot of expansion options and high-quality components. If you're a content creator, this might be the right choice for you. Would you like to know more about it? Then read this review:
ASUS ProArt Z790-CREATOR WIFI: Who is it good for?
This is the motherboard you should get if:
You're looking for a motherboard based on the high-end Z790 chipset for Intel processors
You want PCI Express 5.0, DDR5, and many x16 and M.2 slots
You're a professional content creator (or maybe a gamer) who requires top-notch performance
Pros and cons
Here are the essential positive aspects of this motherboard:
All-black design and high-quality components
PCI Express 5.0 support and three x16 slots
Works with fast DDR5 (tested for up to 7200 MHz)
10 Gbps Ethernet and Wi-Fi 6E
Solid Voltage Regulator Modules (VRMs) and large heatsinks (including on top of the M.2 slots)
Thunderbolt 4 and USB 3.2 Gen 2x2 Type-C ports
The main downsides to this motherboard are:
Its price, which is quite high
Some people might dislike the translucent shrouds on the I/O panel and sound chip
Verdict
Except for the fact that it's pretty expensive, the ASUS ProArt Z790-CREATOR WIFI is a great motherboard. If you're a content creator or a professional looking to build a new desktop computer based on a high-end Intel Core processor from the 13th (or 12th generation), you want extremely fast DDR5, and need a lot of expansion options (both x16 slots and M.2 slots), then you'll certainly be happy with the ASUS ProArt Z790-CREATOR WIFI. I believe that this motherboard deserves a 5-star rating and our High-end product badge as well.
Unboxing the ASUS ProArt Z790-CREATOR WIFI
ASUS packaged the ProArt Z790-CREATOR WIFI motherboard in a box made of premium cardboard. On the top cover, the design is minimalistic, featuring, in a large and stylized font, the series name: ProArt. At the top, you can also see the name of the motherboard, plus some of its main features. There's no picture of the board on the top cover, but there is one on the other side of the box, where you get more details about the motherboard's specs too.
The box of the ASUS ProArt Z790-CREATOR WIFI
Inside the package, other than the motherboard itself, you get a generous bundle of accessories: a DisplayPort cable, four SATA 6Gb/s cables, an ASUS Wi-Fi moving antennas kit, two M.2 rubber packages, an M.2 SSD Q-Latch package, a ProArt ruler, a Q-connector, and a screw rubber cover. Furthermore, you'll also find an installation disc, the warranty, and the user guide.
ASUS ProArt Z790-CREATOR WIFI: What's inside the package
The packaging of the ASUS ProArt Z790-CREATOR WIFI looks good, and there are many accessories accompanying the motherboard, so the unboxing experience is quite satisfying.
Hardware specifications and design
The ASUS ProArt Z790-CREATOR WIFI is an ATX motherboard, measuring 30.5 cm (12 inches) in length and 24.4 cm (9.6 inches) in width. Its core processing unit is the high-end Intel Z790 chipset, designed to deliver maximum performance for desktop processors in the Intel 13th and 12th generations Core processors. Z790 includes support for PCI Express 5.0 on the processor lanes and PCIe 4.0 and 3.0 on the chipset lanes. In terms of memory, the motherboard is designed to work with DDR5 memory running at a speed of 4800 MHz and up to 7200 MHz (in increments of 200 MHz: 5000 MHz, 5200 MHz, and so on).
The ASUS ProArt Z790-CREATOR WIFI motherboard
The design of the ASUS ProArt Z790-CREATOR WIFI motherboard is interesting, but, in some aspects, it might cause disagreement between people. The overall look is stylish: black is everywhere (no RGB lights), broken only by a couple of thin lines, and some texts printed in gold. However, its design might be controversial because the shrouds covering the IO panel (Input/Output) and the sound codec are translucent. While some may like it that way, others might not.
The translucent shroud on top of the I/O panel
The motherboard offers 16+1 teamed power stages (rated for 70 Amperes), and the CPU VRM is covered by massive heatsinks, so you should have no issues getting the highest performance your Intel Core processor can deliver. Furthermore, the motherboard should do a great job of sustaining additional CPU power requirements if you intend to overclock it.
The CPU VRM is covered by large heatsinks
On the top-left corner of the motherboard, you'll have to plug in an 8-pin and a 4-pin EPS cable for the auxiliary power required by the processor.
The two (4-pin and 8-pin) EPS CPU power connectors
As I've mentioned earlier, the motherboard works with DDR5 RAM: the DIMM slots are positioned towards the top-right area, and they accept up to four memory modules with a total capacity of 128 GB. Next to them, there's the main 24-pin ATX power connector and an extra 12 Volts power connector with 6 pins. The latter (called PD_12V_PWR) allows the motherboard to deliver supplementary power to the PCI Express x16 slots (graphics cards). If you connect it to the power supply unit, you'll get up to 60 Watts more for your high-end GPU; otherwise, the limit is 27 Watts.
ASUS ProArt Z790-CREATOR WIFI works with DDR5
As this motherboard is made for creators (professionals in a creative field) who need fast components and, often, a lot of fast storage space, too, the amount of expansion and storage slots is extremely generous. Connected to the processor's PCI Express lanes, you get:
Routed to the Intel Z790 chipset's PCI Express lanes, there are:
a PCIe 4.0 x16 slot (x4 mode)
an M.2 PCIe 4.0 slot (x4 mode) for an SSD (type 2242/2260/2280)
an M.2 PCIe 4.0 slot (x4 mode) for an SSD (type 2242/2260/2280/22110)
an M.2 slot (PCIe 4.0 x4 and SATA modes) for an SSD (type 2242/2260/2280)
eight SATA 6Gb/s ports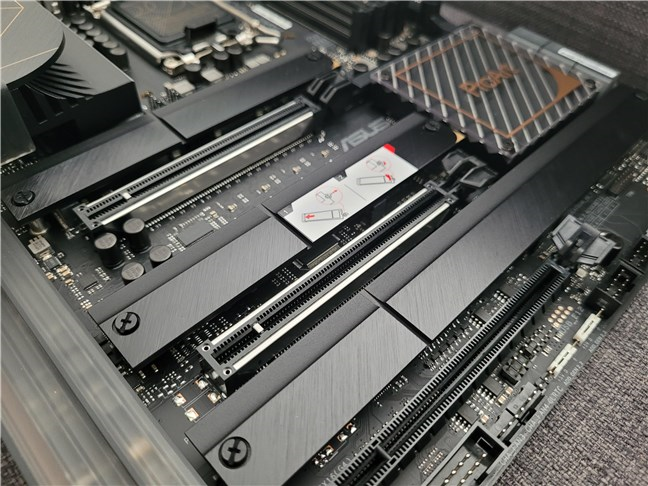 Generous amount of PCIe x16 and M.2 slots
On the connectivity side of things, the motherboard comes with some pretty high-end components. For wired networking, you get two Ethernet chips: a Marvell AQtion 10Gbps and an Intel 2.5Gbps! The wireless part is delivered by an Intel Wi-Fi 6E AX210 chip with 2x2 MIMO and support for the 802.11 a/b/g/n/ac/ax standards on the 2.4, 5, and 6 GHz frequency bands, plus Bluetooth 5.3.
Audio is supplied by a Realtek S1220A 7.1 Surround Sound High Definition Audio CODEC that offers high-quality 120 dB SNR stereo playback output and 113 dB SNR recording input. Playback can be rendered at a rate of up to 32-Bit/192kHz.
The audio codec of the motherboard
The number of back panel I/O (input/output) ports is extremely generous: two Thunderbolt 4 USB Type-C ports, six USB 3.2 Gen 2 ports (Type-A), two DisplayPort (input only), one HDMI port, two connectors for the ASUS Wi-Fi antennas, two Ethernet ports (one for the Marvell AQtion 10Gb and one for the Intel 2.5Gb), five audio jacks, and a BIOS FlashBack button.
There are many ports on the I/O panel
Besides the ports on the back panel, the motherboard also comes with many I/O internal connectors. These include two CPU fan headers and an AIO pump header, five chassis fan headers, three addressable Gen 2 headers and one AURA RGB header, a Clear CMOS header, a COM Port header, a CPU Over Voltage jumper, one Front Panel Audio header (AAFP), an SPI TPM header (14-1 pin), a 20-3 pin system panel header with chassis intrude function, and a thermal sensor header. And on top of the external USB ports, the motherboard also has an internal USB 3.2 Gen 2x2 header (that supports USB Type-C), a USB 3.2 Gen 1 header (supports 2 additional USB 3.2 Gen 1 ports), and two USB 2.0 headers (that supports four additional USB 2.0 ports).
The motherboard also comes with a lot of internal headers
These are the essential technical specifications of the motherboard. If you need further details on everything it has to offer, visit its official webpage: ASUS ProArt Z790-CREATOR WIFI Tech Specs.
ASUS's ProArt Z790-CREATOR WIFI is a high-end motherboard with a lot of features and options. Designed for Intel Core processors from the 12th and 13th generation, it packs almost everything you might want from a modern and powerful computer, including but not limited to PCI Express 5.0, support for DDR5 memory, 10Gbps Ethernet, and WiFi 6E.
Turn the page to see what a desktop computer based on the ASUS ProArt Z790-CREATOR WIFI motherboard can do in benchmarks and games.