I was recently invited to attend a local ASUS Intel Performance Day event. The event was hosted by Ivan Besskyi, East EMEA Technical PR Leader at ASUS. He showcased the latest trends in the market and how ASUS and Intel are doing to meet customer demand and expectations in 2022 and beyond. One of the most exciting things presented was the criteria used by people when choosing to buy a new laptop and how ASUS responds to them. If you want to know what people look for when purchasing a new laptop, read this article:
When choosing a new laptop, performance is king
You may think that price is the most important aspect people consider when buying a new laptop. However, according to ASUS and a survey by KANTAR in 2019 with more than 11000 users in ten countries, performance is the number one criterion. In countries like the USA or Germany, 80% of respondents highlighted this feature as the essential factor in their purchase decision.
To cater to this need, in 2022, ASUS is launching many laptops at different price points that pack the latest 12th Gen Intel Core processors and offer a lot more performance than previous generation CPUs.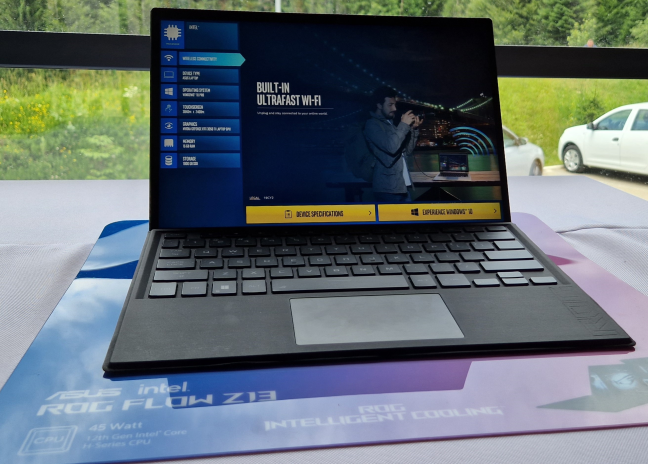 ASUS ROG Flow Z13 is a beast in a tablet's body
To gain some perspective on the improvements, an ASUS laptop with an Intel Core i7-12700H processor delivers 2.7 times more performance than a similar laptop with an Intel Core i7-1165G7 processor.
Battery life: the 2nd most important feature of a new laptop
Laptop users highly value battery life too. They want their machines not only to perform well but also to last many hours on a single charge. Unfortunately, while the latest generation Intel Core processors offer more performance than the 11th generation ones, they also require more power to run. To offset this effect, ASUS invested heavily in thermal research and more efficient cooling technologies.
In their 2022 generation of laptops, ASUS uses a new generation of thinner fans with more blades, providing better airflow while also being quieter. They also use dual heat pipes instead of single heat pipes and a new 3D vapor chamber design. Together, they offer an additional 15% air flow rate when cooling your laptop. Thanks to their innovative cooling design, in their latest generation laptops, ASUS can provide increased performance with minimal impact on battery life. For example, on an ASUS Vivobook 15, a new Intel Core processor (H series) has lowered battery life by only 13 minutes when continuously playing video on it.
Battery life comparison on ASUS Vivobook 15 laptops
Laptop users want a high-quality display too
When buying a new laptop, people also want a better screen. ASUS is heavily investing in OLED displays to match users' increased expectations. In 2021, the company was the number one OLED laptop brand worldwide and enjoyed a 67% market share. In 2022, ASUS outfits all their laptops with OLED displays, including the entry-level series like ASUS Vivobook and Vivobook Pro, up to their high-end Zenbook series and ASUS Studiobook Pro, designed for content creators.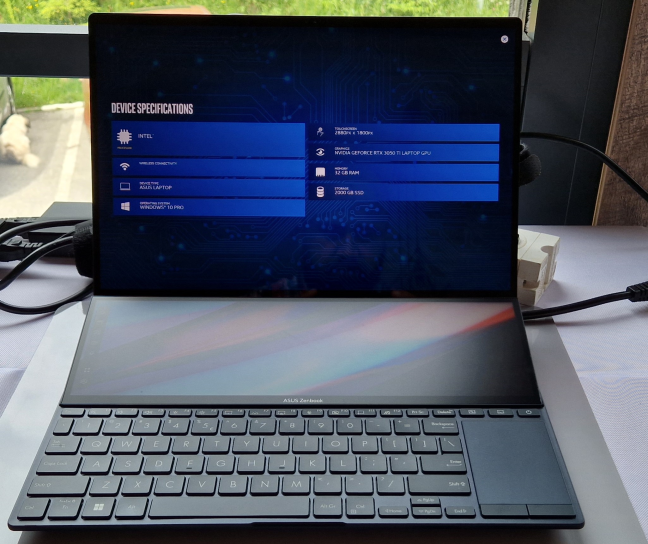 The displays on the ASUS Zenbook Pro 14 Duo OLED are superb
Build quality always matters
When you have to choose between laptops with comparable prices, hardware, and display quality, the difference is made by the build quality. You'll likely want the thinner laptop, which also weighs less and is made of better quality materials that last longer.
ASUS Vivobook Pro 15 OLED offers a good balance between performance, display and build quality
I feel the same way, and after reviewing so many gadgets and computers, I tend to be quite picky when it comes to build quality.
What's on your checklist when choosing a new laptop?
A laptop's average lifespan is between four and seven years, depending on the user, their budget, and usage. When it's time to buy a new laptop, I'm curious to know your list of features that are most important to you. Does the list shared by ASUS and KANTAR apply to you? Or do you want something else from a new laptop, like a beautiful design or many connectivity options? Comment below, and let's share our checklists for what a new laptop must look like to buy it with our hard-earned cash.